FF247 Fantasy Football Site Team Gameweek 29
Welcome to the FF247 Fantasy Football Site Team Gameweek 29. It's dawned on us this week that we've been bloody consistent this season. Consistently average! We haven't had an overall rank in the millions but nor have we had a 5 digit one either. We've basically settled into a pattern of floating around the 200k mark. Statistically this puts us in the top 4%. Realistically, it's not really quite where we want to be. Are we just being too safe? Do we not take the (odd) risks that one maybe would on their own team if it wasn't so public? Perhaps. Well, we've thrown the shackles off this week and gone bat sh!t wild! We haven't really, of course, but that's how a certain decision was presented to the committee. We shall come on to that later then but for now here is how we fared last week…
– We scored 61, 11 above the overall average.
– We nailed the armband with Salah's 20 points.
– Shaq and Kane got us a goal each, as did Lingard, albeit from the bench.
– Otamendi scored more (5) than our other 3 defensive players combined (4).
– Our Everton contingent (remind us why it's a 'contingent' again?!) got us 3 between them.
– We rose a grand 30k in the rankings to finish on 191,445. To put that 'top 4%' crap into perspective – we are in a league with our writing team, there are 25 in the league and we are a lowly 15th. Shoot us now.
Last week's result in full…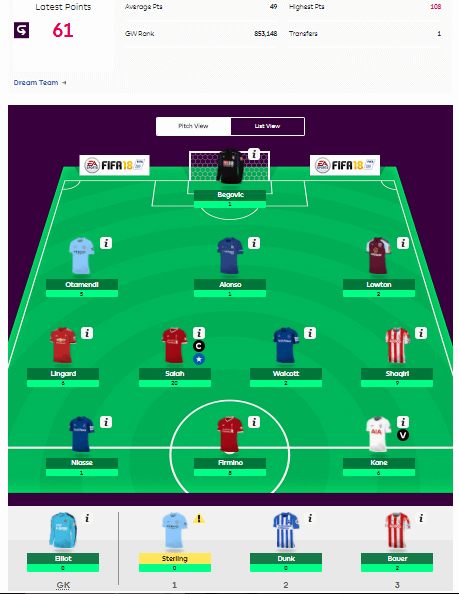 This week's transfer… SOLD: Sterling and BOUGHT: Mahrez
This wasn't the wild child suggestion. That's still to come. In fact it's once again the Plain Jane one. Basically there's a doubt surrounding Sterling which unfortunately couldn't be cleared up due to the lack of a Pep press conference this week because of the late Thursday fixture. He may yet play, but we can't be sure. And even if he does it's against Chelsea so it's unlikely to be a cricket score. As such we have decided to replace him with another City, sorry Leicester player who has recently passed our 'eye test', having almost as recently been in a sulk and on strike!
He may have not returned any significant points since GW24 but he had 5 goals in 9 games prior to that along with 3 assists and after seeing him against Stoke looking lively and hungry we feel he may be on the cusp of getting that form back. We hope! He has a couple of decent fixtures ahead too so here's hoping anyway.
The team in full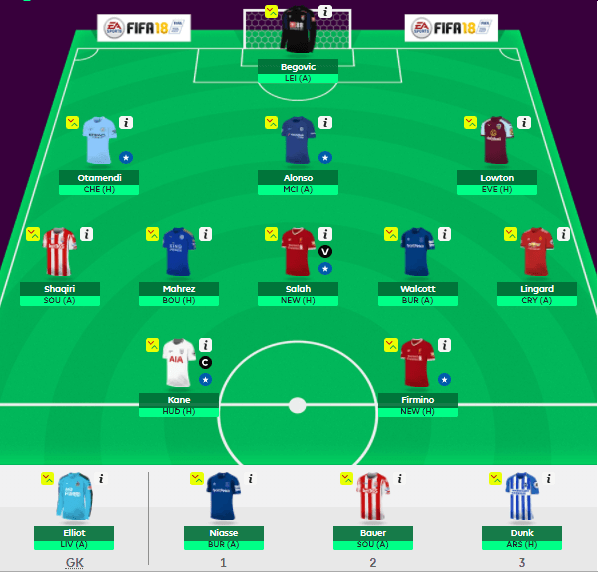 Our captain is Harry Kane
Hold onto your hats folk, things are about to get hairy. Yep we are now finally on to the MADNESS! that so engulfed us this week, the sheer audacity of it, and all that.
And so we quote one of the team – "Fck it let's go Kane. Salah is the conservative call, let's roll the dice on a 50/50".
Anyone still on their seat and hasn't yet been blown away by our daring, our laissez-faire, our devil may care attitude?!
Let that sink in for a moment and you may realise why we are so bloody consistent. We just rolled the die on a genuine 50/50… And it was deemed exciting.
It did at least provide some comedy as one joker then asked whom everybody's Vice Captain would be and three people actually responded! :hippo:
If you wish to follow the team's progress more closely you can do so by clicking here.
Thanks for reading FF247 Fantasy Football Team Gameweek 28
The League Codes for FF247 for the 2017/18 season are as follows:
Gameweek Tracker GW29-38