FF247 Fantasy Football Site Team Gameweek 31
Welcome to the FF247 Fantasy Football Site Team Gameweek 31. It was duller than dull but somehow 42pts brought us another green arrow, our 6th in 7 weeks. We're so good at this. Ah the rank, well we rose a small 2.5k to 166,358…. hmmm maybe we're not that good! Those celebrated green arrows have seen us rise from 252k to 166k. Talk about 'Slowly, slowly catchee monkey'. At this rate we will at least achieve our stated aim of a top 10k finish… by GW57! Let's just hope Richard Scudamore is listening!
Thank the Lord, not you Pards, that we bought Mahrez a couple of weeks ago as his goal and assist made him our top scorer this week. Otamendi and Lowton both chipped in with clean sheets with the City man collecting 2bps to push our score above the average.
No-one else did anything, little no-one. Even our new hero Pritchard was a failure. And as for capo Kane…..
Last weeks result…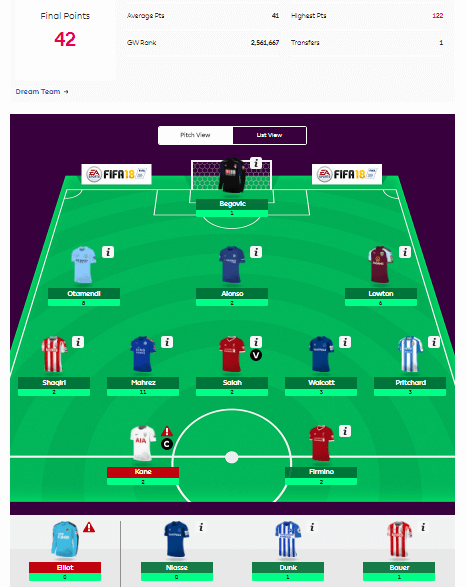 This week's transfer – SOLD: MAHREZ, BOUGHT: MANE
Choices, choices! There were just so many this week (sort of) and we could have gone for one (or more) of many. Well, we say choices. There were also so many variables and unknowns, as we are sure many of you may have spotted when logging onto your FPL teams this week –
Which one of the three Bournemouth strikers will actually play?
Is Benteke still nailed on having being tossed off at half-time last week by an irate Roy Hodgson (what an image!)?
Can Everton be trusted away from Goodison?
Will Mounie retain his spot?
And that's just a selection of the questions raised in what was becoming a frankly tiresome and never ending circle of a Site Team debate!
And as such we decided to just go route one and plump for an in form player who is (we hope!) guaranteed to at least start.
We didn't particularly want to sell Mahrez but we do of course have the option of buying him straight back next week if we so wish and then there is the small matter of a certain Wildcard on the horizon anyway. Which was also discussed and it seems like we are favouring that in GW33 ahead of the big DGW34 with a view to deploying our Bench Boost in that one itself. Which should be fun, considering that simply buying a 3rd Liverpool attacking asset took us three days to agree on this week!
We could of course have pushed the boat out and taken a hit for Kane but we decided to keep our powder dry on that one given that we don't actually know who will start amongst the main candidates in that spot. We shall instead take a one week punt on his replacement next week before Wildcarding after that in GW33.
The team in full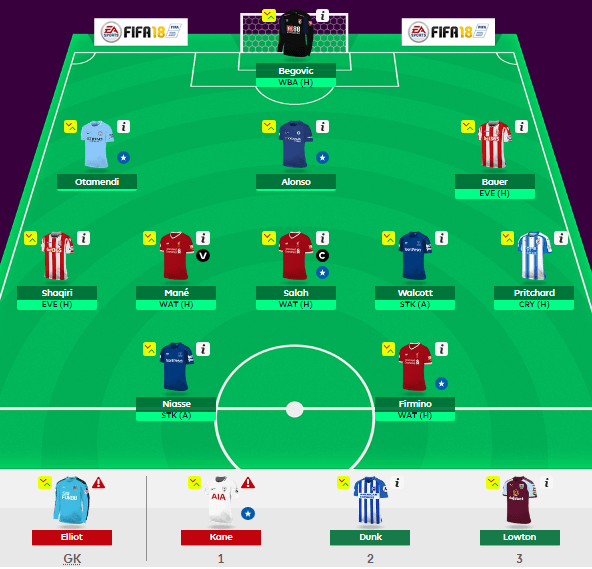 Our captain is… Mo Salah
Obviously.
If you wish to follow the teams progress more closely you can do so by clicking here.
Thanks for reading FF247 Fantasy Football Team Gameweek 31
The League Codes for FF247 for the 2017/18 season are as follows:
Gameweek Tracker GW31-38


INTRODUCING FANTASY TOTE…
Our new partner has a few words to explain their wonderfully simple to play daily fantasy game. Please do them and us a favour by clicking on the banner link below, have a browse and give their game a try. Over to them…
Fantasy Tote is the next evolution in Fantasy Football. Play daily & weekly games to win real cash prizes.
There are no budget restrictions like in FPL so it's open season on the big players and makes it easy and quick to play. But can you pick the right team to win big?