FF247 Fantasy Football Site Team Gameweek 33
Welcome to the FF247 Fantasy Football Site Team Gameweek 33. So our first week with our 2nd wildcard was….ok. Which perfectly sums up our recent performance really. We scored 58, the average was 48 and we saw another small green arrow, climbing 8.5k places to 148,105. We still yearn to get inside the top 100k and with the Bench Boost, Free Hit and Triple Captain left to play we hope we have every chance to do and much more if we utilise them properly.
GW32 saw some good – clean sheets from DDG (obviously) and Morgan, goals from Vardy and capo Salah, an assist from Son and a welcome brace from Aubayemang;
and some bad – Murray's missed penalty and a Bailly no-show;
and some ugly – West Brom scoring vs our pair of Burnley defenders and no returns from Mahrez or William.
Last weeks result…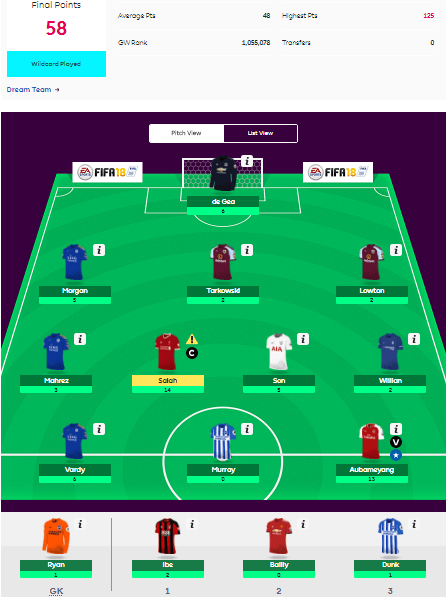 This week's transfer – we have held the transfer!
To be honest we always planned to hold the transfer this week in preparation for using 2 for next week's Bench Boost. It actually feels wrong benching young Ibe for the visit of Palace, but he is there ready to come on if someone doesn't play at the weekend (probably Salah!!!)
We have also decided to bench DDG for United's visit to City – so it's double Brighton as they host Huddersfield who haven't scored in four matches….oh boy, you can see how this plays out eh?!
The team in full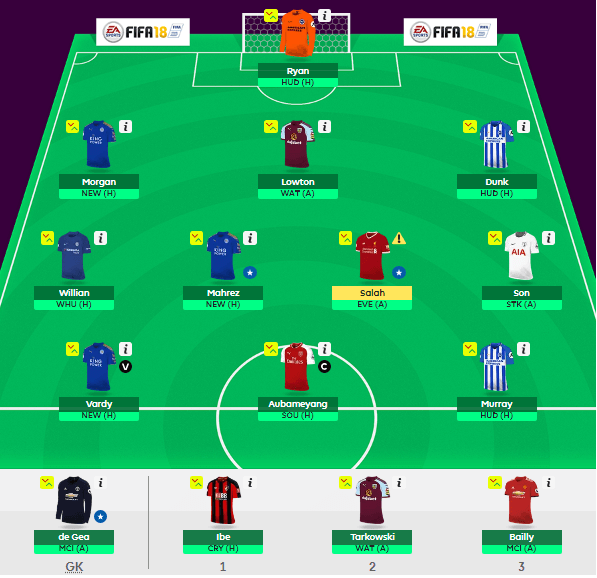 Our captain is Aubayemang, vice captain is Salah Vardy
Quite surprising maybe but Salah pays the price for only scoring once last week and PEA, Auba, whatever you want to call him, takes up the mantle as we try and gain more than a few thousand places. This could easily come back to bite us, but hey, there's nothing like chasing last week's points is there? Plus Southampton at home seems to be a good a fixture as one can get at the moment and of course our skipper has had a few days off while Salah had a date with Man City in midweek. And then of course came off a bit injured, and hence we've now even relegated him to 'player only' status and promoted Vardy to the vice job. We may well yet reverse this if Klopp comes out and says Salah is both 100% and 100% fit, but he likely won't do that.
If you wish to follow the teams progress more closely you can do so by clicking here.
Thanks for reading FF247 Fantasy Football Team Gameweek 33
The League Codes for FF247 for the 2017/18 season are as follows:
Gameweek Tracker GW33-38

INTRODUCING FANTASY TOTE…
Our new partner has a few words to explain their wonderfully simple to play daily fantasy game. Please do them and us a favour by clicking on the banner link below, have a browse and give their game a try. Over to them…
Fantasy Tote is the next evolution in Fantasy Football. Play daily & weekly games to win real cash prizes.
There are no budget restrictions like in FPL so it's open season on the big players and makes it easy and quick to play. But can you pick the right team to win big?