FF247 Fantasy Football Site Team GW11
Welcome to FF247 Fantasy Football Site Team GW11. What a strange old week that proved to be. So many players not playing for so many managers and so many diverse scores on the boards ranging from the Salah shunners to some posting treble digits. We were somewhat in the middle of those and ended up on 71 which was 13 above the overall average and 2 above the Top 10k one. It meant another green arrow, albeit a small one again, as we moved from 104k to 92k overall.
Last week's success stories were Fraser and Alonso both posting 11 points, Mendy grabbing 6 and Richarlison a 5. And of course our transfer in of Salah in place of Hazard was the biggest of all as he came home with 30 captain points for us.
On the downside we had high hopes for both Robertson and King and ultimately neither featured which left us with a couple of Palace defenders coming off the bench, which was never going to be ideal given their fixture, and so it proved as both managed a solitary point. Moura, Vardy and Aguero managed to amass 4 points between them all!
Let's go take a peek behind the stained curtain and see how long it took for the white smoke to emerge this week…
Last Week's Result
This week's transfer decision…
Oooof, interesting! The word 'wildcard' was used for the first time this week. Initially it was simply an opening suggestion that it may be something to look at 'soon' but then quickly escalated from garnering an actual vote to do it this week to a full blown discussion on who the core players in any hypothetical one may indeed be.
For the record the 7 core players suggested and generally agreed on were; Robertson, Alonso, Mendy, Salah, Mane, Hazard and Aguero. Which is obviously a pipe dream given their values but certainly 6 of them are achievable if you leave out Kun. Which then looks a mightily dangerous proposition. Or does it…?! It cetainly does this week anyway but more on him later.
As for our 'wildcard voter' he did try to pull the wool over some eyes with a sneaky suggestion that he somehow had a majority vote and was good to go! Now I'm not calling him out here by any means, and I've been frowned at previously for sharing private conversations publicly, but it's a fine balance because some people do enjoy the occasional peek behind the curtain. And when it's funny it's always worth a share! #sh*ttymaths….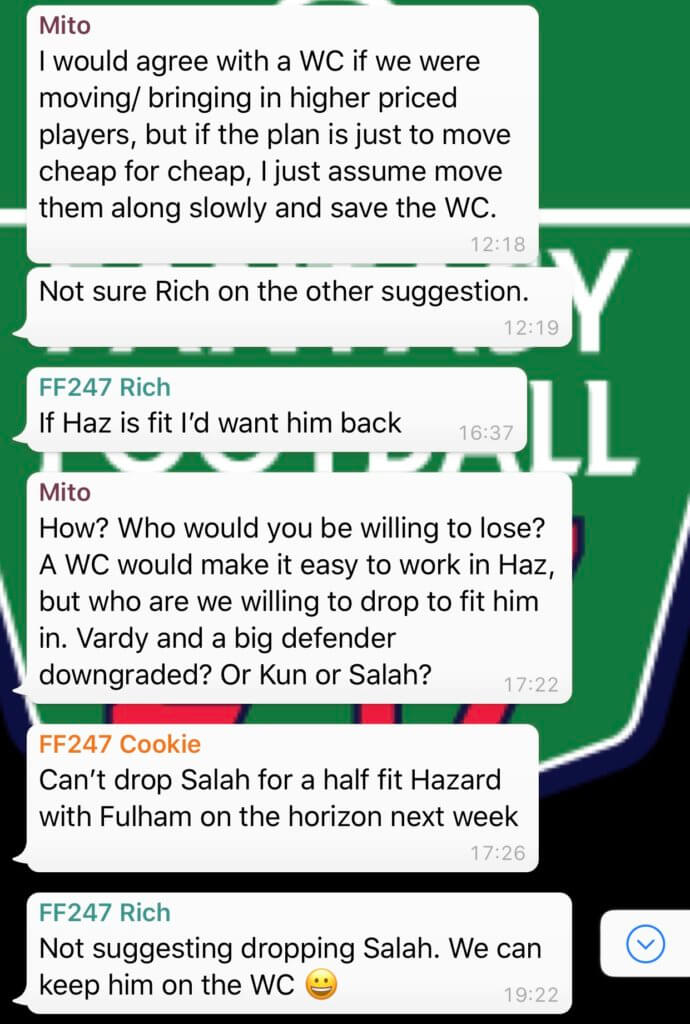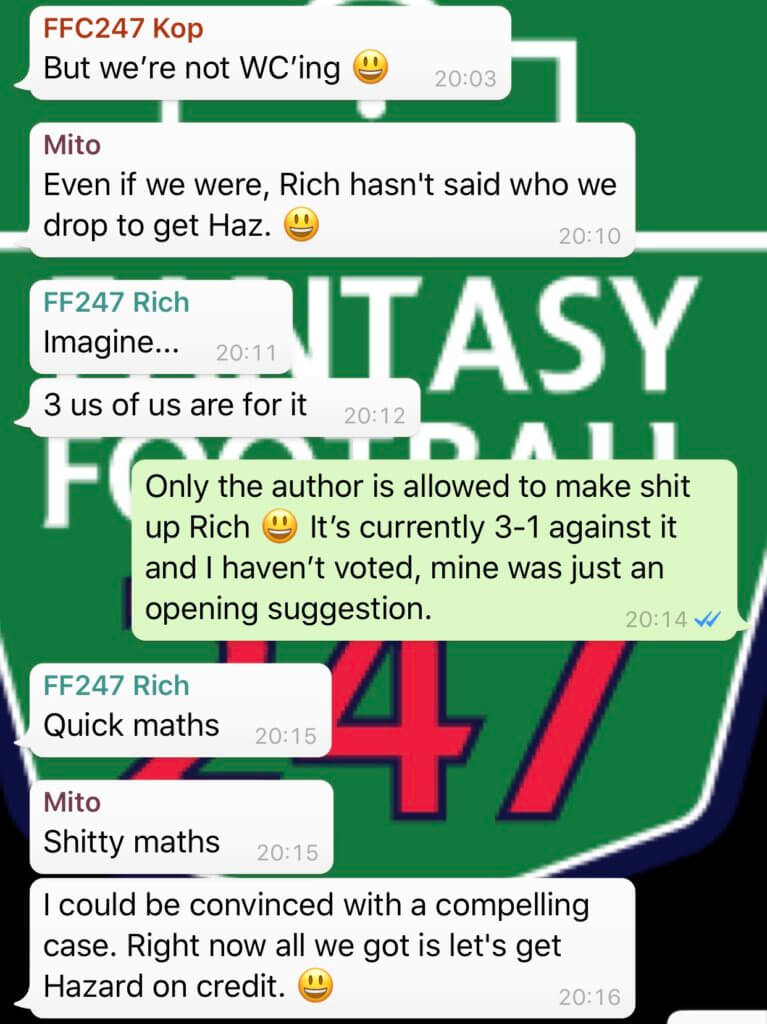 Back to reality though, the wildcard suggestion was taken as just that and summarily shelved for another day but it was good to at least consider it as we have a number of players who are either running into bad fixtures or indeed potential rotation issues, namely; Patricio / Hamer, Wan-B, Tom(p)kins, Moura, Fraser and King.
Sans any WC then, this week's vote was actually a fairly straight forward affair. Despite us basically having had a gun to this guy's head pretty much all season it does come with a smidgen of regret that we are finally dispensing with the services of Josh King. Sorry Josh, you've frustrated and delighted in almost equal measure but with your fixtures turning a bit and West Ham's going the other way we thought it was best to finally call an end to this rocky and sometimes (definitely on our part!) abusive relationship.
And so we welcome in a player who has scored 0, 1, 1 and 0 in four of West Ham's last five games, a glowing recommendation if ever there was one! We will however caveat this by saying that he did actually miss two of those games through injury / illness (gets better doesn't it!), but also that in his last few actual appearances, Brighton and Spurs particularly come to mind, he's been massively unlucky not to score at least one, maybe more. Point is that he's passed the eye test as sometimes scores like the above can put you off unless you know the full story.
To confirm then we have SOLD:JOSH KING & BOUGHT: MARKO ARNAUTOVIC
The Team In Full…
Our Captain is Sergio Aguero
Truth be told we didn't even bother voting on this one! Sparky's in for a spanking and it should simply be a case of how many for City, and hopefully then by association Aguero.
For the record Salah was a unanimous choice as Vice.
You can follow the site teams progress all season by clicking here
Thanks for reading FF247 Fantasy Football Site Team GW11
FPL FIXTURE TRACKER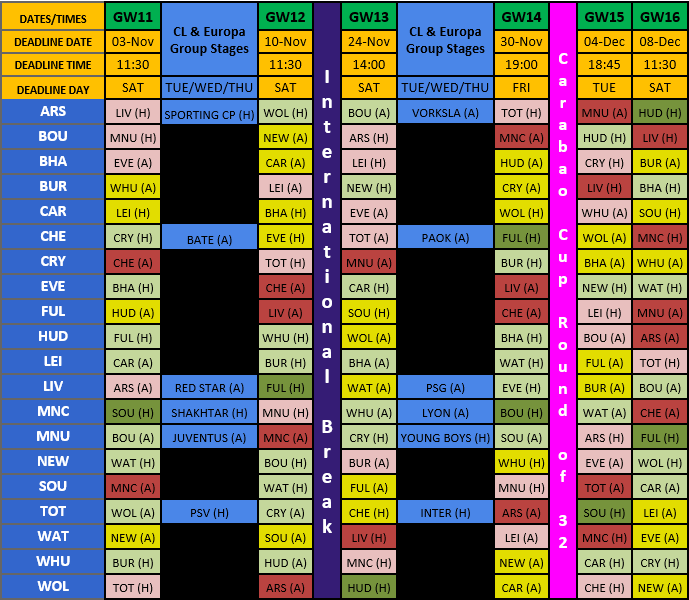 FIXTURE TRACKER LINK
Welcome to our Fantasy Football leagues section.
The League Codes for FF247 for the 2018/19 season are as follows –
Thanks to our friends Follow @ff_surgery and please give them a follow.