FF247 Fantasy Football Site Team GW13
Welcome to the FF247 Fantasy Football Site Team GW13. As much as our committee may come across as somewhat disjointed and sometimes dysfunctional the end result is all that matters and we now have five green arrows in a row thanks to last weeks score of 63, which was 15 above the overall average and 5 above the top 10k average, and that sees us jump up another 12k in the rankings to leave us sitting in a fairly respectable and encouraging position of 38,731.
28 of those points came from our Liverpool duo of Robertson and Salah (c), despite them posting only a modest 2-0 victory on the card. Alonso added 8 with a clean sheet and 2 bonus points, Fraser got an assist and a bonus point and Aguero got his customary goal. The other six are all in the naughty corner having got three or less each. It does go to illustrate though that you don't necessarily need a full compliment of achievers to post a decent score and a rise in rank.
Last weeks result in full…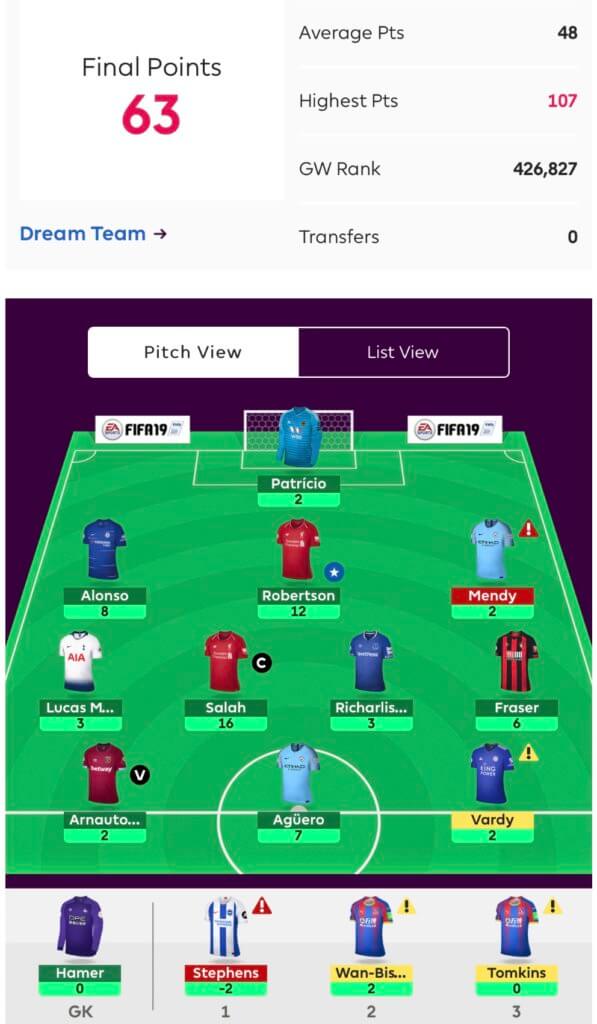 Let's go see what nuggets this week's committee meeting threw up, we had 2 Free Transfers and £0.5m in the bank…
This weeks transfer decision(s)
Mendy to Doherty and Vardy to Jimenez, maybe…
That's the plan anyway, but we'll be perfectly honest here we haven't actually done either yet and you've caught us with our pants down a bit! Usually we are more than happy to confirm our transfers on a Thursday (for the purposes of the article mainly) and then take our chances as to what may arise on a Friday or thereafter, but then again one of our intended targets doesn't usually have a yellow flag and a big cloud of uncertainty surrounding him. For anyone who has missed it Doherty suffered a facial injury and was subsequently 'advised' to pull out of the Republic of Ireland squad by a 'specialist'. Given what he's said about O'Neill and Keane since they were sacked though you do have to wonder whether his 'specialist advisor' was just his Mum or something!
Given that it is 'just' a facial injury and that Ben Dinnery reckons he may well play in a mask we think he will feature and unless Nuno tells us anything different tomorrow then we shall be pressing confirm on this the second his press conference ends. Which is probably a small white lie actually as given our self imposed deadline (this article!) has already well and truly passed we may as well let the rest of the pressers play out too! And also take a chance to check on Jimenez in the process. But once they're all done we will definitely press that confirm button and also announce it on here in the comments.
We should also explain our rationale behind the decision to bring in Doherty and not go for someone else such as a like for like Man City replacement in the shape of Laporte, for example. And of course our other one of Vardy to Jimenez…. It all came down to a bit of forward planning really. Doherty's price, and our subsequent carried transfer, would have meant that next week we could then afford to bring Hazard in for Lucas Moura ahead of Fulham at home. It would have meant a second (free) transfer too and that was looking like being Vardy to Jimenez but with the Vardy news today (he's a doubt) and that we may not hear anything more on him now, combined with the favourable fixture for Jimenez this week we decided to bring that one forward a week leaving just the Hazard one to do next week. Tune in next week to see how far away from the plan we fall!
Contingency Plan…
Should Nuno unexpectedly (he has trained today) confirm that Doherty is out of the game we do have a contingency plan in place and that is no other than Lucas Digne of Everton. Truth is it was a close call between the pair in the first place as both have similarly decent fixtures ahead and both boast great attacking stats. Doherty won simply because he seems intent on spending more time in the opponents box rather than his own, whereas Lucas'second touch is usually a tackle' Digne is a tad more reserved.
WE WILL CONFIRM OUR TRANSFERS ASAP ON FRIDAY.
Our Captain is Richarlison
Ooooof, this was a close one! Salah and Richarlison both had two votes each and the deciding one went in favour of the young Brazilian. A bit of a departure from the norm then but one that could pay off for us if 'form and fixture' do indeed combine for once. Suffice to say Salah carries our vice armband.
Our team in full…
For Mendy read Doherty. Or Digne! And for Vardy read Jimenez. Maybe…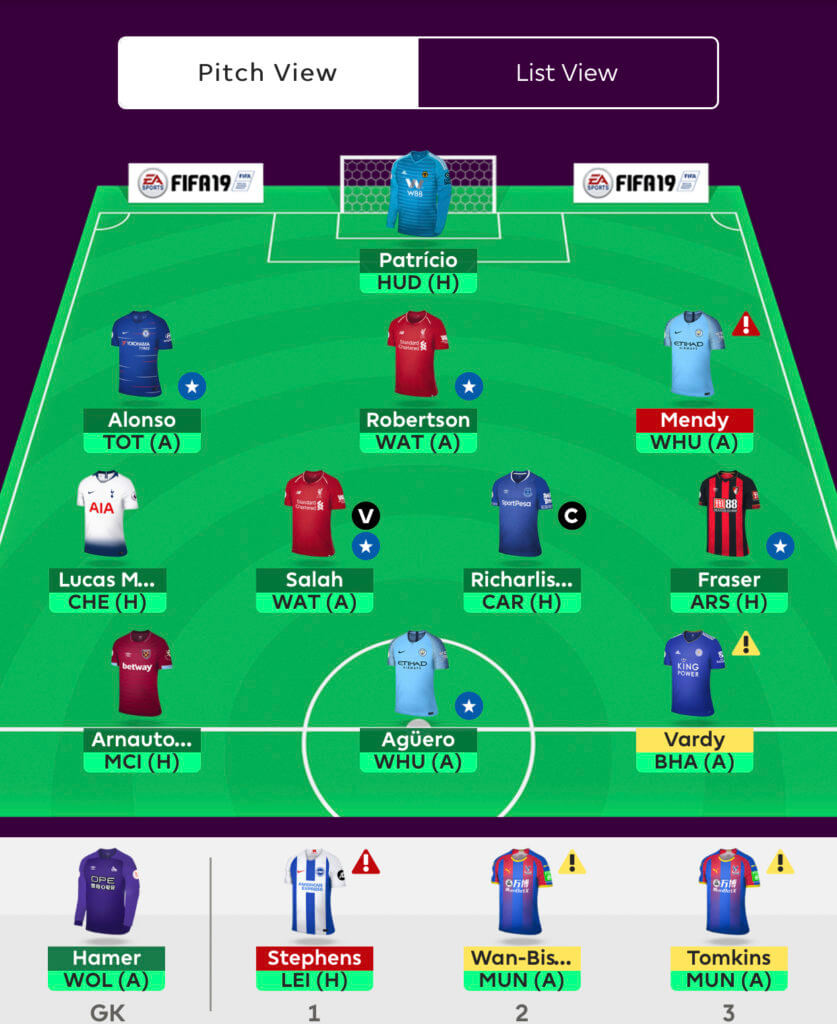 Thanks for reading FF247 Fantasy Football Site Team GW13
FPL FIXTURE TRACKER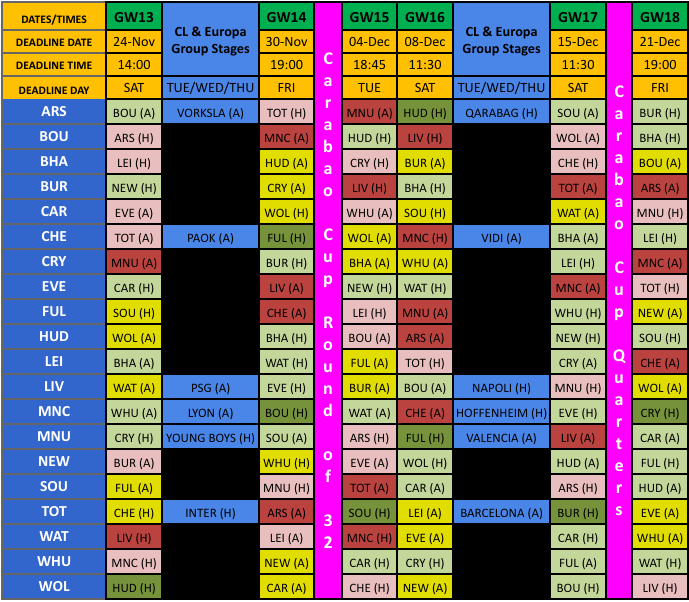 FIXTURE TRACKER LINK
Welcome to our Fantasy Football leagues section.
The League Codes for FF247 for the 2018/19 season are as follows –
Thanks to our friends Follow @ff_surgery and please give them a follow.