FF247 Fantasy Football Site Team GW14
BALD MEN FIGHTING OVER A COMB
Welcome to the FF247 Fantasy Football Site Team GW14. Any one of our outfield bench players would have scored more for us last week than five of our starting eleven did, had we played them. We didn't. Cantwell would have been our 2nd top scorer, had we not marooned him 3rd on our bench. We did. Regrets, regrets. But it happens.
On a positive note we did still score semi-decently with 66 points from those who bothered to show up; namely (C) Vardy with his now standard 24, Soyuncu with his standard CS and 6, Mane with his standard goal and 9, Jimenez with his standard goal and 7 and Pope with an unexpected CS but also somehow standard 9.
Overall then we did just manage to eek out our 3rd green arrow in a row to grab our highest overall rank of the season which now sees us sat 23,086th. And we have all our chips intact plus two free transfers to play with and £0.7 in the bank.
Our GW13 Result…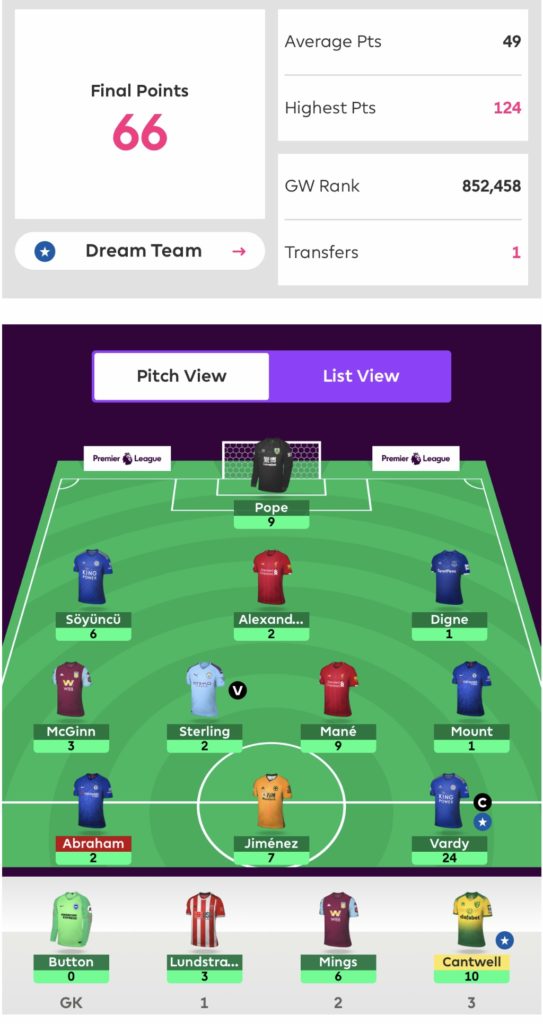 Let's go see what was decided…
Our GW14 Transfer(s)
We usually go live with this article on a Thursday but we deliberately hung on this week to catch the Tammy news before making our final decision(s). The fact that he misses the first game for sure also leads us to cast doubt over his inclusion in midweek and so we have decided to move him on for now although we are sure we will welcome him back soon enough. His replacement was the main topic of discussion and it started in our usual chaotic fashion…
"Just get Jimenez, simples"
"Erm, this is awkward. We already own him…?"
"Just buy him again then!"
It's conversations like this that sometimes make you wonder how we manage to tie our shoelaces never mind run such a slick operation on a daily basis! Once we had got over that initial hurdle though his replacement was an easy enough task. We either downgraded a bit to say Ings (over my dead body, said one!) or upgraded a bit to say Jesus (hallelujah, said many!). The upgrade would need a cash injection but fortunately we found Lucas Digne bent over firing pound coins out of his arse. And so it was done. Baldock of Sheffield United seemed to be the natural replacement and garnered much support.
Or so we thought, as a fight suddenly broke out in the corner! Questions were raised over the need / wisdom of having two Sheffield United defenders, such as when on earth would we ever call on both. The truth is that we wouldn't. Kelly of Palace was suggested and the brawl escalated as 'Ward would be back eventually' and then we would need to sell Kelly. The truth is that we wouldn't. The truth is that either can happily ride 3rd spot on our bench and so eventually the bald men put the comb down and picked the cheapest one.
To confirm then we have SOLD Lucas 'the pound machine' Digne & Tammy Abraham and BOUGHT Martin Kelly & Jesus
Captain – Jamie Vardy
No fights over this one, and we are hoping for a hat-trick of consecutive 24 point captain hauls from the main man himself. Or just a hat-trick, either will suffice. For the record Sadio Mane did get a solitary vote, one more than anyone else.
Our GW14 team in full…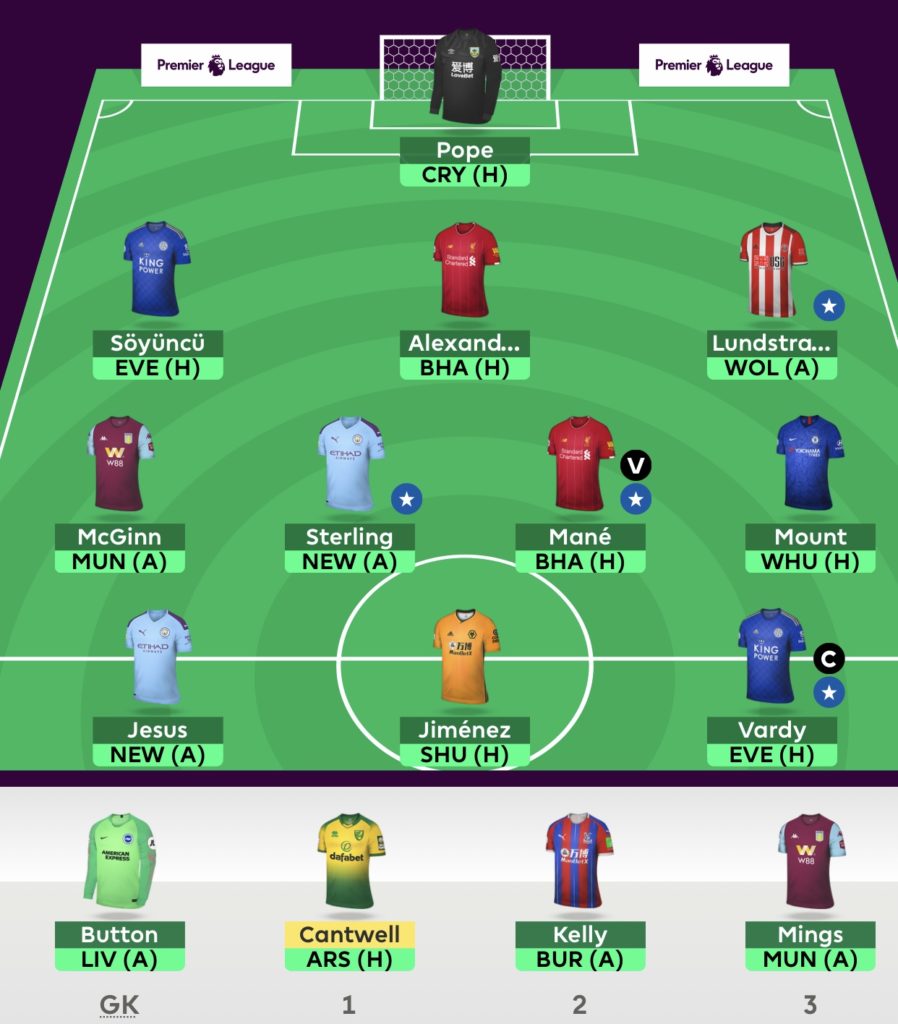 Should you wish to follow the FF247 Site Team's progress you can do so here.
Thanks for reading FF247 Fantasy Football Site Team GW14
FPL FIXTURE TRACKER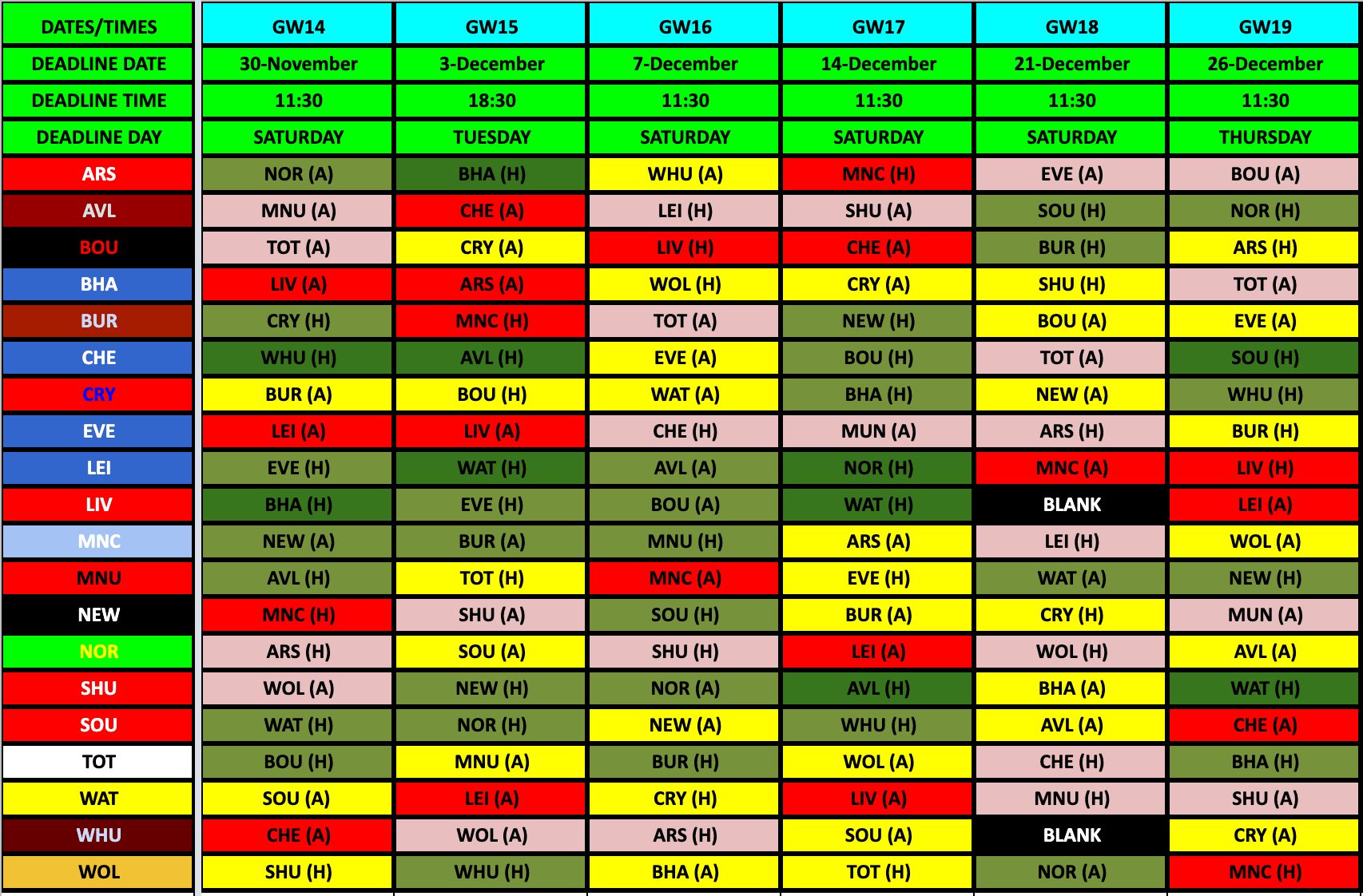 FIXTURE TRACKER LINK
Fantasy Football 247 League Codes: