FF247 Fantasy Football Site Team GW19
Welcome to the FF247 Fantasy Football Site Team GW19. Sergio took to the boards this week and he couldn't have put it any better; "Nightmare gameweek for the site team
". It may have been his sole contribution this week but at least he was 100% accurate with it! 45 points saw us with 10 less than the overall average. Kane got us a third of our overall points with his 15, the rest averaged 3 each. Enough said. Overall it saw us plunge back down 25,000 odd places to finish in 84,654th.
Last week's result in full…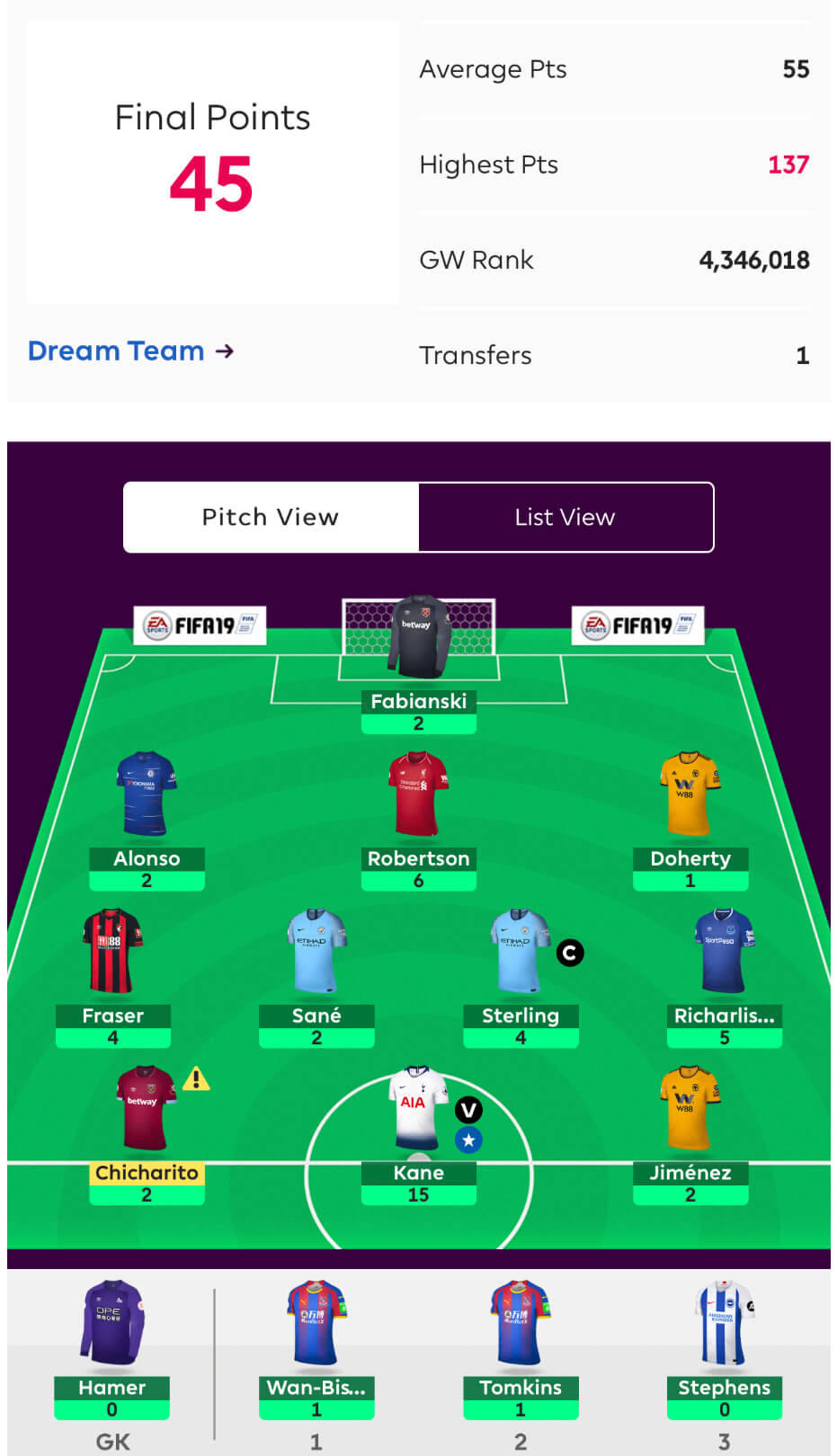 We go into GW19 with 1 free transfer and a more than healthy bank balance of £3.2m, but with a wildcard to swing at our issues could this finally be the week….?
This weeks transfer decision(s)
Yes, in short! The wildcard is finally active. The trouble with playing it now is of course rotation, we could make the best team possible and still see half of them benched. It'll look and feel like egg on the face but we just need to crack on and take it, should it happen. The upside is that we can at least have a passable and active bench to come in for whichever one (or many) of our superstars take a break.
As for the selections themselves we've bought into the 'Ole Revolution' a fair bit here, threefold in fact. Their fixtures possibly warrant it though. A first home game against Huddersfield certainly does, if nothing else. Son gets a temporary spot for three weeks before he leaves us and Spurs for the Asian Cup in January. The rest is fairly self explanatory. There's no Hazard, no Arsenal and no Richarlison but that's not to say we snubbed any of them particularly, we would probably have taken any or all of them but as the saying goes "you can't have them all".
Our Captain is Mo Salah
This was fairly close between him and Kane, 3 votes to 2 close, in fact. Both have form and fixture in their favour so the truth is that we are just happy to have both of them, luck will probably decide whether we landed on the correct side of the fence.
Our team in full…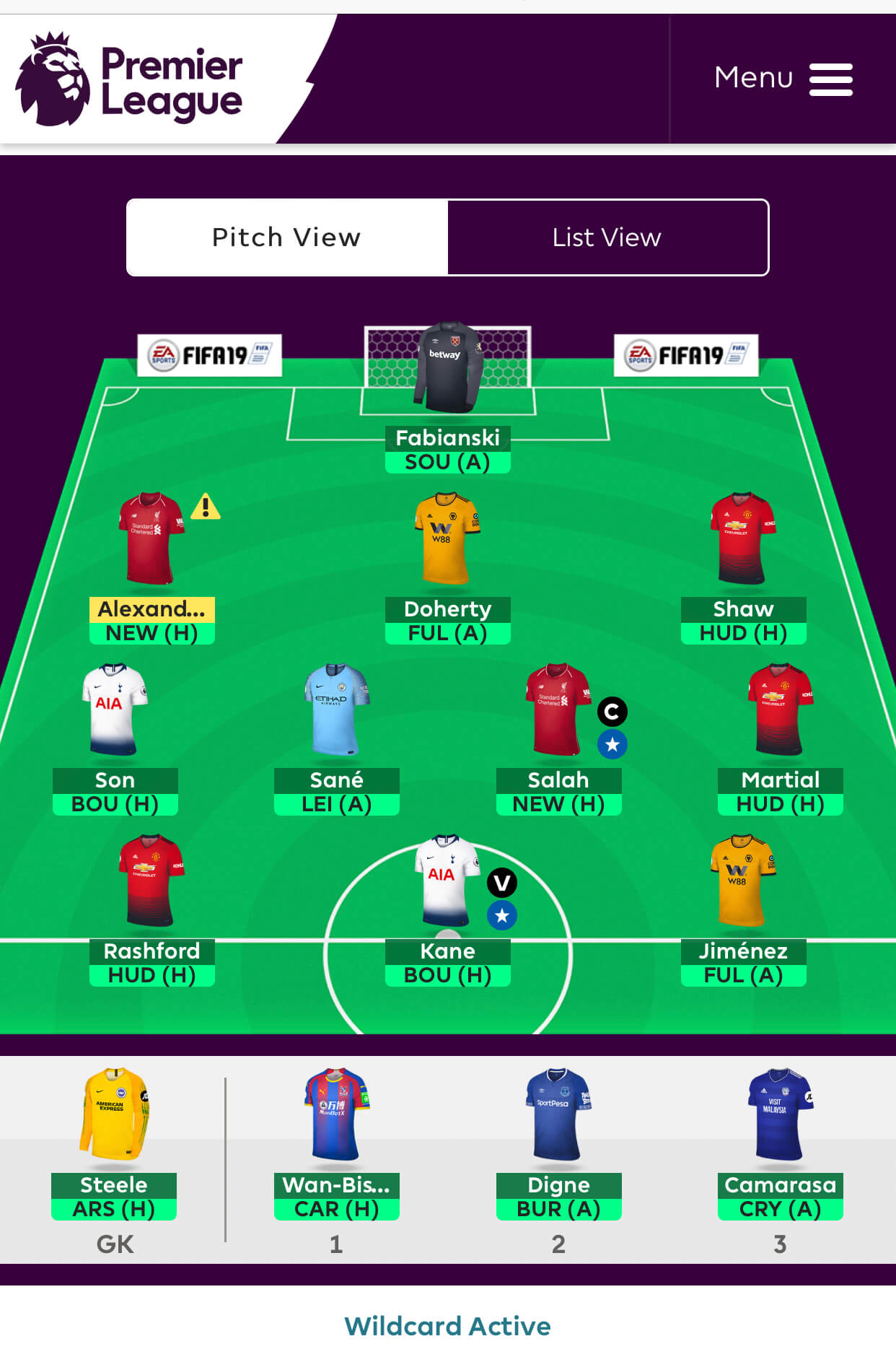 Thanks for reading FF247 Fantasy Football Site Team GW19
FPL FIXTURE TRACKER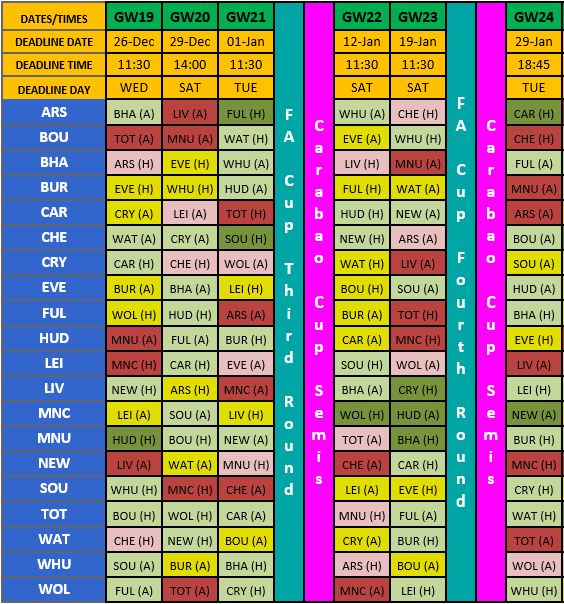 FIXTURE TRACKER LINK
Welcome to our Fantasy Football leagues section.
The League Codes for FF247 for the 2018/19 season are as follows –
Thanks to our friends Follow @ff_surgery and please give them a follow.