FF247 Fantasy Football Site Team GW2
Welcome to FF247 Fantasy Football Site Team GW2. What a nice start to the season with seven out of our eleven starters providing returns. We ended on 95 points which landed us about 130k in the overall standings. It is good to see all the hard work of coming up with a team payoff. Pay no attention to the fact that we got ridiculed for our team when we first put it out, just know that we corrected it and that the person responsible for picking Ceballos was punished, one less doughnut for him at the next committee meeting.
At the keeper position we got a cool 8 points from Pope, one little detail that many may have missed, he had a key pass in the fixture vs Saints. Why buy Ederson when you can have Pope in your side passing for possible assists.
We went with a back four and two of our players brought home the goods. Our LFC defenders lost their clean sheet to something named Pukki, luckily though, Van Dijk was able to score to offset some of that pain. Robbo on the other hand didn't get any returns and it did cause us a bit of pain to see TAA deliver an assist, but at least our defender actually looks capable of defending, hopefully Klopp sees that also and benches that no good Alexander-Arnold next fixture. Digne was also in our side and while he didn't get any attacking returns, he did provide us with a clean sheet, so job done. Our last defender was Walker-Peters and he got no returns because he plays for Spurs and they always give up a goal somehow, someway, which begs the question, why is he in our team? See Ceballos, same committee guy, another doughnut lost for him.
Our midfield delivered big time!! Captain Salah busted out a 12 pointer that was doubled to 24, that was followed by a hat trick from our friend (friend, because he is in our team) Raheem Sterling. A hat trick that could have been five, if Kun was a better teammate and if Var didn't exist in the PL. New man McGinn did not let us down, despite him being transferred in late into our side, he was handed a start and he rewarded us with a goal that allowed us to get seven more points. That's great stuff there, hope our transfers work out like that all season long. The last spot in the our midfield belonged to Ayoze Perez and unlike his mates, he was unable to come up with the goods, only banking us three points.
Harry Kane and Diogo Jota was our preferred strike force. Thankfully Harry had a wonderful end vs Aston Villa, with a brace late in the game that also won him the three bonus and made his total haul balloon up to 13 points. The same can't be said for Jota as he was subbed off on the 75th minute mark and denied the opportunity to also save his game-week. He did however provide us with some comedic relief falling over in the box by himself squandering a decent chance for Wolves and on a different occasion sending another chance wide of goal with an attempt that will have some owners wondering what the hell was that.
All in all, it was a great GW for the site team with our three premium players all making the fpl dream team, so for now, we are getting the kind of bang we need from our biggest wage earners. Enough of GW1, let us see what we are thinking for GW2 and make sure to check back before the deadline, because we might just change our mind… again!!
Our GW1 Team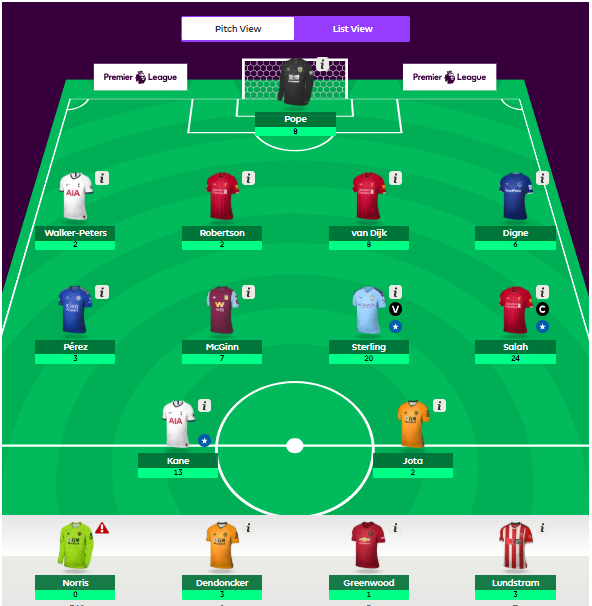 Our GW2 transfer/s: NONE
Exciting it may not be but we are pragmatic if nothing else and with no major concerns for GW2 we are happy enough to sit on our hands and have 2 free transfers in GW3 to play with and do a bit more gardening if needs be, with more tools at our disposal to do so.
Ahead of GW2 though we had a couple of selection dilemmas to address. With Spurs unlikely to keep a clean sheet KWP has been banished to the bench (best place for him) and big John Lundstrom has been promoted to the starting XI. Actually, we have no idea if he's big or not! The rest of the team picked itself so we were clearly waffling when we said we had a couple of selection dilemmas.
Captain – Mo Salah
Despite a tough 120 minutes in Istanbul in the heat we reckon our Egyptian will be good to go on Saturday away at Saints. It's not as if the heat will have been a shock to him (see his aforementioned origin) and it's not as if a midweek game will have been either (see most weeks in the CL).
Should he suddenly come over all heat stroked and tired (he won't) then Sterling will fill in for him as vice.
Our GW2 Team in full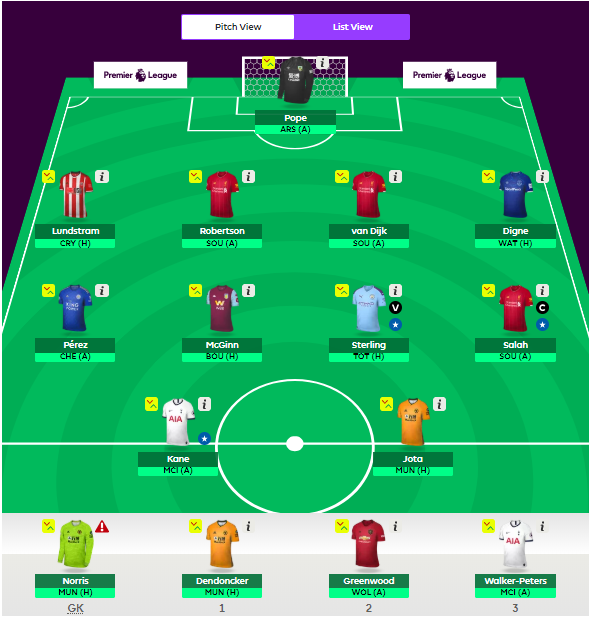 Should you wish to follow the FF247 Site Team's progress you can do so here.
Thanks for reading FF247 Fantasy Football Site Team GW2
FPL FIXTURE TRACKER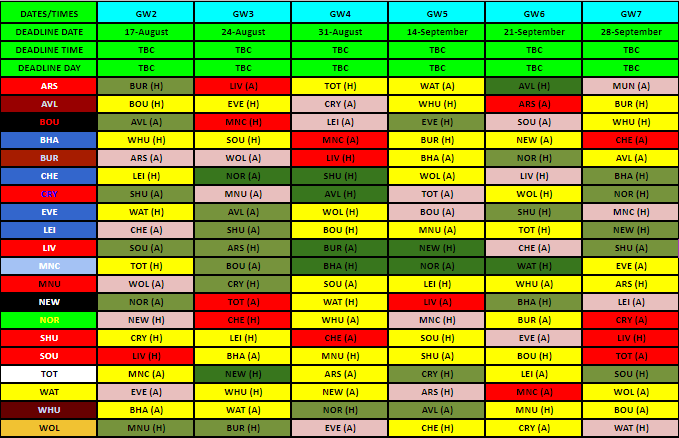 FIXTURE TRACKER LINK
Fantasy Football 247 League Codes: