FF247 Fantasy Football Site Team GW20
Welcome to the FF247 Fantasy Football Site Team GW20. The trouble with a wildcard team is often not who you bought; rather who you didn't. There's always those regrets, swept aside on to the floor of the 'drawing-board' room. Not so much the ones who catch your eye when you walk around afterwards wistfully kicking up the dust, seeing names like Wilson, Alli or Aubameyang peek through the remnants, more the ones like Felipe Anderson and Hazard, who still seem to sparkle through it, almost winking at you in mock disgust of what could have been that week. But alas, we couldn't have everyone we wanted. If we did we'd have had a midfield of epic proportions… but the last time we checked 1-8-1 wasn't a valid formation.
All this isn't to say we had a bad WC week, on the contrary, we managed a very respectable 75 points, which could have easily been 84 or indeed 90, with either a bit more luck or better team / substitute selections! Our highlights; TAA got us 11 points via a clean sheet, an assist and 2 bonus points, Son got us 13 with 2 goals and a bonus point and Kane got us a goal. Our captain Salah got us a goal , an assist and a bonus point, which we were particularly happy with, especially having debated late on whether or not to listen to some twitter rumours that he may be benched, but suffice to say we decided against it. The rest simply graced us with appearance points, more or less, apart from Martial who went AWOL completely. That's the one which probably p*ssed us off more than anything, as Felipe was in his spot originally…
Worry not though, that's why we have a bench. Now then, usually the man rushing off said bench, like some superhero with a clean sheet on his back and a customary 2 bonus points under his arm, is Wan-B. And indeed he was, as if on cue. We normally rush to greet Wan-B like some long lost friend but this week we'd have happily elbowed him in the ribs and then stamped on him in order to welcome the little weakling bringing up the rear behind him; for that was Lucas Digne, weighed down with 17 points. No wonder he was flagging.
All in all our 75 points saw us 16 points above the average with a jump in rank of 5k to 79,735th overall.
Last weeks result in full…
This weeks transfer decision(s) – SAVE
We'll admit that we may have laboured the intro a bit there, but that's perhaps because there's not a fat lot to tell you in the transfer section; as we aren't making one. We can tell you that there was a huge debate over who starts up front for Man United this week. We can tell you that said debate spanned no less than 4 hours. We can tell you said debate involved 4 grown men who were supposed to be off work spending time with their families, and that 2 of them aren't even Man United fans. And that by the end of it none of them were any the wiser!
Our Captain is Mo Salah
Perhaps somewhat more interestingly our captain vote was fairly unanimous. As was Son for our vice captaincy. Be it Salah's return to form, or Arsenal's return to defensive shakiness, we can but hope some combo of the two meet up this week for our captain.
Our team in full…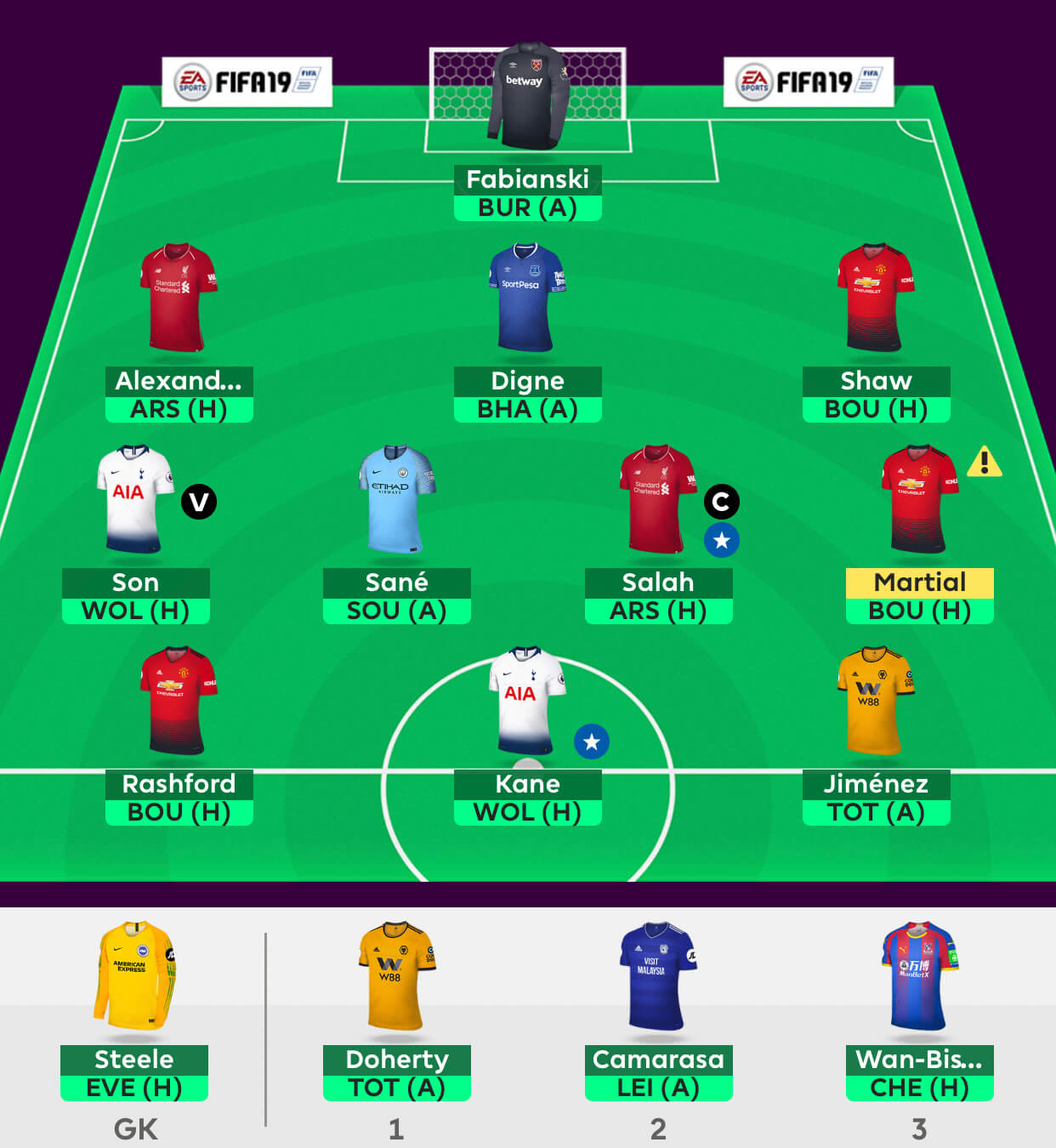 Thanks for reading FF247 Fantasy Football Site Team GW20
FPL FIXTURE TRACKER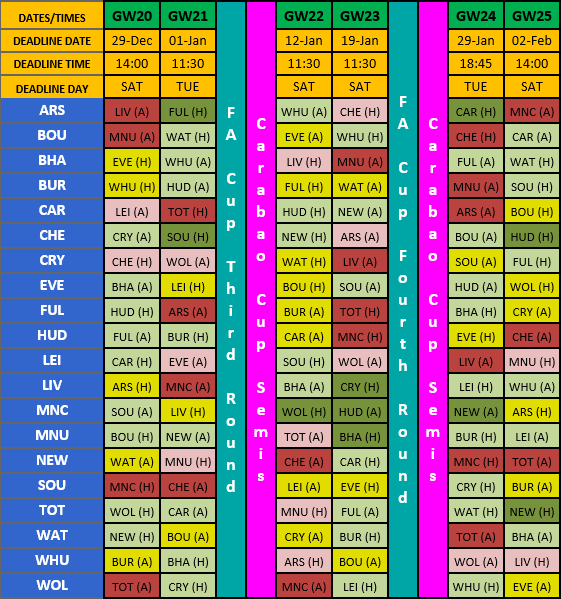 FIXTURE TRACKER LINK
Welcome to our Fantasy Football leagues section.
The League Codes for FF247 for the 2018/19 season are as follows –
Thanks to our friends Follow @ff_surgery and please give them a follow.