FF247 Fantasy Football Site Team GW21
Welcome to the FF247 Fantasy Football Site Team GW21.
Two Salah's would just be greedy…
What a lovely, gracious lad he is, giving his team-mate the chance to complete his hat-trick. Some said. Others, ones who perhaps captained him, for example, used different words… Mo's 'generosity' was probably a 10 point swing, perhaps even 12 if you factor in him possibly taking an extra bonus point, but we aren't bitter… far from it, we are furious!
we are 'Claudio Ranieri' furious.
Despite his errant ways Mo helped us along to 68 points this week, leading the way with 24. If we'd told you beforehand that Kane, Son and Jimenez would get 2 goals, an assist and 4 bonus points between them you'd have nodded along as if it was perfectly plausible, if we said that Jimenez would get the most points from that trio you'd have simply laughed at us. Our defence and keeper managed the same score as Jimenez (8), between the whole sorry lot of them. Martial and Rashford chipped in nicely with 2 assists, a goal and two bonus points between them. Sane came on for an annoying 1 point cameo which denied us any chance of replacing him with some points from our bench, of which there were a lot! Speaking of which, and if nothing else, we do know how to pick a strong bench, that's for sure. Since we played our wildcard we've had 19 and 17 points sat on it, so much for Christmas rotation eh?!
All in all then we finished 18 points ahead of the overall average and enjoyed our second green arrow in a row, this one flinging us up 27,000 places to 52,318th. We seem to be stuck in a yo-yo scenario.
Heading in to GW21 we have 2 free transfers and exactly zero pounds and pence in the bank.
Last weeks result in full…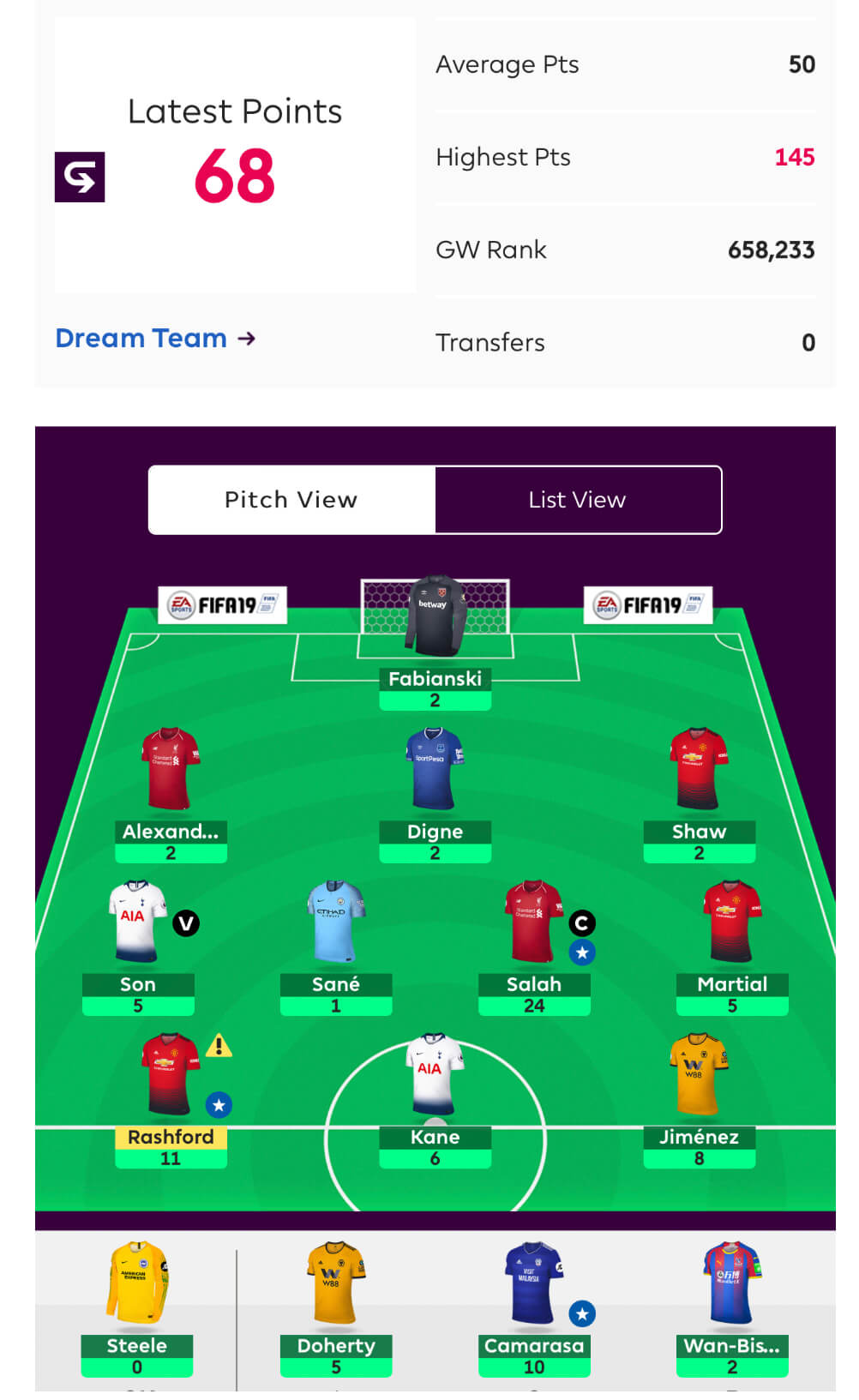 This weeks transfer decision(s)…
Look, you told us to post this article; to spend precious time writing it is one thing, to spend it telling you that we saved one transfer prior to Santa coming and then used the next one to change sub keepers from Steele to Button, simply so that we didn't waste a free transfer, would be a ridiculous waste of both our time and yours… And that was exactly what we were going to tell you, until Rashford was flagged up as a doubt. Which suddenly changed everything and our transfer plans changed drastically, and for the sake of the article; more excitingly.
The truth is that we wanted Hazard initially, and latterly possibly Pogba, but even with 2 free transfers we couldn't see an obvious way to raise the Hazard funds and the Pogba one was hampered by the fact that we already owned 3 Man United assets. Which again is where the Rashford news played into our hands quite nicely. With Lukaku lurking there was always a chance that young Rashford was due for a rest anyway, add in an injury doubt and we felt it was almost now inevitable that he would miss out.
Losing him handily freed up a spot for Pogba and so he is coming in for Sane. That was the straight-forward bit, finding a Rashford replacement was a bit harder. We basically boiled it down to either Callum Wilson or Marko Arnautovic, both of whom have had injury issues of their own lately and both look like they are being nursed back in carefully. Given that Wilson is a bit further along that particular tightrope we plumped for him, he is after all still the 3rd highest scoring forward in the game. We just need him, and indeed Bournemouth, to rediscover a bit of form, the two things may actually not be mutually exclusive.
Planning ahead we still intent to grab Hazard at some point, no doubt for Son once he departs for Asian Cup duty. As a funny aside, the initial (future) transfer suggestion, and hence the article's title, was that we should sell Kane and buy Salah with his proceeds……. The fact that this suggestion actually got a second vote was even more worrying! Now we know it's been a long couple of weeks but given that exactly two out of two of those people actually voted for Salah as our captain against Arsenal last week…
#sighs
To confirm then we have SOLD Sane & Rashford and BOUGHT Pogba & Wilson
Our Captain is Harry Kane
We are backing Spurs to bounce back strongly and they certainly have the 'plum' fixture to do so. Then again we all said that the last time these two sides met, and you probably need little reminding if you were one of those who ripped your team apart to bring in Kane back then, but it finished 1-0. And no, he didn't even get the goal. Our new and slightly unexpected recruit Pogba gets the armband if Kane is suddenly rested.
Our team in full…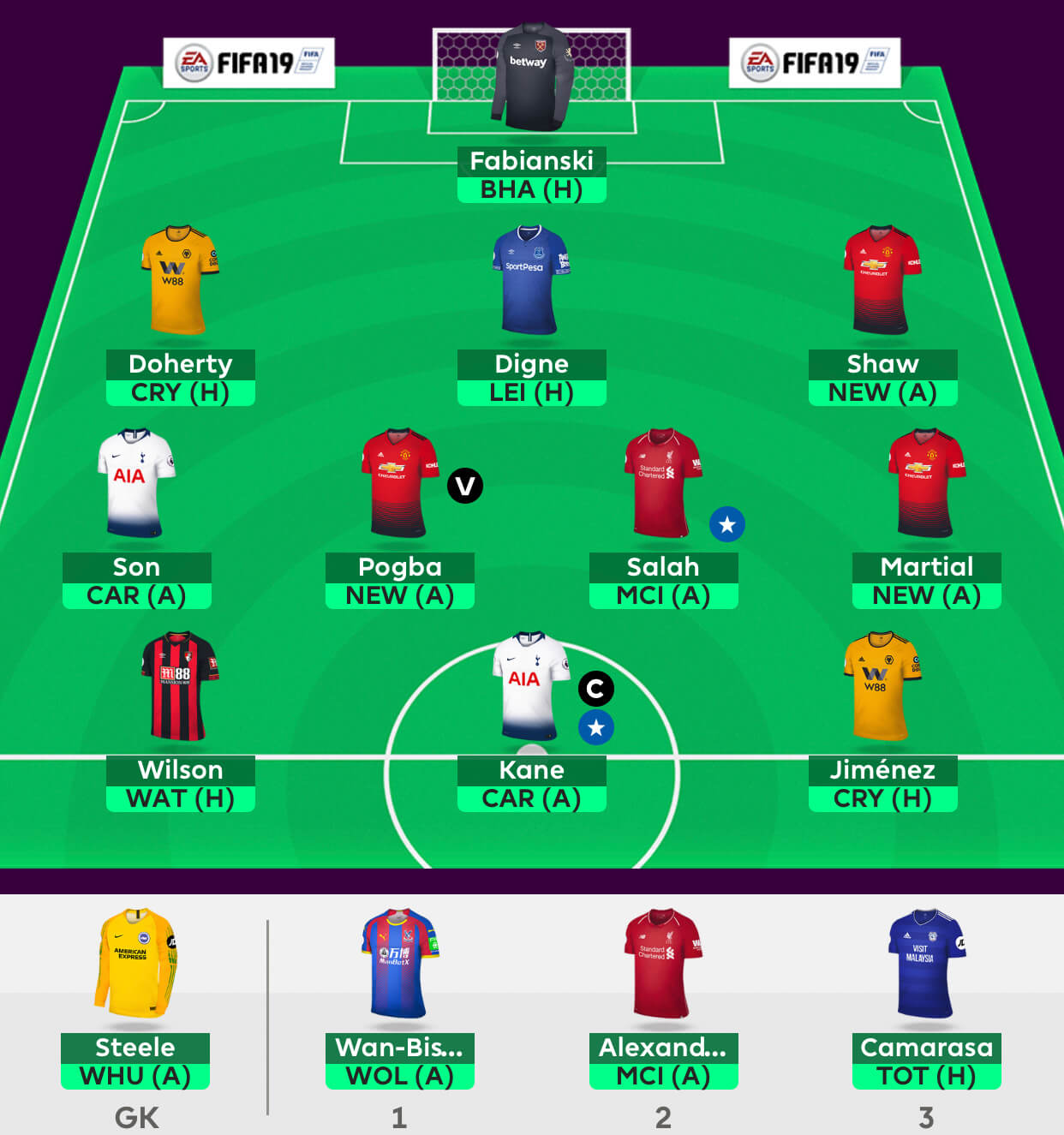 You can follow the site teams progress all season by clicking here
Thanks for reading FF247 Fantasy Football Site Team GW21
FPL FIXTURE TRACKER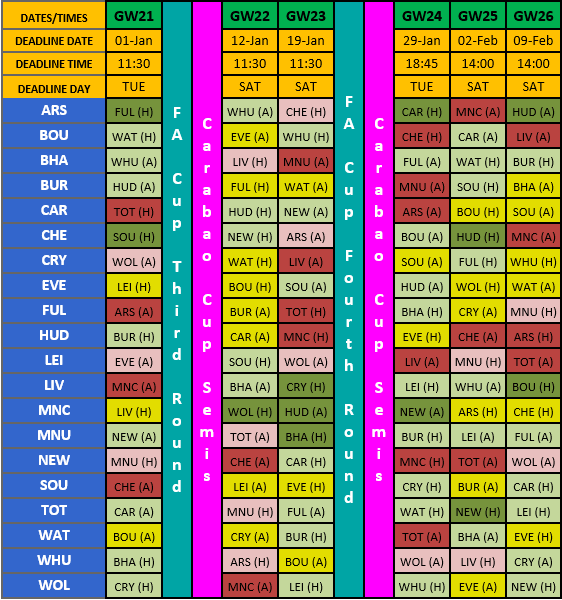 FIXTURE TRACKER LINK
Welcome to our Fantasy Football leagues section.
The League Codes for FF247 for the 2018/19 season are as follows –