FF247 Fantasy Football Site Team GW22
Desperately Seeking Salah
Welcome to FF247 Fantasy Football Site Team GW22. A week of mixed fortunes but we think we got away with it and a green arrow would suggest so. At the back Pope reinforced why we should really have sold him a while back as he along with Kelly got us 2 points apiece. TAA got his now obligatory clean sheet with Soyuncu going one better and get 2 handy bonus points on top of his cleanie. Up top it was carnage as our captain Vardy didn't bother to show up, Jimenez did just about but still only got us 2 points whilst Tammy was that particular department's 'star' performer with an assist. Our midfield came to the rescue a bit but perhaps from unexpected sources. Whereas Alli got a disappointing 2 and our new Captain and long pursued target KDB got us the same, doubled for 4, Cantwell came off our bench with a grateful 10 and Grealish went even better with a 13. Mane got his usual goal for an 8.
All in all we ended up with 62 points, 14 above the average and a welcome rise in rank of about 21k up to 91,142nd.
Our GW21 Result…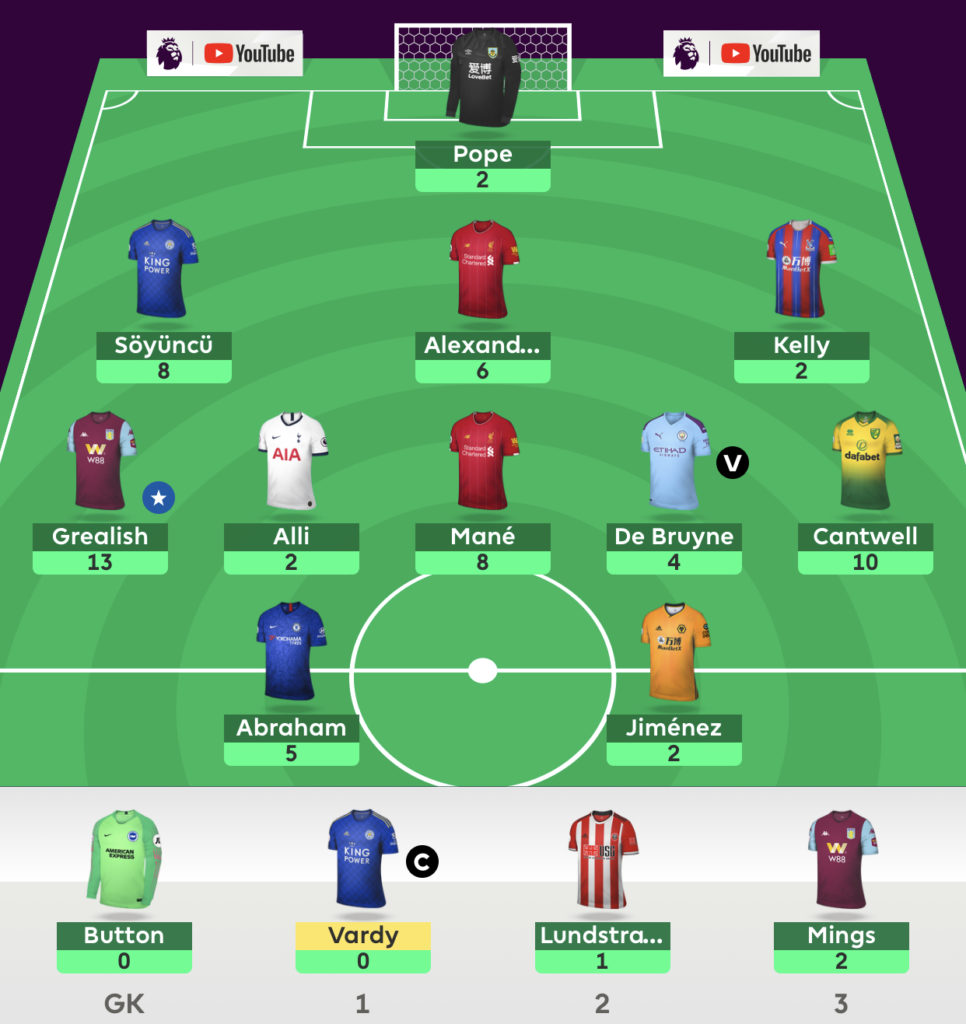 Our GW22 Transfer(s)
We come into GW22 with 1 FT and £0.6m ITB.
It seems strange to be deciding on which players we need for a GW that is essentially still three weeks out from here but we need a plan so as to arrive in DGW24 with a full complement of Liverpool assets. We are currently sporting two thirds of the so called 'holy grail' of TAA, Mane and Salah. The latter is the one which is causing us issues, simply because he's so bloody expensive and in order to acquire him we are looking at some major surgery.
The alternative is to go with double Liverpool at the back with Robertson coming in to join his assist rival TAA. A vote was needed!
The case for Robertson was presented with stats; he's got 60 points away from home this season (both DGW matches are away), whereas Salah has only 35, albeit in less minutes. Plus he would be much easier to get to without ripping our team apart. Salah coming in would probably require saying goodbye to the likes of Jimenez & Tammy.
The case for Salah was that he's looking in good form and is certainly getting the chances and clearly has more potential to be 'explosive'.
The result was that Salah got 1 vote, Robertson 4.
So with that out the way we could crack on and now actually make our moves for this week! In order to get Robertson in the upcoming weeks we would have to release a few funds, about £1.9m of them. We have decided on a rough step by step plan beginning this week by selling Alli for Maddison with a view to doing something like Tammy to Ings next week and then eventually Mings to Robertson. Best laid plans and all that…
To confirm then we have SOLD Dele Alli and BOUGHT James Maddison
Captain – Jamie Vardy
Pretty route one this but sometimes you don't need to overcomplicate matters. For the record though Vardy didn't have it all his own way; he got 3 votes, with Mane and KDB grabbing 1 apiece.
Our GW23 team in full…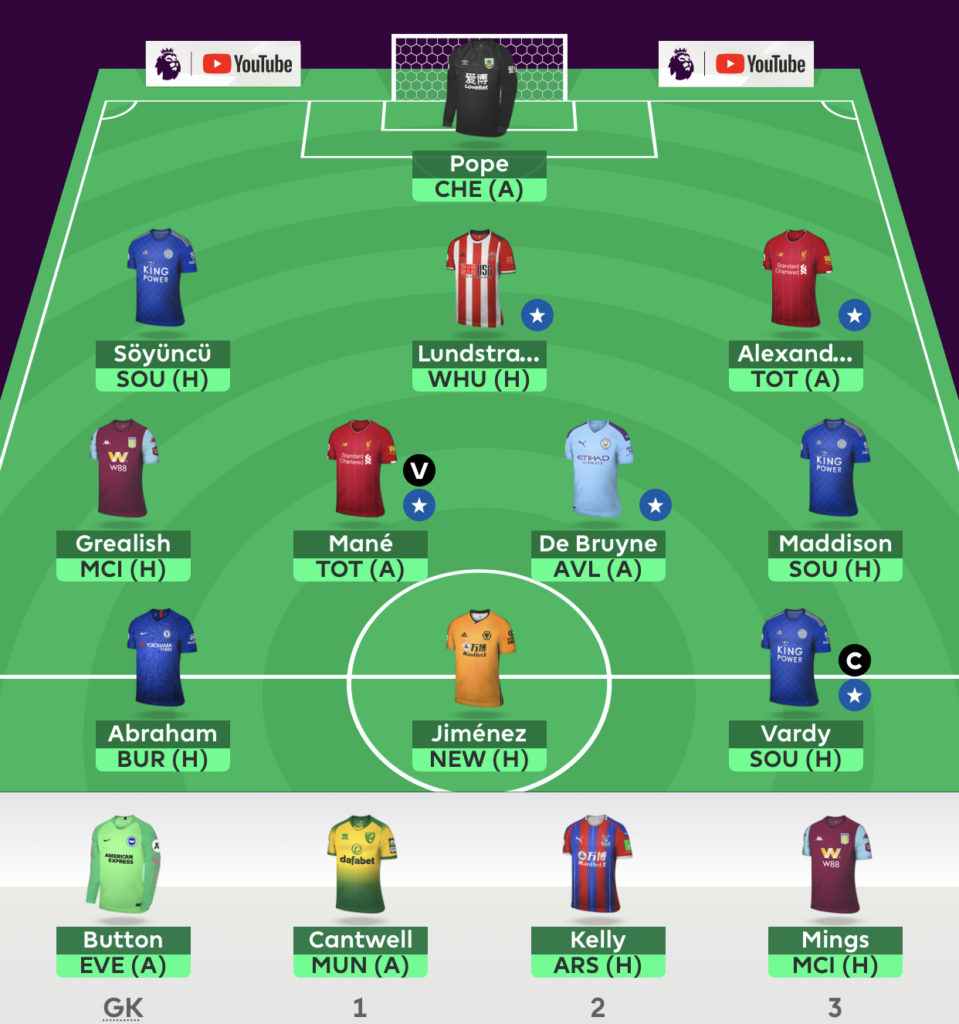 Should you wish to follow the FF247 Site Team's progress you can do so here.
Thanks for reading FF247 Fantasy Football Site Team GW22
FPL FIXTURE TRACKER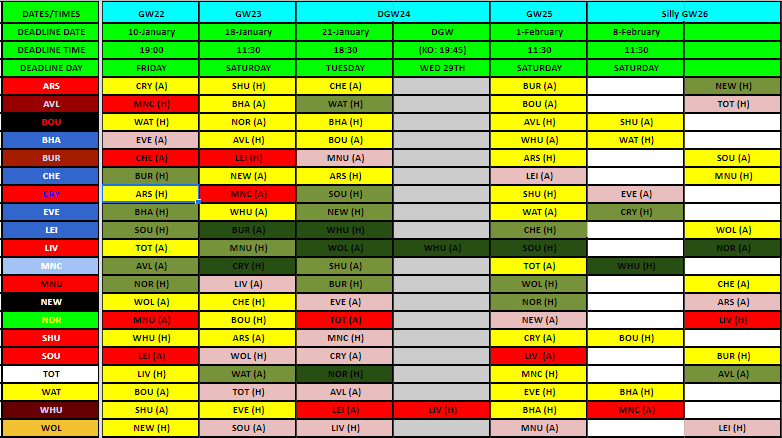 FIXTURE TRACKER LINK
Fantasy Football 247 League Codes: