FF247 Fantasy Football Site Team GW22
Oh what could have been…
It's fair to say we have mixed feelings this week; we sold Rashford (12 points) and Sane (10 points) and bought Wilson (6 points) and Pogba (3 points). Well ok, we say mixed…! It is actually mixed though as we didn't drop off a cliff as a result, voluntarily or otherwise, we did somehow manage to still grab a green arrow, albeit not as big a one as we would have, had we simply overslept on New Year's Day, or something similarly convenient. Someone please remind us next year to simply get blind drunk and forget the team!
As it was we somehow scraped through with 63 points, with only really Kane (c) on 24 and Son with 13 pulling any weight. Wilson did get that 6 and the much derided Shaw got 5, the rest barely played, as far as we could tell.
We rose about 8k to 44,626th. Had we not done our 'moves' we would have been…….. we jest, we couldn't stomach such an analysis. Someone will probably furnish us with said info in the comments section anyway!
Last week's result…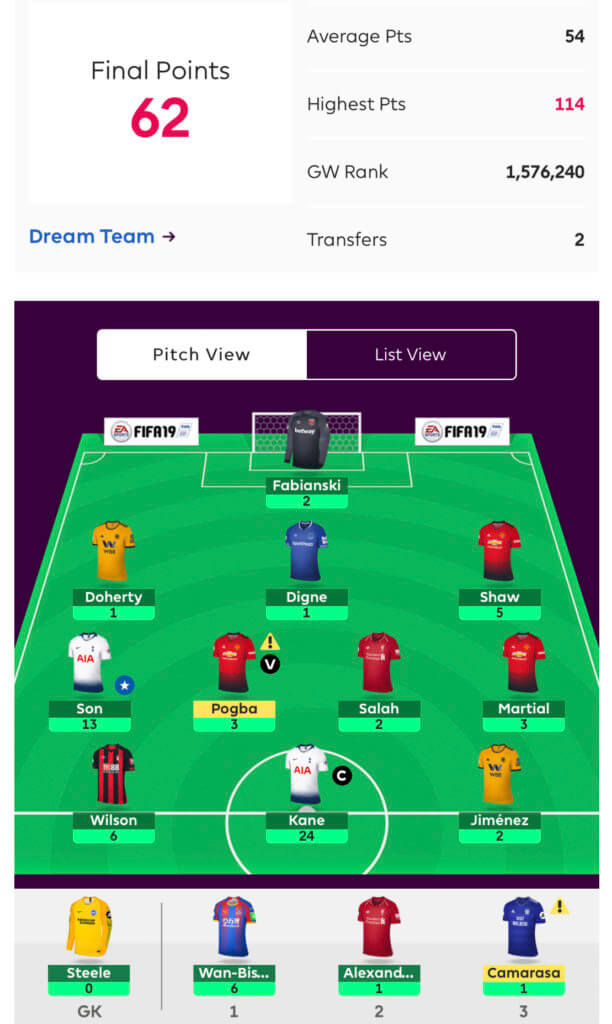 Let's go see what damage we can do to this week's team by making our decisive decisions…
This week's transfer decision…
We go into GW22 with one free transfer and £1.6m in the bank.
We've actually decided to sit on our hands and do nothing, as boring as that may sound. And no, it's not an extreme reaction to last week's debacle of decisions, it's simply because we feel we can field a decent enough team this week without any changes, and with Son exiting stage left after this week we rather like the idea of two free transfers and a bit of flexibility next week to deal with that inevitable situation.
Looking at our team this week the fixtures are actually a bit naff for many of them but we do accept that this will be the case for the majority too. You just like to see more favourable opposition, but perhaps aesthetics isn't everything in FPL; somebody still always scores points in these games.
To confirm then we have SOLD & BOUGHT; nobody!
*Disclaimer on Wilson; Reports are suggesting contrasting things about young Callum at the time of publishing, ranging from; not being pictured training, to being fit and available, to being off to either Chelsea or West Ham! Suffice to say we shall monitor this situation closely and if anything more concrete emerges in the next day or so we will act accordingly. We shall be sure to say so in the comments if our plans do change drastically! Well ok, it won't be that drastic; we shall either bench him or sell him for a similarly priced striker, probably one called Rashford, oh the irony…
Our Captain is Mo Salah
It's not often we get a clean sweep on the captain vote, in fact it's 'hen's teeth' territory when it's a clean sweep on both that and the vice captain vote but that's what we had this week. Five votes, and every single one said ' Salah (c), Kane (v). We don't actually ask for reasons, but if we had we suspect that they would touch on the same thing as above really; best fixture out of a bad bunch, relatively speaking.
Our team in full…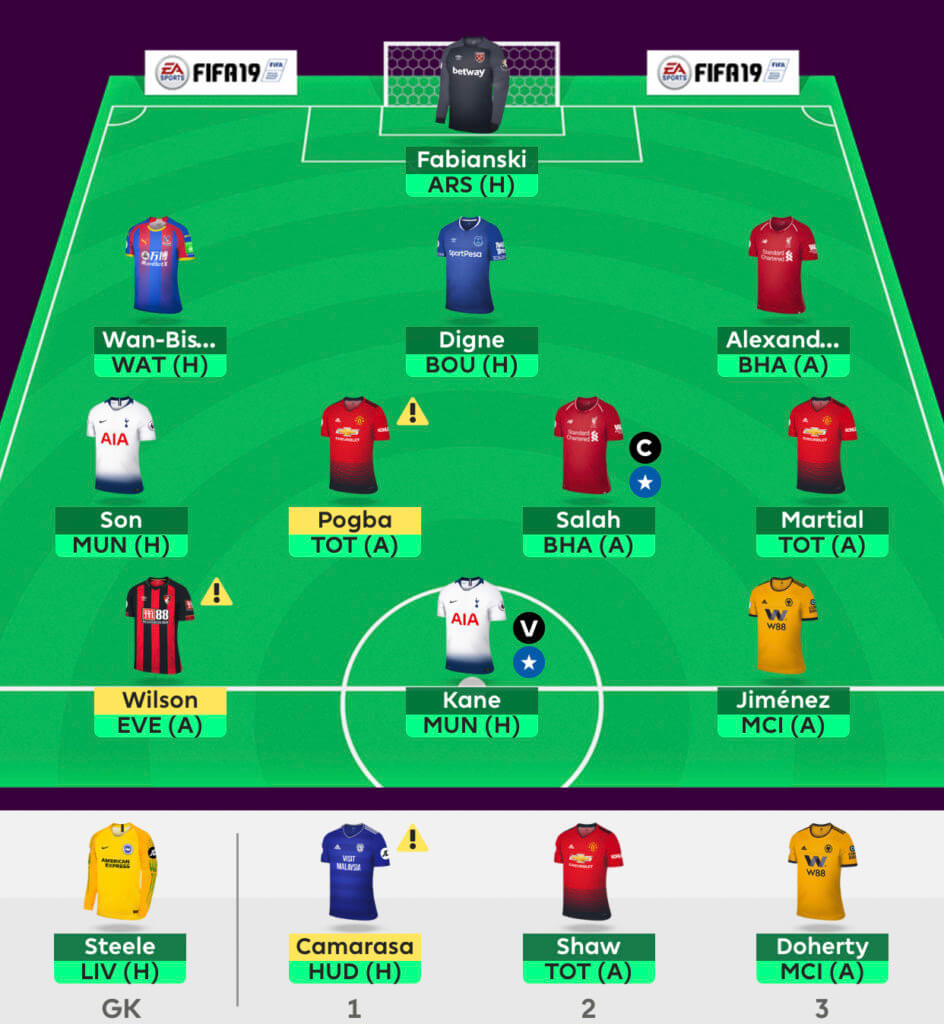 You can follow the site teams progress all season by clicking here
Thanks for reading FF247 Fantasy Football Site Team GW22
FPL FIXTURE TRACKER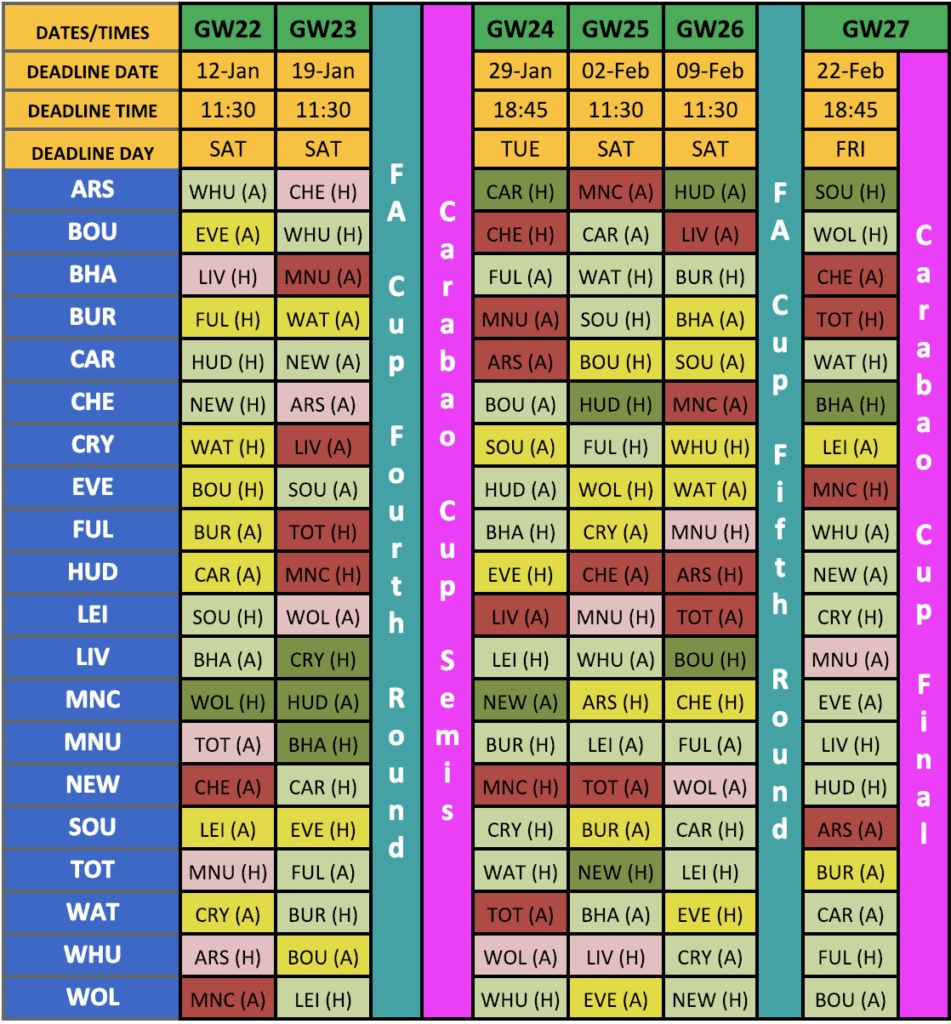 FIXTURE TRACKER LINK
Welcome to our Fantasy Football leagues section.
The League Codes for FF247 for the 2018/19 season are as follows –