FF247 Fantasy Football Site Team GW23
Welcome to FF247 Fantasy Football Site Team GW23.
Extraordinary(ly) (Pointless) General Meeting…
We won't beat around the bush here; GW22 was less than kind to us. We scraped home with just 48 points, 9 below the average. Inevitably it meant a big red arrow, one to the tune of almost exactly 50,000 places, which now sees us in 141,497th, our 2nd lowest ranking of the season. Our entire team managed just 3 assists and 1 goal between them. Our highest scoring player was captain Vardy with just 10, and that was doubled up from 5, which pretty much tells you all you need to know.
Our GW22 Result…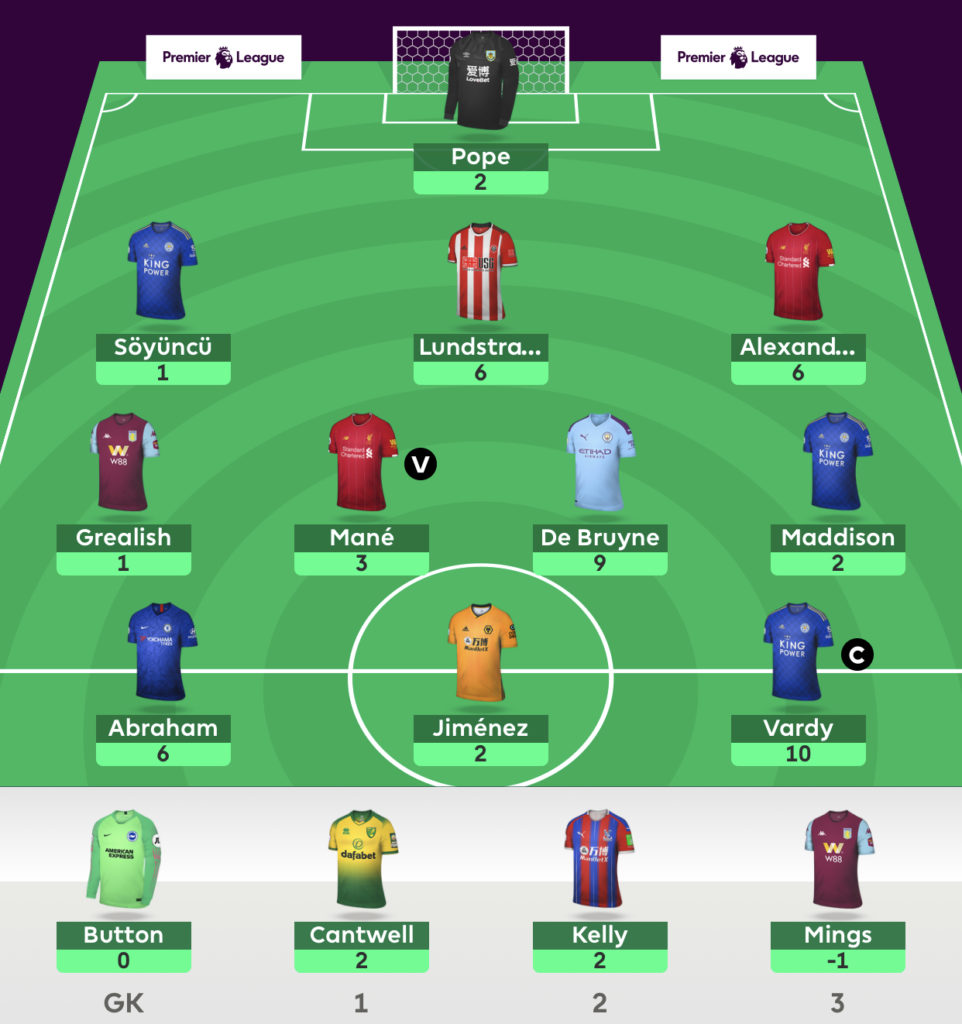 Let's go see what was decided this week…
Our GW23 Transfer(s)
We come into GW23 with 1 FT and £1.5m in the bank.
As mentioned last week we decided that we were going down the 'Robbo' route, as opposed to the Salah one. And with that in mind we needed to raise a bit of cash. We began that process by losing Alli to Maddison and this week the cull continues at a pace…
Anyone who has followed us with any modicum of interest over the years will know that we are anything but rash and certainly don't go making early transfers just to beat the odd price rise. That was until this week! We don't normally even have a 'team' meeting until a Thursday but on Wednesday night we were alerted that our intended target Danny Ings was on the cusp of a price rise, cue an Extraordinary General Meeting. Cue people being dragged out of bed, away from their TV's and families, pulling over at roadsides and in some cases even as extreme as having to stop shopping for FF247 branded phone cases.
Possibilities were explored, including a fresh discussion about whether Robbo was indeed the correct path, which brought Firmino and Salah back onto the table, albeit briefly. The upshot was that we were happy enough to make an early transfer, for once, and so it was done; Tammy left us, Danny joined and our plans were still on course. They do still teeter on the brink of disaster though as we are now bang on the money to acquire Robbo at the expense of Mings next week. It's a situation we shall just have to monitor and we have a back up strategy should something go wrong which could conceivably involve either Firmino or Salah again.
And then after all that scrambling… Ings didn't rise after all! D'oh!
To confirm then we have SOLD Tammy Abraham and BOUGHT Danny Ings
Captain – Kevin De Bruyne
With City looking back in form and facing Palace at home this week Kevin romped home with 4 votes. Jamie Vardy picked up the other plus all of the votes for Vice Captain, so if Pep were to do something silly he will step in.
Our GW23 team in full…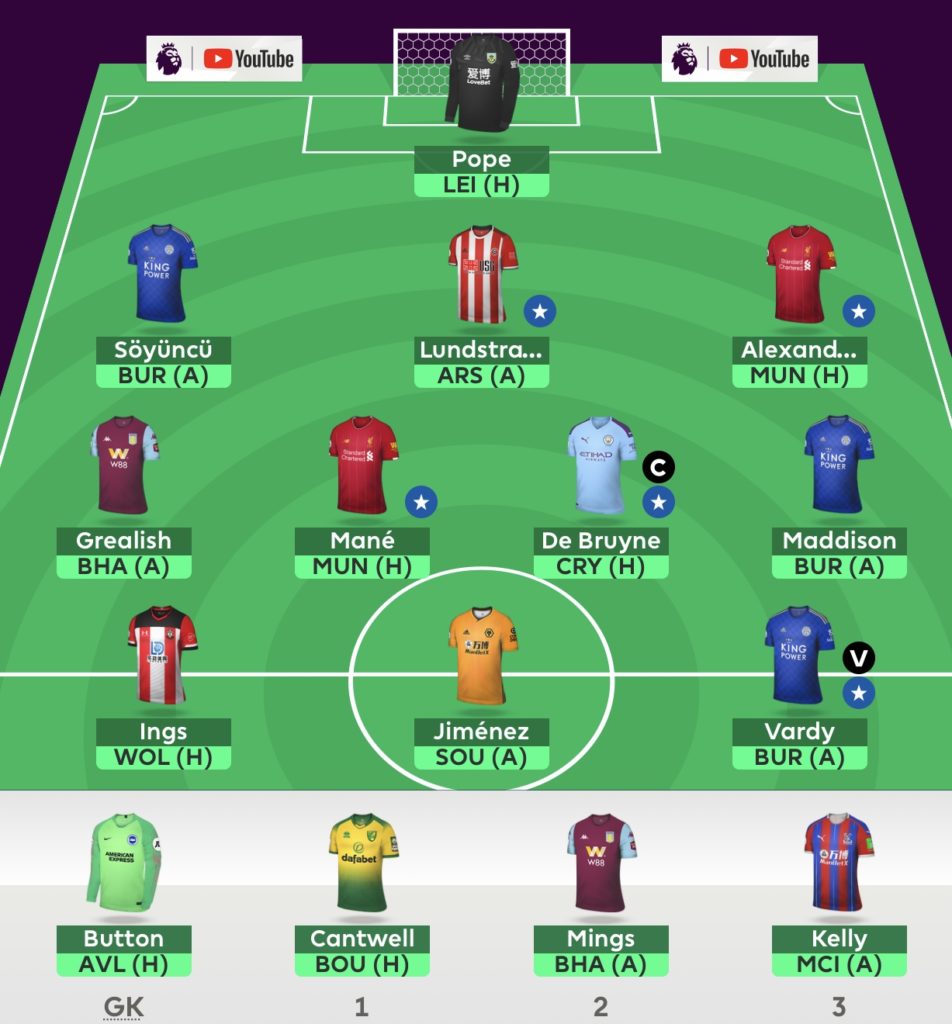 Should you wish to follow the FF247 Site Team's progress you can do so here.
Thanks for reading FF247 Fantasy Football Site Team GW23
FPL FIXTURE TRACKER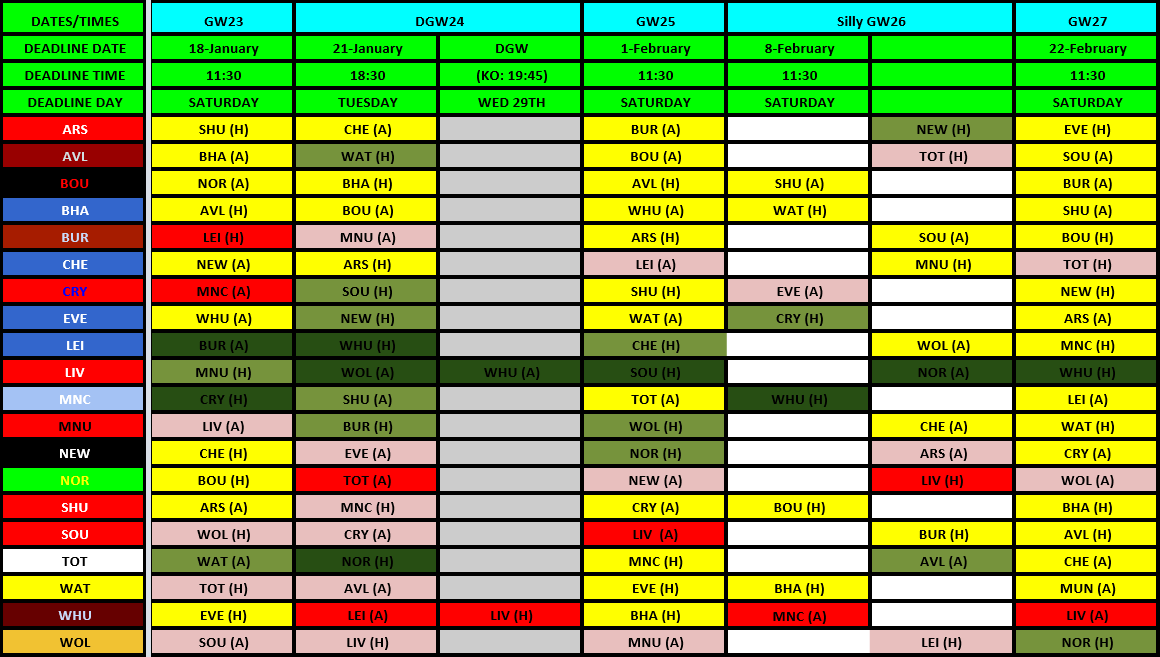 FIXTURE TRACKER LINK
Fantasy Football 247 League Codes: