FF247 Fantasy Football Site Team GW24
Who said FPL is a squad game? We played 5-a-side FPL in GW24 and returned 70pts. Well, to explain ourselves properly our 5 superstars contributed 64 of our 70pts with Captain Salah leading the way with 30pts, Sane 12, Wilson 9, Pogba 8 and Jimenez 5. The less said about the other 6 numptys the better, especially Digne who scored an own goal from 25 yards for a -1 payback. Our 70pt total sees our team of misfits record a 5th consecutive green arrow and sees us show us a global rank of 32,227, which is a season best so far.
Last week's result…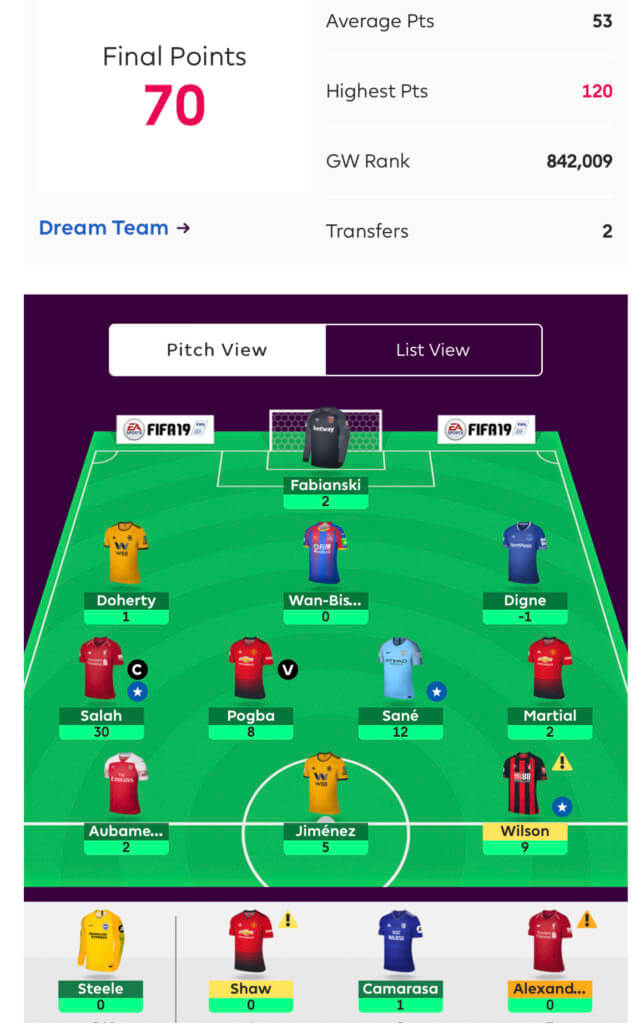 This week's transfer decision…
We have 1 FT, a healthy balance of £1.7m to burn, and more avenues to pursue than… some weirdo who pursues avenues. Our avenues include the return of (the prodigal) Son, as well as Everton and Man City suddenly having a DGW next week.
We have however decided to turn the other cheek to all of the above news and simply sit on our hands this week. Our team isn't in desperate need of any immediate renovation and sitting tight allows us the chance to assess further how the shiny new DGW25 looks after this weeks events, crucially with 2 FT's in hand.
We know this is boring, and doesn't really make for an exciting article, but we do take our team seriously and so sometimes you just have to bear with us on the journey. We could take a -8 every week and flower it up as the most innovative, exciting and daring FPL team ever. But it would finish in the millions. And neither of us want that, really.
To confirm then we are saving our transfer this week.
Our Captain is Mo Salah
Perma cap, anyone? Possibly, his recent stats suggest that he maybe warrants it. That we have Aubameyang at home against Cardiff and Mo still got a clean sleet of votes probably says it all.
Our team in full…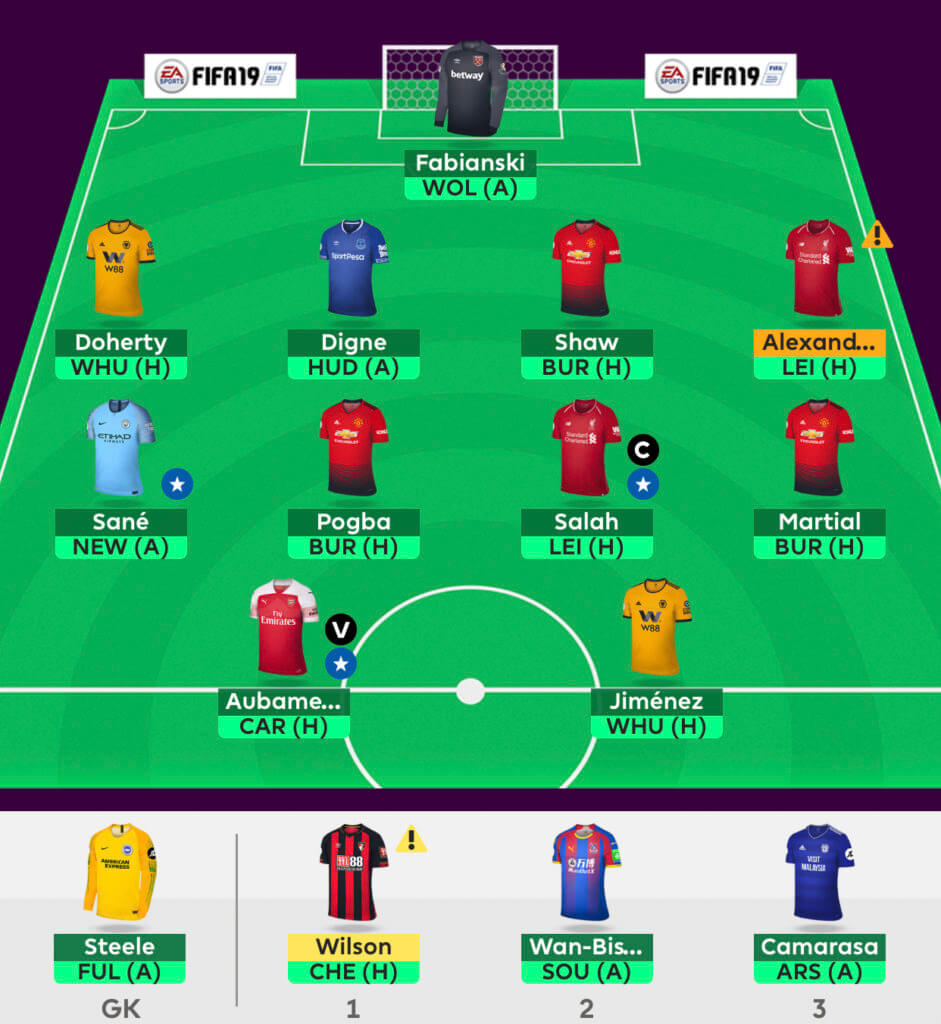 You can follow the site teams progress all season by clicking here
Thanks for reading FF247 Fantasy Football Site Team GW24
FPL FIXTURE TRACKER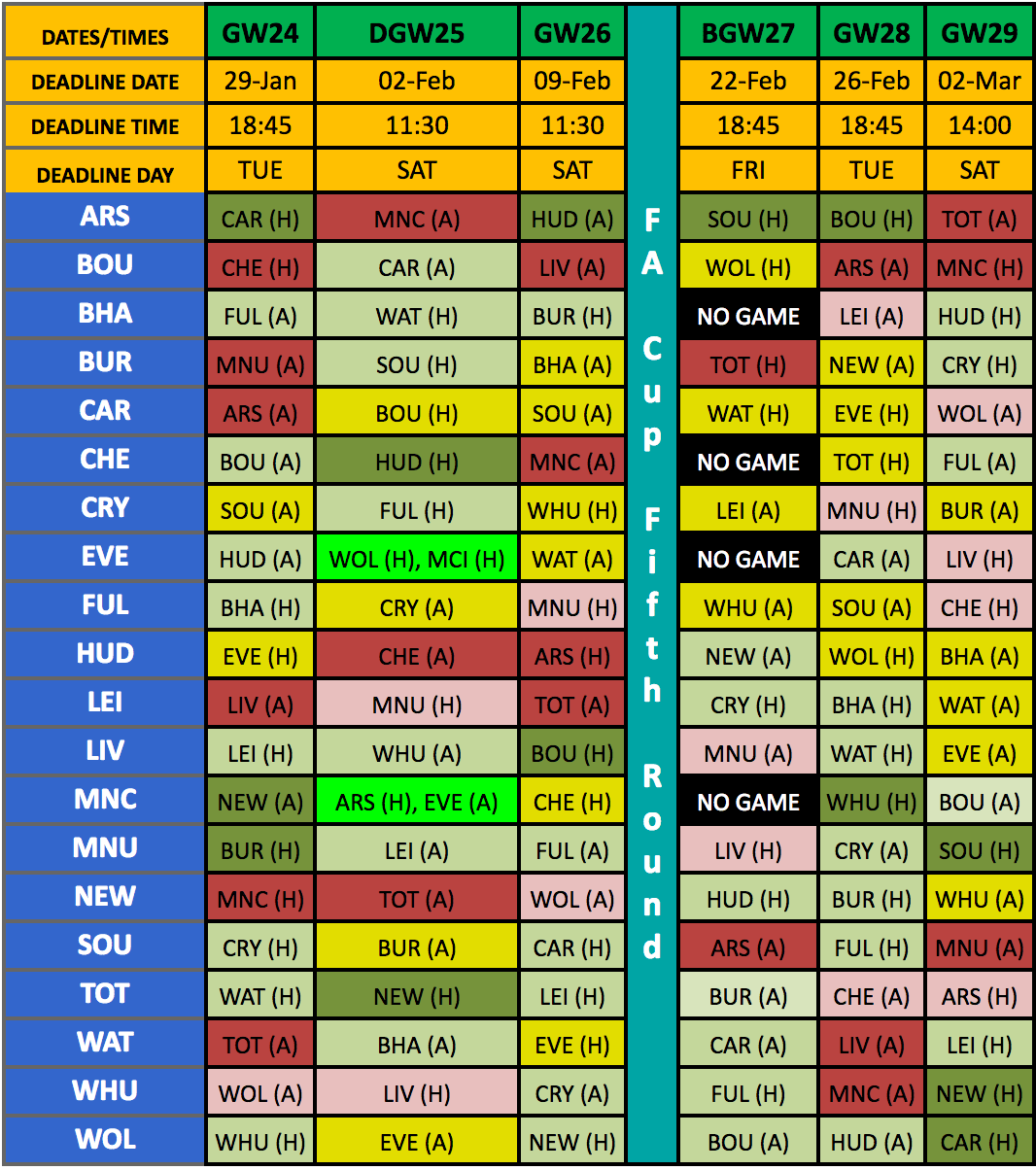 FIXTURE TRACKER LINK
Welcome to our Fantasy Football leagues section.
The League Codes for FF247 for the 2018/19 season are as follows –