FF247 Fantasy Football Site Team GW25
Bring out your dead!
It's probably fitting, in more ways than one, that we introduce this week's article with a (Monty) Python reference. The obvious being that we lost one of the great comic genuises of our time this week. RIP Terry Jones. The fact that most of our panel are now old enough to remember the original series actually being aired is probably somewhat depressing, for us anyway!
The less obvious reference is to that band of snakes from the Captain Picks article who all sang a Mane tune but then when push came to shove all whistled along happily to 'Always Look on the Bright Side of Life', after switching to Salah at the last minute.
We hope the now infamous Mane Five can all sleep soundly in their beds in the knowledge that they caused mayhem and damage to many a fantasy team. (Two of them are on our panel…

)
There's no such moral dilemma for the FF247 Site Team though; we said we were going all in with our TC chip on Mane and we stuck to our word… So at least we stand here before you now, morally bereft of points.
Back to the title of the article and we do indeed bring out our dead. We didn't even own Salah, never mind TC'ing him. Instead we hoped to soften the blow with a 'double-double' Liverpool clean-sheet, and all the attacking prowess of 'midfielders in defenders clothing' that they promised to bring to the party. Wolves put paid to that first bit in the initial game and the only attacking return we saw was a solitary assist for TAA in the same game. Them, and Mane, with his stupid injury, managed to get us a whopping 22 points between them. Salah as TC got 48…
Elsewhere it didn't get much better as Soyuncu, Grealish, Maddison, Vardy and Ings combined for a grand total of 8 points. 8 points…! The latter two barely managed 60 minutes of football between them.
On a more positive note KDB and Jimenez got 7 and 8 respectively and Pope managed to confound expectations with a healthy and unexpected 10.
All in all we ended up with 55 points, somehow 2pts above the average but produced an inevitably 'Salah-less' red arrow which dumps us down some 30,000 places to 124,316th.
Deep breaths, and all that.
Our GW24 Result…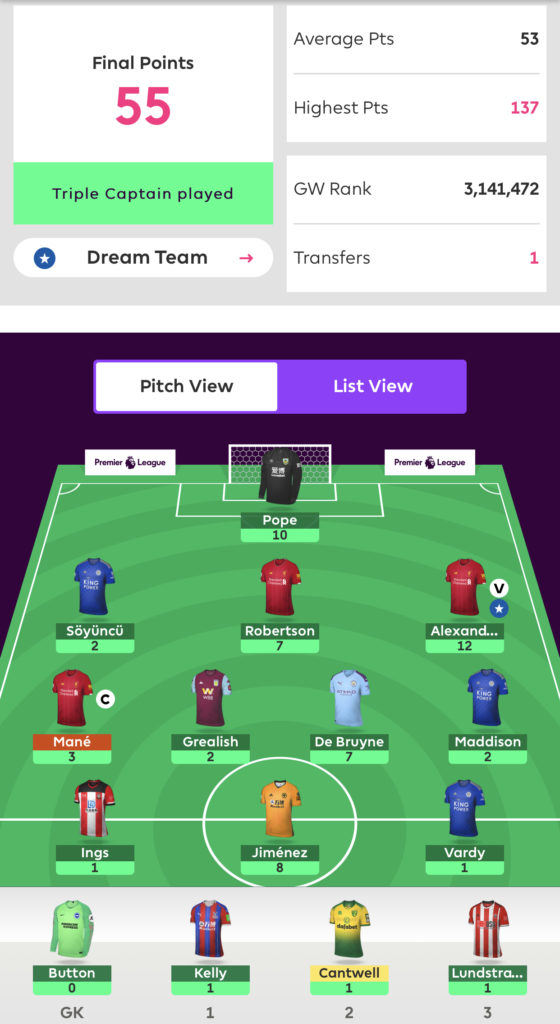 Let's go see what was decided…
Our GW25 Transfer(s)
As if Sadio hadn't already kicked us in the teeth enough this week, one look at our team and transfer options, or lack thereof, left us guessing he was about to do it again… We had 1 free transfer and nothing in the bank.
Option one was to do nothing and simply bench him. The trouble with this is that we have a sneaky suspicion that even when he is 'back' to face Norwich his game-time may be carefully managed in that particular late Saturday fixture because about 72 hours after that finishes Liverpool will be kicking off a CL game in Madrid against Atleti.
Option two arose because of that but also because of a distinct lack of Captaincy options within our ranks. Basically we feared being left further behind without Salah this week. This would of course mean a hit as funds would have to be raised. Our preferred option was to sell either Kelly or Lundstram as both of their places in their respective teams appear to be under threat, for varying reasons. However, neither left us enough money and so instead we have decided to use Söyüncü as our sacrificial lamb. We don't fancy many clean sheets for Leicester looking at their next few fixtures and when you have both Robertson and TAA you only need one other defender anyway. The replacements were thin on the ground so we have decided to go for Jamaal Lascelles. Newcastle have kept things relatively tight recently, especially at home, so we are happy enough for him to come in and battle it out with the other two for our 3rd spot at the back each week.
To confirm then we have SOLD Mane & Söyüncü and BOUGHT Salah & Lascelles
Captain – Mo Salah
No prizes for therefore guessing where our armband ended up this week.
Our GW25 team in full…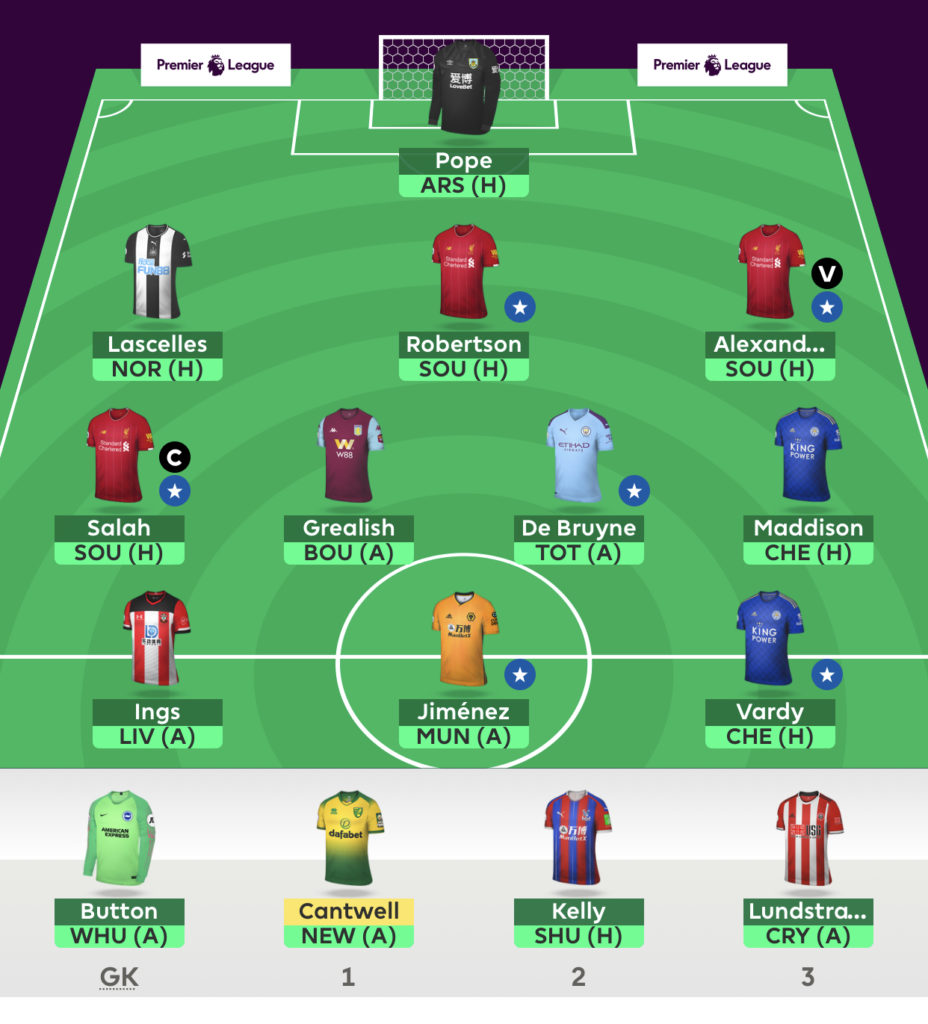 Should you wish to follow the FF247 Site Team's progress you can do so here.
Thanks for reading FF247 Fantasy Football Site Team GW25
FPL FIXTURE TRACKER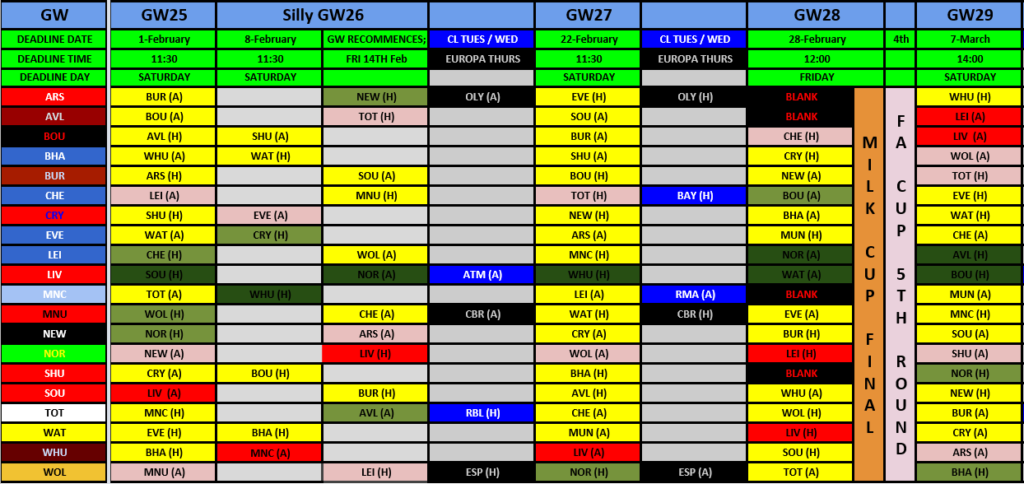 FIXTURE TRACKER LINK
Fantasy Football 247 League Codes: