FF247 Fantasy Football Site Team GW25
Eddie Howe is a LIAR!
A strange old midweek campaign for us which saw us end up with only 10 players and even one of those made the briefest of brief cameos We scraped in at 46, a meagre 4 above the overall average and yet we still grabbed our 6th green arrow in a row and a small rise up in the rankings by just over a thousand spots to land in 31,076th, yet another season high.
Jimenez and Aubameyang led the way with 12 points each, Pogba and Doherty also pulled their weight with 7 and 6 respectively. After that it was all downhill, Captain Salah let us (and the vast majority) down with a rare blank and the less said about Shaw, Wan-B and Sane the better really.
Although we do reserve special mentions for Digne and Callum Wilson, or more notably Eddie 'The Liar' Howe! Not only did Digne get himself benched because of a ridiculously poor performance in the cup last weekend, he then compounded the misery by coming off said bench and then quickly returning to it 11 minutes later via a red card, and subsequently also ruling himself out of half of the imminent double game-week. As for Wilson, we decided to keep him in the hope that he would be fit, reassured by Howe saying he would have a 'late fitness check'. It then emerged just before the Chelsea game that there was never a fitness check planned at all, he had in fact already undergone minor surgery. Thanks Eddie! Or as one of our committee commented upon hearing the news; "Eddie Howe is a penis"… For balance, this was countered by "Eddie is the nicest man in football".
Last week's result…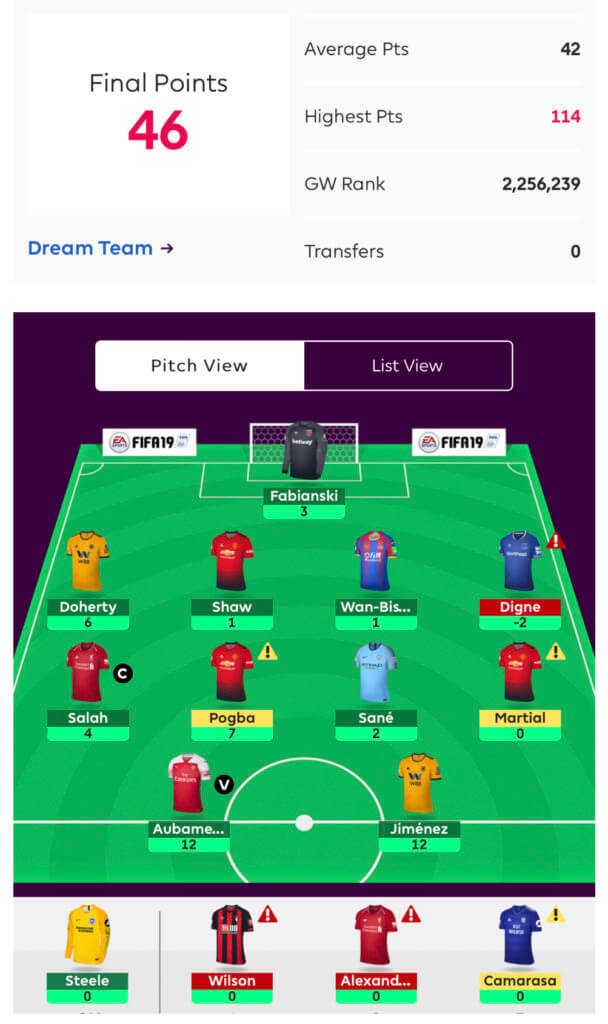 This week's transfer decision…
Ahead of this weeks meeting we had 2 free transfers and £1.7m in the bank, which was just as well because we were also sporting more flags than the United Nations. We had 6 in total, and that's before even taking into consideration the small matter of having a double game-week to contend with, for which we currently have exactly one participant so far in the shape of Leroy Sane, (Digne aside (who as we now know doesn't have one himself any more). So let's go see how best we decided to tackle this little crisis…
Badly, as it transpired! If there was some way of showing you the entire WhatsApp transcribes from the past 3 days we truly would, in a heartbeat. The amount of alternative suggestions and subsequent 'NO!' votes would make even Theresa May blush. We veered and ultimately swerved away from (highlights/lowlights!);
Buying Son, Kun and Rashford for a hit in a move we can't even afford; NO!
Buying Son and Rashford in a move that we can't do due to already having 3 x Man Utd; NO!
Buying Son and Kun in a move that negates Rashford in the future due to funds; NO!*
Using the Triple Captain chip; NO!
This is but a small sample, and probably no more or less than the average FPL player has gone through themselves this week, such is the uncertainty that this DGW has brought upon us all. And we don't even have the Hazard conundrum to contend with, thank goodness!
One theme that the keener eye may have spotted from the above though was that we really seemed to want Son! And that was at least the one point we could all agree on. It was however pointed out that even he may be a doubt due to some apparent cramping issues, to which we received this nugget; "What kind of cramps do players get that rule you out of a game several days later? Menstrual?".
Rendered fairly speechless we cracked on with him as the core plan, in exchange for Martial. And with Wilson out and a Man United spot freed up it was a no-brainer to finally bring in Rashford, albeit about 5 weeks too late. We sat on that decision for a full day before getting to the point of actually writing this article, about 30 mins out from publishing, which is when the fun really began! Somehow, nobody had actually bothered to check whether we could indeed afford our 'grand plan'! We were only a cool £1m short of it as it transpired… and so the drawing board beckoned.
After an hour full of negotiations and arguments, and even a diva flouncing out at the end of it all having apparently 'lost' (lost what we aren't quite sure but he flicked his sash and his head and was gone), we did finally come up with a Plan B, un-Sarri like. The even keener eyed may have spotted a '*' on one of the earlier suggestions. And it was to this that we eventually returned. To cut a long story short we were a bit snookered and then all eyes turned longingly to the lure of Aguero. Yeah, we know the risks, and the ramifications, but ultimately we decided we were willing to ride them out. It is supposed to be fun after all right? Right…..?!
To confirm then; we are SELLING MARTIAL & AUBAMEYANG and BUYING SON & AGUERO.
Our Captain is Sergio Aguero
We have decided to simply bend over and take whatever Pep gives us, good or bad. We expect about 120 minutes of him if we are being honest, we can but hope to be pleasantly surprised. Sane is our vice, the chances of getting doubly screwed by Pep were obviously enticing.
Our team in full…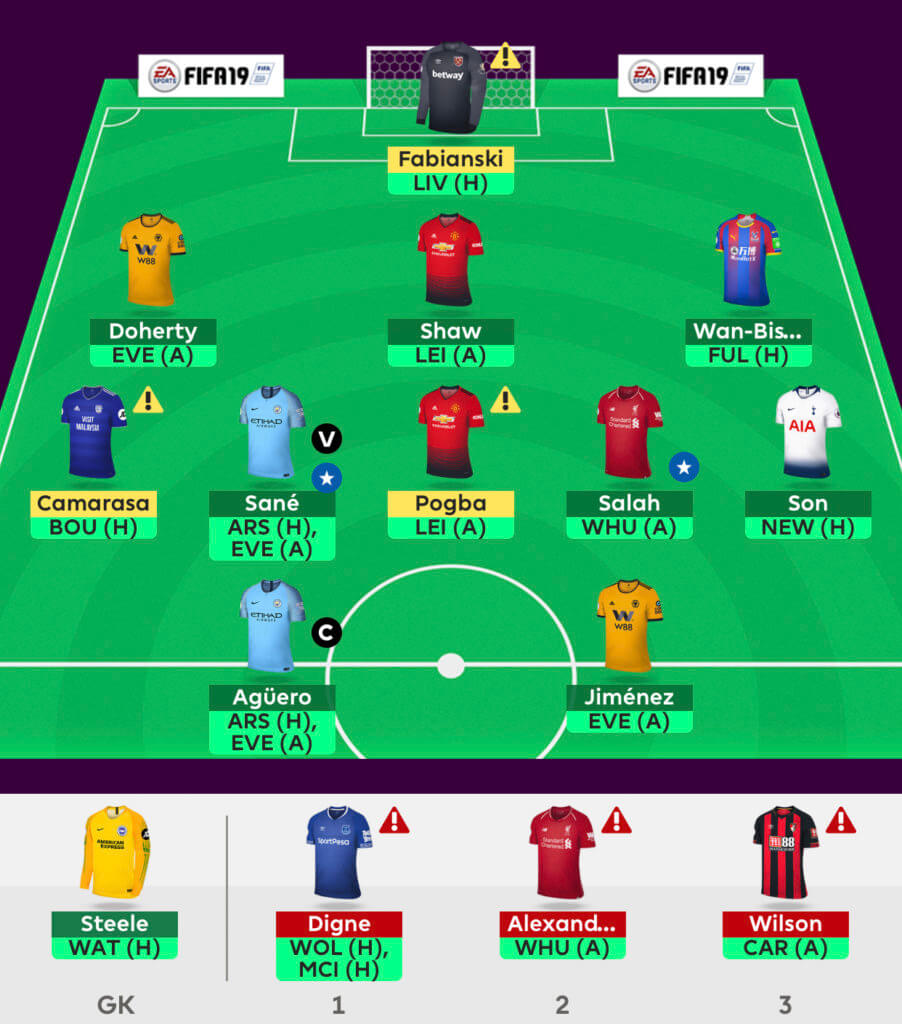 You can follow the site teams progress all season by clicking here
Thanks for reading FF247 Fantasy Football Site Team GW25
FPL FIXTURE TRACKER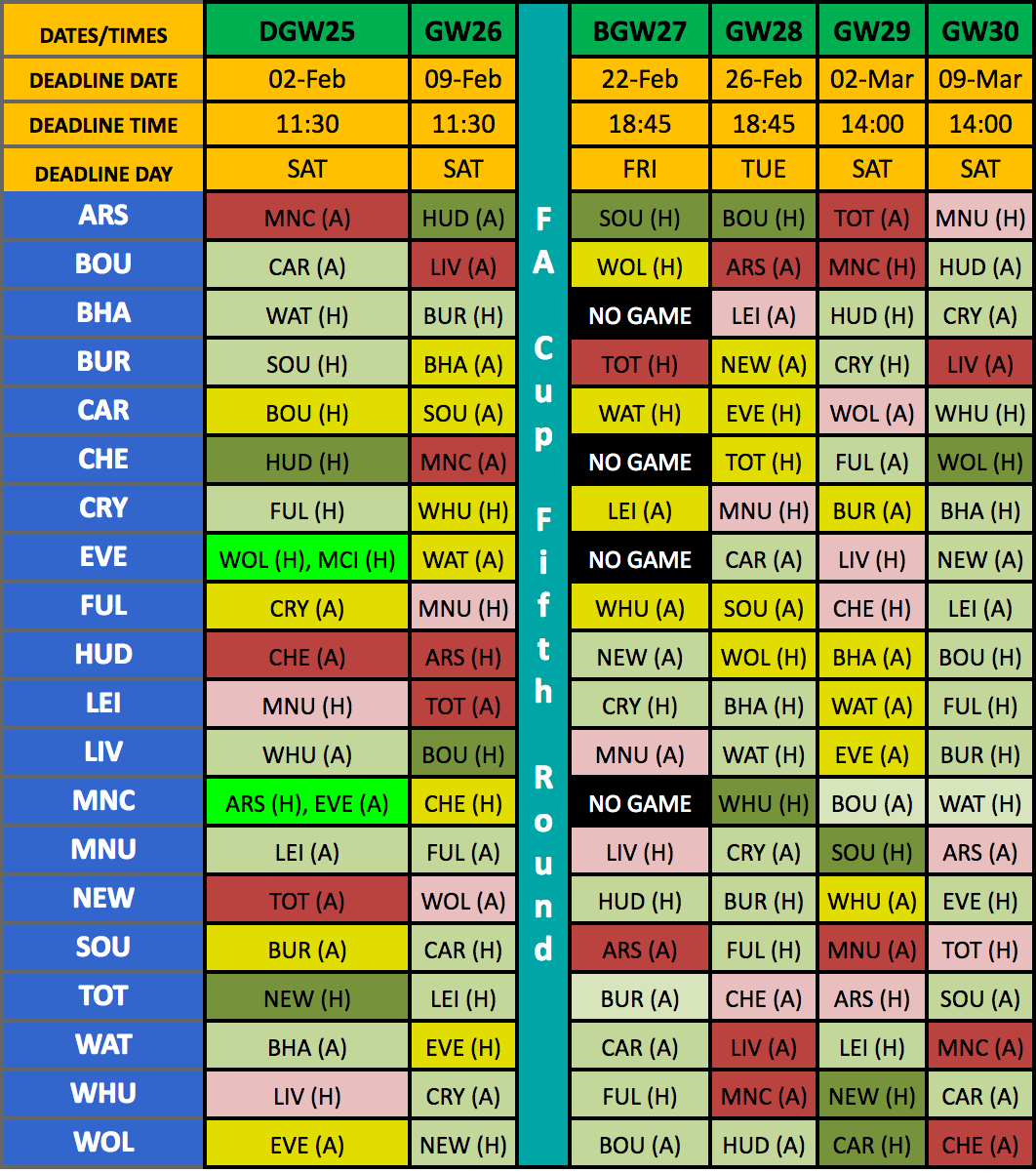 FIXTURE TRACKER LINK
Welcome to our Fantasy Football leagues section.
The League Codes for FF247 for the 2018/19 season are as follows –