FF247 Fantasy Football Site Team GW26
A lucky touch of genius
"We have decided to simply bend over and take whatever Pep gives us, good or bad". That was a quote from last week in relation to buying Aguero. Turns out he was in a giving mood! Two transfers and four goals; you could be forgiven for thinking we may be a bunch of geniuses, but anybody who actually read how we arrived at last weeks decision to bring in Kun and captain him will know very differently! It wasn't an entirely unplanned birth in the end, but our intentions did start out very differently, let's just say the condom broke and leave it at that…
An 8th green arrow in a row sees us up to another season high of 21,336th, a rise of about 10k. Kun obviously did his bit, as did Son, elsewhere Jimenez starred with a 9, Pogba got a sublime assist, as did Doherty (less sublime though!) and Wan-B and Shaw did their bits with clean sheets. The rest simply made up the numbers to see us end up on a fairly respectable 88 points, 23 above the average.
Last week's result…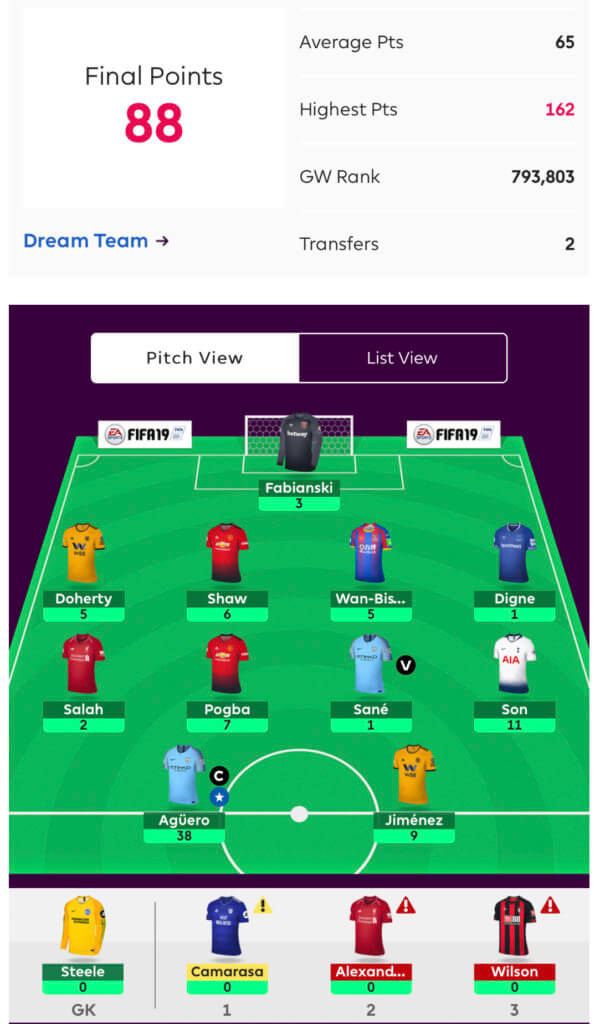 This week's transfer decision…
We go into this week with 1 free transfer and £0.3m in the bank. We have to have an eye on the blanks ahead in GW27 of course, and to that end we are without Digne, Sane and Aguero for that one as we stand. Let's go see how we plan to juggle that with the need for actual points this week….
It was a fairly simple and unanimous decision this week, there are no tales of incompetence or internal struggles to regale you with this week, unfortunately. As much as Aguero was a welcome addition last week, and as much as he served his purpose, we are nothing if not ruthless in our pursuit of points and quite simply Aubameyang suits us perfectly this week in that respect, on more than one level. He has the better (arguably the best; see Huddersfield) fixture and he's a bit of a flat track bully against this sort of opposition; it's difficult not to offend somebody along the line when you say this but he has 24 points against Fulham and 20 against Cardiff over two games and double digits against Burnley and… Spurs.
To confirm then; we are SELLING AGUERO & BUYING AUBAMEYANG
Our Captain is Mo Salah
New recruit PEA was well and truly in the mix here but Mo just edged him by the finest of margins. It could be that Bournemouth's form against the 'big 6' swayed the vote; 8 games, 7 defeats, 22 conceded, and in some of those games heavily so. Or it could be the memory of what Salah did to them last time. Or it could be that we just think Liverpool may suddenly reawaken and kick on again and that this feels like the sort of fixture in which that may happen. Or it could all just be pie in the (blue) sky thinking. For the record, our one Liverpool fan voted for Aubameyang!
Our team in full…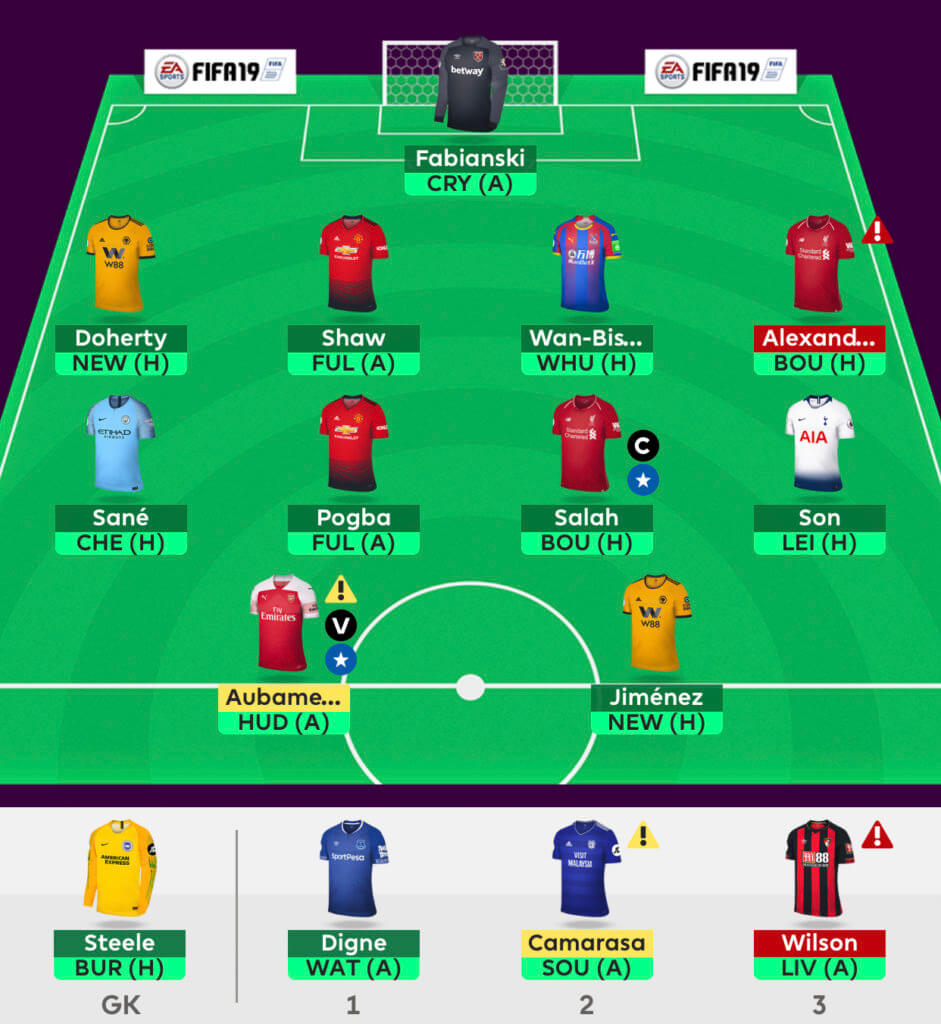 You can follow the site teams progress all season by clicking here
Thanks for reading FF247 Fantasy Football Site Team GW26
FPL FIXTURE TRACKER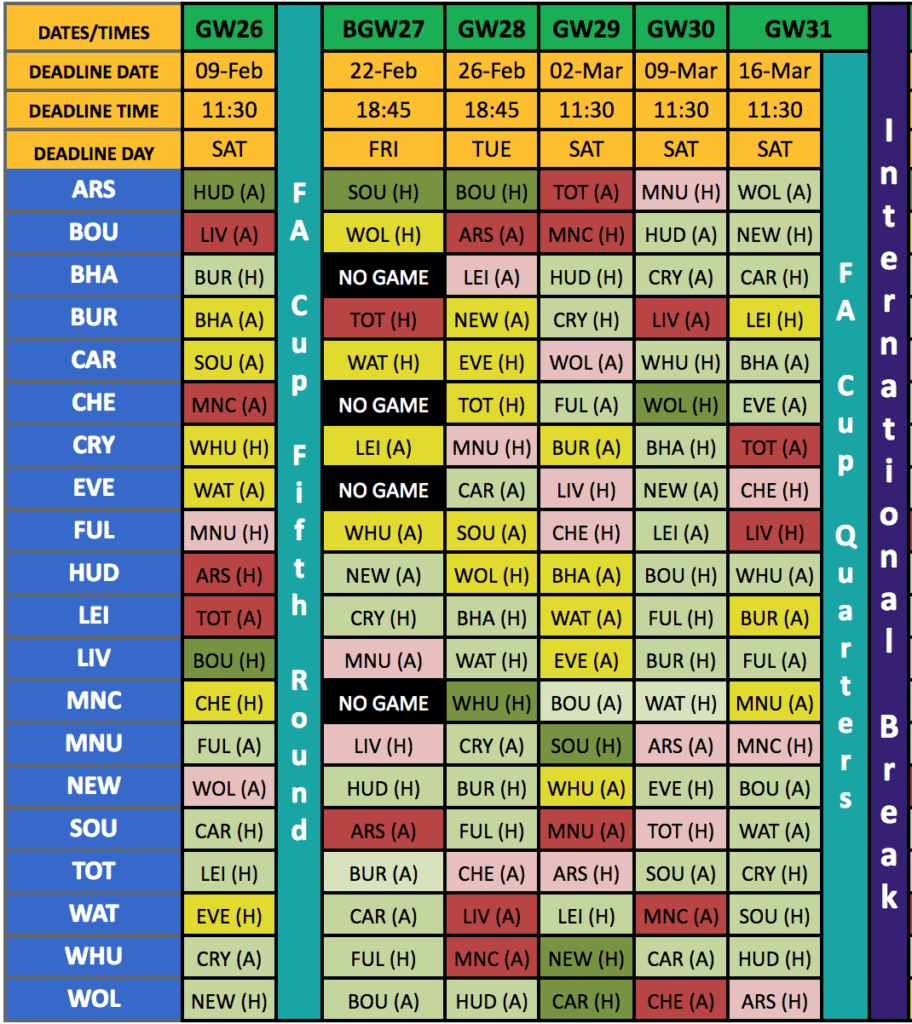 FIXTURE TRACKER LINK
Welcome to our Fantasy Football leagues section.
The League Codes for FF247 for the 2018/19 season are as follows –