FF247 Fantasy Football Site Team GW29
How far in does one go…
said the priest to the… We're here all week. It was also the question posed this week as we considered exactly what constituted enough DGW coverage. But more on that later.
Let's deal with last week first. A celebration of dullness. In the most weird of game-weeks we somehow scored 41 points, which saw us comfortably beat the ridiculously low average of 26 points. We won't complain that 29 of our 41 points came from just four of our team. Indeed, we gained 22 points from the goalless draw betweem Newcastle and Burnley thanks to a 10pt haul from Pope and clean sheets from Lascelles and new recruit Taylor, who only made it into our XI as an autosub for the injured Vardy. Jiménez did us proud with a late 7pter at Spurs.
The other seven numpties got a rocket up their arses in the dressing room and a significant improvement is expected next week.
Our score lifted us back into the top 100k – we now sit at 82,708th place, our highest rank since GW19.
Our GW28 Result…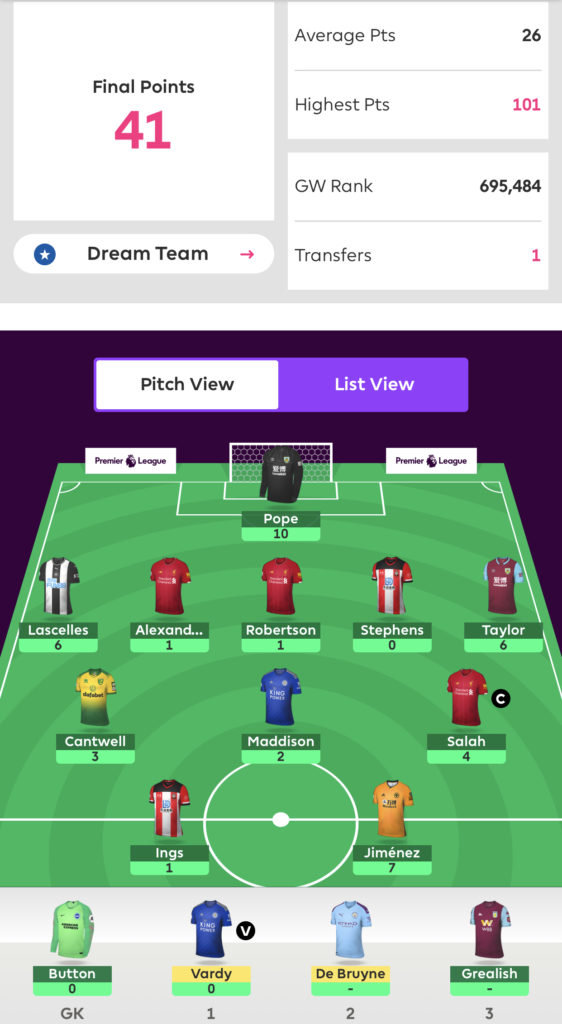 Let's go see what was decided…
Our G29 Transfer(s)
The main question was as above; how much do we want to invest in this particular DGW? The problem with it being that it completely contradicts BGW31 as neither Man City or Arsenal feature in that one. Our decision was helped a touch by the fact that Grealish and Vardy don't either. And we had two free transfers to burn. As it stood we had 6 players for BGW31. And we weren't / still aren't sure what our approach to that one would be in regards to our FH chip. Prior to Leicester and Norwich winning that looked like a more healthy 9.
With our WC / BB combo being our only real remaining weapon(s) of choice aside from said FH chip we think our best option may be to deploy them all on DGW's 34 & 37 but that does leave us in the lap of the Fixture Gods a bit. Which means going into BGW31 a bit understaffed. But we shall just have to make of that what we can with the remaining transfers ahead of it, and perhaps the odd hit come it.
We felt it may be helpful to share our thoughts on that but back to matters at hand and this week itself; the main issue was whether to go Kun or Auba. Auba will almost certainly play in both, Kun maybe less so. Auba it was then. Sometimes it really is that simple. In order to facilitate Auba though we needed to downgrade elsewhere and we have decided to lose Grealish for Saka. We like Saka, but he's an upside down OOP player. But my word he's cheap!
To confirm then we have SOLD Vardy & Grealish and BOUGHT Saka & Aubameyang
Captain – Aubameyang
Three of our panel actually had reservations about buying Auba. Then they all went and picked him as captain once he was in! Pass. We suspect the KDB shoulder injury rumours may have played a part and they all simply went for gametime over uncertainty. KDB still wears the vice band, should he be able to lift his arm…
Our GW29 team in full…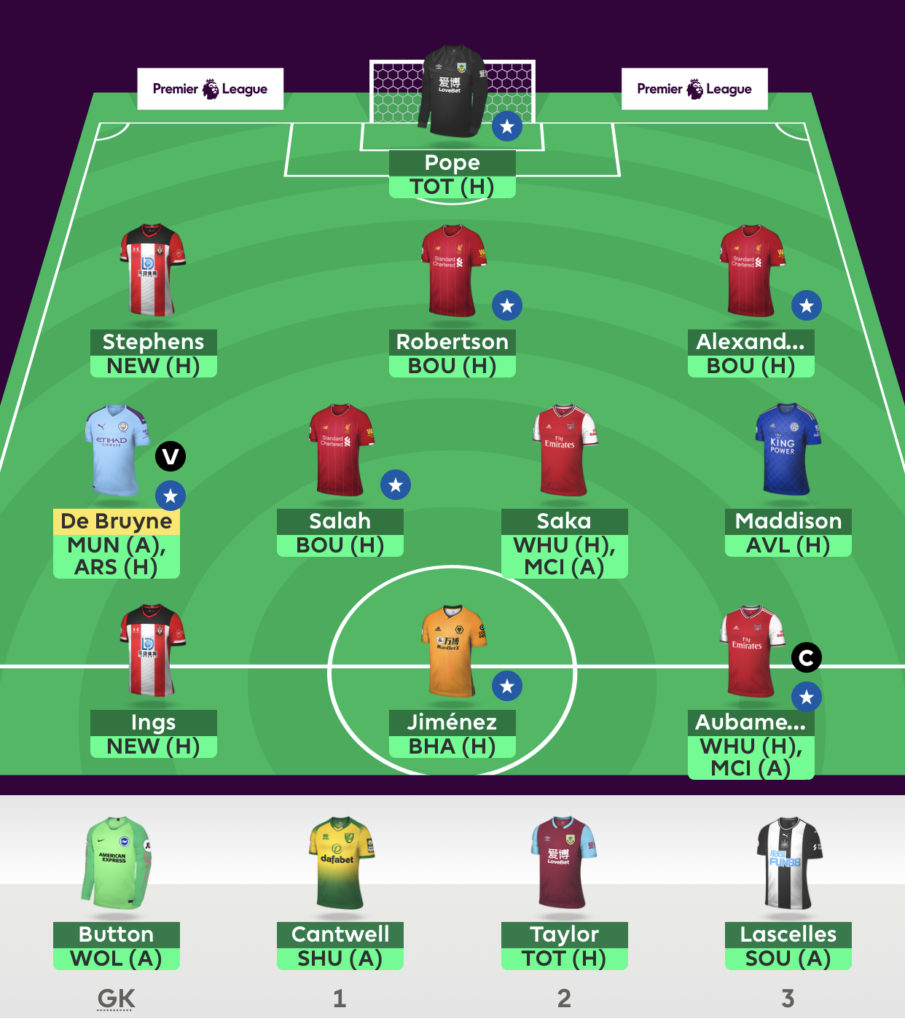 Should you wish to follow the FF247 Site Team's progress you can do so here.
Thanks for reading FF247 Fantasy Football Site Team GW29
VOTE ON THIS WEEK'S CAPTAIN POLL GW29
FPL FIXTURE TRACKER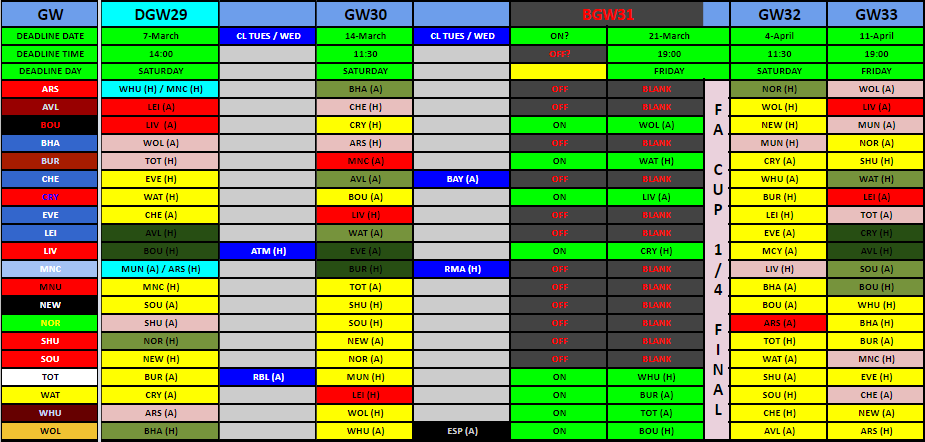 FIXTURE TRACKER LINK
Fantasy Football 247 League Codes: