Our game-week was ultimately personified by our last minute decision to change our captain from Aguero to Salah. Sure, Salah did ok, scoring 9pts on Monday night but once Kun had posted his 20pter we were relatively doomed. At least we owned Kun, plenty didn't. We still scored ok, 74pts vs an average of 60 and it is only GW2. No need to panic, but I think we have learnt our lesson re JamieJacksongate!
Richarlison, Mendy and Robertson were again superstars, while Shaw contributed an assist despite United's horror show at Brighton.
The rest of our motley crew were useless – Patricio, Eriksen, Cairney, King and Firmino should all be looking over their shoulders as our moody committee meets with two free transfers burning a hole in its pocket.
Last Week's Result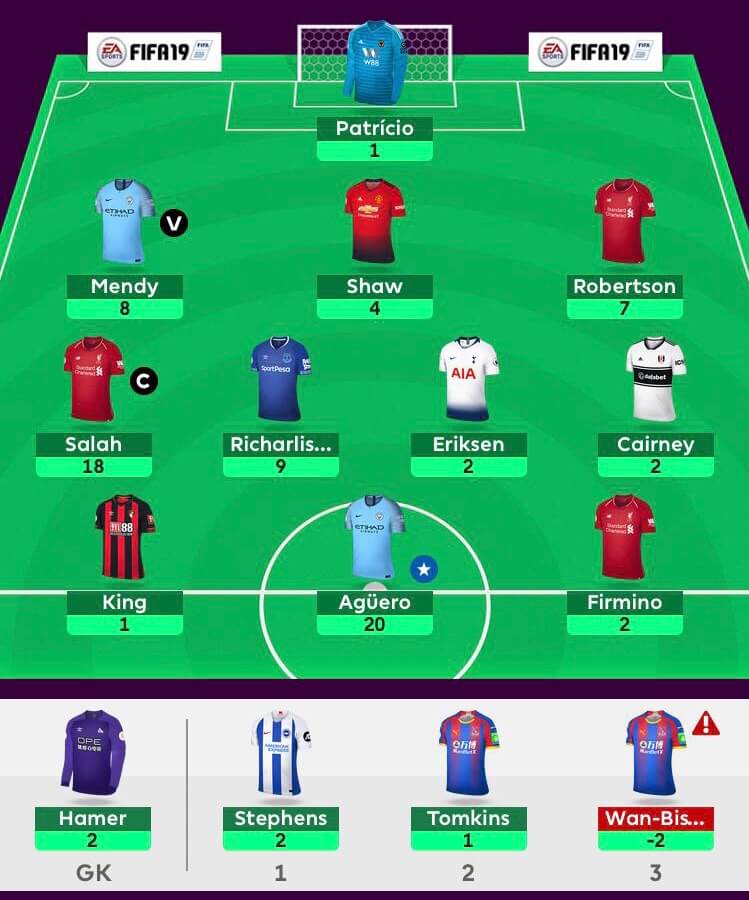 What have we done this week?
Sold Eriksen & Shaw, Bought Mkhitaryan & Alonso
In last week's article we highlighted that we would be keeping a close eye on both Cairney and King as neither impressed in GW1. Neither was impressive in GW2 but both have avoided the chop and start again this week. However, that's enough about who we haven't sold!
Christian Eriksen will probably feel hard done by when he learns that we have sold him this week. In fairness to him he's played well in both games but FPL isn't always about playing well. He has been overshadowed by Dele Alli and with Kieran Trippier scoring from a free kick last weekend it would appear as though the Viking is no longer automatic first choice when it comes to free kicks. Spurs have a tricky fixture list over the coming weeks starting with Monday night's trip to Old Trafford when the bus is likely to be parked! Talking of fixtures, have you seen Arsenal's? They're just too good to ignore. Bringing a Gooner in was always in our thoughts and at £7.0m Mikhi seems to be too good to pass up. You have to assume that given their fixtures over the next eight game-weeks that Arsenal will be among the goals and we're banking on the Armenian being heavily involved..
Luke Shaw has served us well with a goal & assist from his opening two games but it's time to move on as Jose Mourinho will invariably do, sooner rather than later. With Antonio Valencia nearing a return we wouldn't be surprised to see Ashley Young at left back with Shaw on the bench, although if we're being honest we don't have a clue what Jose will do.
We asked one of the management team, who is a United fan, if he felt Jose could start both Valencia and Young on Monday night. Here is his response, "Well there is a chance. He could also play 3 in the middle. No idea! Doubt he knows, the tw@t". As most of you already know, we're a very professional outfit! Replacing him with Marcos Alonso seemed like a no brainer. Talk of his demise under Sarri would appear to have been misfounded. For now. He's the top scoring defender, his stats are impressive and Chelsea have an inviting fixture list over the coming four game-weeks.
The Team In Full…
>
Captain – Mo Salah
We've already addressed last weekends debacle in the intro, so we won't get into it again!
Like last week it came down to Salah or Aguero, with Salah coming out on top this week. Both Liverpool and City will be expected to win comfortably but we're banking on a home game against Brighton being slightly easier than a trip to Molineux.
You can follow the site teams progress all season by clicking here
Thanks for reading FF247 Fantasy Football Site Team GW3
FPL FIXTURE TRACKER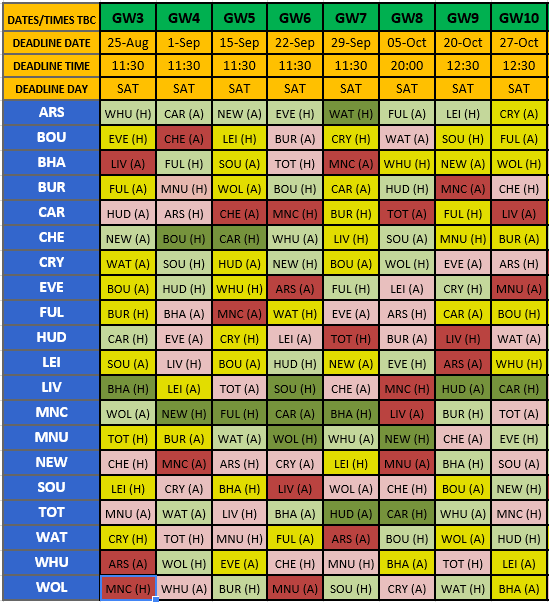 FIXTURE TRACKER LINK
Welcome to our Fantasy Football leagues section.
The League Codes for FF247 for the 2018/19 season are as follows –
Thanks to our friends Follow @ff_surgery and please give them a follow.