FF247 Fantasy Football Site Team GW30
Paying the penalty…
The upside to selecting penalty takers is obvious, the downside is a -2 if they ever miss one. To have one do so is bad luck, to have two doing so leaves you looking around for dead black cats in your rear view mirror. Twice.
Pogba and Aubameyang combined for a -2 for us, not quite what you expect for a near combined £19m outlay and 20% of your FPL budget! The fact that we had 14 points sat on the bench doesn't help matters but the rest pulled together to somehow get us 51 and a green arrow. Albeit a small one, we moved up about 6k to land in 30,118th position. Feels a bit like we are treading water but with all the chips to come we are still hopeful that we are well poised for a strong finish.
Jimenez and Hazard were our top performers with 12 point apiece, Hazard only getting there with the armband attached, although it was probably still a weightier armband than many others experienced. TAA came through for us again with a 9 thanks to a clean sheet and another full bonus point worthy performance. Barnes got us a goal and 6 points, Fabianski finally got us a clan sheet for the same whilst the rest muddled along with bits. Having Digne and wan-B buried on the bench for a combined 12 is regretful and irksome in equal measure. But c'est la vie, and onto this week's decisions…
Last week's result…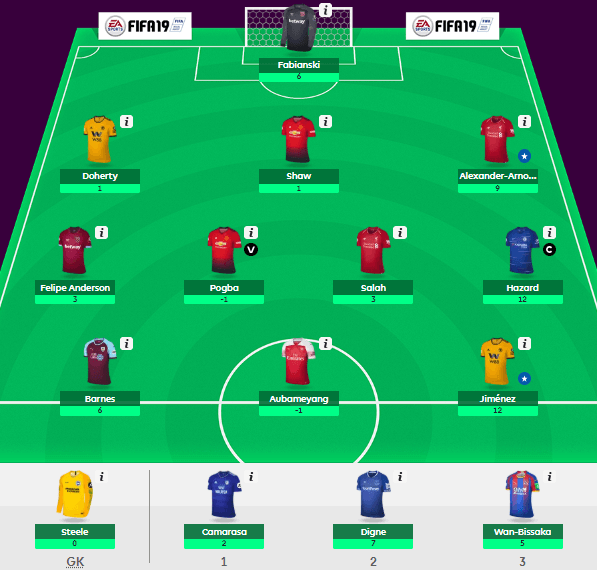 Before we get going on this weeks decisions we should remind you that;
THIS WEEKS DEADLINE IS; SATURDAY @ 11:30
This week's transfer decision…
This week we had 1 FT and £1.3m in the bank, and some major chip decisions to make…
We shall address the chip situation first, as that really dictates which transfers we are making for the next two weeks –
As things stand we have;
GW31: 7 players.
GW32: 4 with a definite DGW, 2 others with a TBC DGW.
GW33: 6 with a definite fixture, 2 others with a possible.
This screams obvious things to us, namely that we can cope more than adequately for BGW's 31 & 33, especially with 2 & 3 free transfers ahead of them respectively. We can look to field an almost entire 11 in each if we so wished, although doing so for 31 may require tapping into the good old -2 hit theory for a definite nonstarter.
It also says that we should therefore FH in DGW32, as although 4 plus a possible 2 could become an 8 with free transfers, and a bit of luck, we would not have the same flexibility in terms of basically hand picking the ones we actually want to have for it. Our CHIP PLAN is therefore, in theory, going to be;
FH32
WC34
BB35
TC on a single GW (A title chasing Liverpool at home to a probably already relegated Huddersfield in GW36, just as an example…!)
With all of that in mind we concentrated our decision this week on bringing in the best asset we could who had a fixture in both 31 & 33. Mane was mentioned (for Pogba), Brooks was mentioned (for Camarasa), a 2nd Liverpool defender was mooted but also soon booted when it was pointed out that we couldn't afford one! Vardy with Fulham at home was mentioned and picked up momentum quicker than it takes Brendan to mention 'character' in a press conference.
To confirm then; we have BOUGHT VARDY & SOLD AUBAMEYANG
Our Captain is Salah, our Vice is Vardy
There was much fence sitting on this issue, a few committee members were quite happy to go straight from asking Vardy out on a date to lifting his shirt up, fondling him a bit and asking him to go all the way… A few others were more happy to go with Salah and his potentially higher FPL ceiling. Without going into lurid details about what people would actually do to Salah if he screwed us all over again we went with the ceiling theory. We get the feeling that we (and them both) are getting screwed either way…
Our team in full…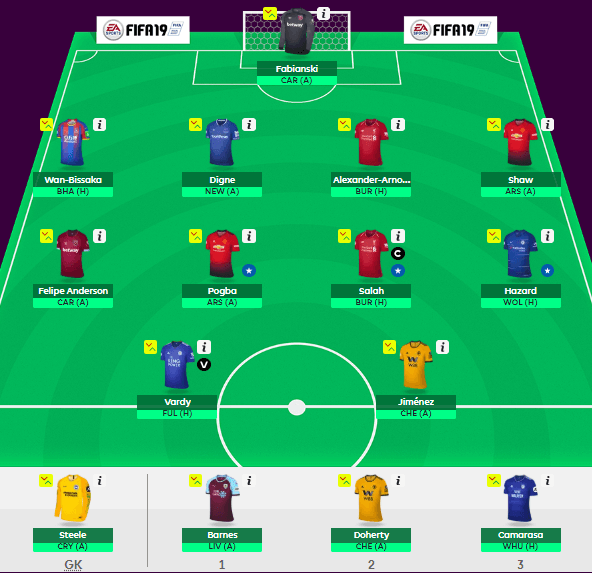 You can follow the site teams progress all season by clicking here
Thanks for reading FF247 Fantasy Football Site Team GW30
FPL FIXTURE TRACKER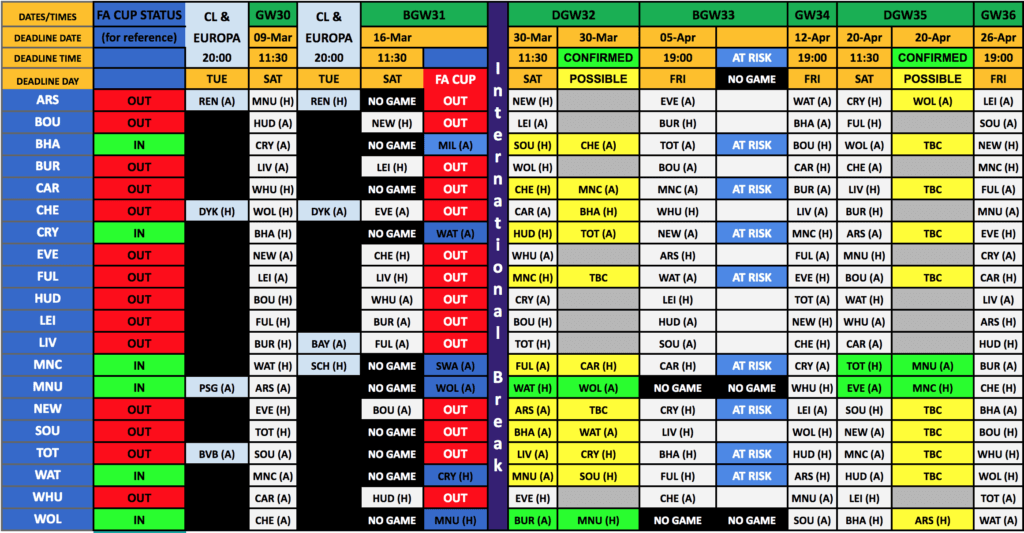 FIXTURE TRACKER LINK
Welcome to our Fantasy Football leagues section.
The League Codes for FF247 for the 2018/19 season are as follows –