FF247 Fantasy Football Site Team GW31
The bare necessities…
A relatively successful week, but one that somehow felt it should have been so much more… Our decision to captain Salah over Vardy cost us 11 valuable points, but we are at least grateful that we brought the latter in at all after his 16 point haul. Our score of 56 was alright – it was better than the average of 48 and saw us achieve the smallest of green arrows, for the second week in a row, to rest at 29, 423rd. However, its a win and we'll always take a win. When it is stripped down, 48 of the 56 points came from just five of the players, with new recruit Vardy leading the party, while Hazard & Jimenez topped up our score late on with a goal apiece. Our 5-a-side team was made up of assisters Digne and Captain Salah. The rest of the mob can go do one – not even Fabianski could muster his usual 3pts. Which leads us on nicely to this week, and its reduced benefits….
Last week's result…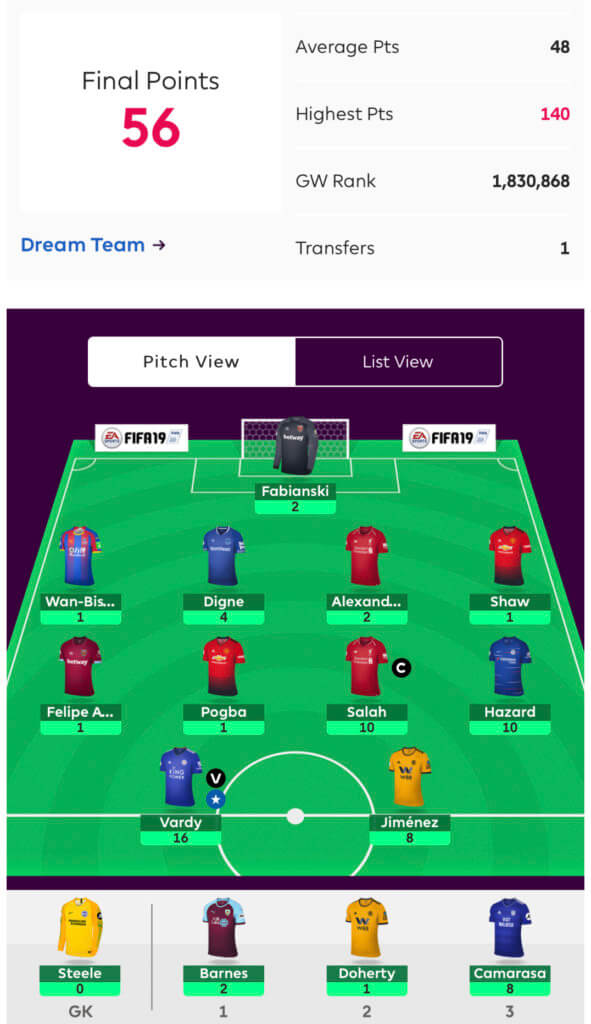 Before we get going on this weeks decision we should remind you that;
THIS WEEKS DEADLINE IS ON SATURDAY @ 14:00
This week's transfer decision…
Going into BGW31 we have 1 free transfer, £3.3m in the bank and 8 players with an actual fixture this week.
We should begin by stating that we made our minds up last week that our chip strategy would (most likely) be; Build for BGW's 31 & 33 together, FHDGW32, WCGW34, BBDGW35 and TC on a chosen single. Given as we have 8 already this week and 7 definites plus two 'at risk' for BGW33 we decided to bring in a couple of players who will feature in both weeks, and lose a couple who won't, therefore plumping our numbers up for the blanks to 10 and possibly 11 respectively.
The decision itself was very straightforward and a bit route one. With no double Liverpool defence to block our path to the man of the moment we felt that bringing in Mane was a no-brainer. Alongside him we felt we needed some Bournemouth coverage and so Callum Wilson joins the party too.
We should also say that we did consider an extra hit for a defender so that we could field a full 11, whilst invoking the (admittedly flaky) -2 / 0 rule. We ended up deciding not to because the only teams we felt had any real potential in terms of returning a clean sheet were West Ham and Bournemouth. Trouble with both would have been fitting them into our BGW33 team, plus West Ham run into Chelsea in that one and we already own Fabianski. Bournemouth were seriously considered but we still concluded that Newcastle would most likely score and so decided to leave it be.
To confirm then we have SOLD Pogba and Jimenez & BOUGHT Mane and Wilson
Our Captain is Mane, our Vice is Salah
Salah did get one vote, but even that came with an "I think…" attached to it. Mane took the rest for another stress free decision. He's pretty hard to ignore given the form he is in at the moment, no further explanation required on that one Your Honour.
Our team in full…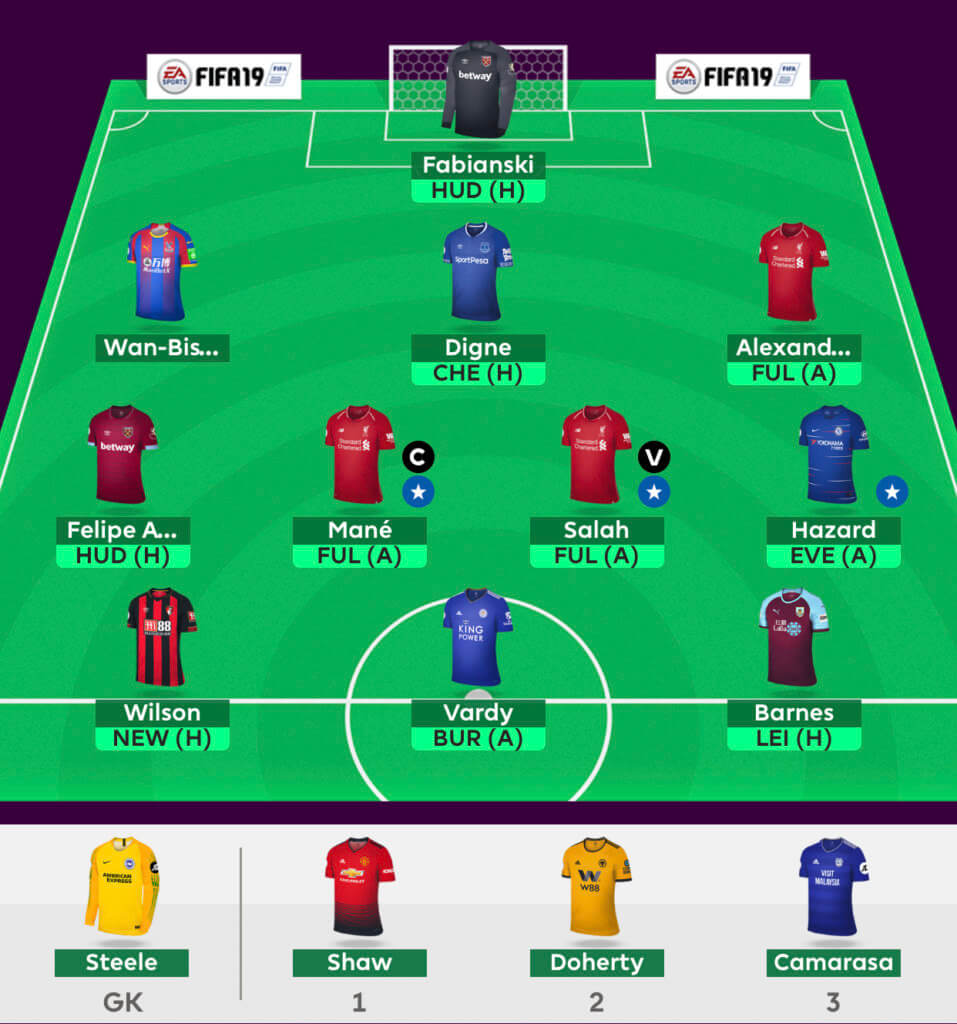 Planning Ahead…
The below is how we now look for the GW's ahead. Built nicely for this and BGW33 we intend to use our Free Hit for the DGW next week.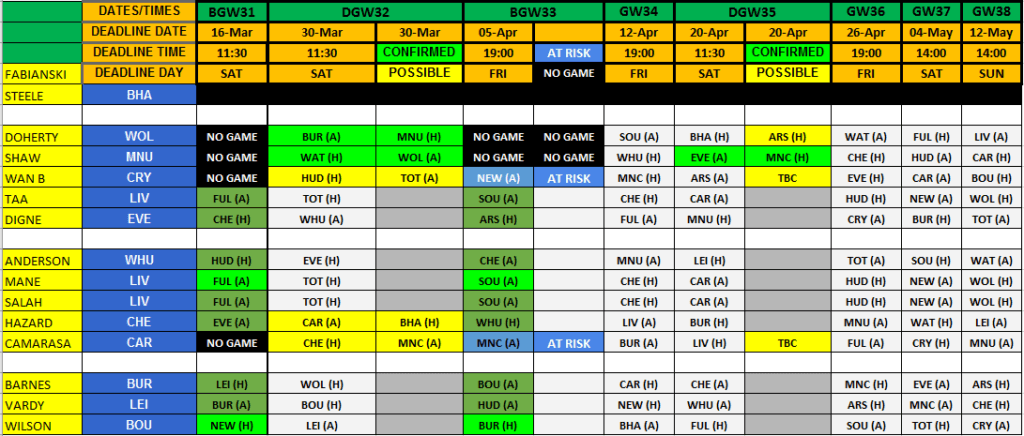 You can follow the site teams progress all season by clicking here
Thanks for reading FF247 Fantasy Football Site Team GW31
FPL FIXTURE TRACKER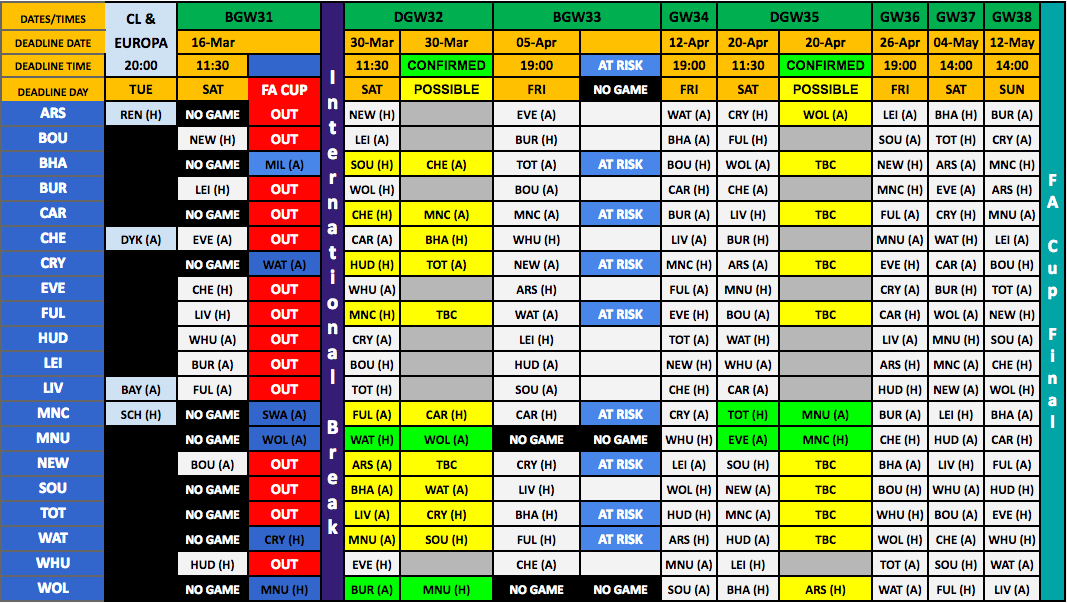 FIXTURE TRACKER LINK
Welcome to our Fantasy Football leagues section.
The League Codes for FF247 for the 2018/19 season are as follows –