FF247 Fantasy Football Site Team GW35
Welcome to FF247 Fantasy Football Site Team GW35.
It's all in the math(s).
Like many others we played our wildcard last week and like many others we had an absolute SHOCKER! With no representatives in the Friday night game our game-week kicked off at lunchtime on Saturday. The writing was on the wall when our captain, Son, was benched. A certain member of the management was rather smug about this. Son eventually climbed off of the bench and almost immediately picked up an assist to go with Eriksen's assist and Loris' clean sheet. 20pts from our Spurs trio left us feeling good about our wildcard. Little did we know that they would account for approximately 60% of our total score. We were lucky that Messer's Duffy & Dunk didn't score minus points as Brighton conceded 5. Matt Doherty also returned zero points. The only other player who delivered for us over the weekend was Mo Salah. Onto Monday night and things got even worse. Fresh from setting light to the Notre Dame cathedral Troy Deeney went and got himself sent off at Arsenal. Our game-week came to a conclusion on Tuesday night as Brighton were beaten 2-0 at home by Cardiff which meant the Double D's picked up 1pt each over their two games. Losers! We finished the game-week on 33pts and a red arrow of 5k to leave us in 11,785th position. It's time to dust ourselves down and attack DGW35 with vengeance.
Last weeks disaster in glorious technicolor;
This week's transfer – we have held our Free Transfer, cancelled Bench Boost and have activated our Triple Captain
Duffy, Dunk, Deeney. That's our outfield bench for this week's planned Bench Boost. The original plan was to sell Dunk for a Saint. However, Deeney's moment of stupidity meant a hit for the Saint and we felt that wasn't really worth it.
Which would have left us with a bench of Foster/Lloris, Dunk, Duffy & a Deeney replacement (likely Wilson).
It was a long meeting and akin to Brexit we entered it not really knowing where we were going or what we were hoping to achieve.
The DGW maths equation was 'applied' but argued over. Were we starting with a base of 14pts (7 matches x 2 appearance points) or were Dunk & Duffy likely to record next to nothing once again? Much really depended on Wilson.
We had one member actively pushing to delay BB (we'll call him Theresa) another wanting to push the button (we'll call him Nigel) while the remaining two members were seemingly stuck sat on the fence, chewing the fat, smoking a couple of cigarettes, putting the world to rights, understanding both sides of the argument but ultimately getting nowhere and going round in FPL circles (we'll call these two the Fencers).
We also had two members (Theresa & Fencer 1) suggesting using TC this week.
Nigel appeared shouting 'Bench Boost means Bench Boost' then disappeared.
Like any forward thinking and inspirational Brexit negotiator would do, a compromise was suggested. Fencer 2 (who was loosely advocating delaying BB and using TC in GW36) suggested he would agree to the TC in 35 with a view to a longer delay in BB, possibly until GW38 or whenever a majority vote could be passed.
Saints home to Huddersfield in GW38 does present a potentially better opportunity for BB though we'd need to be lucky with team sheets.
Ultimately we have done what we have done due to the weakness of our outfield bench. We would have been happy to have continued with our plan of Dunk to a Saint but Deeney scuppered that and meant that no real solution is ideal.
We are not advocating not BBing – every team is different and you all have your different aims and mini-league situations.
Our Triple Captain is Aguero
All should be clear from the above. Our sudden liking for Kun comes from City now being 100% focused on the league and the general feeling that they will need to beat both Spurs & Manchester United if they are to win the league. Pep plays his big players in the big matches and this is a huge week for City. Just in case, our vice captain is Son. Who plays Brighton. Can't fail!
Our team in full…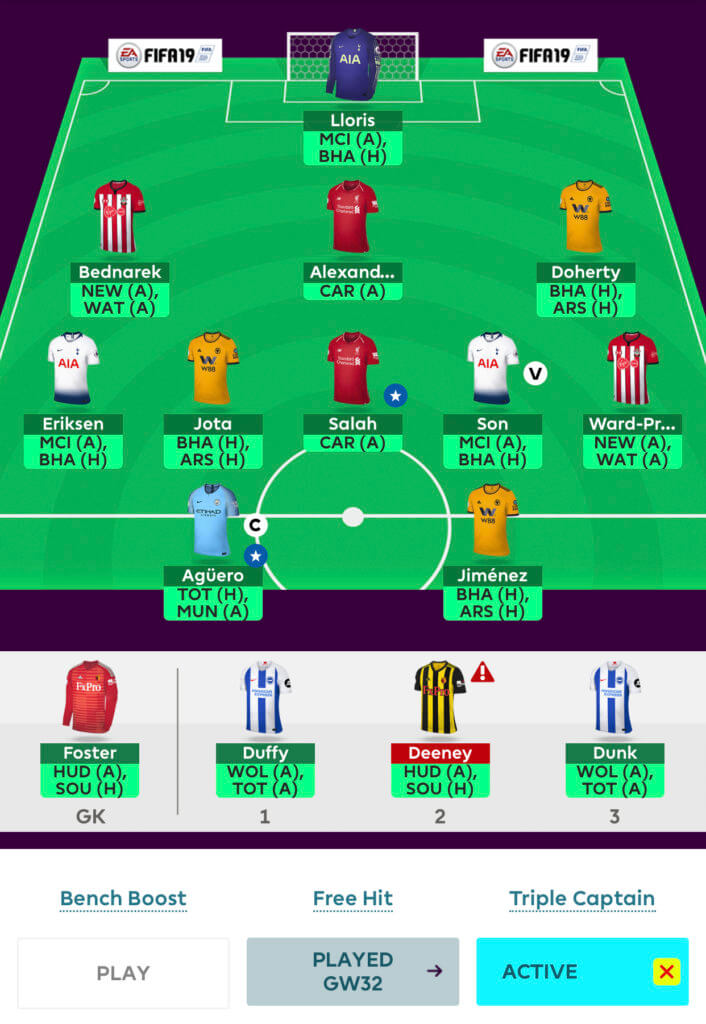 You can follow the site teams progress all season by clicking here
Thanks for reading FF247 Fantasy Football Site Team GW35
FPL FIXTURE TRACKER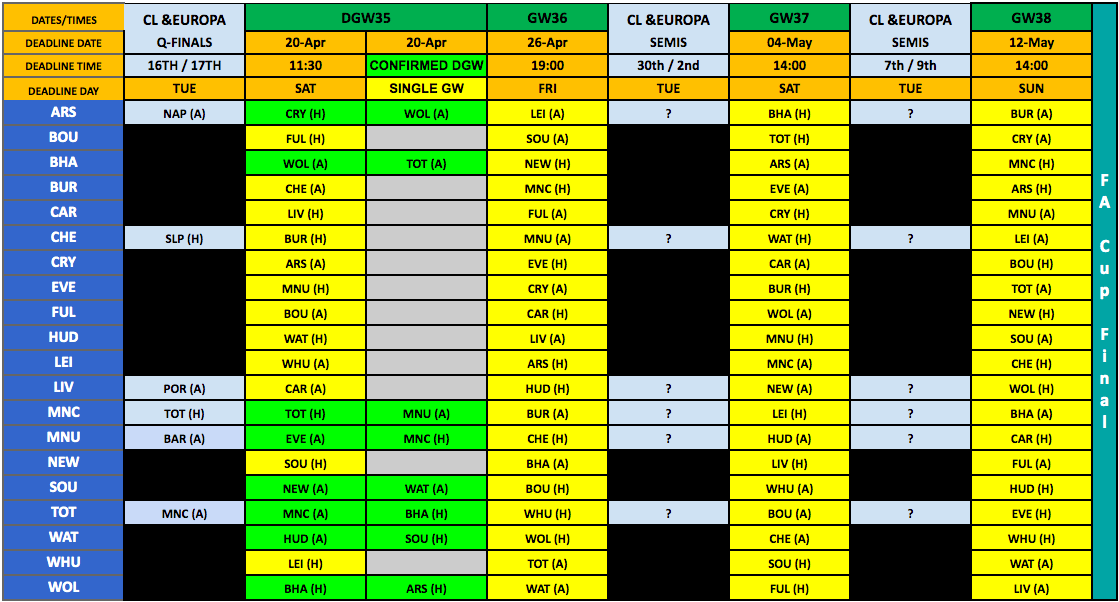 FIXTURE TRACKER LINK
Welcome to our Fantasy Football leagues section.
The League Codes for FF247 for the 2018/19 season are as follows –