FF247 Fantasy Football Site Team GW36
Welcome to the FF247 Fantasy Football Site Team GW36. It takes a lot for us to get excited and in fairness our performance this season hasn't juiced us up on many occasions. However it seems that patience is indeed our virtue after a 72pt week in GW36. This gave our Free Hit team a weekly ranking of 23,903 and we have risen 50k places from 113,353 to a season's best (by far) of 63,265. Forgive us for 'boasting', as such, but this is our 9th green arrow in a row. Happy days!
Our performance this week was consistent throughout the team with only Klavan, Zaha, Mane and Wood failing to contribute anything worthwhile. Clean sheets from Baines and Tomkins added to goal-scoring performances from Sterling, Salah, Lacazette and Jesus along with bonus points from the lot of them as well as our keeper grabbing a vital 5 points despite not even keeping a clean sheet.
Last Week's Result –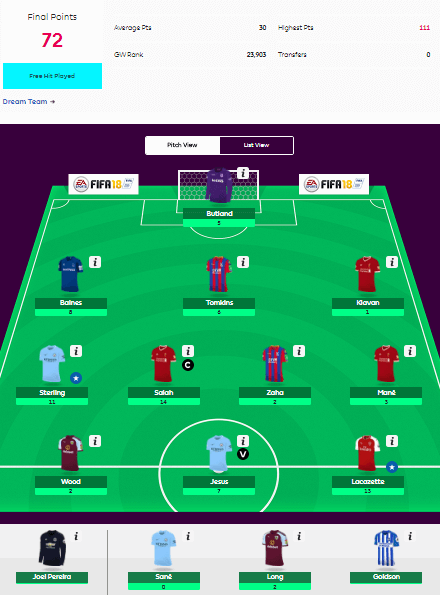 Let's go and see what we have decided to do this week…
This Weeks Transfers –
Sold Lukaku and Willian & Bought Kane and Kenedy
This is part one in a two part 'hit plan' to prepare ourselves properly for DGW37. And so also begins a tale of why it is maybe best to play your wildcard as near to a DGW as possible!
To be fair to us, we played our 1st one in preparation for DGW34, albeit back in GW32, so it's possibly no surprise that it needs a bit of cleansing by now. People speak of 'having better information' nearer the time and back then we didn't have a fit Kane to speak of, we didn't have a long term injured Aguero to speak of (thus thrusting Jesus upon us, more on him soon) and we didn't know what state of mind City would be in after the title was won. A rampant one, as it turns out!
The Plan!
We only have the Triple Captain Chip left and we intend to put it on Kane in DGW37. Which obviously requires actually owning him. We decided to go early and get him this week as we also really like the prospect of a home game against a Watford team who switched off weeks ago.
In order to do this we needed to raise some funds, and so with a view to wanting a couple of Man City bodies next week we have decided to lose Willian for Kenedy to allow Kane to come in for Lukaku given their respective fixtures this week. Kenedy has a DGW ahead and whilst it's not an ideal one we like the pay off in being able to maximise on Man City next week, who definitely do have an ideal one, and obviously we get Kane who also does.
Doing the above this week should in theory allow us to bring in Jesus and either Sterling or Sane next week ahead of Man City having a DGW with two great looking home games.
The Team In Full…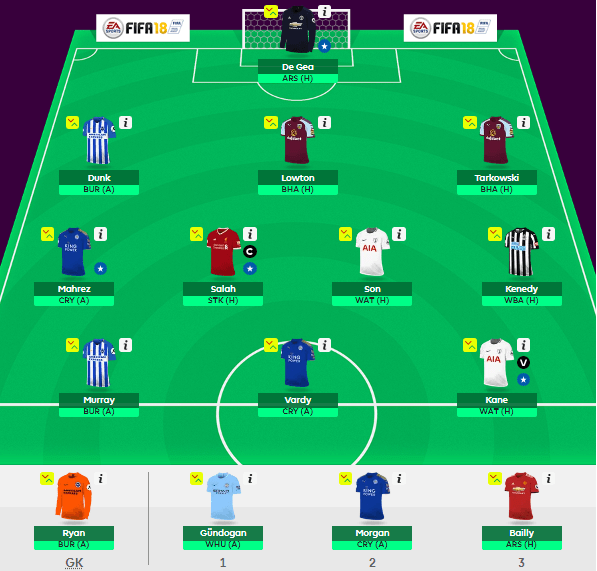 Captain – Mo Salah
Our captain for GW36 comes with a big fat * (asterix)!
If our sources, or failing them, any other indications, are that Salah plays from the start then we have to captain him. How can we not at home to Stoke?!
If they suggest otherwise then we may well switch the armband to Kane, who will be our Vice Captain anyway, just in case of a stalemate in the above information!
If you wish to follow the teams progress more closely you can do so by clicking here.
Thanks for reading FF247 Fantasy Football Site Team GW3
The League Codes for FF247 for the 2017/18 season are as follows:
Gameweek Tracker GW36-38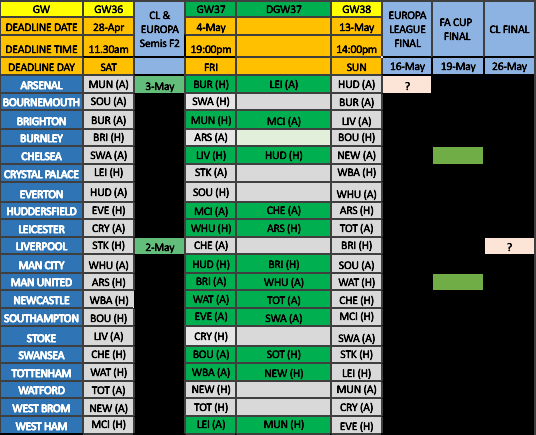 INTRODUCING FANTASY TOTE…
Our new partner has a few words to explain their wonderfully simple to play daily fantasy game. Please do them and us a favour by clicking on the banner link below, have a browse and give their game a try. Over to them…
Fantasy Tote is the next evolution in Fantasy Football. Play daily & weekly games to win real cash prizes.
There are no budget restrictions like in FPL so it's open season on the big players and makes it easy and quick to play. But can you pick the right team to win big?