FF247 Fantasy Football Site Team GW38
Welcome to FF247 Fantasy Football Site Team GW38. Our GW37 was slightly better than average, but only slightly as we scored 52pts vs an average of 48. However we consolidated our position in the top 10k with a small green arrow to our new rank of 6,152, which is a season best. Top 5k is our aim then, our previous best being 5,921.
Like many last week our highest scorers were in defence with TAA & Doherty posting double digit returns. Goals from Salah & Zaha were gratefully received and saved us from a shocker of a week. Our captain (Aguero) did bugger all. But he was in good c(K)ompany…
With the final week upon us and just the one free transfer in hand and £0.2m in the bank, let's see what magic the committee has conjured up as we seek to finish on a high note.
Last week's team in full…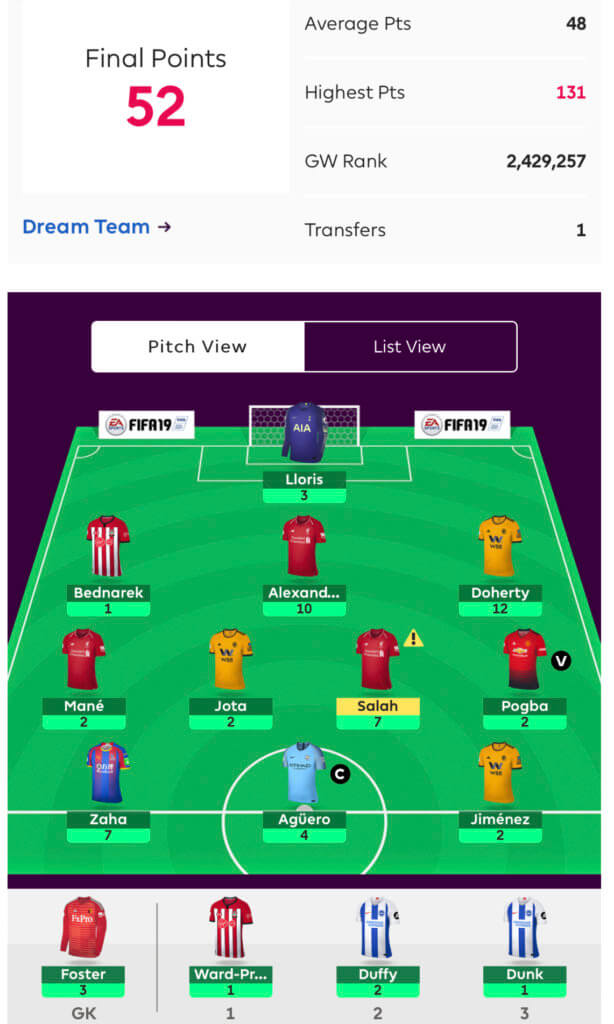 Our Transfer decision for GW38
We found ourselves 'chock-full' of Wolves assets this week and so one of those was always inevitably going to be a prime target for the chopping block. Given as our other four midfielders look hot to trot then Jota got a last minute reprieve and can adorn our bench for the final game, hopefully looking on in awe at the rest. His team-mate Jimenez wasn't so lucky as there are a myriad of forward options this week in his price bracket, and every single one has a better fixture; although that's not exactly difficult.
And we considered them all! Predominantly though Wilson and Arnie came to the fore. A lack of trust in West Ham and a general sense that the Palace v Bournemouth game could be one of those GW38 free for all's lead us to Wilson once more.
To confirm then; we have SOLD JIMENEZ & BOUGHT WILSON
Our Captain for GW38 is Sergio Aguero
Kun took 100% of the votes here. Weaker opposition with zero to play for rather than Salah and co. vs Wolves who do like an upset and still have scores to settle would probably have to be the explanation for this.
For what it's worth Zaha, Mane and Salah all got equal vice captain votes. Salah only won that by virtue of writer's privilege!
Our Team In Full For GW38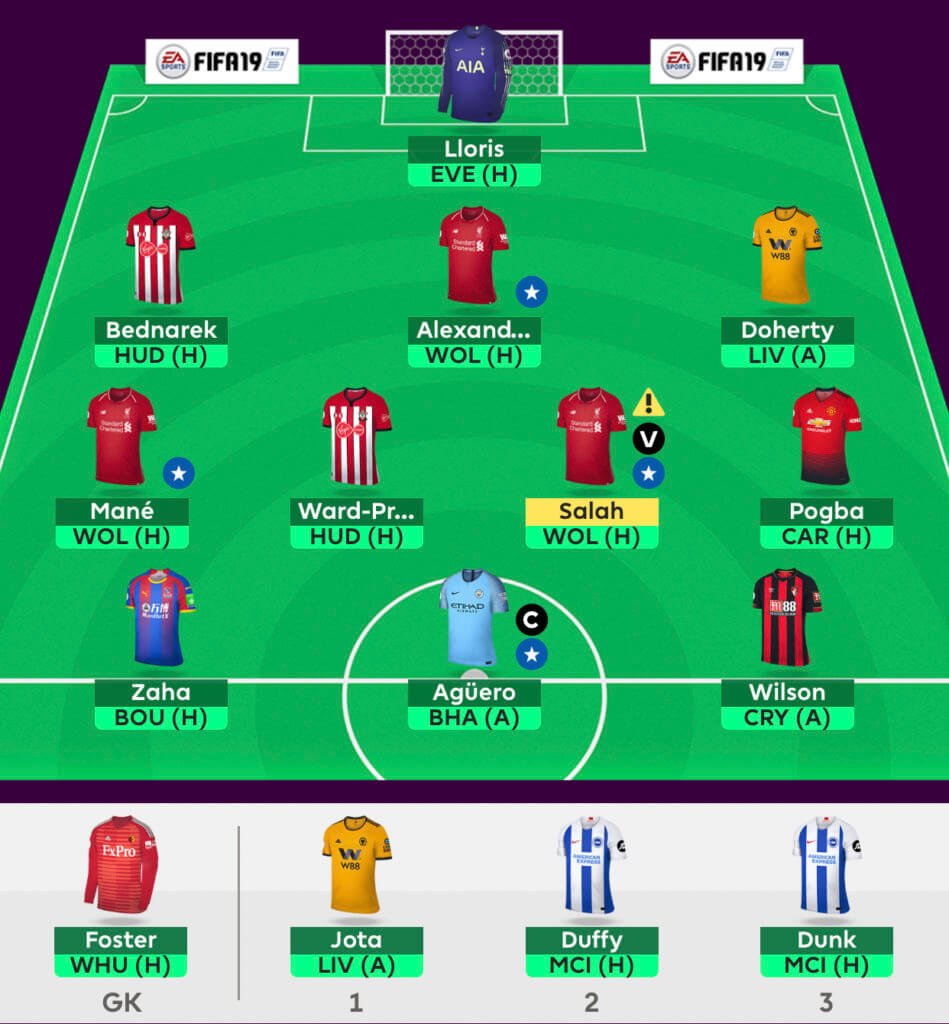 Thanks to those who have followed our progress again this season, we hope it helped in some small way along the journey. We aren't the most daring bunch, some could call it boringly consistent but we are what we are, and make no apologies for it. If you want wild punts accompanied by inevitable highs and lows and usually low ranks as an aside; twitter has them in abundance!
You can follow the site teams progress all season by clicking here
Thanks for reading FF247 Fantasy Football Site Team GW38
FPL FIXTURE TRACKER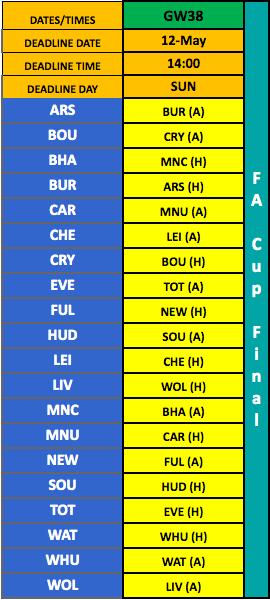 FIXTURE TRACKER LINK
Welcome to our Fantasy Football leagues section.
The League Codes for FF247 for the 2018/19 season are as follows –