FF247 Fantasy Football Site Team GW5
Welcome to FF247 Fantasy Football Site Team GW5.
Greedy B@stards Camp
This felt like a week when you either scored 70 odd and were happy with it or 40 odd and weren't. And that all largely depended on whether you captained Aguero or not. We did the latter but somehow didn't end up in the 70 camp. Probably because we had Pope, Soyuncu, Cantwell, Mount, Sterling, Pukki and Barnes all doing the sweet end of FA for us. A few noteables did show up, albeit briefly; Digne got an assist and somehow a bonus point, Zinchenko got a clean sheet and Salah got an assist. Although we were rather in the Mane camp of rage when we saw what Salah did and cost himself another sure fire assist near the end #greedyb@stard.
We ended up with 64 points, a meagre 7 above the actual overall average. We were actually a tad disappointed with it, having just deployed our wildcard, but we shouldn't be too greedy having narrowly plumped for Kun over Sterling in the captaincy vote. It did mean a fair old jump up the rankings though, 20,000 places in fact and we now sit at 62,179th to be exact.
Our GW4 Result…
Going in to GW5 we have 1FT and £0.3m in the bank, so let's go see what shenanigans this week's meeting produced;
Our GW5 Transfer(s)
Having only just played our wildcard last week and with no apparent injuries to contend with it may come as little surprise that we have decided to roll our transfer and keep it for a rainy day. It may not make for the most terrifically entertaining of articles but in all honesty our team looks in decent shape for the week ahead and there is sufficient depth on the bench should we need it.
To confirm then we have HELD OUR TRANSFER
Captain – Mo Salah
The only real decision we had to make this week then was where to plant the armband. Essentially it was between Salah at home to Newcastle, albeit in the early game, or one of the City boys away at a fairly leaky Norwich. And it was Salah who took it with three votes with Kun and Sterling both grabbing one apiece.
Kun won the vice captain vote unanimously.
Our GW5 team in full…
Should you wish to follow the FF247 Site Team's progress you can do so here.
Thanks for reading FF247 Fantasy Football Site Team GW5
FPL FIXTURE TRACKER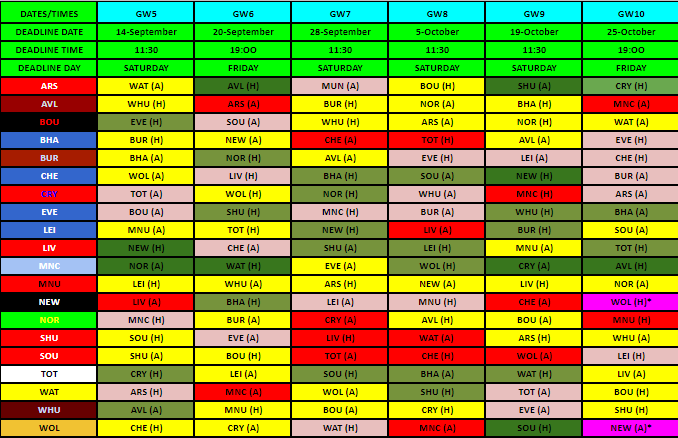 FIXTURE TRACKER LINK
Fantasy Football 247 League Codes: