FF247 Fantasy Football Site Team GW6
Welcome to FF247 Fantasy Football Site Team GW6
What a waster….
If we were to tell you that our team last week consisted of the following points then we would forgive you for both wondering exactly how far we had fallen and probably ducking in the process; 0, 1, 2, 2, 2, 3 & 3. Yep, that's seven of them at three or less. If we told you we still beat the average and managed a jump in ranks you'd probably have to wonder how good our final four were. And the truth be told they were ok but even then not exactly world beaters. They got 6 (Kun), 9 (Mount), 12 (Pukki) and 18 (Salah as Capo). Or in other words 78% of our points.
We ended up with 58 in total, 6 above the average and it helped us to another small rise in the ranks, this time a 5k jump to 56,771st.
Our defence (and keeper) were the main culprits as they all amassed 6 points between them. Sterling flopped, but then he did so for many, as did Barnes and McGinn. We left a Cantwell goal on the bench but who knew Norwich would do that, we already had Pukki and that felt like enough exposure to a supposed spanking…
Our GW6 Result…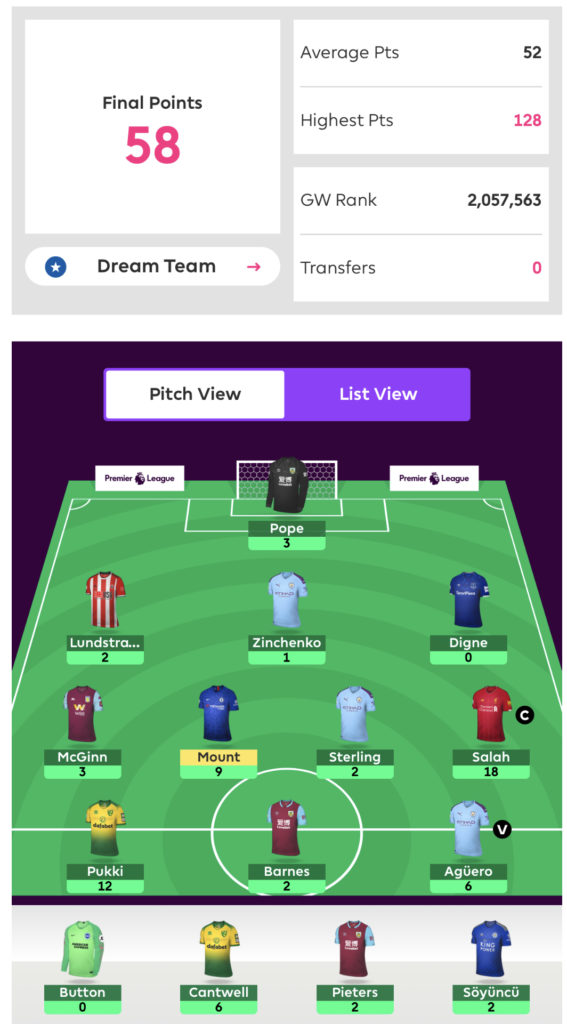 We didn't make any moves last week, rather opting to carry the free transfer over and so go in to GW6 with two of the bad boys saved up and £0.3m to splash around. Let's go and see how the committee decided to spend it…
Our GW6 Transfer(s)
Ever been shopping armed to the teeth with gift vouchers from those lazy Christmas present 'givers' only to not find a single thing you want, and then you start looking at things you don't, or indeed didn't want in the first place, just for the sake of it? That was us this week. It was likened to a RMT post from Stewy10 this week; we'd all seen it but he was met with stoney silence for hours, simply because there was nothing obvious to suggest and he was staring at losing a free transfer as a result.
We started looking at silly things such as transferring Sterling out in order to grab Abraham, simply because the former has had a couple of quiet games and the latter has done the opposite, despite their respewctive fixtures this week. Anyway, we don't know what Stewy decided to do but faced with the same difficult decision we have (for the time being; see caveat below!) taken the tough decision to simply do nothing (again), despite the loss of a valuable transfer.
Said caveat is of course Mason Mount. We are quite comfortable with him sat on our bench this week, he may well have been anyway, or at the very least caused a discussion about whether he should. His fixtures after this week look very enticing so in theory we are more than happy to keep him. This may depend on what, if anything, Frank reveals tomorrow though; a week out and he stays, more than that and we may well rip the above up and actually use a transfer to replace him, rather than wasting one. Suffice to say that if the news is worse than is being rumoured then we shall shout out in the comments if we make a move.
To confirm then we have… DONE NOTHING (yet..)
Captain – Sergio Aguero
This was about unanimous as you can get, a full house in fact. Maybe it was the just that had midweek off and is therefore almost 100% guaranteed to start, maybe it was because we all fully expect a Man City backlash after last week.
It's probably a moot point then but Pukki is our Vice Captain and he also came in with a cry of 'Bingo'! Which is probably just a quiet nod to his form. One day yet we may actually captain him for real…
Our GW6 team in full…
Should you wish to follow the FF247 Site Team's progress you can do so here.
Thanks for reading FF247 Fantasy Football Site Team GW6
FPL FIXTURE TRACKER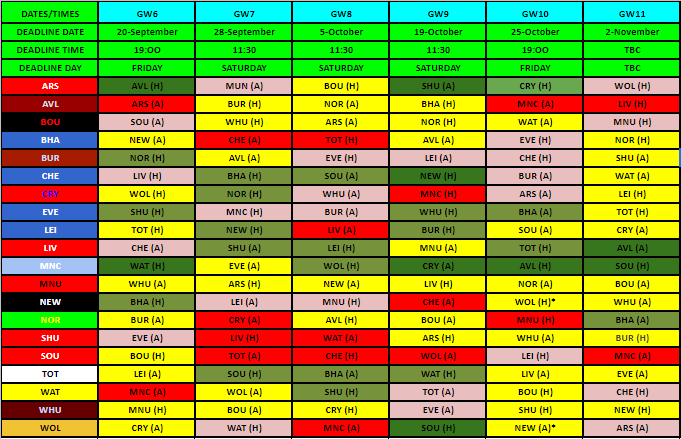 FIXTURE TRACKER LINK
Fantasy Football 247 League Codes: