FF247 Fantasy Football Site Team GW7
A big fat green arrow greeted us last week as we jumped over 70k in the rankings and back into the top 100k. We got a total of 68 points which was 16 above the official average but that particular measure is starting to become increasingly unreliable as the weeks go by and dead teams begin to gather up along the way like roadside trash. A better measure now is to look at the top 10k as we can assume most of them are still active, the average in that group was 58.
In terms of our players Patricio returned just about what we expected having lost his clean sheet whilst making a number of saves, just not quite enough! And tellingly 2 less than DDG himself. No such complaints with the rest of our defence as all 4 brought home a clean sheet, albeit with no attacking returns between them. Obi Wan-B proved to be a bonus magnet again, hoovering up all 3 as is becoming his MO.Our midfield proved to be our weakest spot with only Salah bringing anything meaningful. Last weeks transfer was a straight toss up between Fraser and Maddison with the other most likely coming in this week. Fair to say we got that one the wrong way round! The previous weeks transfer had been similarly unsuccessful with Vardy replacing Firmino but it paid off this time with the little scampster getting us 11 points to go alongside Captain Kun's 12. Our captain choice was looking promising until Pep pulled him part way through the party just as it was coming to life. King had a hard day at the office.
Last Week's Result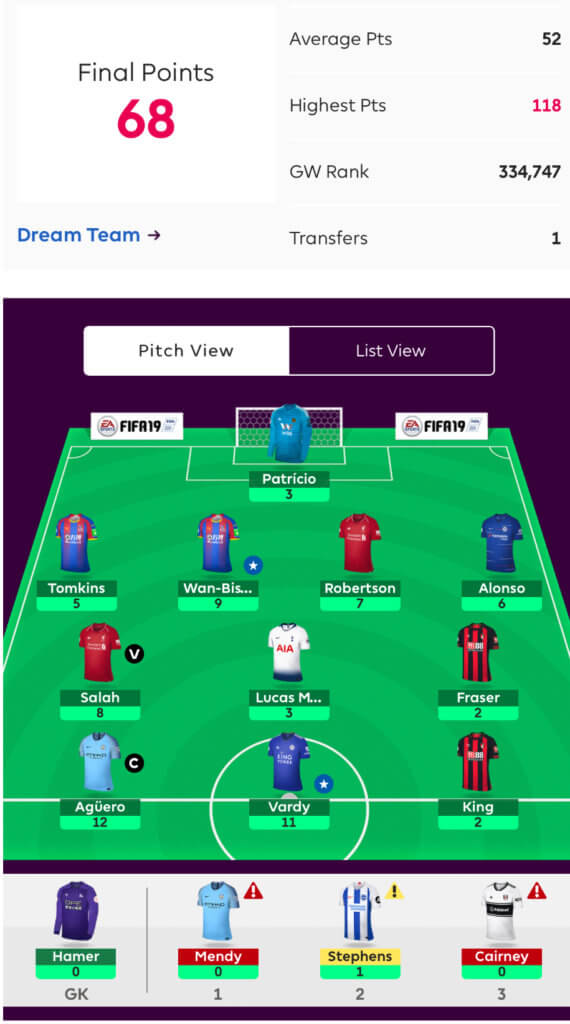 What have we done this week?
Well according to the logic above and also last weeks 'thinking' then James Maddison was a sure fire shoe-in. Or was he?! He certainly more than passed the eye test and of course scored again last week. So when we put it to the vote it was somewhat of a surprise that Richarlison suddenly came from nowhere and swept the floor clean with poor James, who may now have to wait another week or so to join our ranks. We can only assume that the panel all witnessed the Arsenal v Everton game last weekend and came to roughly the same conclusion, which was that he also passed said eye test, albeit being unlucky not to have any actual FPL points to show for it. He did indeed look very lively to say the least and the most likely (only?!) from his ranks to score. Plus he also gets a go at Fulham this week who are conceding at a rate of more than 2 a game on average so far.
Who he actually came in for was a separate debate altogether! We have Lucas Moura who, very worryingly for us and his fellow managers, trotted out last night in the Milk Cup. Such 'Poch' logic probably points to him seeing the bench against Huddersfield at the weekend. And he represents potential future transfer funds tied up in that case. Upon more careful inspection though we decided to lose Cairney instead as it meant we had a more balanced squad for now, still have the option of King to Mitro next week, or indeed poor old James finally coming in, perhaps for Moura.
To confirm then, we've… SOLD Cairney and BOUGHT Richarlison
A lone and sole voice did pop up quietly and pensively however, after the dust had almost just settled on all that, to ask simply, and rightly so, "What's our Hazard plan then?!"… Perhaps it was because he'd just seen his team knocked out by him with an absolute worldy, (not to name names). Perhaps it was just concern for future planning and the fact that he does indeed look like he's gone on another level, West Ham performance aside, and that we don't own him. Either way it's a pertinent question and not one we have the answer to really as other than losing Salah we are a long road away from being in a position, budget wise, to bring him in. Big sofas with broad backs have been duly ordered until we play our Wildcard…
The Team In Full…
CAPTAIN – AGUERO, VICE CAPTAIN – RICHARLISON
Fortunately this was a tad more straight-forward, as you can probably imagine. Kun at home to anyone usually is, call anyone 'Brighton on their travels' and the rest isn't really worth putting into words.
Just in case Pep Pep's us we chose Richarlison as our vice.
You can follow the site teams progress all season by clicking here
Thanks for reading FF247 Fantasy Football Site Team GW7
FPL FIXTURE TRACKER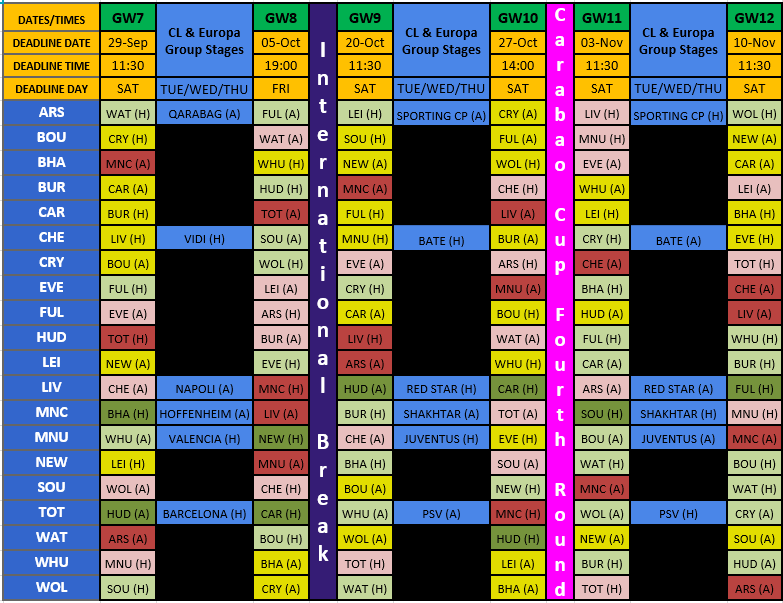 FIXTURE TRACKER LINK
Welcome to our Fantasy Football leagues section.
The League Codes for FF247 for the 2018/19 season are as follows –
Thanks to our friends Follow @ff_surgery and please give them a follow.