FF247 Fantasy Football Site Team GW8
Welcome to FF247 Fantasy Football Site Team GW8. After the success of GW6 we came crashing back down to earth in GW7! We registered a paltry 50pts which was 1pt below the overall average and 10ts below the average of the top 10k. This resulted in a red arrow of over 47k and an overall rank of 145,387.
In terms of our starting XI it was Patricio who led the way, with a clean sheet, six saves & two bonus points giving him a total of 10pts. Sergio Aguero and Jamie Vardy were the only other players to register any meaningful points with both claiming an assist and two bonus points. The remaining eight numpties aren't worth mentioning! That's enough about GW7. Let's move on to GW8, surely James Maddison will finally make his way into our squad this week? There's also the small matter of Hazard & Kane to concern ourselves with…
Last Week's Result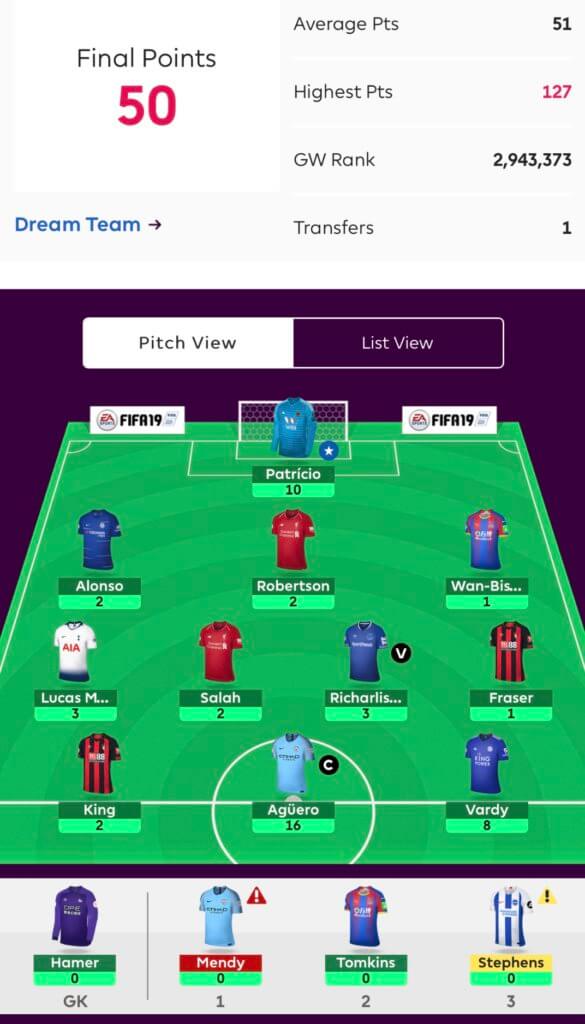 What have we done this week? Sold Salah & Aguero and Bought Hazard & Kane!
We aren't quite sure if we've just lost the plot or simply done something eminently sensible. To begin to explain all this we should say that Kane was our main priority this week, what with his seeming return to a bit of form and him facing Cardiff at home this week. Quite how we ended up on him coming in and Salah leaving is another story altogether…
Let's begin with Kane… A few short weeks back he was tired, listless, needed a rest and wasn't taking any shots. Or so the media had us believe, anyway. He probably wasn't tired at all, but that's how the story went. And then he played Brighton and scored a penalty early doors. Now this probably wasn't the direct catalyst for the transformation, but possibly helped, as in the last 5 minutes of that game he suddenly starting taking shots again. Like, lots of them. Legend has it that he had more shots in those 5 minutes than Man United have had under Jose's enter reign. The writing was on the wall then for a typical Kane style change of fortune and we salute anyone who saw it coming ahead of Huddersfield away, even more so if you stuck the armband on him. Sure enough he grabbed two in that one and then of course continued this vein with a super strike against Barcelona. Which lands us upon Cardiff at home…
Salah… Whilst it was disappointing and also somewhat disconcerting to see him subbed off early against Chelsea he didn't actually perform that badly overall and was unlucky not to score due to some Rudiger heroics. He was 'ok' overall, but just not Salah 'ok', or certainly £13million odd 'ok'. And then we watched the Napoli game… oh dear! Straws and camels came to mind. As did the contrast of Eden Hazard's current form. We've said for a few weeks now that we need Hazard in ASAP but just didn't see how or when it would happen due to budget constraints. We could have brought Kane in with a minor tweak elsewhere but this wouldn't have solved our Hazard issue and our ongoing unease each and every time he so much as looks like entering the opposition half. We are fully aware of the games that Salah will supposedly excel in after this one but sometimes you just have to trust your eyes and right now they say Salah and Hazard are at opposite ends of both the form and confidence spectrum.
The Team In Full…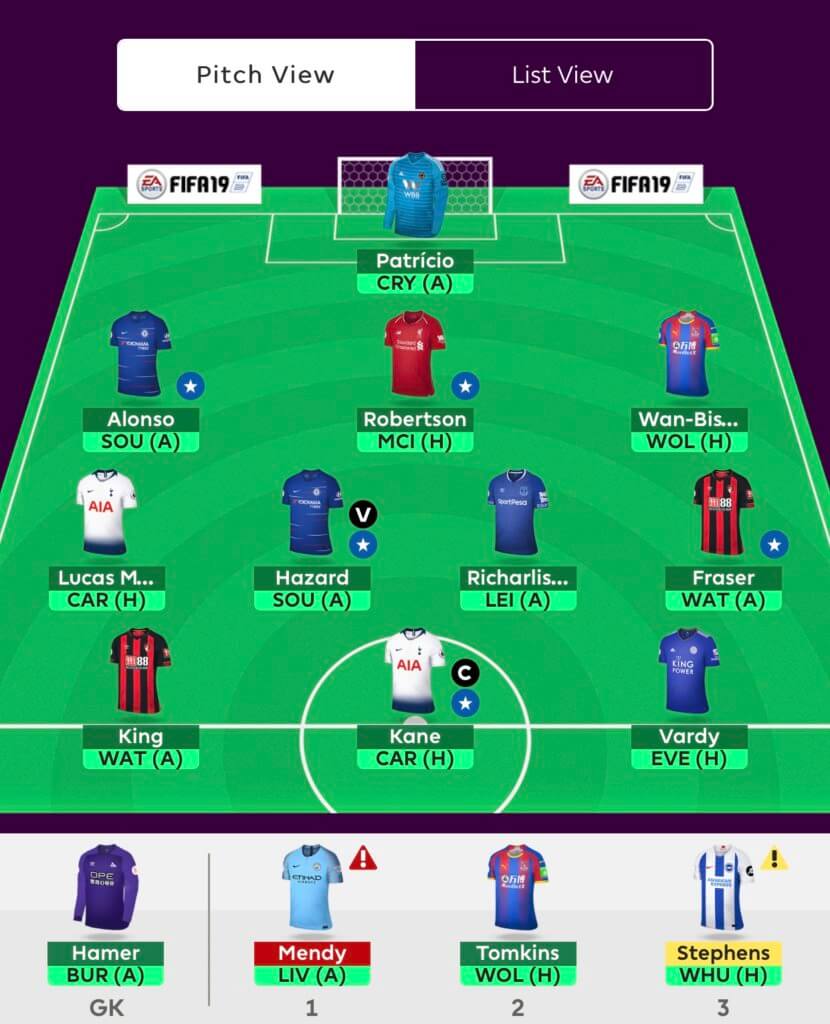 CAPTAIN – KANE, VICE CAPTAIN – HAZARD
Little explanation is needed here. None, in fact!
You can follow the site teams progress all season by clicking here
Thanks for reading FF247 Fantasy Football Site Team GW8
FPL FIXTURE TRACKER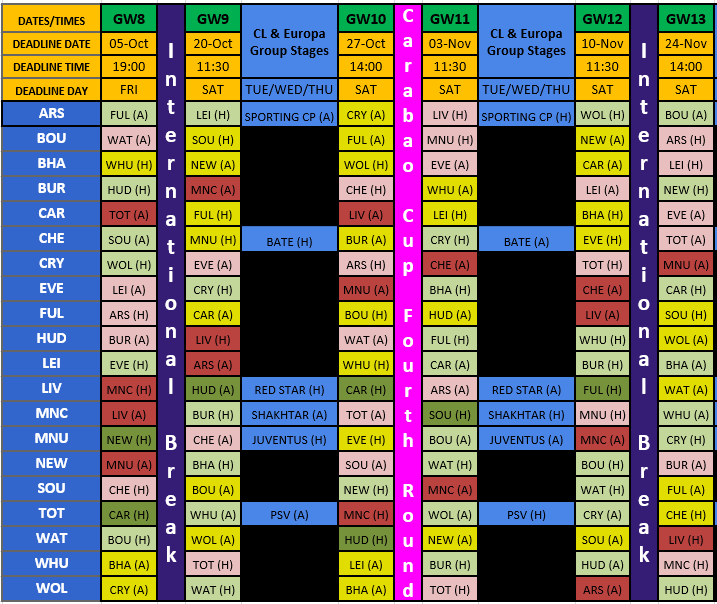 FIXTURE TRACKER LINK
Welcome to our Fantasy Football leagues section.
The League Codes for FF247 for the 2018/19 season are as follows –
Thanks to our friends Follow @ff_surgery and please give them a follow.