FF247 Fantasy Football Site Team GW9
The King is dead, long live the King…
Welcome to FF247 Fantasy Football Site Team GW9. GW8 was a disappointing week for many a side and we were no exception, sadly. We scored just 40pts which was still amazingly above the global average of 36. Our highlights reel therefore reads very quickly and is led by Tammy Abraham (8), Pope & Mount (7) and good ol' Lundstram with 5pts. The rest have been sent off to have a big old think about their performance and we expect a stark improvement once the international break concludes.
We somehow managed to avoid any vast plummet in rank, which probably sums up the GW for 'those who have being paying attention'. We fell just over 800 spots to basically break even at 62,802nd.
We have 2 free transfers available and £0.3m to wield for GW9 so the threat is there if any of the underperformers return without their tail between their legs. They have been warned…
Our GW8 Result…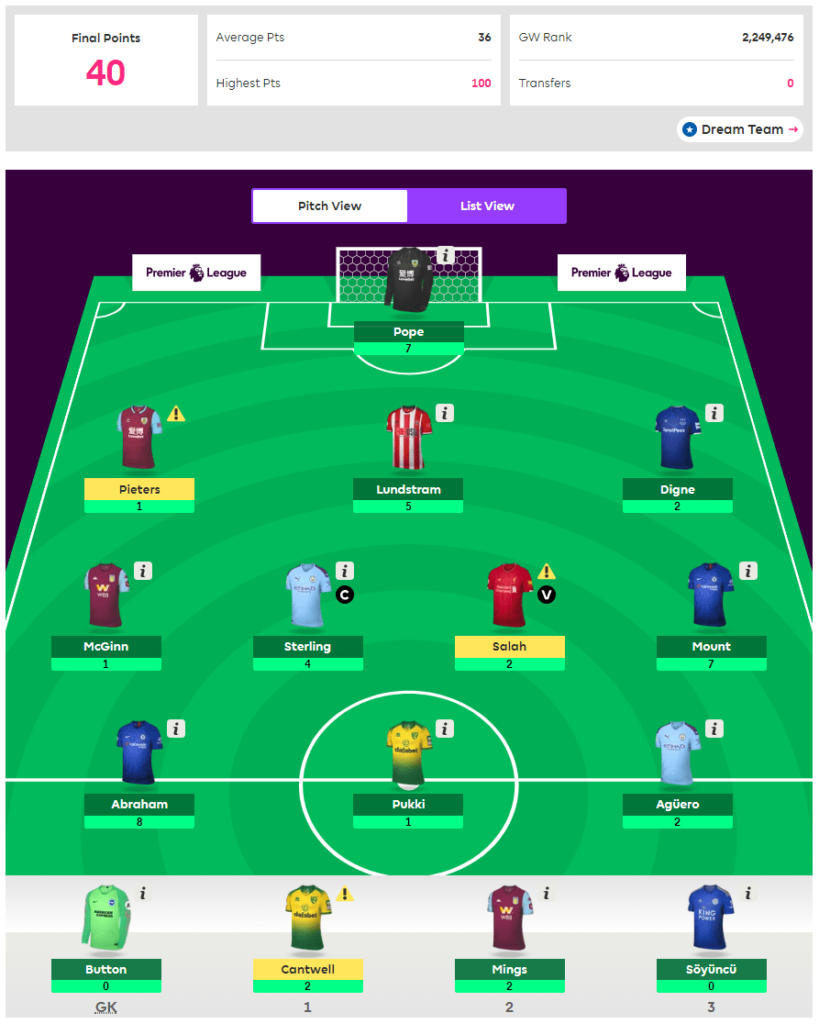 Let's go see what was decided.
Our GW9 Transfer(s)…
This week's meeting was short, sharp and to the point, mainly because we were largely happy with what we had. But at the same time we did spot a small flaw, along with a bigger opportunity. Had we not had 2 free transfers we may well not have done this but when we looked at Pukki and then looked at Bournemouth vs Norwich we wondered who would score more, and the answer seemed obvious; Norwich are dead set bottom of the 'Away' table with 4 losses and just 1 goal to their name, wheras Bournemouth have scored 7 at home. Plus Bournemouth have a pretty decent run of games ahead. And Pukki has failed us 3 times in a row. We are ruthless if nothing else!
Our thought process then went a bit like this;
– Lets's get Wilson in for Pukki.
– We can't afford Wilson without a 2nd transfer.
– Ok so let's bin Digne.
– We (strangely) fancy Digne this week. And who would we get anyway, we already own a fair set of cheap desirables!
– Ok, so let's get King.
– Isn't he just a cheap mans Wilson?
– Yes.
– But he's not far behind in points. Plus he's on pens.
– And we carry another FT.
And so it was.
To confirm then we have SOLD Teemu Pukki and BOUGHT Joshua King
Captain – Tammy Abraham
This was far less clear, as we had 3 votes for 3 different players. For the record those were 1 for Tammy himself, 1 for Sterling and 1 for Kun. The deciding vote took on a strange but logical logic; the voter went away and looked at a few Captain Poll's, along with our own, and the conclusion was that Tammy was streets ahead in them all. It's hardly daring-do and it's hardly innovative and it does smack of self preservation but as ever it's also very much 'us'.
It was also somewhat surprising but perhaps it's a combination of Chelsea's good form, Tammy's good form, uncertainty over Sterling's form, uncertainty over Kun's game-time and Liverpool facing 'Man Utd'.
Then again Newcastle have conceded 11 away from home. In Tammy we trust then…
Our GW9 team in full…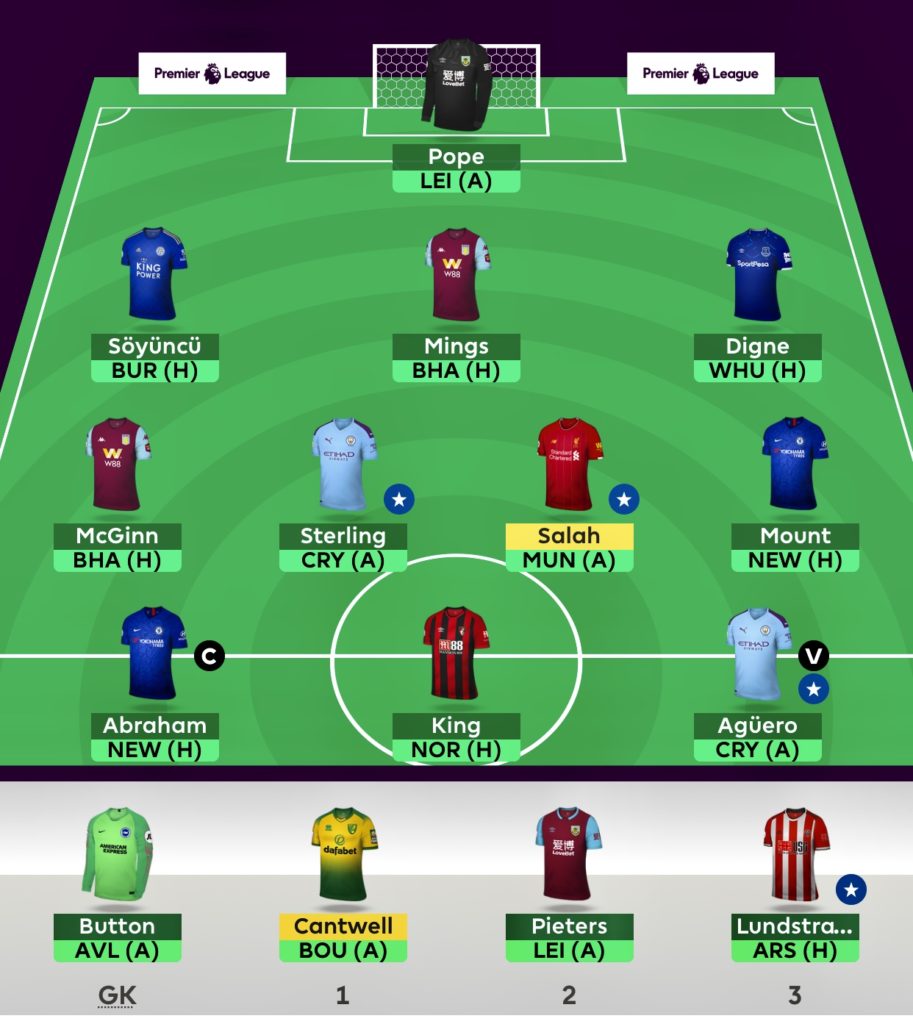 Should you wish to follow the FF247 Site Team's progress you can do so here.
Thanks for reading FF247 Fantasy Football Site Team GW9
FPL FIXTURE TRACKER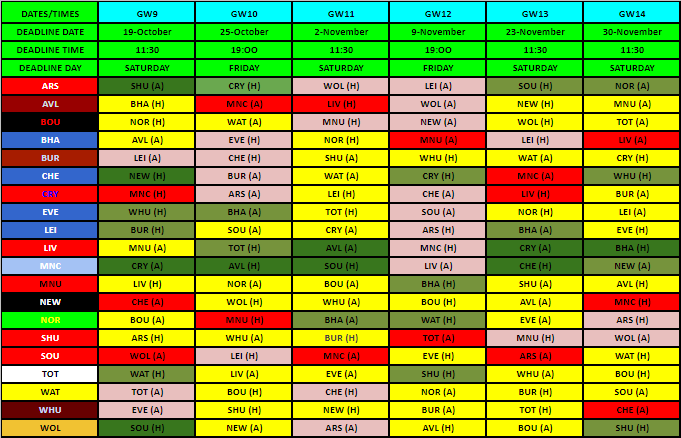 FIXTURE TRACKER LINK
Fantasy Football 247 League Codes: