FF247 Fantasy Football Site Team GW9
Welcome to FF247 Fantasy Football Site Team GW9. It was a bitter sweet sort of week last time out. The big 'bring Kane in vs Cardiff at home' plan went a bit awry, but many of you won't particularly want reminding of that having done the exact same thing and spending the best part of a week trying to forget that you did. That was the bitter part anyway, oh and we captained him too… sorry, you Kaners did too didn't you (we'll stop reminding you, promise). The sweeter part was that we brought in Hazard for Salah and he duly redeemed the situation a bit with a goal, an assist and the now (almost) customary 3 bonus points. The rest of the team tried their best to pull their 'Kane weight' to be fair to them. Patricio excelled at the back with points all over the shop and whilst Alonso and Robertson did nothing in the attacking sense they did at least bring home the bare minimum in clean sheets. Further forward Fraser got us an assist and Richarlison a goal. Our perennially 'on the block' striker Josh King continued to defy our knife wielding with two goals of his own and 3 bonus points, which all felt simply like a very welcome 'V' sign in our direction! In fact, other than Kane (sorry), only Vardy and Obi-Wan Benobi delivered the dreaded 2 pointer (technically less in Kane's case, sorry).
We ended up on 70 points which was a healthy 20 above the overall average and 8 above the top 10k average. Despite the seemingly good margins it still only meant a relatively modest green arrow which saw us jump up 25k from 145k to 120k. As opposed to going the wrong way though we shall gladly take it.
Last Week's Result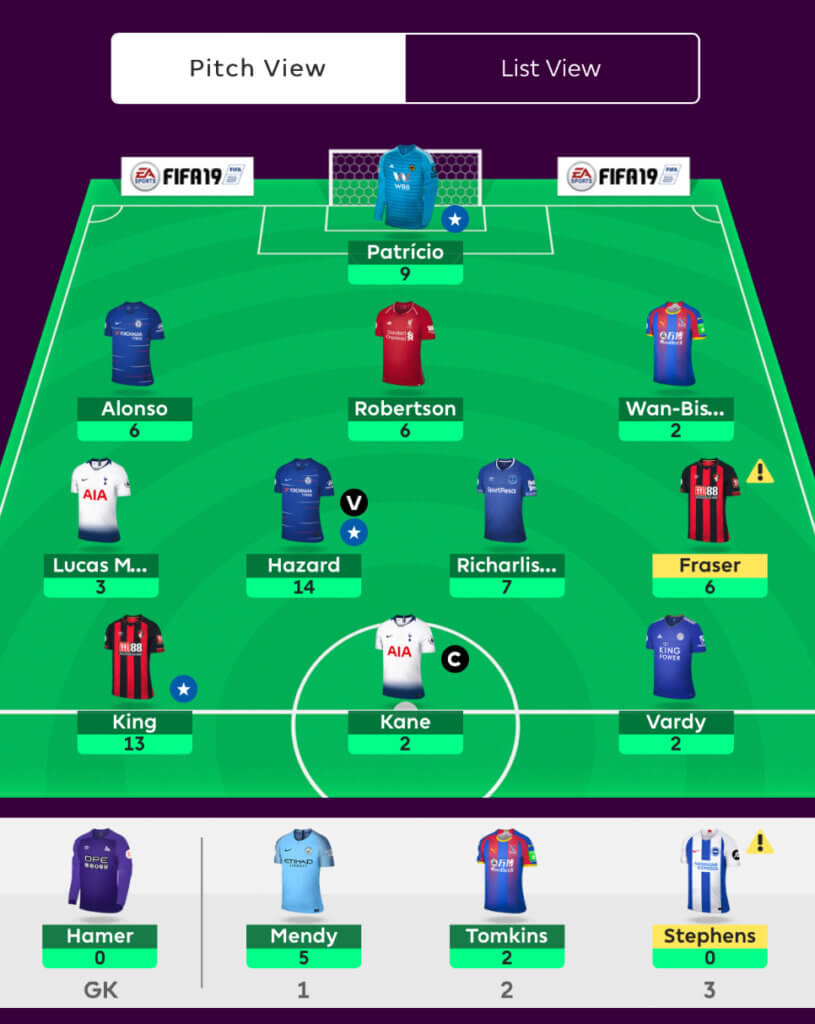 We go in into GW9 with 1FT and £1.5m in the bank to play with, let's go see what shenanigans this weeks committee meeting brought us…
This week's transfer:
Given that the plan was always a quick 'in and out' with Kane, and then back to Aguero again, this week's vote felt like it should be a formality. That was until the votes came in anyway… We somehow managed to get four completely different ones, only one of which conformed with said plan. As well as one person suggesting almost four moves on their own, none of which were Kane to Kun! For the record the suggestions were:
Kane to Kun
Hold the transfer and do nothing
Lucas Moura to David Silva
Vardy to Lacazette or Vardy to Firmino or King to Mitrovic or Stephens to Lerma
And there was still one more vote to come in, seemingly now the deciding one. Fortunately the one left is a bit of a fiend for forward planning and so went away and did some analysis and came back with his conclusion complete with pages of nearly indecipherable scribbling with the 'probably all too familiar to most FPL'ers' set of ticks, crosses and arrows –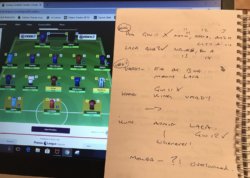 "Basically, we are in a bit of a striker conundrum as we probably need to recycle the whole lot of them at some point soon! Lacazette possibly needs to come in at some point but can perhaps wait until GW12, King needs to exit by GW11 ideally and Vardy's fixtures are actually ok (despite what Matt tells us on Fixtures this week!) but he probably needs to go to fund Lacazette. Mitro is ideal for the next few but I also fancy Arnie for points and maybe over a more sustained period, but probably only after this week. Kane could stay but basically we need that small price difference to allow the rest of the moves to happen in the next few weeks plus Kun will be widely captained this week and is massively owned and so from a self preservation point of view that's the best move for us this week, I feel. Oh, and Moura needs dealing with at some point too."
And breathe….
Whether any of the panel actually read any of that, or indeed followed it, is open to debate but it was at least enough for one of the others to change their vote. And so Kun for Kane was the final verdict. And seemingly a plan (of sorts) for future transfers had been formulated, so not all was lost in the hours of planning and debating that lead full circle to the original suggestion / plan from last week! Who said FPL was supposed to be fun again…?!
As so to confirm we have: SOLD KANE & BOUGHT AGUERO
The Team In Full…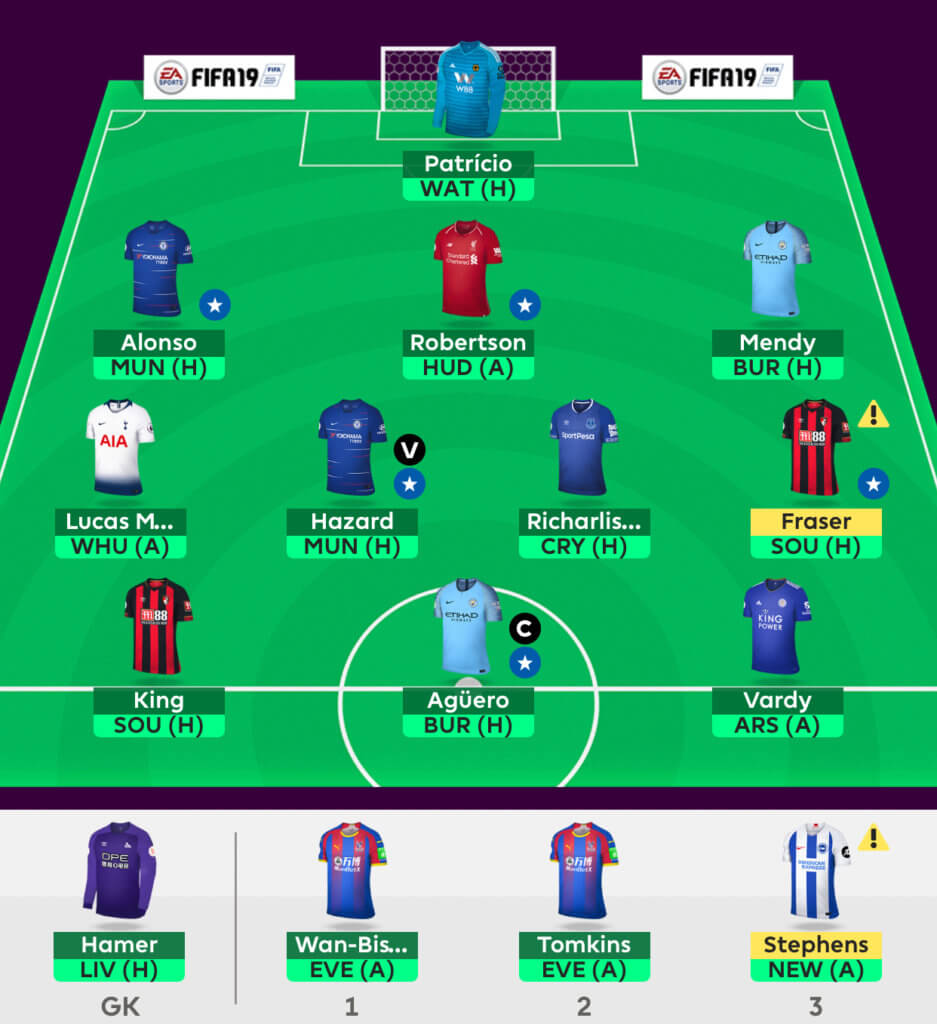 CAPTAIN – AGUERO, VICE CAPTAIN – HAZARD
"The vice-captain should ideally be someone who we actually own….."
As if to prove the point that we speculated on above one of the panel managed to vote for Lacazette as this weeks vice-captain! We can but despair and perhaps feel equally sorry for those who actually rely on this piece for some sort of FPL guidance!
Those who did manage to stay awake / pay attention voted (marginally) in favour of Hazard to back up our inevitable choice of Aguero as captain.
You can follow the site teams progress all season by clicking here
Thanks for reading FF247 Fantasy Football Site Team GW9
FPL FIXTURE TRACKER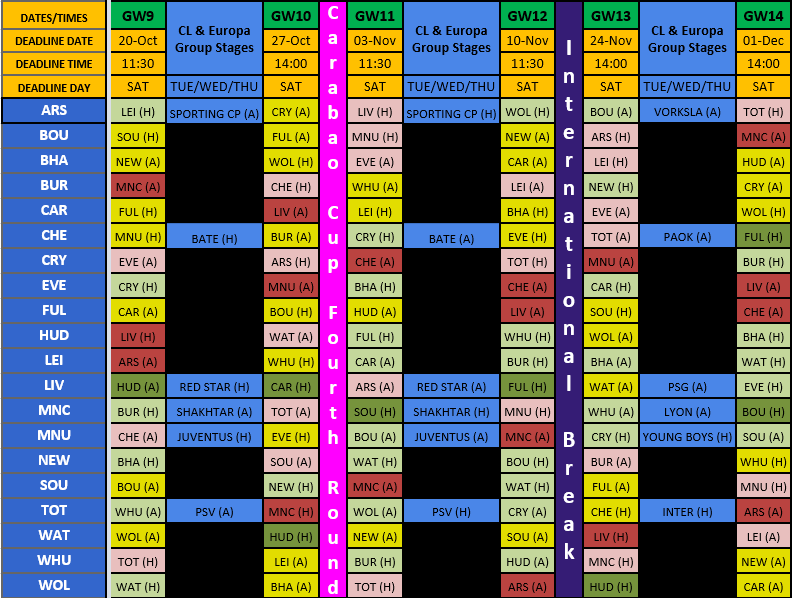 FIXTURE TRACKER LINK
Welcome to our Fantasy Football leagues section.
The League Codes for FF247 for the 2018/19 season are as follows –
Thanks to our friends Follow @ff_surgery and please give them a follow.