FF247 FPL Team GW17
Don't mention the 'C' word
We may have finally have caught a break. We may well have caught more than that, but more on that later!
We have had some horrible luck this season. But we won't bemoan that as many have had horrible luck this year in general. Both inside, and more pertinently outside, of FPL. Your author himself managed to buy both Siggy and Son this week, and you can't get much worse luck than that! In FPL that is. One of our own committee tested positive for the 'C' word this week and so we wish him and his family well. Puts things into perspective. He seems well though and he has been warned that if he intends to die then we require 30 days notice in writing.
Everything that could have gone against us this season pretty much has so far. But for once our transfers from last week look inspired. Our new guy Dallas got us 12 points (replacing a Dann zero) and Bruno finally came in for us, albeit with just an assist, but he replaced a Covid 'victim' (he didn't die either) in KdB. We'd say 'happy days', but they really aren't.
Elsewhere McCarthy got us 9, Bamford 8, Chilwell 5 and it was diminishing returns after that.
We ended up on 57 points which meant a green arrow and a rank rise of over 400k back up to 1.7m. We never thought we would take that sort of rank as a positive. But we'll take any positive we can right now. Oh, hang on… not any….
Our GW16 Result…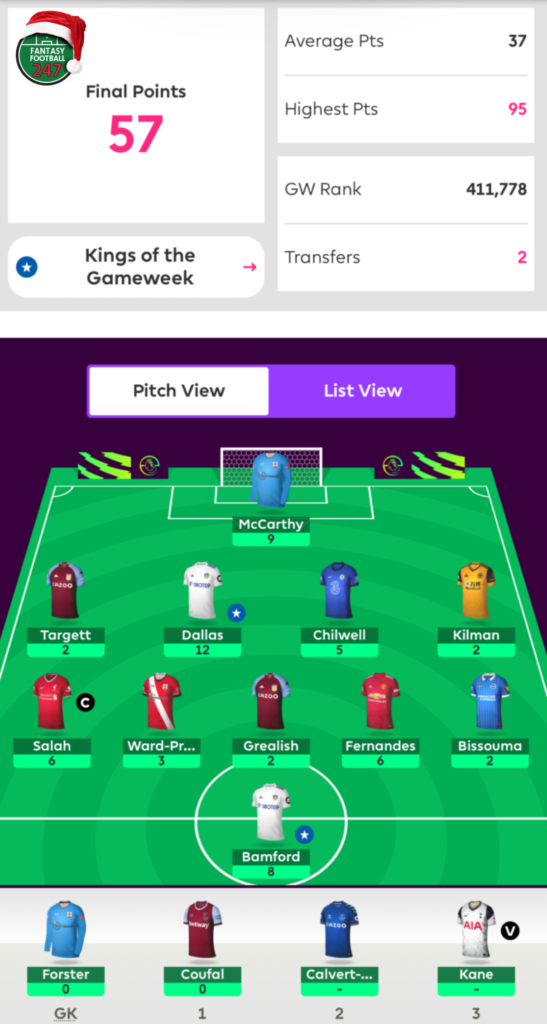 We have one free transfer and 0.5 in the bank so let's go see what was decided…
Our GW17 Transfer(s)
Debating a chip strategy wasn't quite how I envisaged spending New Years Eve, but that I did, and let me tell you it's 5 hours I'll never get back. And to make matters worse it was 5 hours spent going around in one massive circle.
Without boring the pants off you all too, we basically began with holding the transfer, debated using it for our BGW18/DGW19 strategy, had new 18 & 19 fixtures announced about half way through the debate, went full circle twice and ended up back where we began.
The new fixtures which have been added to both GW's (Burnley vs Man Utd in 18 & Man City v Aston Villa in 19) were definitely worth the pause for thought but ultimately they alone were not enough to deter us from our strategy. For now, anyway. The addition of the 18 one means that we could in theory not play the FH in that one and just go in with about 9 players. The addition of the 19 one saved Grealish's bacon. And possibly presented us with a Man City issue, as in a lack of one.
All in all we felt it was best to simply sit tight and see what happens from here on in.
To confirm then we have HELD OUR TRANSFER
Captain – Kane
Despite a couple of votes for Bruno, Kane came out on top, with the quote 'Kane feels like fun vs Leeds' probably summing up our decision.
Our GW17 team in full…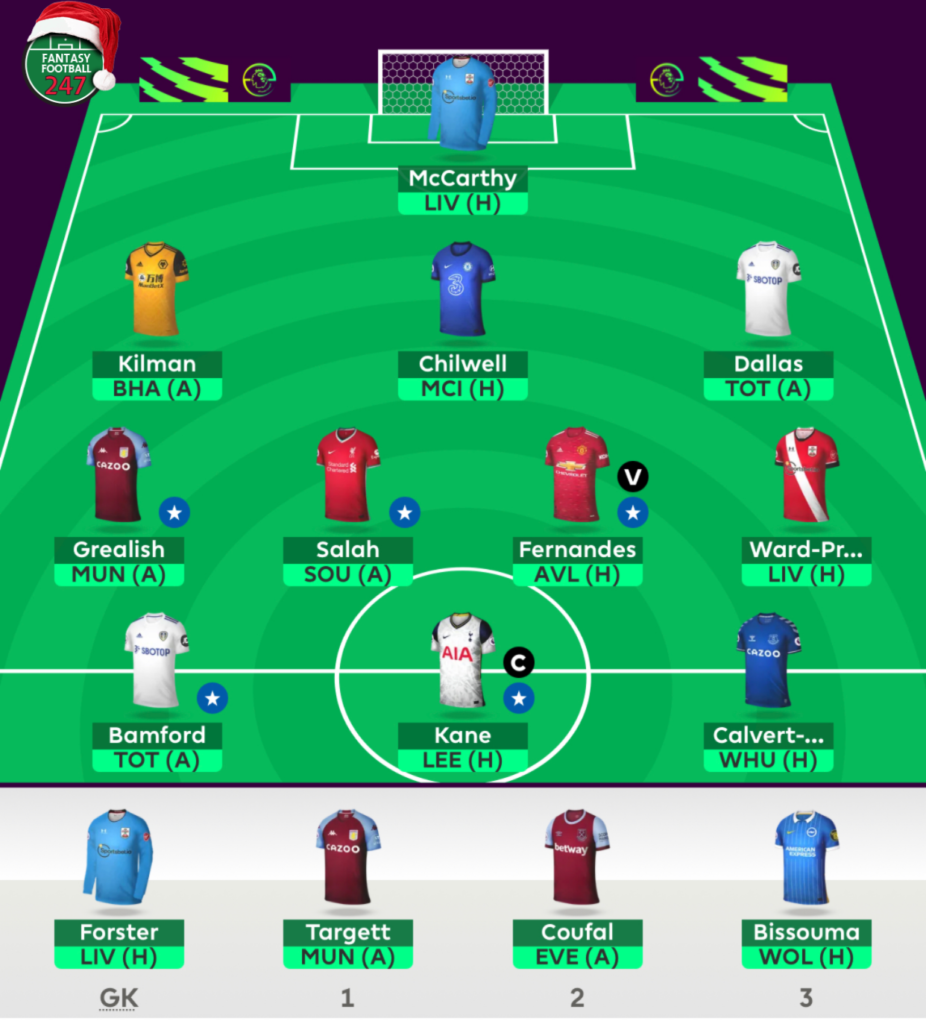 Should you wish to follow the FF247 Site Team's progress you can do so here.
Thanks for reading FF247 FPL Team GW17
VOTE ON THIS WEEK'S CAPTAIN POLL GW17
FPL FIXTURE TRACKER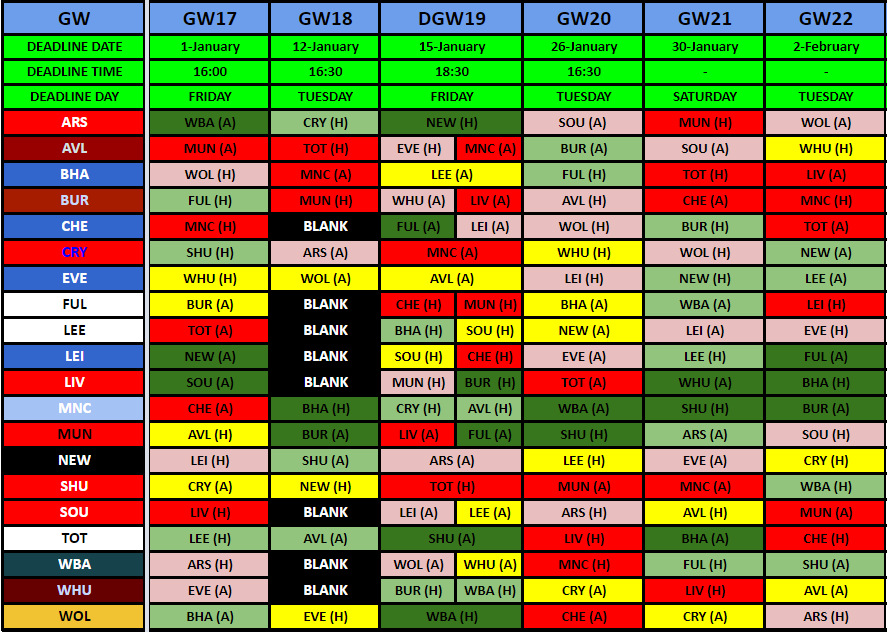 FIXTURE TRACKER LINK
Fantasy Football 247 League Codes:
All prizes must be claimed within 30 days of the final GW.