FF247 FPL Team GW20
Welcome to FF247 FPL Team Gameweek 20
Technically 3 18s
So with no chips in play, we navigated Gameweek 19 with NINE double gameweek players and eight within the starting eleven (more on that later) and saw fit to ride it out as we were.
The headline is we scored 95 points – a respectable 21 points above the average – but that was dwarfed in comparison to some of the big guns within the community who were clearly clarivoyant in their transferring in of John Stones and his 21-point first match and posted scores of upwards of 130. Bravo!
The 95 brought us up in the rankings to 1,201,188 overall and knocking on the door of the top million which in broader terms is poor by our own standards but in the context of our 2020/21 season so far, is actually pretty handy considering we were outside the top 2 million just five gameweeks ago. Four green arrows in a row no less. As the old saying goes 'slow and steady wins the race'*
*for the top 50k.
The review of the individual players will firstly skirt over the bombers. Alex McCarthy (1), Patrick Bamford (2) and Tomas Soucek (4) can hit the showers. Ben Chilwell (7) and Harry Kane (9) sandwich our eightsome reel – Salah, Bruno and Grealish – who scored one little duck each. Considering each had a double gameweek AND Salah was our captain that is pretty disappointing. Not '4 point disappointing' but disappointing nonetheless.
Vlad Coufal hauled 12 in his two games and considering he only got one clean sheet, that'll do.
Cast your mind back to the title. We had three players score us 18 points – Dias of The City, Antonio of The Hammers and Matt Targett of the Villa. However, we were somewhat off target as we 'left back' the Villa man on our bench.
Could have been the ton there if we had played the DGW to the maximum and left Bamford (or Kane, unlikely) on the bench. But still, as Rino Gattuso once said whilst coach of Milan and when asked what would have happened IF his team had scored first:
"IF MY UNCLE HAD THREE BALLS HE'D BE A PINBALL MACHINE"
Our Gameweek 19 Result…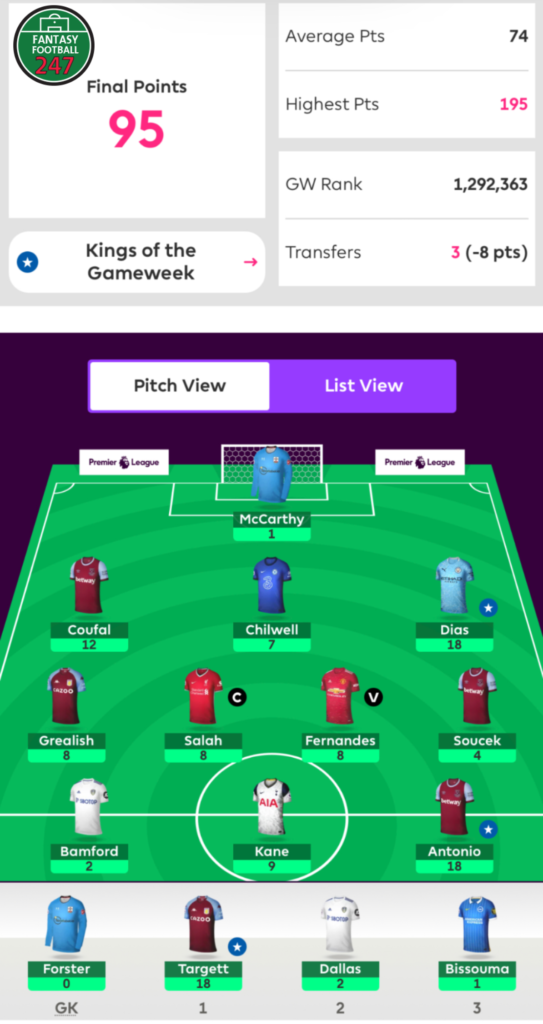 Let's go see what was decided…
Our Gameweek 20 Transfer(s)
The injury to Kevin De Bruyne obviously caught our attention and like many, the idea that an already-in-form Ilkay Gundogan would now play a more prominent role in this City team (including the likelihood of him being on at least some of the penalty duties) was too good to resist. We say a farewell to Soucek then as we aren't likely to triple captain him any time soon.
To confirm then we have SOLD TOMAS SOUCEK and BOUGHT ILKAY GUNDOGAN
Captain – BRUNO FERNANDES
One of the number actually fancied the armband with the new signing right away. The more sensible/boring among us prefer Bruno Fernandes who sauntered off the bench in the FA Cup to sweep away a free kick from the edge of the box. Just getting his eye in ahead of Sheffield United coming to Old Trafford on Wednesday evening
Should something go wrong with the Portuguese, we back Gundogan with the vice captaincy.
Our team in full…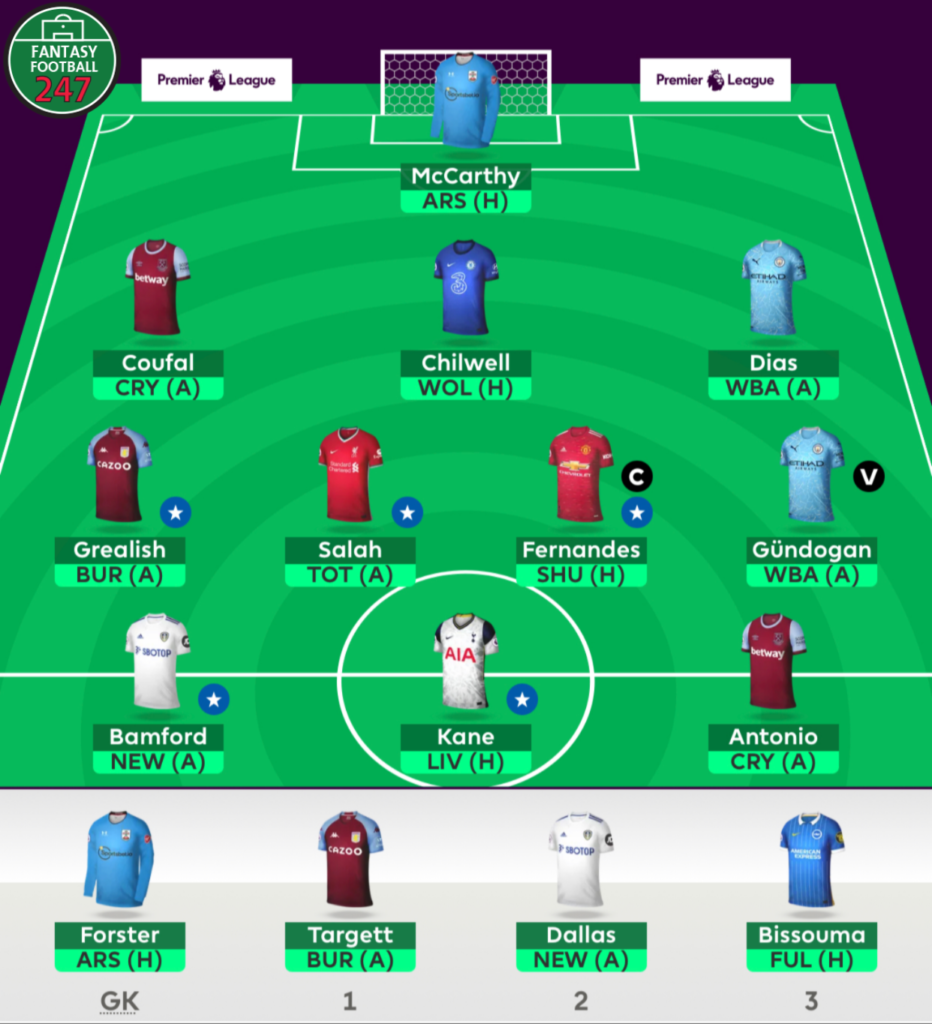 Should you wish to follow the FF247 Site Team's progress you can do so here.
Thanks for reading FF247 FPL Team GW20
VOTE ON THIS WEEK'S CAPTAIN POLL GW20
FPL FIXTURE TRACKER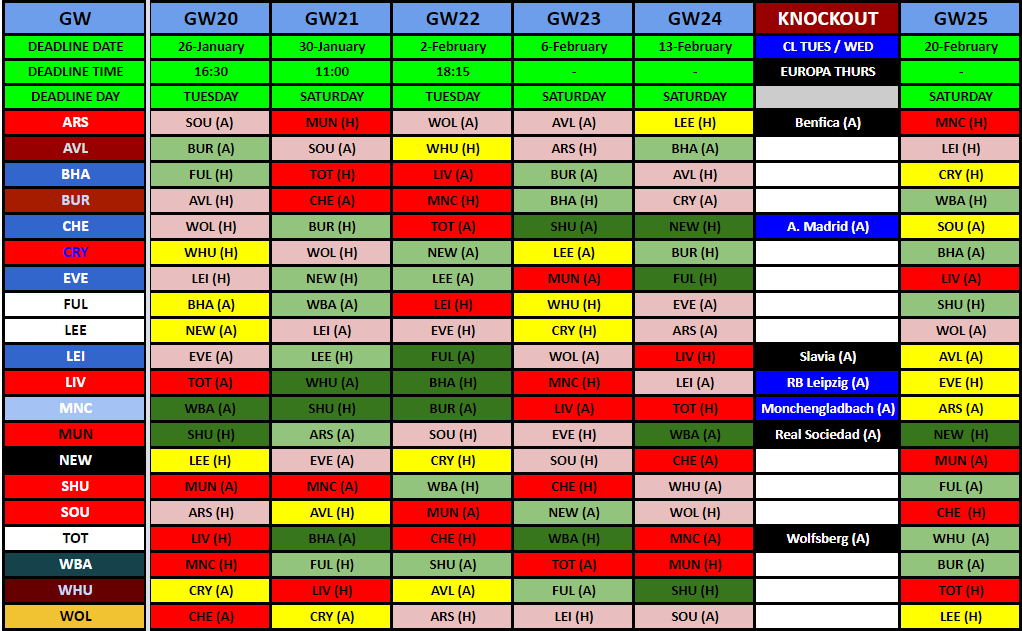 FIXTURE TRACKER LINK