FF247 FPL Team GW24
Welcome to FF247 FPL Team GW24
A strategy?!
As some of you may recall this was the week we took the plunge on two Burnley players – Nick Pope and Matt Lowton – as they had a nice little run of games and started those at home to improving but hardly world-beating Brighton. And then 10 minutes from half time, Lewis Dunk happened. Four points from our duo of new signings was hardly a fantastic start to the week (more so when you take into account we had Jack Grealish with a 2 point apology in the lunchtime match).
Thankfully Saturday was rounded off with a Coufal clean sheet and then 26 points from Bruno © and DCL at Old Trafford in that brilliant 3-3 draw.
Sunday's big match saw us owning Dias (1), Salah (7) and Gundogan (13) with Bamford grabbing a 6 pointer in the Monday Night Football.
The arrows are still green though! Well, the overall one is anyway as we move to 962,223 – about 5,700 places of a rise. Our overall total is now 1329 points thanks to our 67 this past week. We are getting there.
Our GW23 Result…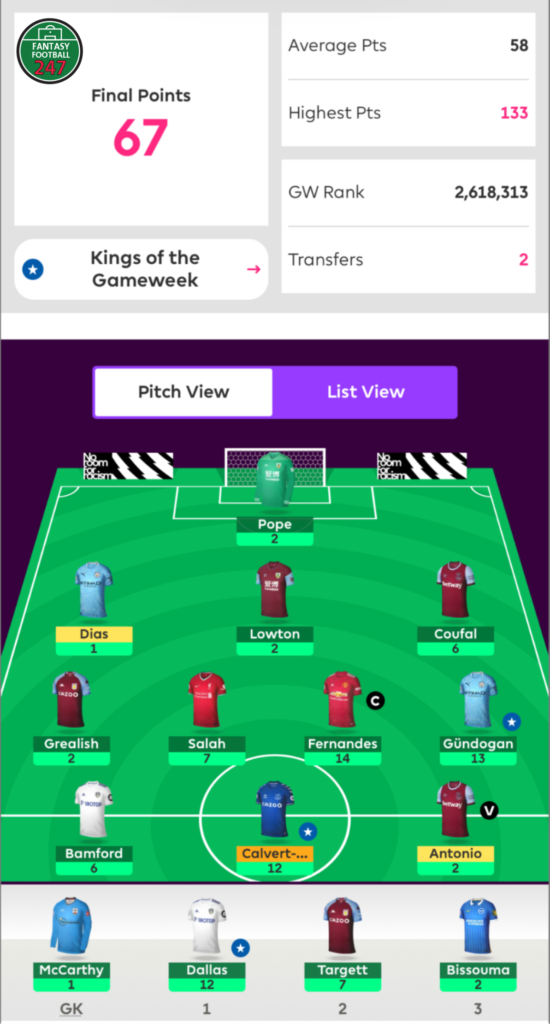 Now with the DGWs about to begin and with every second player seeming to be picking up an injury in the cup, we go to the judge's scorecards to see what's been decided.
Our GW24 Transfer(s)
How to summarise 72 hours worth of WhatsApp messages in a few short sentences? Well, we can knock about 70 of those off before someone (sane) actually pointed out that the previous 70 meant nothing without a DGW strategy!
That did at least seem to concentrate the wandering minds and it was crystalised down to this, in traditional RMT fashion:
A. No idea
B. WC in 25, BB or TC in 26
C. Stumble on through until after 29 and then WC in 30 (we have no FH chip left)
The reality is that we don't actually know what 26 looks like yet, or even what additions will arrive in 27 & 28. or even a complete 29 for that matter. But we have crumbs of clues and we expect 26 will look big, the next 2 may have some small additions and 29 will be as is but plus Villa v Spurs. Tha latter of all that is actually a big saving grace in terms of playing the WC next week as it means we can probably negotiate 29 with some degree of respectabilty without having a FH or ripping our team apart again with hits galore.
All of the above was discussed mainly beacause it impacts what we do this week. No WC in 25 would mean concentrating on what is beyond, a WC would give us freedom for a one week wonder.
Our team page on Thursday looked like the United Nations had invaded it, on Friday it looked like Boris had been in and cleaned it all up. Except for the DCL flag which he seemed to have left behind, torn in two, rather unhelpfully. And of course that became the main thread of the discussion. With Fulham out of the equation and Man City looking questionable, and that was regardless of his actual participation, we decided that he should probably leave us for now and so two options were presented: Ings or Cavani. Ings represented the convervative side of having a player who would then have a DGW in 25, Cavani was our one week punt and represented us throwing caution to the wind (and let's face it, probably WC'ing in 25).
There was a feeling that once 26 was announced we would almost certainly want to WC and so Cavani was in favour, much favour in fact, full house favour.
To confirm then we have SOLD DCL and BOUGHT Cavani
Captain – Gundogan
Full agreement again here, in fact the whole committee voted: Gundogan (C), Bruno (V). Who'd have thought that back in GW1?!
Our GW24 team in full…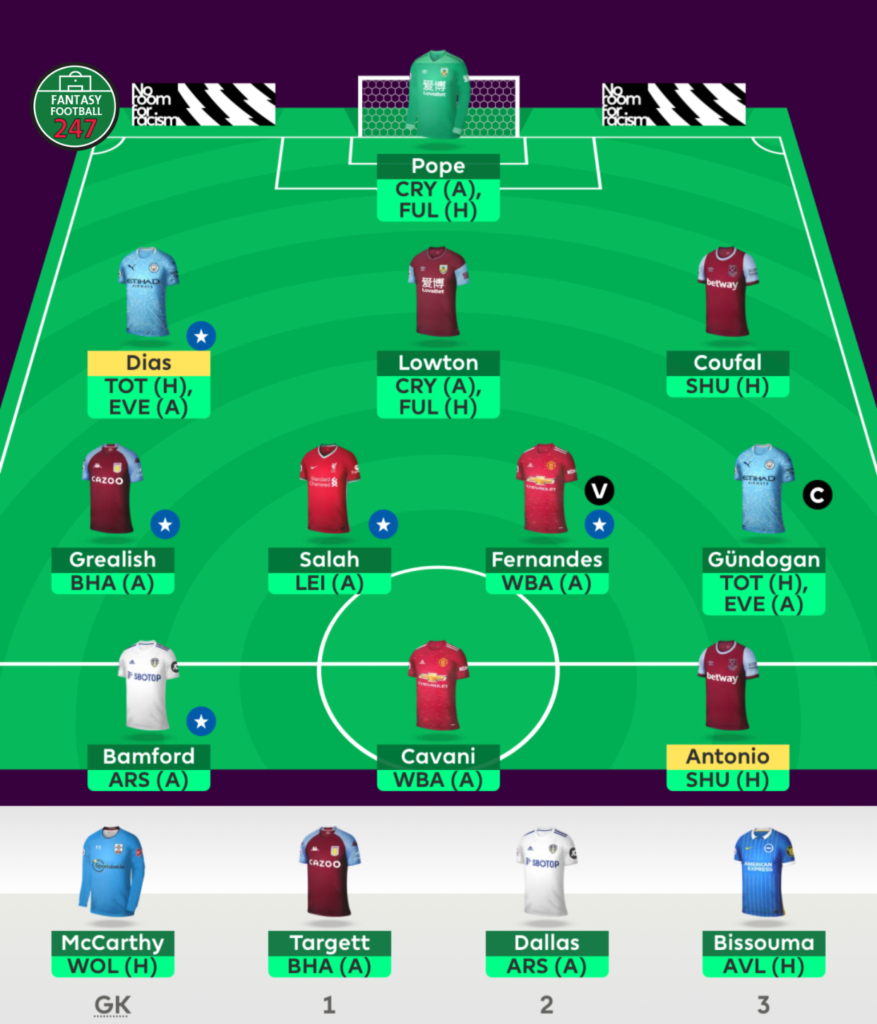 Should you wish to follow the FF247 Site Team's progress you can do so here.
Thanks for reading FF247 FPL Team GW24
VOTE ON THIS WEEK'S CAPTAIN POLL GW24
FPL FIXTURE TRACKER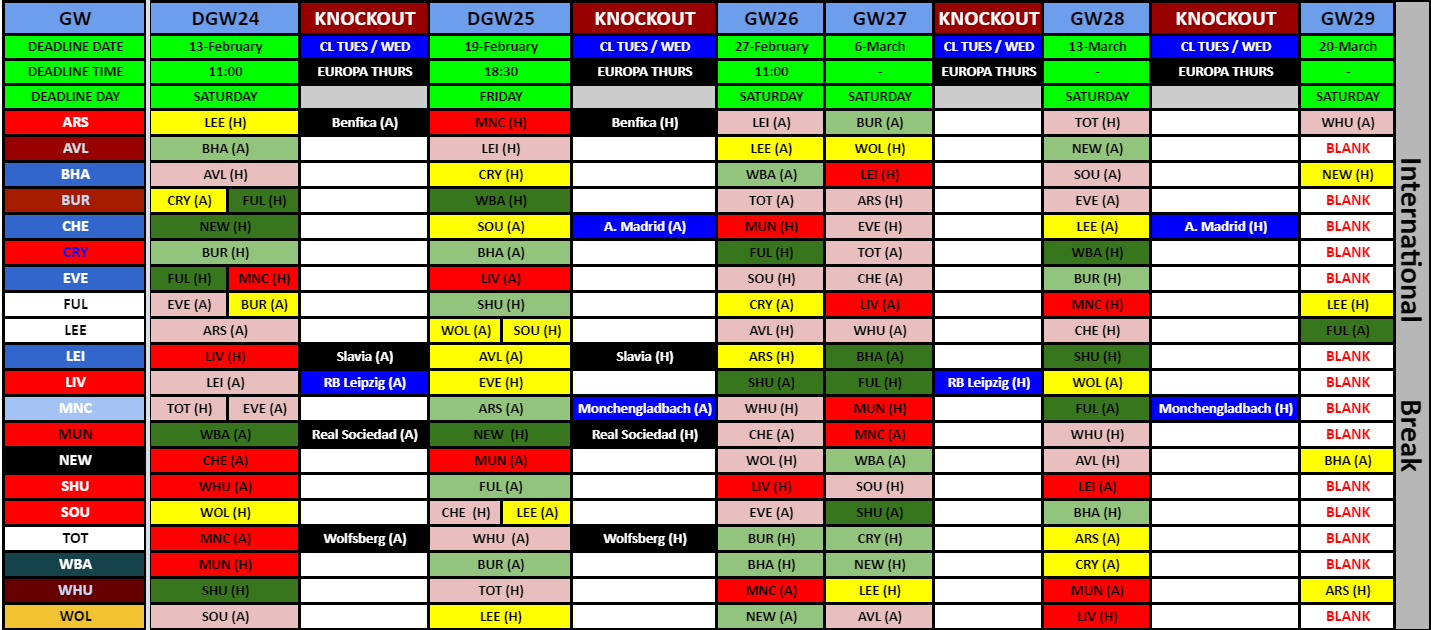 FIXTURE TRACKER LINK