FF247 FPL Team GW25
Welcome to FF247 FPL Team GW25
Room 101
You know the concept, you put in the things that annoy you the most; like playing FPL and trying to pick with sound logical reason the Manchester City players who are going to play the most amount of minutes in a double gameweek. And Pep gets you!
Across a total potential 180 minutes against Spurs and Everton, our Ruben Dias scored 2 points and was our joint-lowest scoring player.
Still, nice to own and captain Ilkay FUNdogan for his 38 points (in just 90 minutes by the way) but as with everyone else, you rarely hear about the things that do go your way and as ever, we're a greedy lot us FPL managers.
So with Gundogan's 38 and a combined 27 from Pope and Lowton (lads!), we pushed our score to 101 (see what we did there?) and we have moved to 726,236 in the overall rankings – a jump of 235,987 places.
The ton score was our first of the season and was helped – well achieved, altogether really – with the autosub of Matt Targett (6 points) coming in for Michail Antonio. Again, we carried the luck there but we'll flit over that fact.
So we look now towards GW25 and beyond. We have a couple of Leeds players for this double but at the time of writing, like everyone else, we await confirmation of what exactly GW26 will look like so we know whether we are wildcarding this week or not . . . .
Our GW24 Result…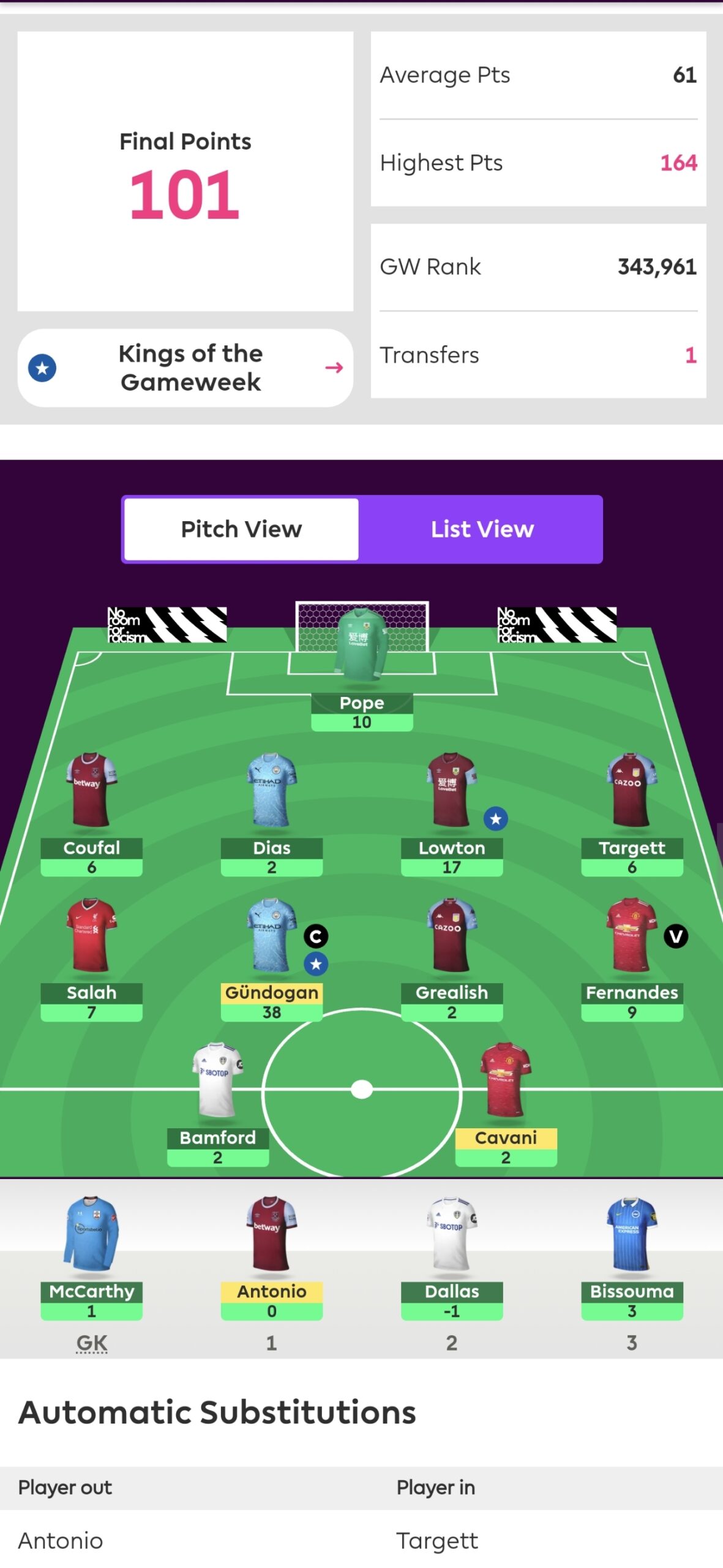 Let's go see what was decided…
Our GW25 Transfer(s)
Well with the break of dawn on Friday, we were still none the wiser with what is actually going to happen from Gameweek 26 so thinking on our feet (never our forte), we have decided to press on with the Wildcard now/Bench Boost in 26 plan.
Let's deal with the DGW we know this coming week. We came into it with three DGW players and we go with the three. However we've decided we prefer Raphinha over Stuart Dallas. Therefore we enter this gameweek with Alex McCarthy of Southampton (DGW now and potentially another) and the Leeds duo of Patrick Bamford and aforesaid Raphinha.
For full disclosure, no other Leeds or Southampton players were even given a mention – most likely not even a thought amongst any of us – so we can move on from that. OK? Yeah?
Coffee break.
Was there no thought given to a Triple Captain for GW26 we hear you cry. Well yes there was actually. And at one stage last night the TC armband was going to Mohamed Salah for GW26 and the bench boost held, before we switched lanes and not only changed to bench boost, but mercilessly sold the man. We have in essence ditched the Liverpool striker to cobble together a half-decent looking bench boost. Which brings us nicely to:
"Shouldn't rip things up for a pointless BB"
"When else would we BB with 3/4 DGWers"
"BB is such a pain"
"BB is no stronger than last night"
"I hate the BB chip"
However, in the interest of getting anywhere, it was felt that to get the most out of the chip, we play it directly after the wildcard when we have the best chance of forecasting the fixtures. After that, even if it doesn't work out, at least the chip is gone and we don't need to worry about it.
All being well we will have a near-full compliment of DGWers for the Bench Boost in GW26 as the plan may be to remove the Leeds boys (for a -4) ahead of GW26. Replacing them will be two players who have a DGW – but that's next week's issue!
Without explaining every selection we have selected players who we like for the here and now and offer a bit of future-proofing (see the Spurs and Villa players we have with GW29 in mind). Three Manchester City players are retained obviously and we've gone with the two defenders and Gundogan with little fuss. Bruno needs no explanation and it is felt that Harvey Barnes is excellent coverage for Leicester and great value for his price. The squad is padded out with Digne and Lowton who should have DGWs.
To confirm then we have WILDCARDED (with the aim of BENCH BOOSTING in GW26)
Captain – PATRICK BAMFORD
It was always going to be a player with two games and in all honesty, the Leeds attacker got the first three votes so it was an open-and-shut one this.
In the case that something happens with Leeds' games – football reasons or other – we hand the VC to Mr Reliable, Bruno Fernandes.
Our GW25 team in full…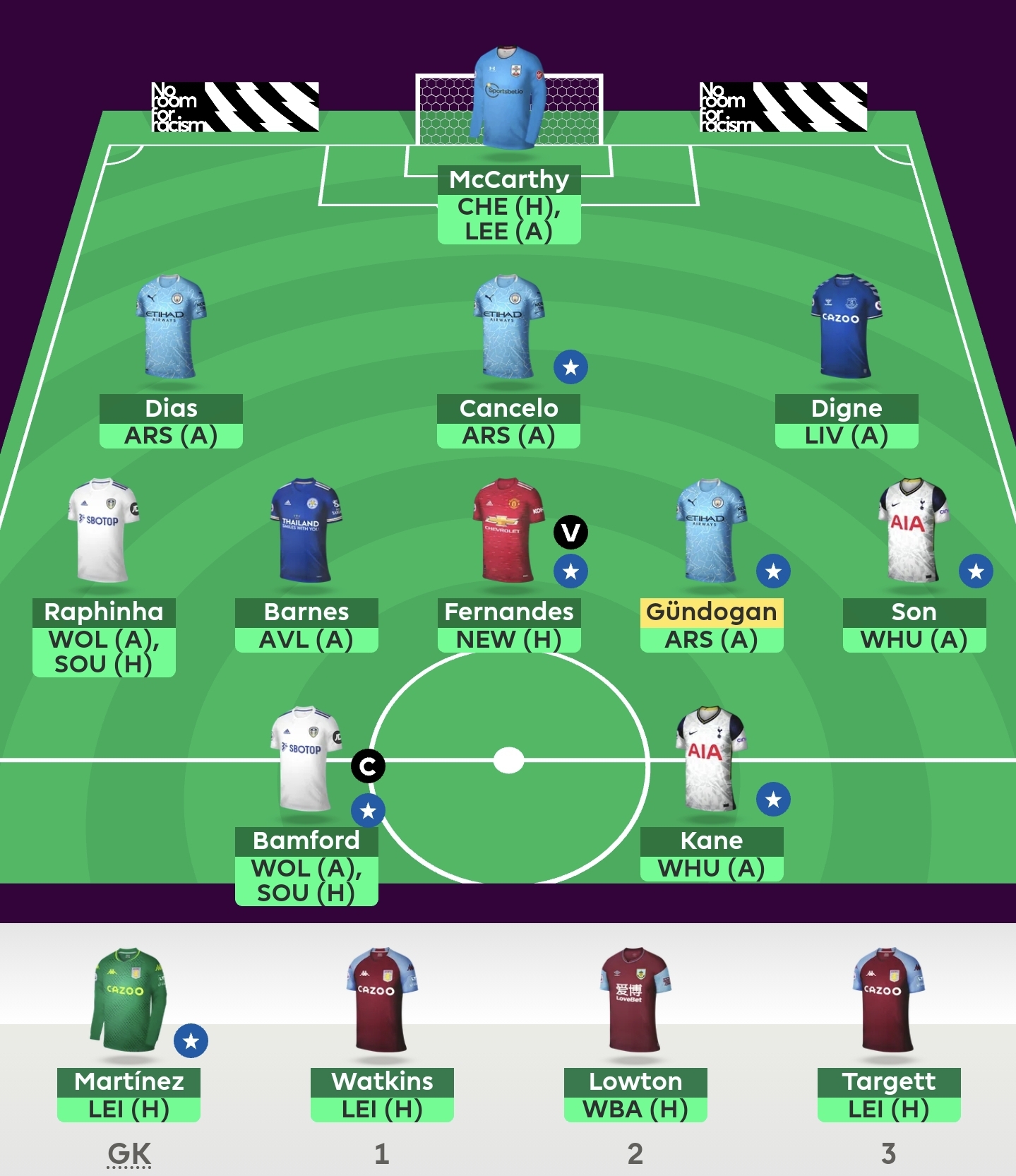 Should you wish to follow the FF247 Site Team's progress you can do so here.
Thanks for reading FF247 FPL Team GW25
VOTE ON THIS WEEK'S CAPTAIN POLL GW25
FPL FIXTURE TRACKER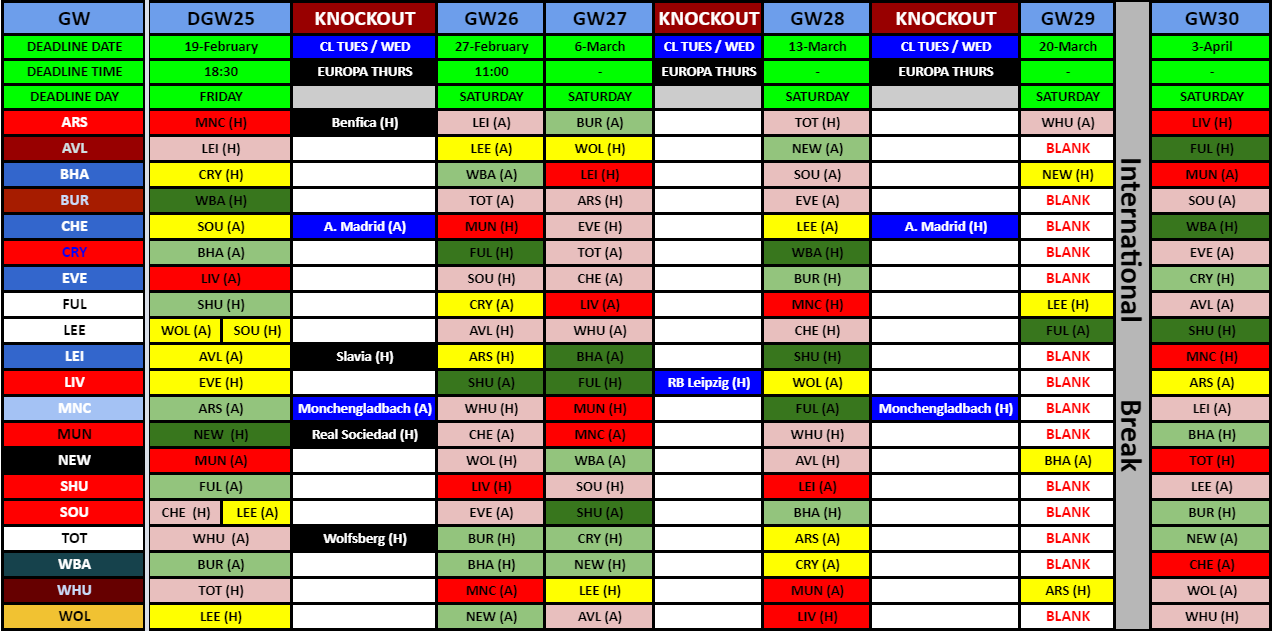 FIXTURE TRACKER LINK