FF247 FPL Team GW3
Welcome to FF247 FPL Team GW3
¡Arriba, Arriba!
Thank the good lord for Mitrović, for our cheap and nasty striker was our highest scorer this week with his brace at Leeds leading to a dozen very gratefully received points. Aside from him it was our men at the back who kept us afloat with clean sheets from Ryan, TAA and VVD while Taylor chipped in with an assist. Captain Aubameyang contributed a mere assist at home to the Hammers and will be lucky to survive the chop. Midfield maestros Havertz and Saint-Maximin hardly troubled the scorers while Vardy and Wilson weren't much better. In fact, when Leicester score four and Vardy isn't involved in one bit of it then you probably know the writing is on the wall for your GW. Our score of 53 was below par and has brought us our first red arrow of the season. It won't be the last! We go into GW3 with a rank of 2,424,028, but we're ahead of Kop and Cookie at least. We have much to ponder, as do they!
Our GW3 Result…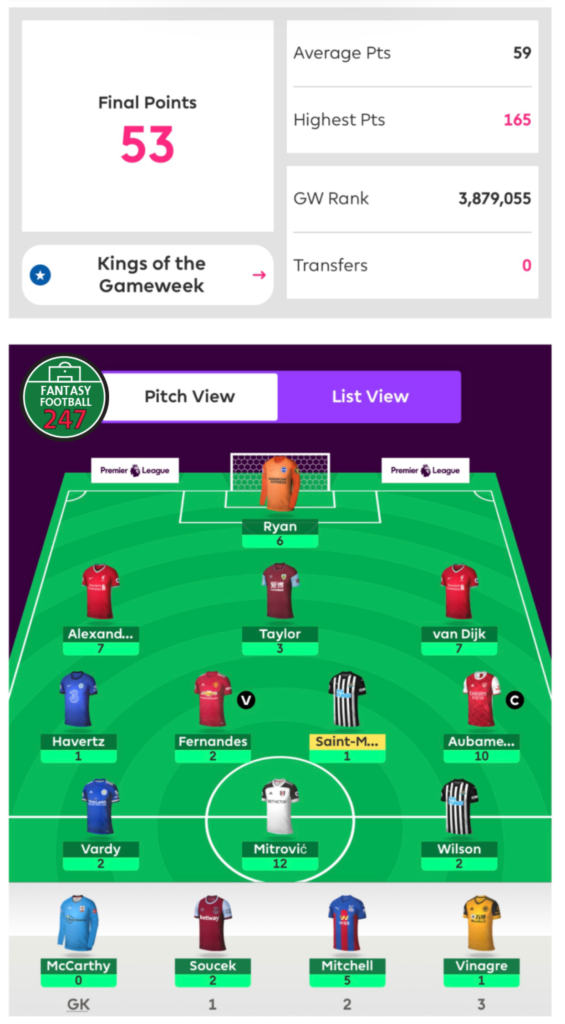 Let's go see what was decided…
Our GW3 Transfer(s)
Gameweeks 1 & 2 have been relatively peaceful and controversy free at FF247 HQ. The 'virtual WC' in GW1 was agreed upon surprisingly quickly and the decision to carry a free transfer in GW2 was unanimous. The calm before the inevitable storm perhaps…
We won't have been alone in the pre-determined decision to transfer out Auba for KdB in GW3. The only variable for many will have been seeing the latter appear fit and healthy in GW2, the fact that he did but also didn't miss a step and somehow looked even better than ever sealed that particular deal.
And then in stormed a Jimenez lover, and he wasn't much up for leaving until we all joined in his Mexican orgy…
Poor old Vardy was on the block but he got some love to stay. Timo Werner was mentioned as an alternative, but he was deemed to be too premature, and such was our cactus holders passion and determination to press harder that the rest of the cast were left naked wearing only sombreros and sipping Desperados quicker than they could say… albur.
Something to do with his next three fixtures being West Ham, Fulham and Leeds, apparently. And their propensity to be leaky.
A -4 was considered to bring a certain Colombian newbie to the party but that was shelved until next week. The feeling being that he will climax at home to Brighton as opposed to at the Palace this week. Which would just be rude.
To confirm then we have SOLD Auba & Vardy and BOUGHT KdB & Jimenez
Captain – KdB
The strength in conviction wasn't so strong when it came to the armband though as KdB romped away with this one, Jimenez coming second.
Our GW3 team in full…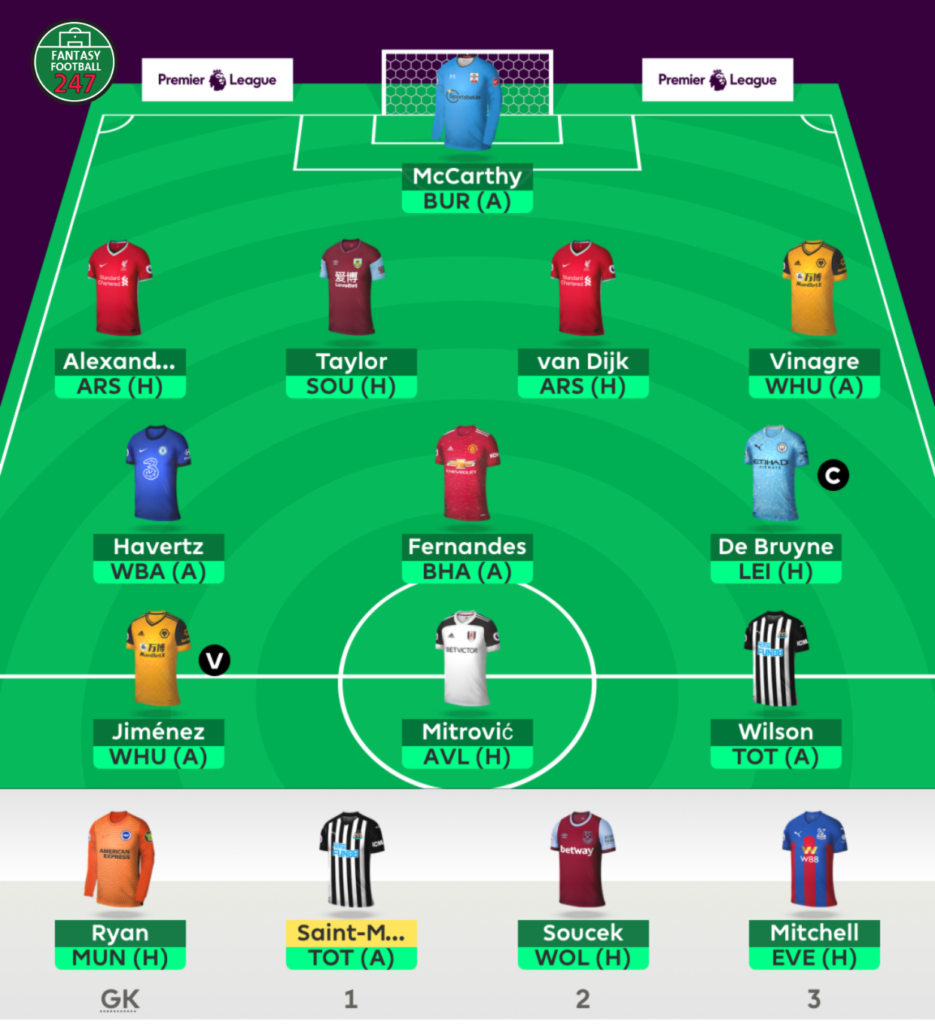 Should you wish to follow the FF247 Site Team's progress you can do so here.
Thanks for reading FF247 FPL Team GW3
VOTE ON THIS WEEK'S CAPTAIN POLL GW3
FPL FIXTURE TRACKER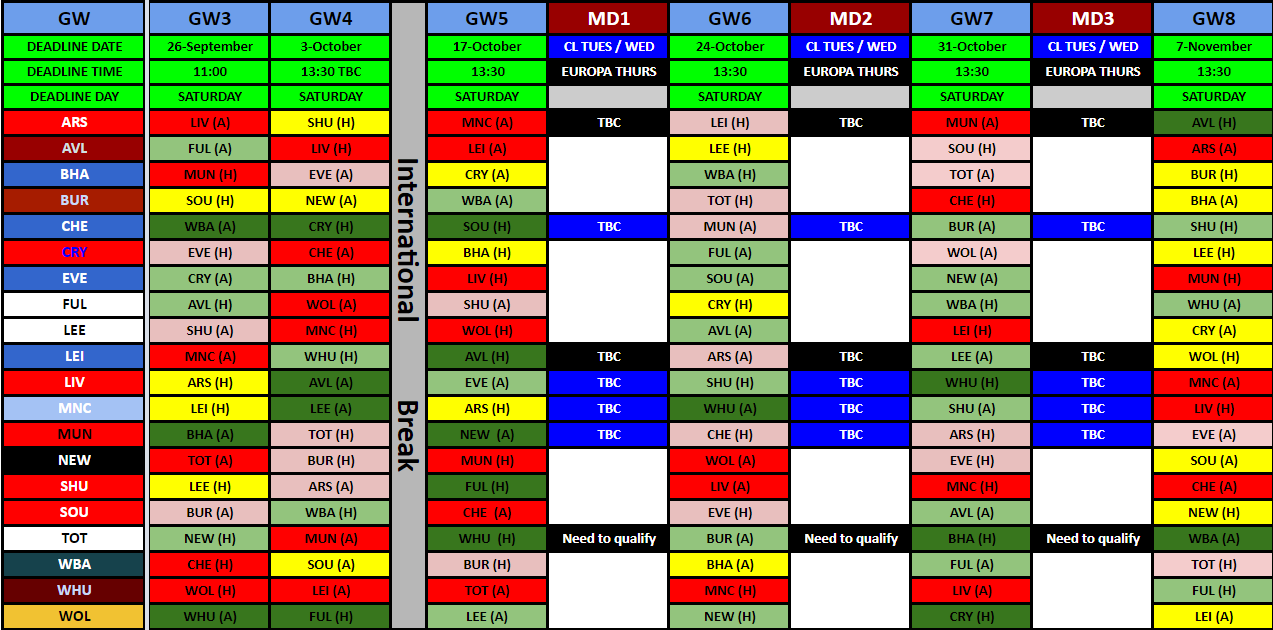 FIXTURE TRACKER LINK
Fantasy Football 247 League Codes:
All prizes must be claimed within 30 days of the final GW.