FF247 FPL Team GW32
Welcome to FF247 FPL Team GW32
Everbody Does Dallas
As regular readers will know, we have benefitted a few times from the autosub rule this season. Call it luck if you like (we don't – you won't get good points from your bench if you don't have good players on it) but we have already called upon two Matt Targett clean sheets and bonus points, an Ezri Konsa clean sheet, a 12-point haul from Jesse Lingard and a Stuart Dallas goal at Leicester a few weeks back.
However, the 'Cookstown Carlos' outdid all of the above with his two goals at Champions-elect Manchester City last weekend as he ascended – wearing a crown and in a glow of brilliant light – from our bench with his 17 points and the next time the FF247 committee gather for our social event it will be in Northern Ireland in honour of the great man.
As far as we are concerned, so long as there is a FF247 committee member within touching distance, he'll never buy another drink.
Oh we also got Raphinha off the bench with his 2 points!
The team have ascended to 316,538 with an overall gameweek score of 60 (the average was 41) so a healthy score and climb. Those with a canny eye and standard grade maths will notice that the nineteen points difference in these scores equates to our autosub total. Tidy.
Jesse lingard hauled with his 14 as he continues his Ballon d'Or quest and aside from a welcome Ollie Watkins (8) goal and Lucas Digne (6) clean sheet on Monday evening, the rest was awful with no less than six two-pointers.
Overall = satisfied.
We move on.
Our GW31 Result…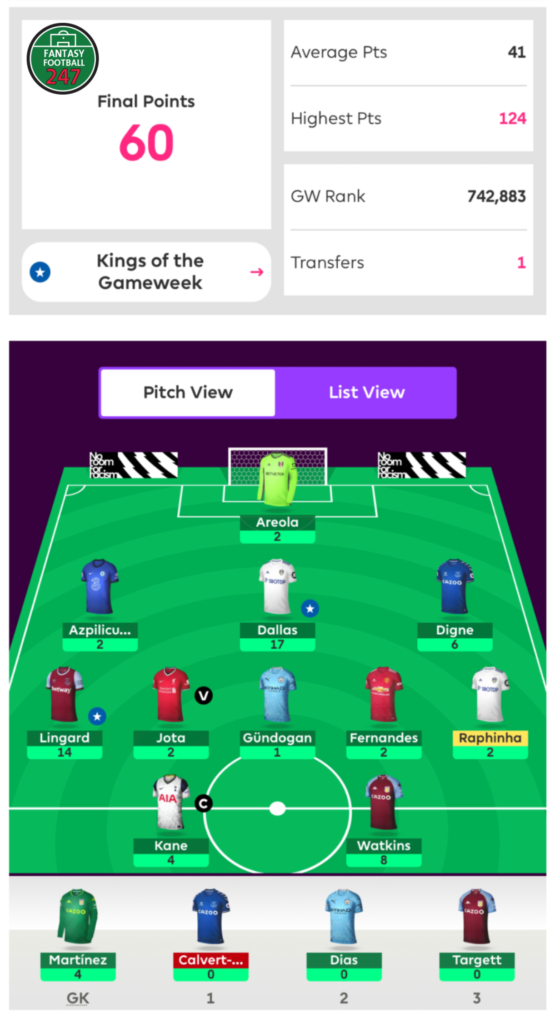 Let's go see what was decided…
Our GW32 Transfer(s)
Acutely aware that we already own Harry Kane and in all honesty we're always likely to Triple Captain him this week for his DGW, we didn't need to consider a solid captaincy choice with our transfer. Instead we looked immediately to an additional Spurs player and in all honesty, there is only Heung-min Son. Then DCL was confirmed out! With the mounting injuries at Everton and a general frustration with him, we decided that he was the obivous fall guy for bringing in Son. Iheancho was mentioned early on and would eventually lead to a -4.
Aware that Manchester City have a blank gameweek in 33, are rotating most of their squad due to having the league all but sewn up and aiming for that elusive Champions League, we felt it best to sooner rather than later 'get off' the assets. We own Gundogan and Dias. Then Raphinha got flagged!
Put simply, it came down to Gundgogan (blank ahead) versus Raphinha (flagged but with cover on our bench [obviously *wink*]) and we have decided to future-proof a little and have said Auf Wiedersehen to Herr Gundogan.
To confirm then we have SOLD ILKAY GUNDOGAN & DOMINIC CALVERT-LEWIN and BOUGHT HEUNG-MIN SON & KELECHI IHEANACHO for -4
Captain – HARRY KANE
Open and shut this one really. The best striker in the league has Everton – who have more injuries than the Glasgow Royal Infirmary – and Southampton – who couldn't keep children out of an alleyway – and he will be wearing our TRIPLE CAPTAIN armband.
We are predicting the future here remember, but we don't see a better opportunity to use our final chip of the season. Make us proud Sir Harold!
Heung-min Son wears the vice and we won't be taking any questions about 'what happens if the Spurs games are cancelled?. We would rather steam in blissfully ignorant on this one.
Our GW32 team in full…
Should you wish to follow the FF247 Site Team's progress you can do so here.
Thanks for reading FF247 FPL Team GW32
VOTE ON THIS WEEK'S CAPTAIN POLL GW32
FPL FIXTURE TRACKER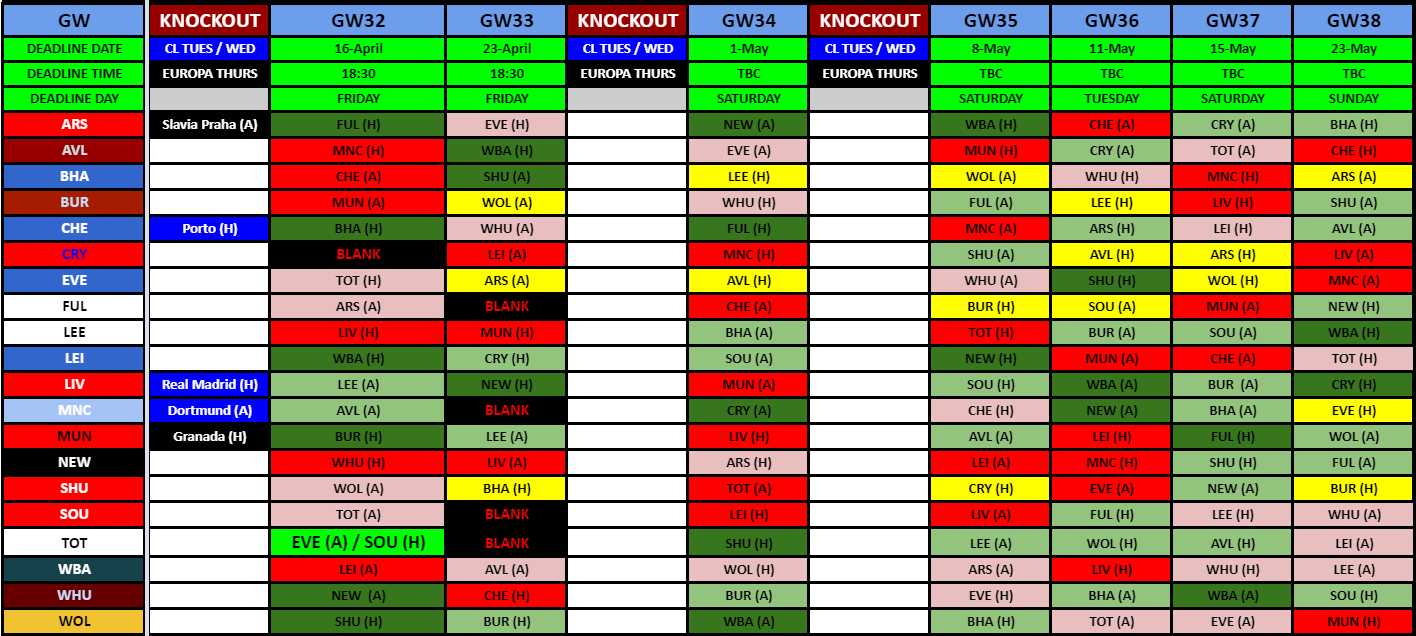 FIXTURE TRACKER LINK