FF247 FPL Team GW33
Welcome to FF247 FPL Team GW33
We'll give you three guesses who again was our super-sub this past week!
Yep! That man Stuart Dallas (YET AGAIN!). He autosubbed in for Chelsea no-show Cesar Azpilicueta. His one point (don't laugh) brought our gameweek score to 77 points which is a full thirty points s above the average and brings us up to 269,660 overall. Our third consecutive green arrow and 14th out of the last 17. We're more than happy with that.
If you remember we used our Triple Captain on Harry Kane this week. It was all going to plan with his two excellent goals at Everton but then disaster struck with another ankle knock late in the game which would eventually lead to him missing out the second leg of the DGW at home to Southampton, and an end to his scoring with 36 points. Realistically, we'd have taken that pre-GW32 so can't grumble. We had his mate, Son, too and he did the bizzo in the second game in any case – 12 points.
A goal from Iheanacho on Thursday – added to Jesse Lingard's against Newcastle and an assist from Ollie Watkins earlier in the week – were very welcome, due to the rest of the outfit only offering 1s and 2s and 3s.
Our GW32 Result…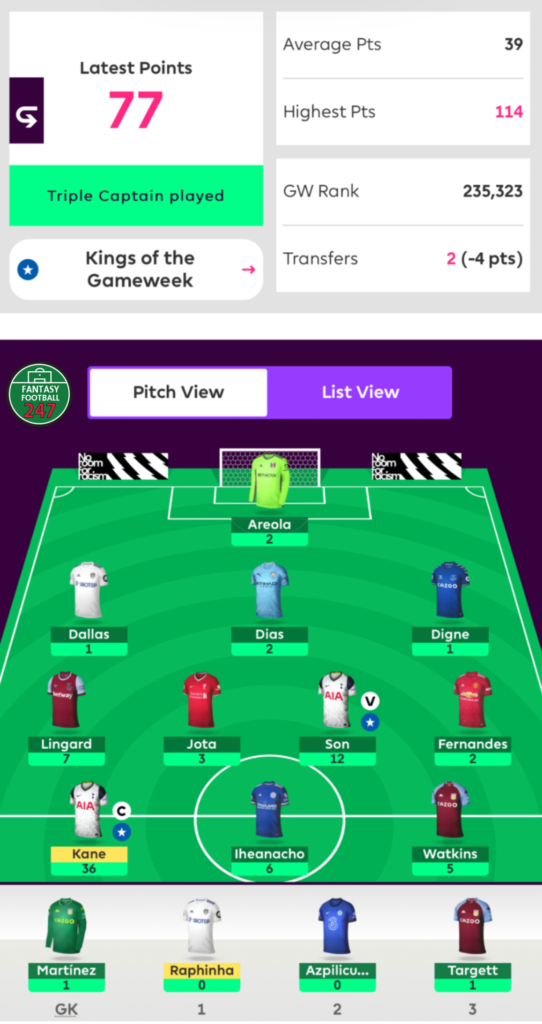 Let's go see what was decided…
Our GW33 Transfer(s)
We wanted Trent Alexander-Arnold for now and the run-in and realised that we should at least make him priority and once nothing was said about Jota in the press conference we assumed he will be OK. Raphinha though sounds unlikley well factually Bielsa (via interpretor) said "we are controlling his evolution on a daily basis". K……
Unfortunately we couldn't afford anyone really as a replacement so one of our number then innocently asked 'what's the situation with Kane?'
Wheels turned, Vardy peaked interest and suddenly we were in -8 territory. We had 5.5mln to go for the Raphinha replacement and decided that with a guaranteed staring place, a respectable scoring record and penalty-taking duties, Matheus ('don't call me Ricardo') Pereira was selected.
Son is parked for next week at the very least.
Some will scoff at us bringing in a West Brom player/some will scoff at us taking out Harry Kane/some will scoff at us taking a -8 and some of those who scoff are on our committee and have had a busy Friday and don't know yet! 😯
To confirm then we have taken a -8 hit and SOLD RUBEN DIAS, RAPHINHA & HARRY KANE and BOUGHT TRENT ALEXANDER-ARNOLD, MATHEUS PEREIRA & JAMIE VARDY
Captain – JAMIE VARDY
We fancy a bit of Leicester against Palace in the last game of the week and although Iheanacho got a late vote, two carried for JV9 and we go with him. Incase something happens to him, Trent takes the vice captain in a straightforward case of 'if it happens and it's meant to be, it's meant to be.
Our GW33 team in full…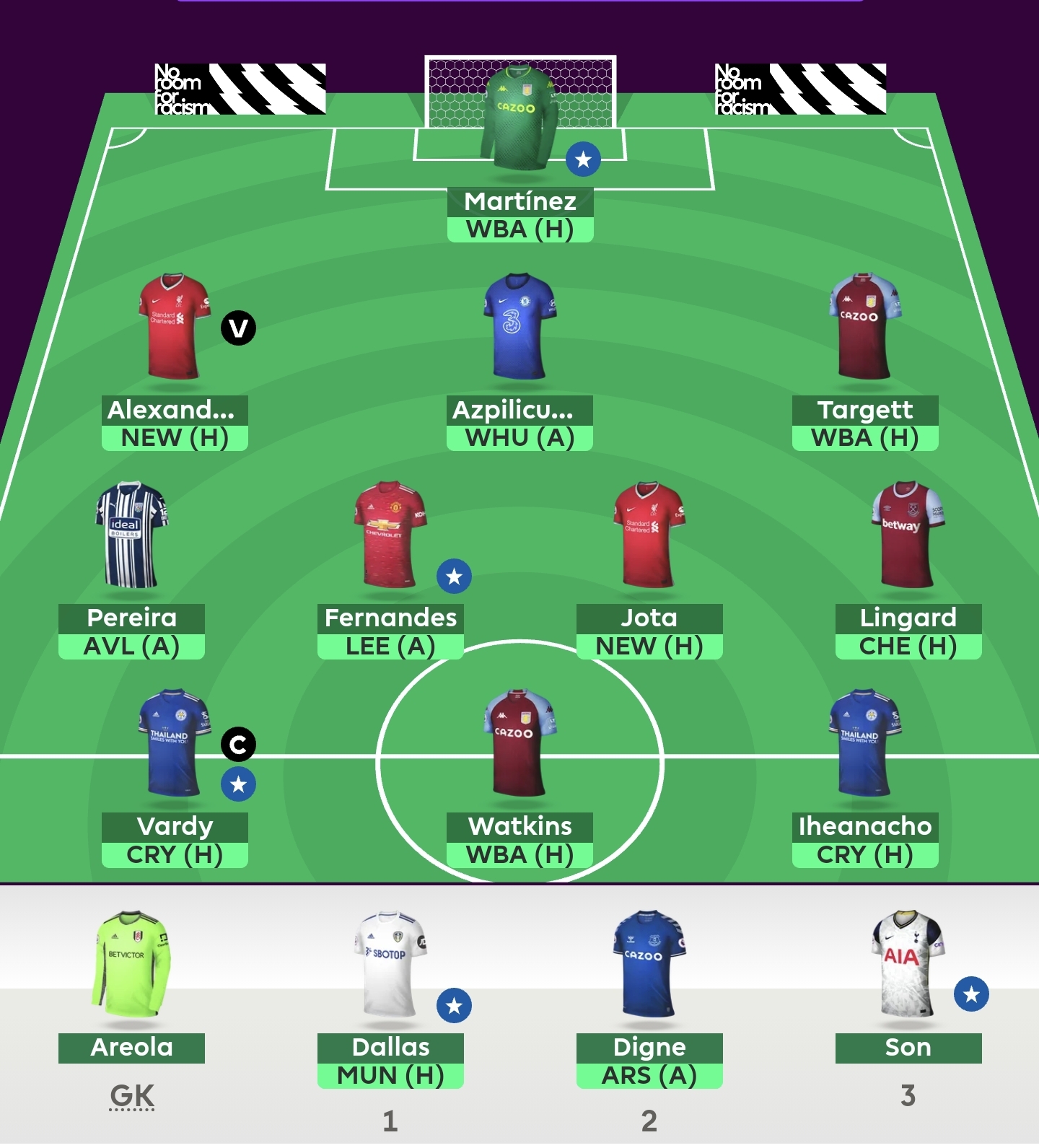 Should you wish to follow the FF247 Site Team's progress you can do so here.
Thanks for reading FF247 FPL Team GW33
VOTE ON THIS WEEK'S CAPTAIN POLL GW33
FPL FIXTURE TRACKER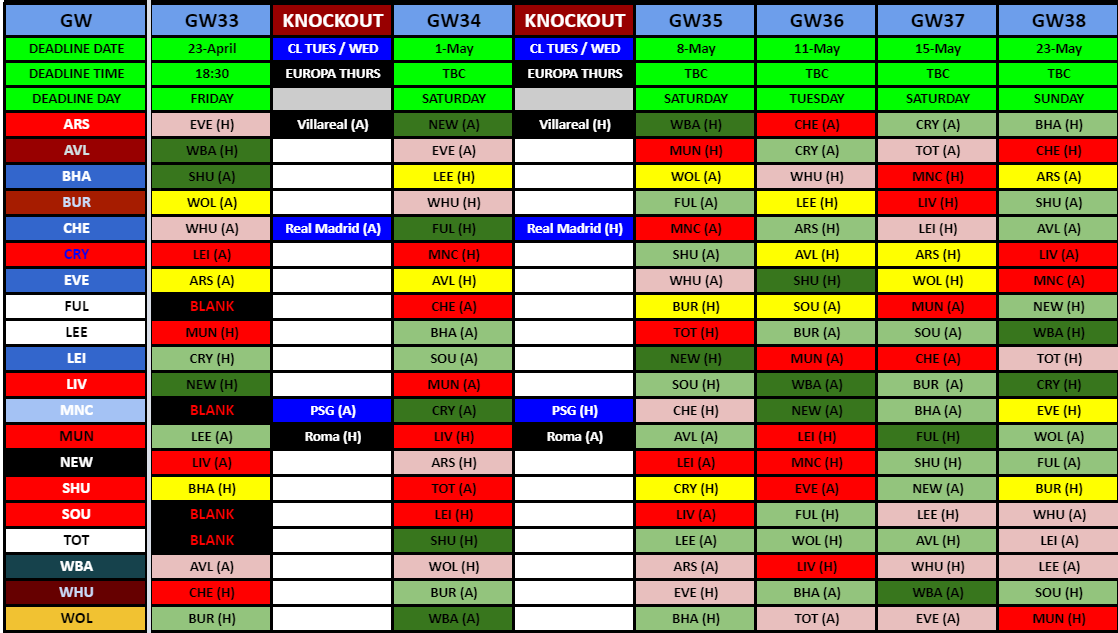 FIXTURE TRACKER LINK