FF247 FPL Team GW34
A Very Important Message
In full support of the Premier League's calls for social media companies to do more to stop online abuse, we at FF247 will join in the social media boycott that is planned for later today and this weekend.
We stand with and join the Premier League, other leagues, governing bodies and organisations across English football and wider sport to boycott social media and demand change.
Therefore in line with the Premier League and its clubs, we will switch off our Facebook and Twitter accounts across a full fixture programme, from 15:00 BST on Friday 30 April until 23:59 BST on Monday 3 May.
We will post on to our Live Match Chat the team news taken directly from club websites where possible.
Challenge it. Report it. Change it.
…..
Welcome to FF247 FPL Team GW34
Hit and miss. 48pts we scored last week, but all dedicated FF247 Site Team followers (are there any left?!) will recall that we did take an 8pt hit, so it was actually net 40pts. Still better than the average of just 36, but only just.
Our new players were very much a mixed bag. We broke the bank for TAA because Liverpool would smash Newcastle, or at least keep a clean sheet. They did neither. 2pts. 3 if you include Jota. But it's ok we still had Captain Vardy to come on Monday night.
A clean sheet for Azpi was welcome even though it ruined Lingard's week, while Bruno's poor run continued vs Leeds. Our Villa trio combined for 8pts vs West Brom, but we had at least brought in Pereira who scored 10 points and saved us.
Onto Monday and the Vardy party. Or not as it turned out! Some young lad called Nacho was the hero, and ours with a 12 pointer.
We benched clean sheet stars Digne and Dallas (obviously) for some of the aforementioned losers. And now no Kane this week. Unless we buy him back. Surely not? Read on…..
We ended with a red arrow and now sit barely inside the 300k mark.
Our GW33 Result…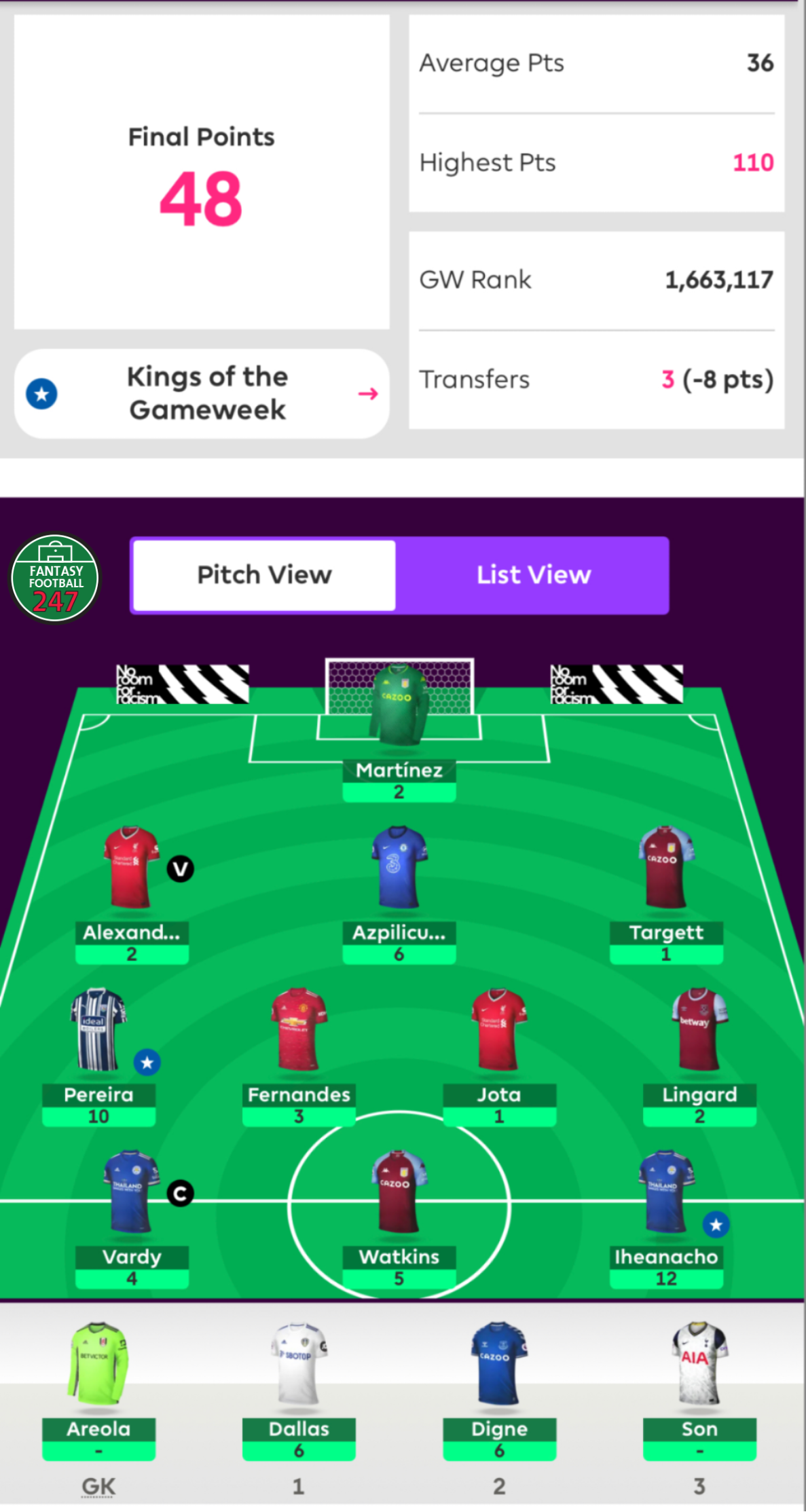 Let's go see what was decided…
Our GW34 Transfer(s)
When the team was put up for discussion the obvious question mark was, as mentioned already, the absence of Harry Kane.
No way to get him in a single move so we were taking a hit if we were to get to him. A cry went up "we don't need a transfer" and although true, we sought out a way (via a -4) that we could acquire Mr K. Jota or Trent could be downgraded with Vardy making way but with the fixtures for both Liverpool and Leicester, we fancied holding these.
We knew we had Son and he usually works hand in glove with Kane. We haven't had Kane for a while so we've brassed it out.
NO KANE.
To confirm then we have SAVED OUR FREE TRANSFER
Captain – KELECHI IHEANACHO
Yeah we know we have Son but sometimes democracy wins. Three votes for the Nigerian and he beats Son in a first past the post race. Your author was one of the Son voters but is not at all concerned in giving the Leicester man the armband this week so that in itself tells you that he's a sound choice.
Son will carry the vice captaincy should anything happen to 'Kele/Itchy/Nacho/Ian' whatever nickname floats your boat.
Our GW34 team in full…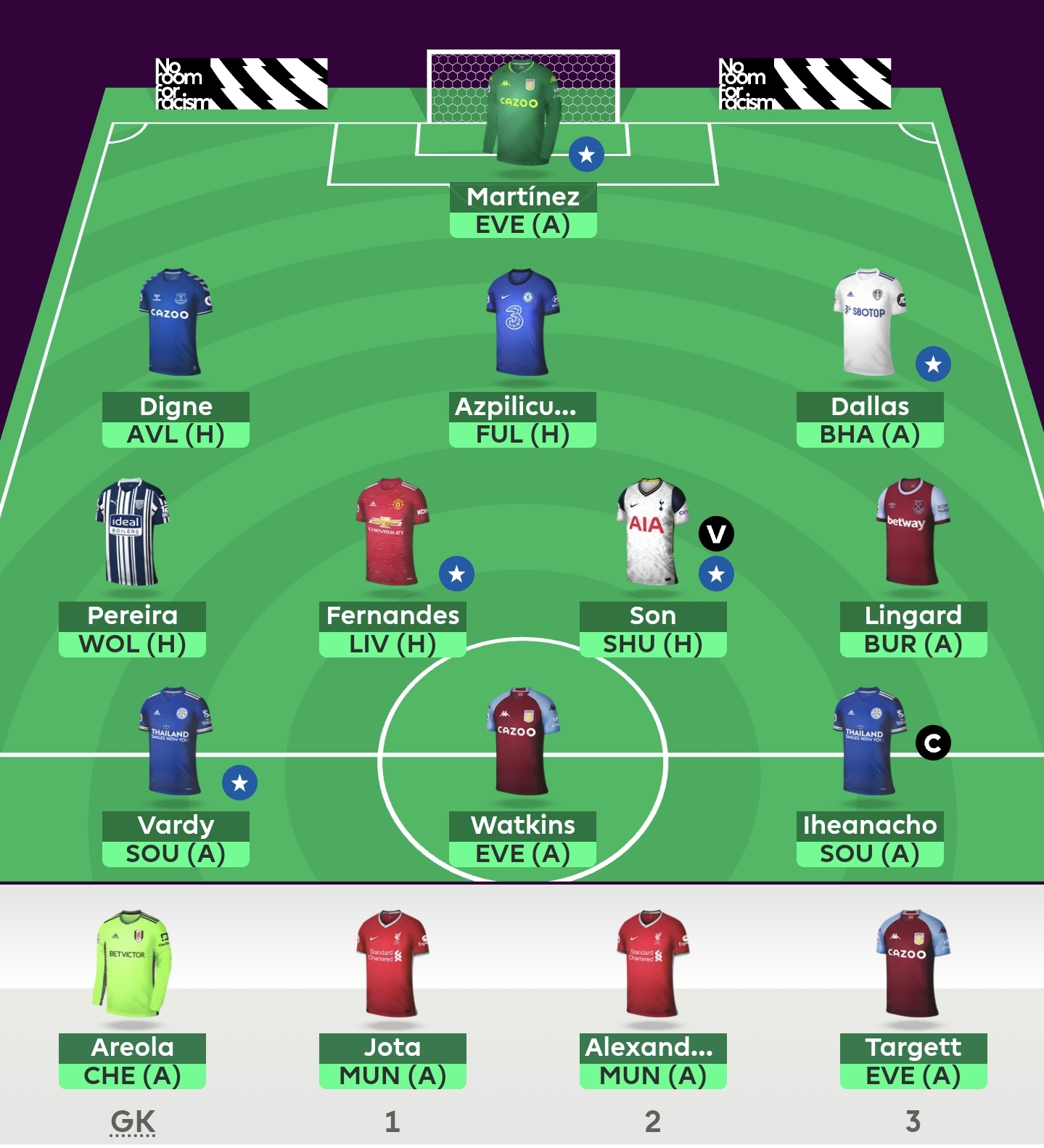 Should you wish to follow the FF247 Site Team's progress you can do so here.
Thanks for reading FF247 FPL Team GW34
VOTE ON THIS WEEK'S CAPTAIN POLL GW34
FPL FIXTURE TRACKER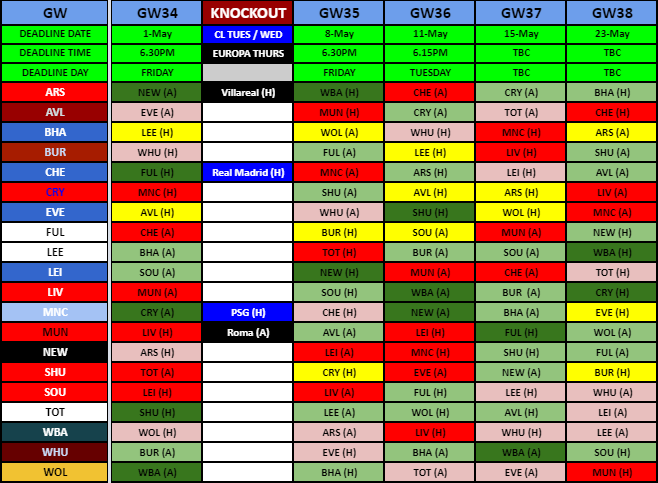 FIXTURE TRACKER LINK