FF247 FPL Team GW36
Welcome to FF247 FPL Team GW36
As we approach the final three gameweeks we come in off the back of a very healthy 137 points in GW35. We know all the decent players had ton-plus scores but ours has seen us rise almost 80,000 places to reside currently at 187,389 overall.
In ordinary weeks we would be bemoaning the benching of Matt Targett (8) and Stuart Dallas (9) but not this week. Well OK, we should have played them over Luke Shaw and Ollie Watkins but hindsight ight n' all that!
Our top scoring player and leading by example was captain Bruno Fernandes with 38 points. He was ably assisted by double-digits from Diogo Jota (10), DCL (11), Martinez (12), Digne (14), TAA (16) and Mason Greenwood (19).
We're happy with our lot and press on for a sub-150k finish by looking to finish off with three further green arrows.
Our GW35 Result…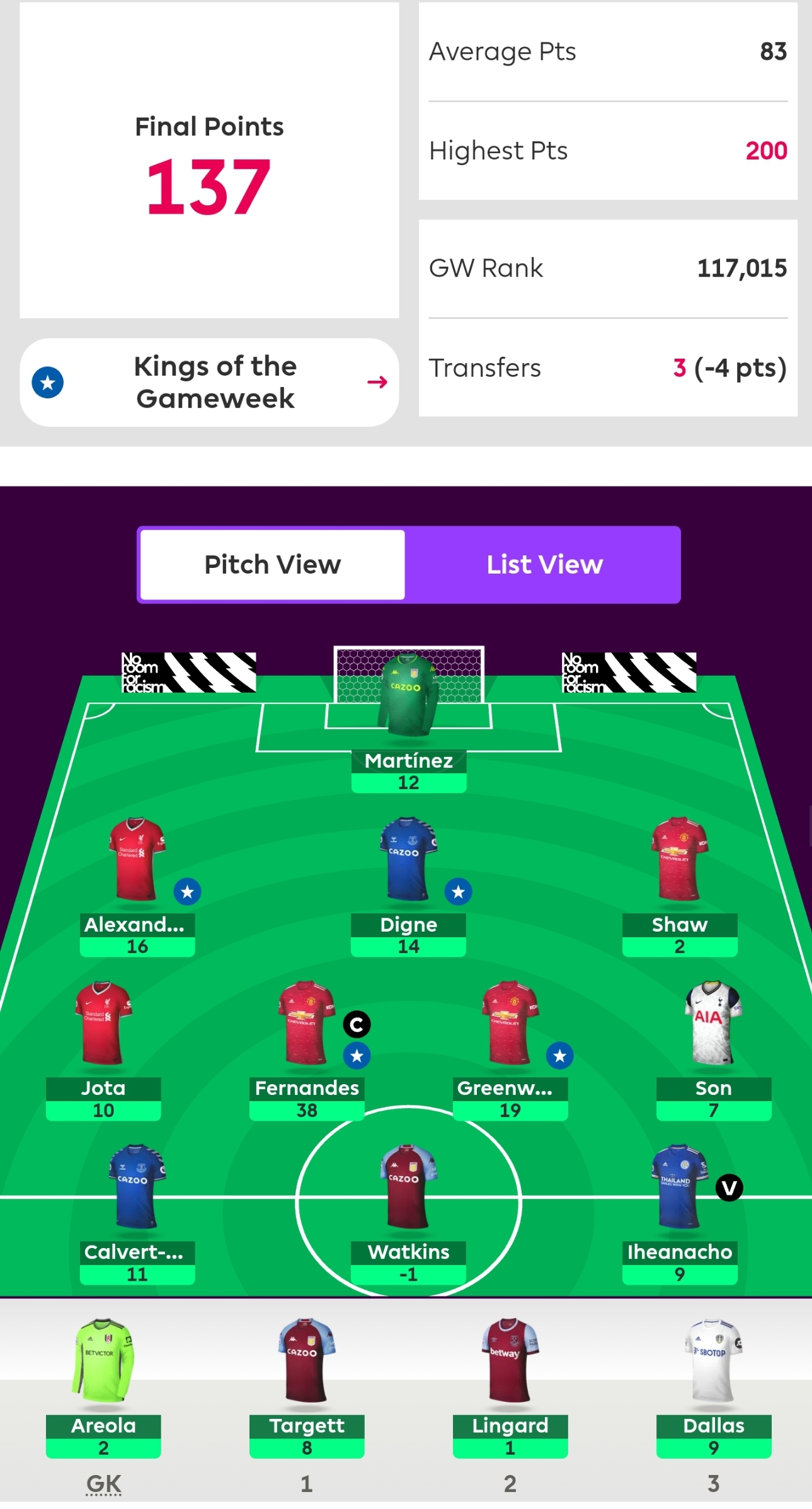 Let's go see what was decided…
Our GW36 Transfer(s)
We come into this week in a healthy position of having 10 players who should play. With one free transfer we should be able to field a full eleven. Iheanacho to Antonio was the initial idea which we liked.
Then it was pointed out by a sage member of the committee that we were coming into this gameweek WITHOUT EITHER Kane or Salah. Salah it was felt was primed for a better run in than Bruno (on paper at least) so we thought for a -4 we will take out Bruno for Salah. Then mathematics came in to play i.e. we couldnt' afford it!
So we either revert back to our single initial transfer or find a makeweight for the Salah move. Che Adams, fresh off the back of an 11-point haul last time out and home to relegated Fulham was proposed.
However, mid way through Friday afternoon, we've put our foot on the ball and decided against giving away 4 easy points and with the chance that Antonio and Champions League-chasing West Ham will do well at Brighton on Saturday evening, we've stuck to the initial plan.
To confirm then we have SOLD KELECHI IHEANACHO and BOUGHT MICHAIL ANTONIO
Captain – DOMINIC CALVERT-LEWIN
An insurmountable amount of votes for Dominic Calvert-Lewin at home to last-placed Sheffield United were received so he wears the armband and if something goes wrong with him then Son Heung-Min will pick up the slack.
Our GW36 team in full…
Should you wish to follow the FF247 Site Team's progress you can do so here.
Thanks for reading FF247 FPL Team GW36
VOTE ON THIS WEEK'S CAPTAIN POLL GW36
FPL FIXTURE TRACKER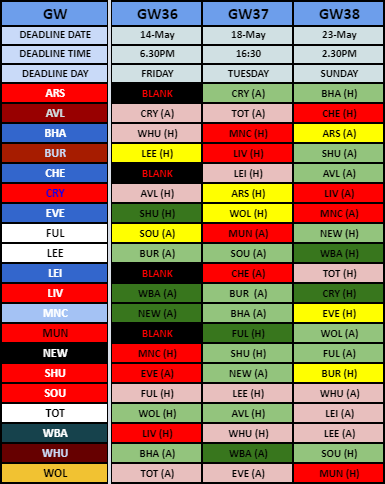 FIXTURE TRACKER LINK