FF247 FPL Team GW38
Welcome to FF247 FPL Team GW38
We scored 53 points in GW37 which was apparently 10 points better than the overall average and helped us to a small green arrow. Small mercies and all that, but in all honesty we probably needed something more if we are to finish the season with any respectability.
Basically we were indebted to our defence and West Ham for our score – clean sheets from TAA, Dallas and Digne contributed 19 points, whilst Lingard assisting Antonio late on gave us 16 points. Eight points from Captain Bruno was fortunate to say the least given he didn't even touch the ball! Sadly we left Watkins and his 9 points on the bench. The rest were hopeless and they are lucky there is only one gameweek left.
We enter the final gameweek ranked 221,412. Inside the top 200k would probably now be the alerted season target.
Our GW37 Result…
Let's go see what was decided…
Our GW38 Transfer(s)
With 2 free transfers in hand we should be feeling good going into the gameweek. However with Solskjaer threatening mass rotation ahead of the Europa final (we have 3 United), Jota injured and Digne and DCL up against City at the Etihad we had some tough choices to make.
We have made three transfers, selling Bruno, Jota and DCL and buying Salah, Raphinha and Bamford. A 4 point hit has been taken but we are happy to roll the dice one more/last time, fully expecting Liverpool and Leeds to see off Palace and West Brom comfortably.
To confirm then we have:
SOLD BRUNO FERNANDES, DIOGO JOTA & DOMINIC CALVERT-LEWIN and BOUGHT MOHAMED SALAH, RAPHINHA & PATRICK BAMFORD
Captain – MOHAMED SALAH
The obvious, if slightly boring choice but as we know boring is normally effective in FPL. Our vice captain, if required is Patrick Bamford.
Our GW38 team in full…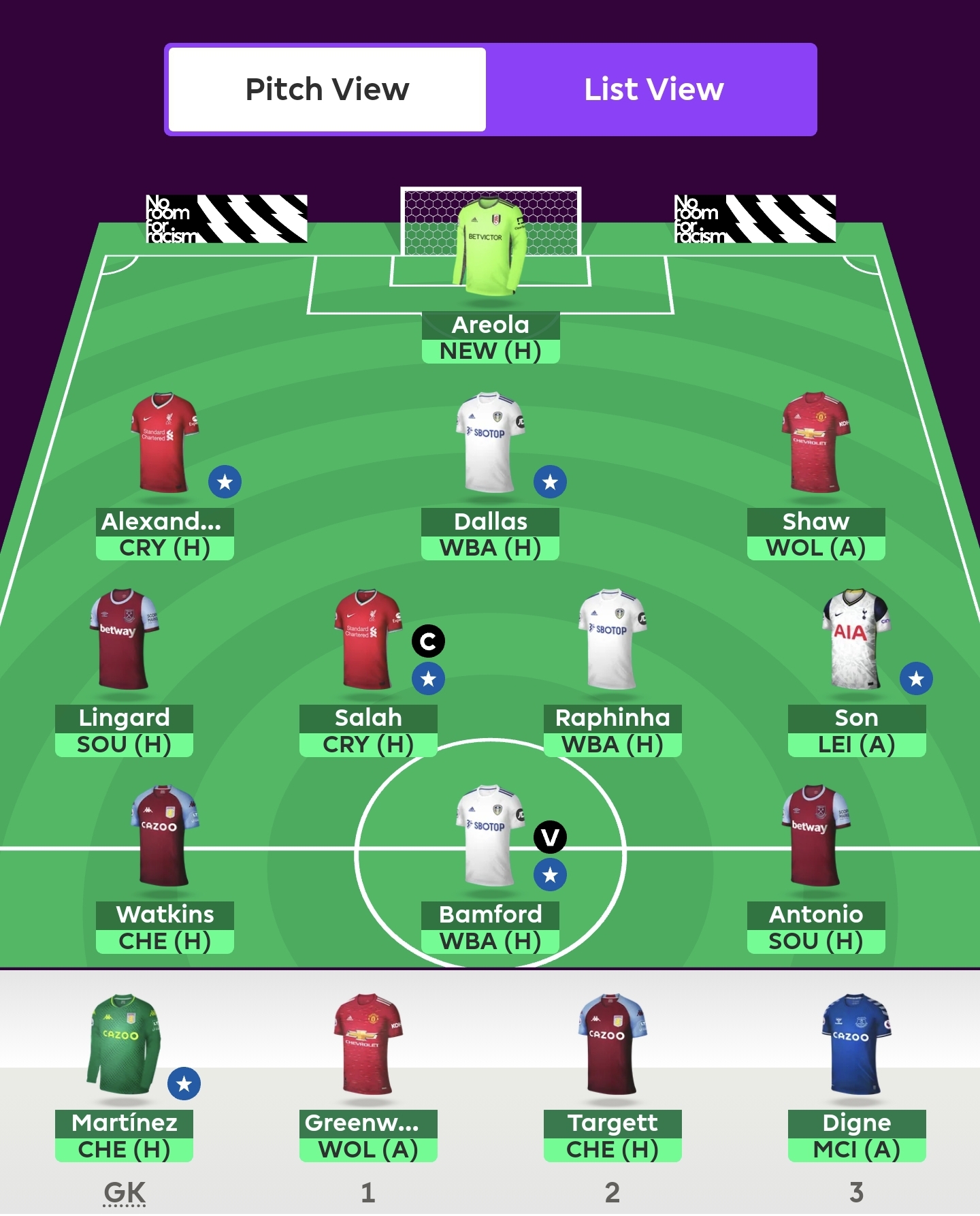 Should you wish to follow the FF247 Site Team's progress you can do so here.
Thanks for reading FF247 FPL Team GW38
VOTE ON THIS WEEK'S CAPTAIN POLL GW38