FF247 FPL Team GW4
Welcome to FF247 FPL Team GW4.
Glass half full….
As the UK government has shown consistently this year, there is always more than one way to perceive data. As I (Cookie) write this I look upon the site team with pride after GW3. We scored 48pts beating the average by a full 5pts and recorded our first green arrow of the season, jumping almost 500k places, no mean feat I'm sure you would agree. In a week where scores were low and in some cases quite unpredictable we have come through unscathed and in decent shape.
Some others on the committee may point fingers at our transfer policy which saw us sell hat-trick hero Vardy for that clown Jiménez who did at least score, just in the wrong net. Unfortunate I'd say.
Oh cr@p, here comes Init, he doesn't look too happy, and he seems to be carrying a cosh and a hood…
Dwelling
Enough, enough, enough! Some things you can sugar coat, other times you just need to lie down in a dark room for a few days. With a gag on…
Here's what really happened:
When you find yourself with two transfers to spare sometimes it just becomes too tempting to resist. Had we resisted last week and simply used the one we would have been a darn sight better off. 17 points better off in fact. But we didn't… and so we aren't. Not that we shall dwell on this at all.
As it was we scored 48, 5 above the average. Not 65. Not that we shall dwell on that. It meant a green arrow and a jump of over 400k places up to somewhere around the 2m mark. Had we have got those extra 17 points we'd have gone up over 1m. But we won't dwell on it.
As for the team itself we tossed a coin between McCarthy and Ryan and landed on the right side of the former's clean sheet.
At the back Trent got us an assist and some bonus points, the rest may as well have not bothered turning up.
In midfield Havertz came home with an assist. Bruno got all sorts, most of it being after the game had finished! New signing KdB got nothing, and our armband was wasted as a result.
Up top Wilson scored a late penalty, which wasn't a penalty, even Steve Bruce said so! Mitrovic did very little and Jimenez literally did nothing. Which was a bit of a problem as we sold Vardy for him! Not that we are dwelling on it.
We move on quickly and see what insightful pearls of wisdom our committee can bring you this week…
Our GW3 Result…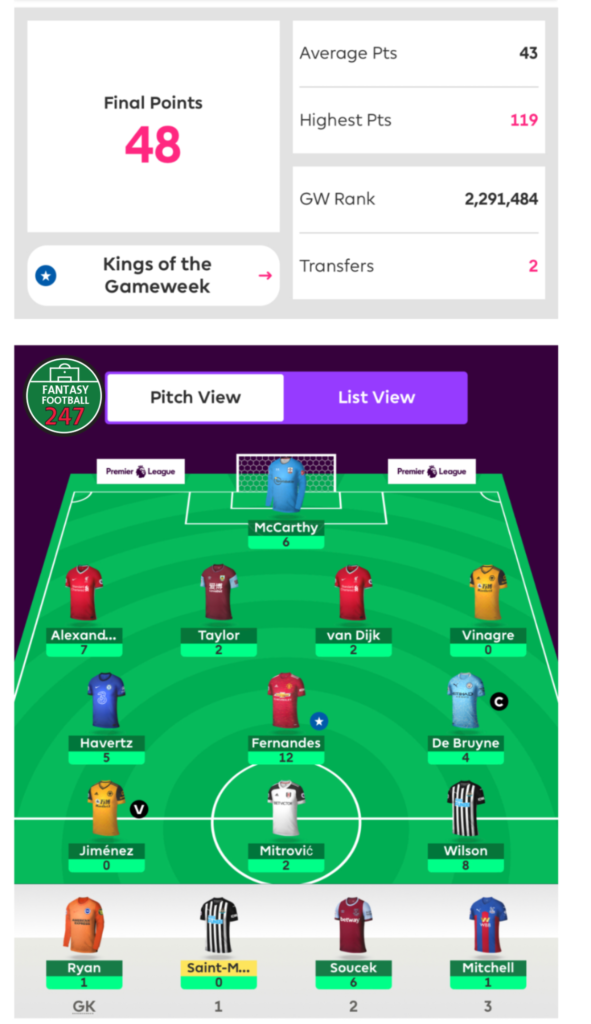 Let's go see what was decided…
Our GW4 Transfer(s)
As simple as it gets this, a nomination to sell Mitrović for DCL was followed by four quick nods.
We are buying the bang in-form centre forward of a near top of the table Everton and selling the one from bottom of the table Fulham. This probably isn't rocket science, but going route one and not over complicating matters is sometimes as simple as it gets.
It isn't that we expect Mitro to suddenly dry up completely, because if and when Fulham score he's likely to be involved, but that if seems to be getting bigger all the time.
Whereas Everton will score and DCL will probably be involved, even when he doesn't realise it.
To confirm then we have SOLD Mitrović and BOUGHT Calvert-Lewin
Captain – KdB
Again, this was fairly straightforward. Our panel seems to believe that Man City will make leaky Leeds even more leaky and that Kevin will most likely be the orchestrator.
Our GW4 team in full…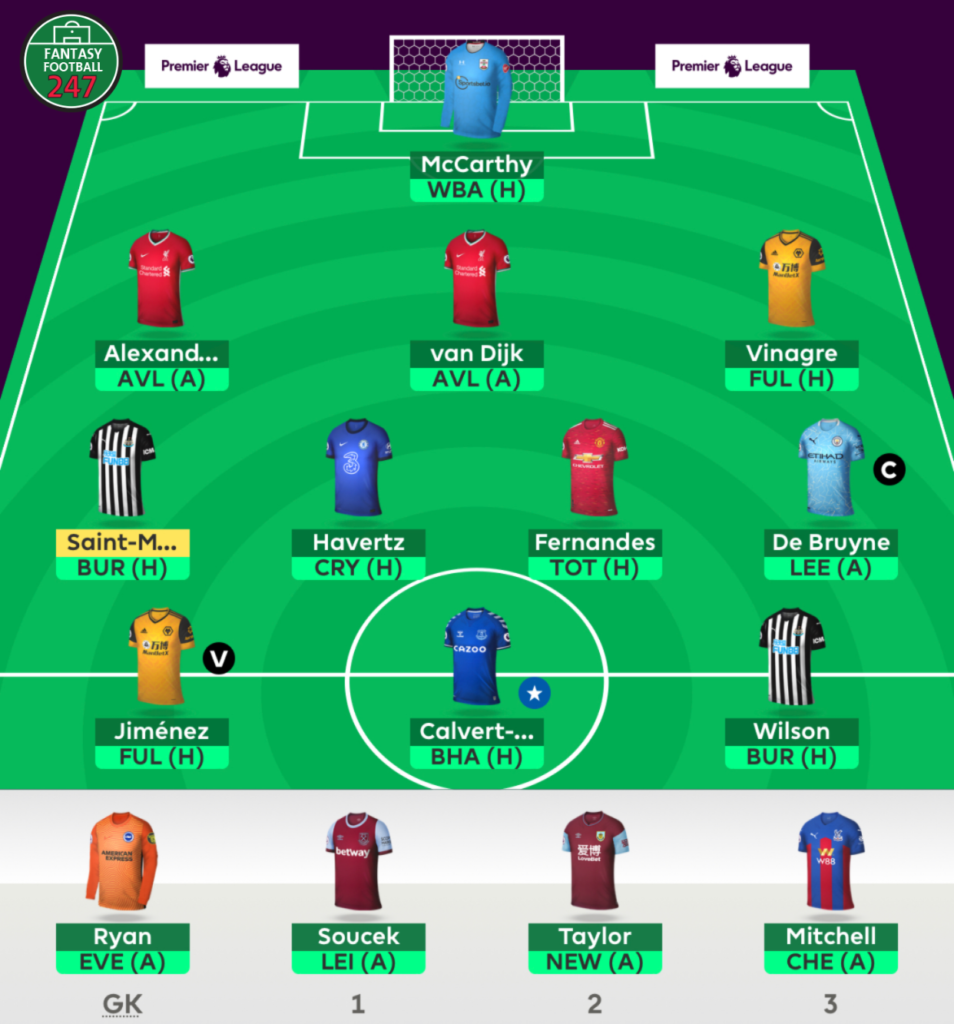 *Cookie is safe & well and we shall happily release him back into the wild. As soon as someone can find him…
Should you wish to follow the FF247 Site Team's progress you can do so here.
Thanks for reading FF247 FPL Team GW4
VOTE ON THIS WEEK'S CAPTAIN POLL GW4
FPL FIXTURE TRACKER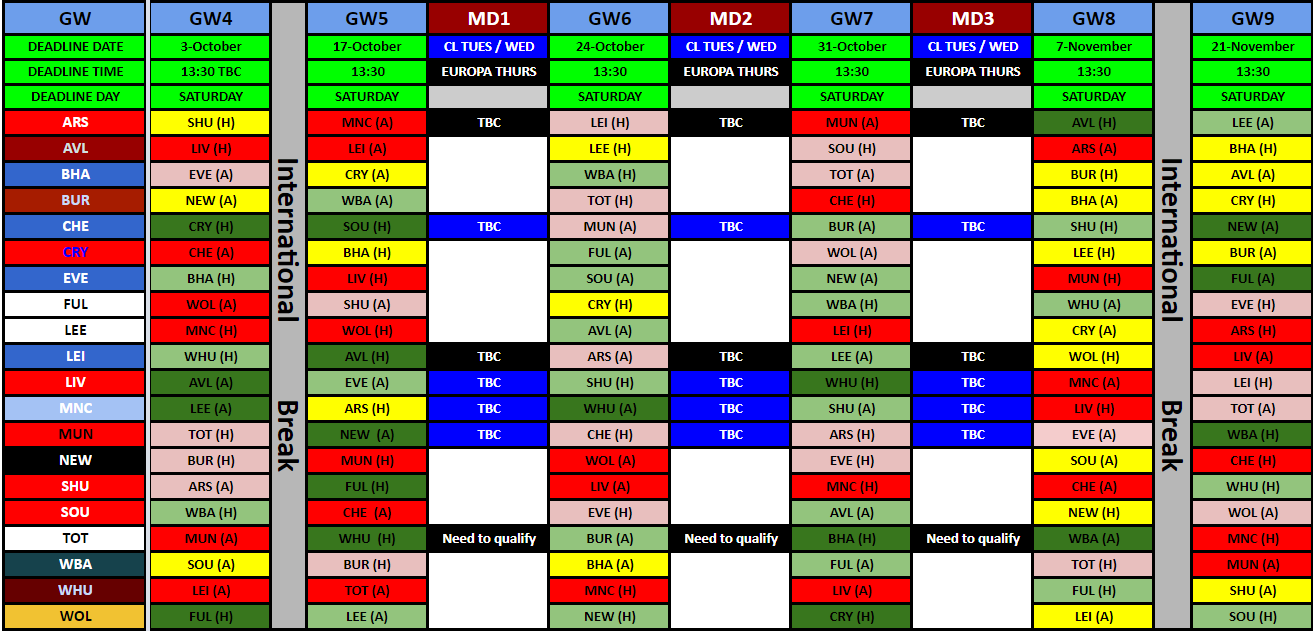 FIXTURE TRACKER LINK
Fantasy Football 247 League Codes:
All prizes must be claimed within 30 days of the final GW.