FF247 FPL Team GW5
Welcome to FF247 FPL Team GW5
I'm Spider-Man
In this the almightiest of WTF seasons, how's this for an encapsulation of it in all its weird and wonderful glory?
Last week's team scored 59 points. Eleven points above the average. If we took away the scores of Alain Saint-Maximin (12) & Callum Wilson (16) – and let's be honest who would take them out ahead of a game against toiling Burnley, who I ask you … who? – and replaced them with two jobber 2-pointers, we would have scored 35 points and been THIRTEEN points behind the average.
Ha'way the lads!
If the two of our Geordie-doubting Site Team who shall remain nameless haven't already tossed their phone or laptop out of the nearest window and are still reading this sentence then well done you!
For the polar opposite of the Newcastle pairing, read Liverpool and Trent Alexander-Arnold (-1) and Virgil van Dijk (-2). We had both of them for Liverpool's 7-2 drubbing at Villa and they, along with Burnley's Charlie Taylor (1) made the excellent Alex McCarthy (9) look bad by association.
In the midfield, ASM's haul was respectfully supplemented by Kai Havertz (6) with an assist and Bruno Fernandes (6) with a goal – even better when you consider the Portuguese only got 45 minutes in his side's 1-6 tonking by Spurs.
(Now I've mentioned both Liverpool and United being hammered, I move on swiftly)
Our captain for the week was also housed in midfield – King Kevin De Bruyne – but he blanked (2 – doubling to 4) in his side's 1-1 at Leeds and on another day … blah blah … etc etc …
In attack, 'Wor Wilson was helped by Dominic Calvert-Lewin, who scored on his debut for us which is always appreciated. Raul Jimenez somehow failed to net against Fulham which I still don't quite understand!
The bench has Ryan and Mitchell who both scored zero having each conceded four goals, Soucek with 3 after West Ham's clean sheet at Leicester and Vinagre who, in a magnificent plot twist, is now in Greece with Wolves signing two new left backs. The rug being well and truly pulled on the 'Wolves 4.5mln defensive cover' before we could even say Jorge Mendes.
We managed a climb of almost exactly 500k places and now sit at around the 1.5mln mark. We're getting better.
Our GW4 Result…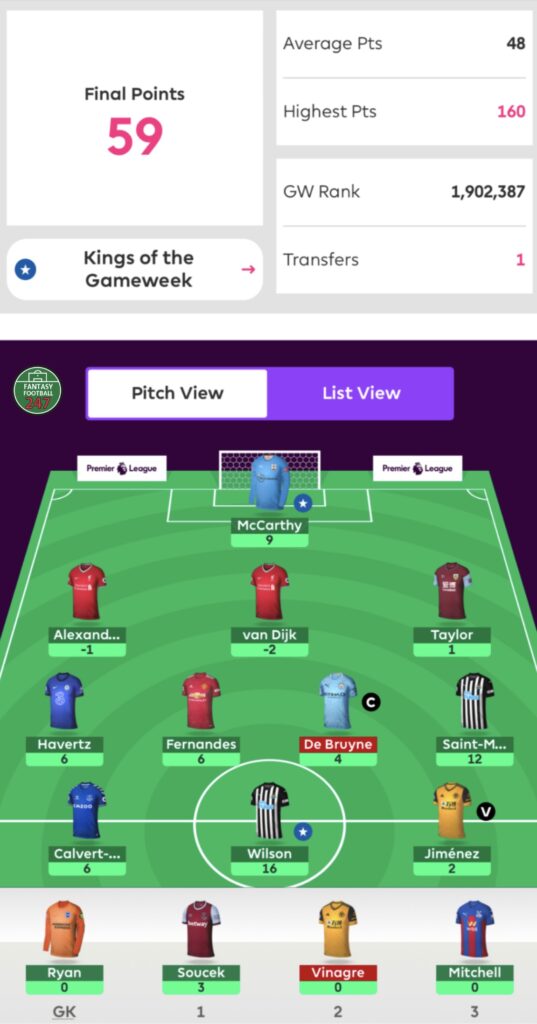 Let's go see what was decided…
Our GW5 Transfer(s)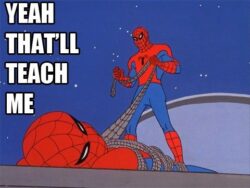 There's a reason this weeks article is a day late, and he's called KdB. We got wind of an issue with him in midweek and so we obviously had to wait until Pep spoke today. Whether he spoke the truth, the whole truth and nothing but we aren't, and never can be, sure with him. It does appear from other reports though that he may be out for a couple of weeks or so.
With that in mind this weeks transfer decision became a simple one: we have done what we imagine the majority who are in the same situation have and simply bought Son.
It seems so simple, and possibly too good to be true, let's us just hope it's not another Spurs trap!
To confirm then we have SOLD KdB and BOUGHT Son
Captain – Son
Our new signing comes straight in and swipes the armband. Like a boss. He is after all the games top points scorer.
Reason? Out of all of our available options he ticks the most boxes in terms of form and fixture.
Our GW5 team in full…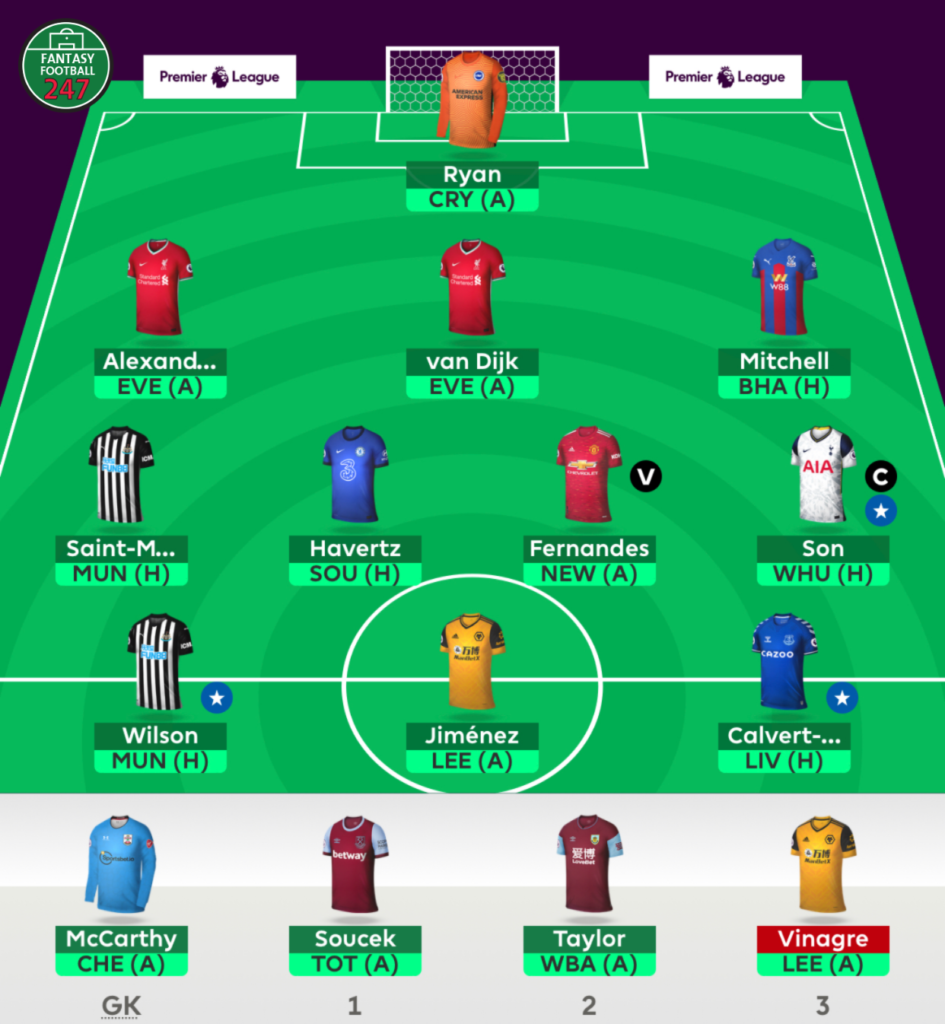 Should you wish to follow the FF247 Site Team's progress you can do so here.
Thanks for reading FF247 FPL Team GW5
VOTE ON THIS WEEK'S CAPTAIN POLL GW5
FPL FIXTURE TRACKER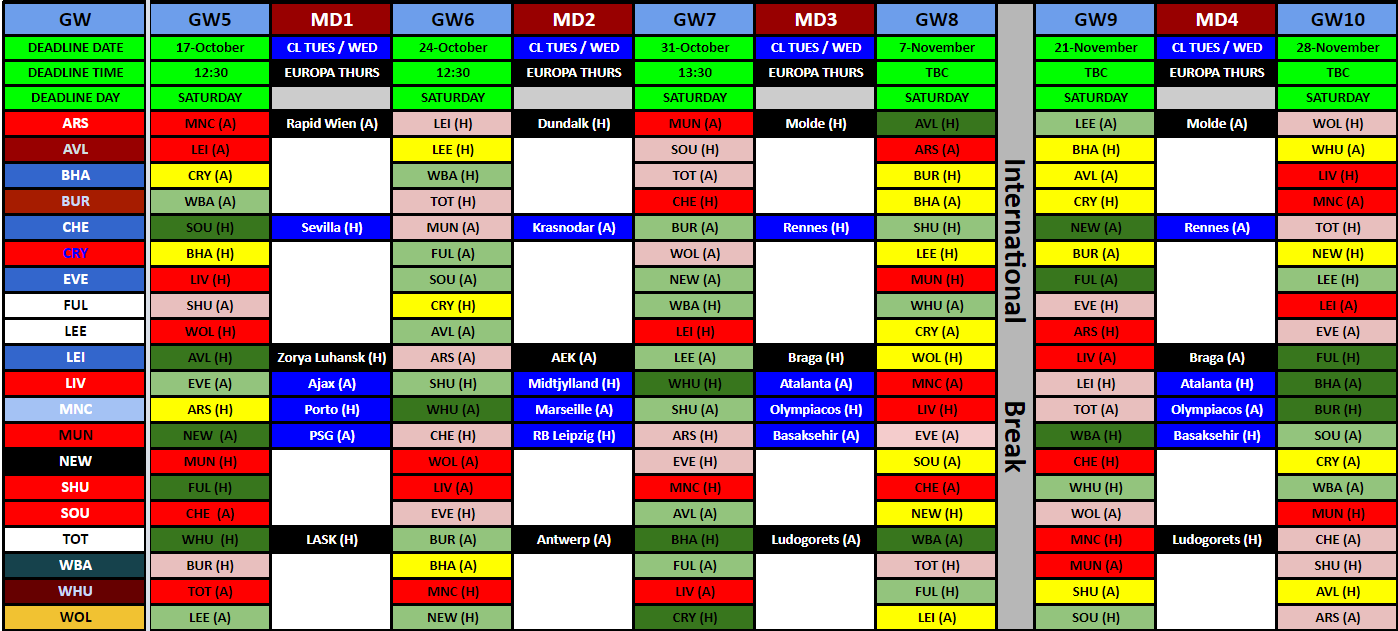 FIXTURE TRACKER LINK
For those who want their own tracker to play with, just make a copy using the link below;
Fantasy Football 247 League Codes:
All prizes must be claimed within 30 days of the final GW.