FF247 FPL Team GW7
We go again…
In what was undoubtedly a quiet week all round we scored 43 points in total, which was further damned by the -4 points hit we took to bring in Ezri Konsa (and Mohamed Salah).
So in a week where the average score of 48 meant that anything like 60-70 points was somehow doubly good, we don't have to concern ourselves with that. We just sit here and reflect that Salah had a goal ruled out for offside (correctly, we don't pedal anti-VAR nonsense here) and had one off the post to grab us 4 points as Captain whilst Sadio Mane got 8 (which would have been 16!)
We've said it from the start… MANE IS MORE EXPLOSIVE! (Slight in-joke, but see last weeks article for reference).
The rest of the team then: the aforementioned Konsa conceded three and along with 'defensive' mates; Mat Ryan, Trent Alexander-Arnold and Tyrick Mitchell they scored 7 whole points between them.
Alex McCarthy of Southampton (who we've always said is more explosive than Mat Ryan), laughs at us with his 6 points.
Three clean sheets in midfield however – where you don't really want them – as Saint-Maximin, Son and Bruno all kept out their opponents. Sonny Boy scored against Burnley on Monday and with 11 points accounted for over a quarter of our total points!
A welcome sight was Wolves 1-1 Newcastle on Sunday as in that game two of our strikers combined to provide an assist (Callum Wilson) and a goal and three bonus points (Raul Jimenez).
DCL managed just one point on a day that will surely not make it onto the highlights reel in the 'Everton FC – Champions 2020/21' DVD.
43 points then and a drop to 1,942,808 in the Overall Rankings. We go again.
Our GW6 result in full: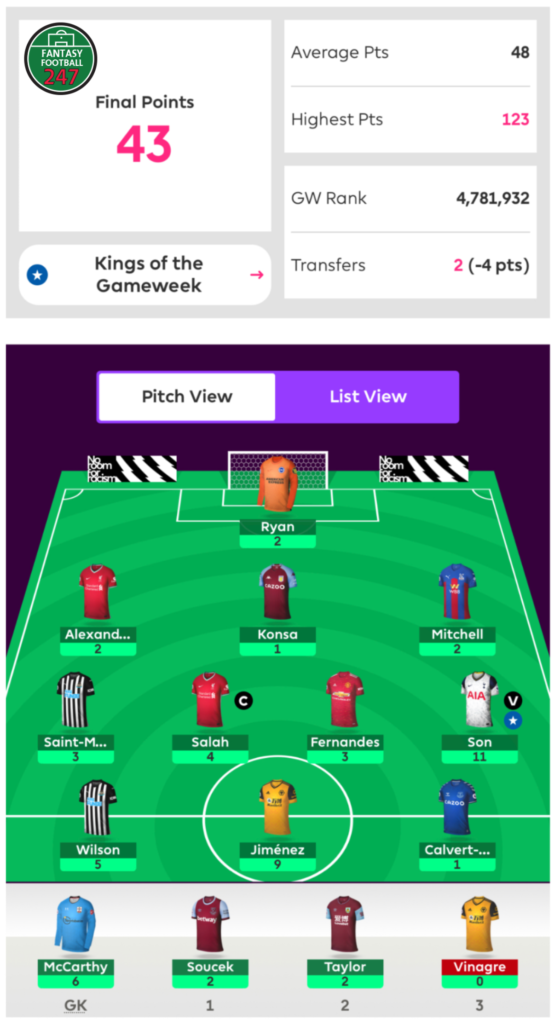 Let's go see what was decided… other than drowning our sorrows.
Our Gameweek 7 Transfer(s)
We come to this gameweek with 1 Free Transfer and 0.7mln in the bank.
Unanimously, nothing. We voted to roll the transfer and review next week with 2FT's to hand. Originally we had planned to 'sort Max out' (not in a Phil Mitchell way) but with The Champions Elect Everton looking a bit shaky and shorn of a few defensive assets he gets a one week pardon.
The main two – Salah and Son – unsurprisingly dominated the captain discussion. With 4 votes to one with one abstaining (or being too busy to vote, we're not quite sure), the armband goes to *drumroll*
Son at home to Brighton! In the case something happens to the Korean, Salah picks up the duties with the VC.
To confirm then we have SAVED THIS WEEK'S TRANSFER
Captain – SON
Vice Captain – SALAH
Our Gameweek 7 team in full…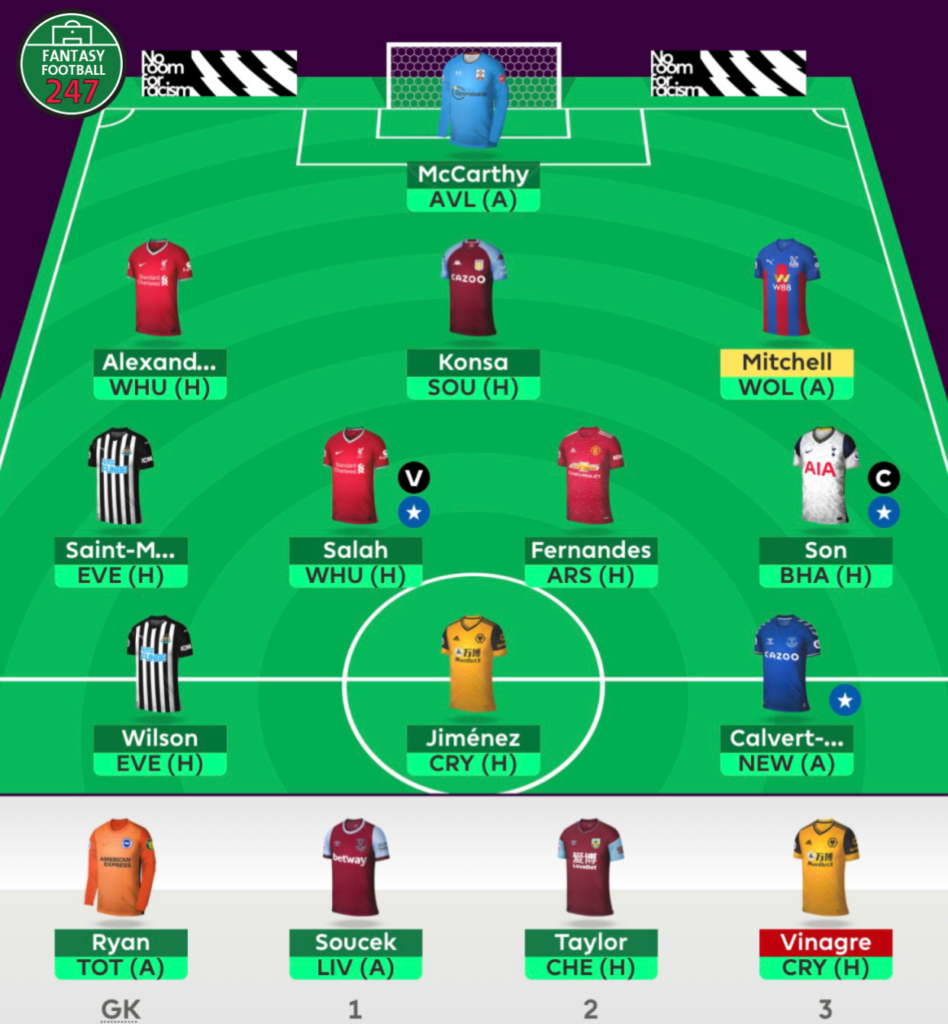 Should you wish to follow the FF247 Site Team's progress you can do so here.
Thanks for reading FF247 FPL Team GW7
VOTE ON THIS WEEK'S CAPTAIN POLL GW7
FPL FIXTURE TRACKER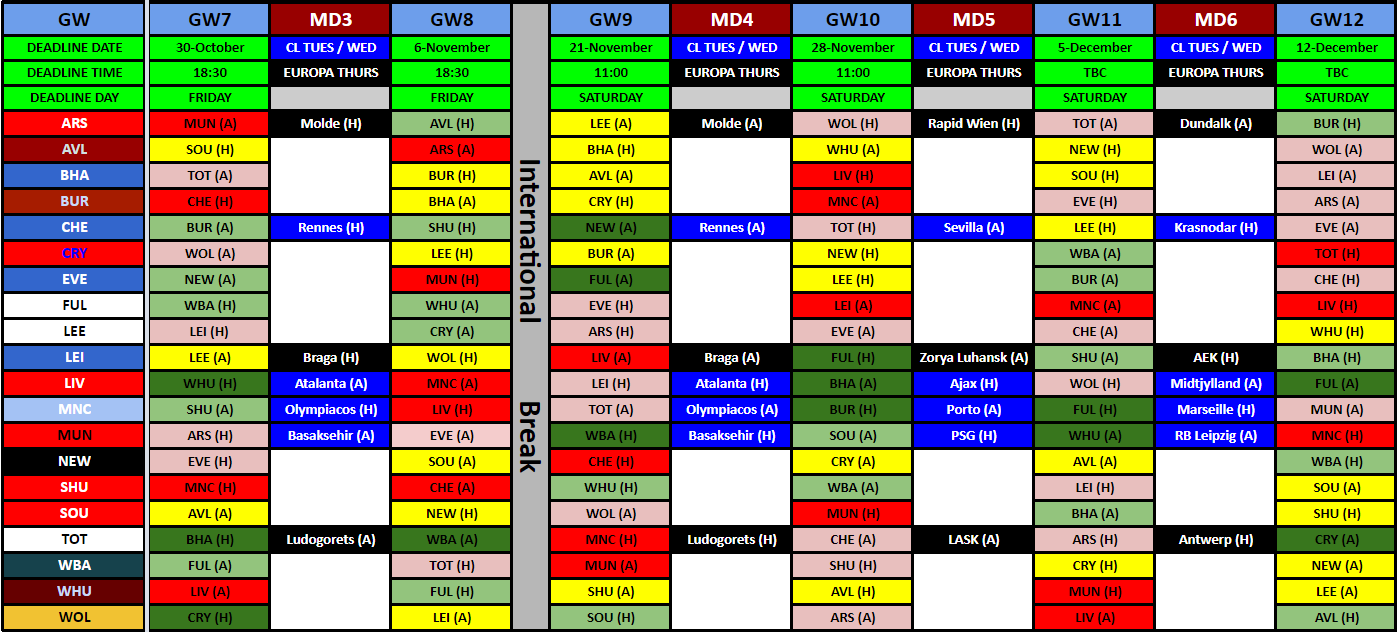 FIXTURE TRACKER LINK
Fantasy Football 247 League Codes:
All prizes must be claimed within 30 days of the final GW.