FF247 FPL Team GW9
Welcome to FF247 FPL Team GW9
Rite of passage
Remember GW8? Barely? Well hear us now as we take you back and display our feathers proudly.
67 points – 12 above the average – whilst good, is not exactly earth- shattering, but taken in the context of our previous two weeks where we were below average and taking hits (well one), then we're content and ready to grasp the nettle and tackle the week ahead vigorously…
…and more on that later.
What seems like TEN Fridays ago, Southampton beat Newcastle United 2-0 and Alex McCarthy made it four clean sheets in six for our team. We still have the two Newcastle boys who posted just two points each. Elsewhere on the Friday Charlie Taylor (8) was the toast of FF247 towers with his two bonus points supplementing his clean sheet in Burnley's 0-0 at Brighton.
Onto Saturday and we had just one playing – DCL with an assist in the 3-1 loss to United. Oh and Soucek on our bench, who collected 9 points – that was always coming!
On Sunday we had Villa's Konsa and Grealish each notching 6 points at Arsenal. Salah pre-Covid with 9 at City and his teammate Trent and his customary 2-pointer but before all that Harry Kane and Heung-min Son 'combined' for 21 points (Kane got 18 as captain) and even that was late in the day – 88mins or not though, it doesn't say that in the FPL history books!
We grab a green arrow and move from 2,352,440 to 1,969,451 – just under 400,000 places and as of Wednesday evening our squad has FIVE injury flags…
…and more on that later.
Our GW8 Result…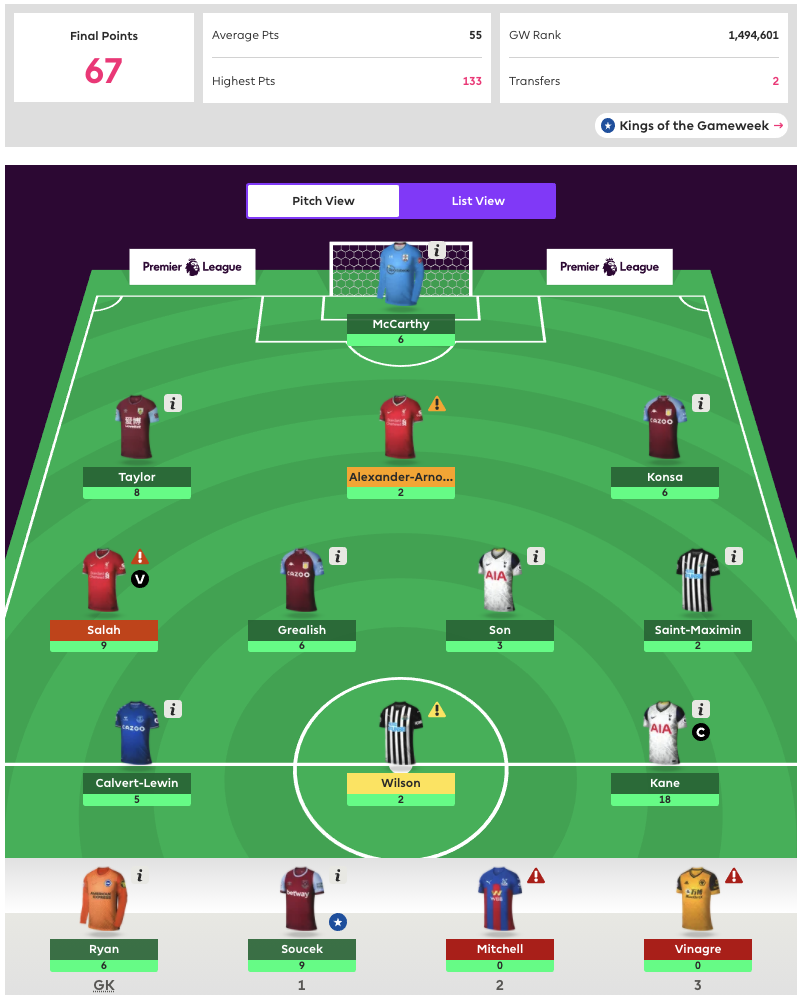 Let's go see what was decided this week…
This week the plans are… to WILDCARD!
Our GW9 Wildcard
With more flags gathering than the UN we decided to take the plunge. Unfortunately we seem to have inadvertently waterboarded our latest recruit in the process….
Poor old GP (The Gallant Pioneer) joined our (FF247 Team) ranks in the summer but it was somewhat remisss of us not to give him a rite of passage. You know… doing a karaoke version of Come on Eileen on a table, or some such high jinx. We thought we should make amends this week and allow him to organise our first Wildcard of the season. Welcome to the jungle, my friend…
Cue 10pm on Friday night, and with an article deadline looming, we found him wandering around his garden with a quart of whisk(e?)y in one hand and a rope in the other.
Having being suitably restrained (tied back in his FF247 chair) this is what he managed to get the 'committee' to agree to: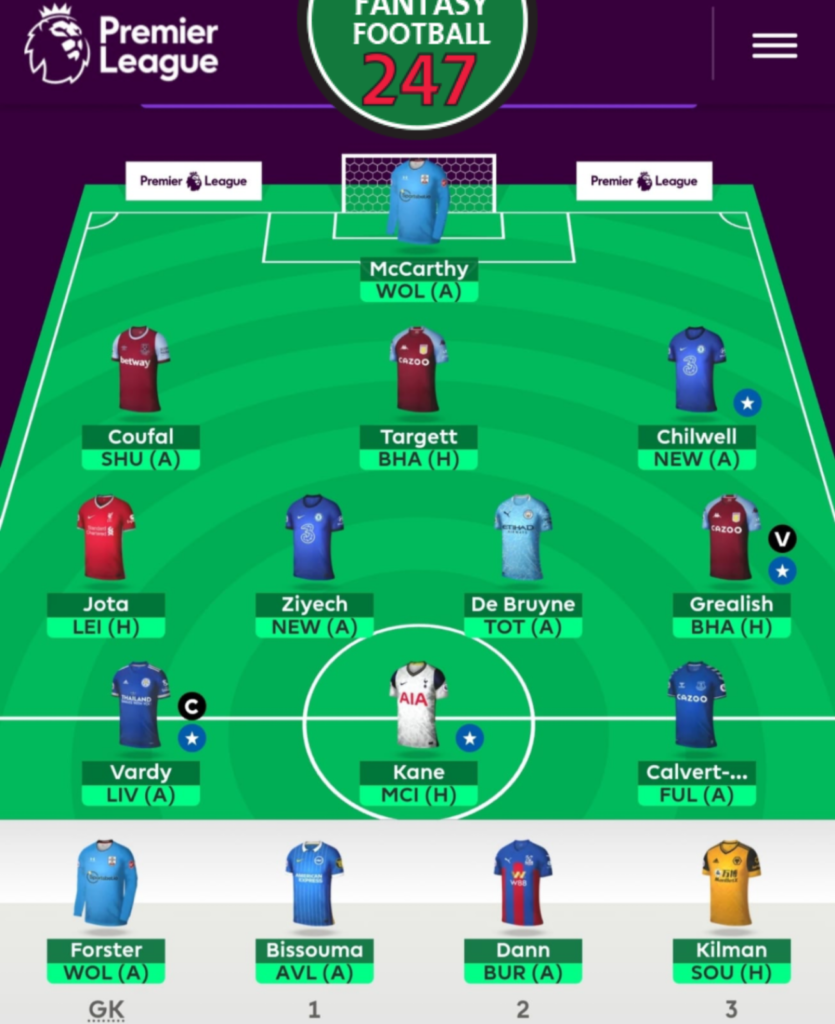 How did we land on this particular lot? In all seriousness we went around the houses that much that we could realistically have landed on anything. There seems little point in talking you through each and every pick, the reasons for most are fairly obvious. It's probably easier (and perhaps more helpful?) to tell you who actually missed out, or at least got 'close but no cigar': Dias (fall guy when we decided to go with the Kane / Vardy combo), Son, Watkins, Che Adams. Bruno… To name but a few. We had so many combos / last minute suggestions that we could forgive GP if he never came back.
To confirm then we have taken the old Wildcard plunge
Captain – Jamie Vardy
To compound GP's confusion Bruno Fernandes technically won this week's captaincy vote. And we don't even own him! Yep, this is the madness we have descended into.
In a late recount / sanity check Vardy won, just. Over Jack, who wears the vice-band.
Should you wish to follow the FF247 Site Team's progress you can do so here.
Thanks for reading FF247 FPL Team GW9
VOTE ON THIS WEEK'S CAPTAIN POLL GW9
FPL FIXTURE TRACKER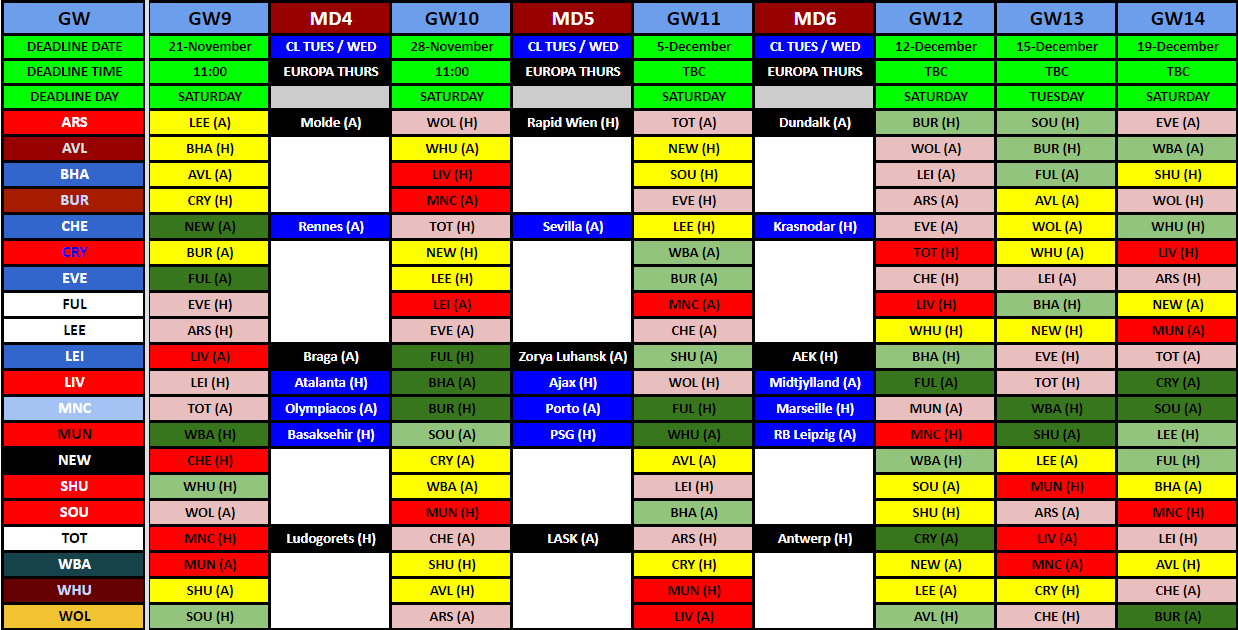 FIXTURE TRACKER LINK
Fantasy Football 247 League Codes:
All prizes must be claimed within 30 days of the final GW.