FF247 Site Team Double Gameweek 37
Welcome to FF247 Site Team Double Gameweek 37
And now the end is (almost) near… well by the time you come to read this, it is only one calendar week from being done for another season.
We have two gameweeks left and if you remember, our third from home was our much anticipated Bench Boost week. We scored 117 points overall which was a cool 38 points above the average and has consequently lifted us to 135,319 overall.
Seeing as it was a Bench Boost week, your eyes are automatically drawn to the bench (silly really as you can put ANYONE on there for this particular chip and it makes not a blind bit of difference – your score for the 15 is your score regardless where they sit, but alas our bench scored 26 points thanks to Ivan Toney (5), Mason Holgate – thanks entirely to our Everton guru) (13) and Marcos Alonso (7). Dubravka scored a point if you are a stickler for mathematics and pedantics.
The rest of our pointscorers were actually – and remarkably – let down by our captain Mohamed Salah who scored two blanks and didn't even get enough minutes to score 2 points in his last match at Villa – a very poor (6) from him.
Joao Cancelo (AGAIN) pulled his weight at the back with two assists and a clean sheet for (14) whilst Mason Mount didin't even need two games to register a sweet (13) with his MOTM display at Leeds with a goal, assist and bonus.
Fans of number symmetry will love our strikeforce – Eddie Nketiah and Harry Kane with (15) points apiece.
Our Double Gameweek 36 Result…
We have £0.2mln in the bank and 1 free transfer to use ahead of Double Gameweek 37. And crucially a Free Hit chip… Let's go see what was decided.
Our Double Gameweek 37 Transfer(s)
It was initially mooted that we could save the FH thingy for GW38, and attack those teams with something left to play for. Until it was pointed out that that would mean missing out on a whole bunch of DGW players. And where's the fun in that?
Attempting to pick a FH team by committee is notoriously difficult. As such we had a vote on some key personnel issues and for the record KdB got a 'no', but then so did Vardy. And one of them made the cut!
Liverpool complicated issues with Salah going off early doors and Robertson limping off late on. Decisions, decisions….
Ultimately the theme was to attack the DGW as best we could but with a few key single GW players in the mix.
This is what we ended up with, but probably as per most of you, it was about attempt #74 and we couldn't see the wood for the trees by the end of it!
To confirm then we have played our Free Hit
Captain – Richarlison
We really aren't sure on this one but what we do know is that he will almost certainly play both (unless the little theatrical slug manages to get himself sent off in game 1, of which he is perfectly capable!) and that he and Everton have everything to play for, have two home games, and he may also be on pens.
Our Double Gameweek 37 team in full…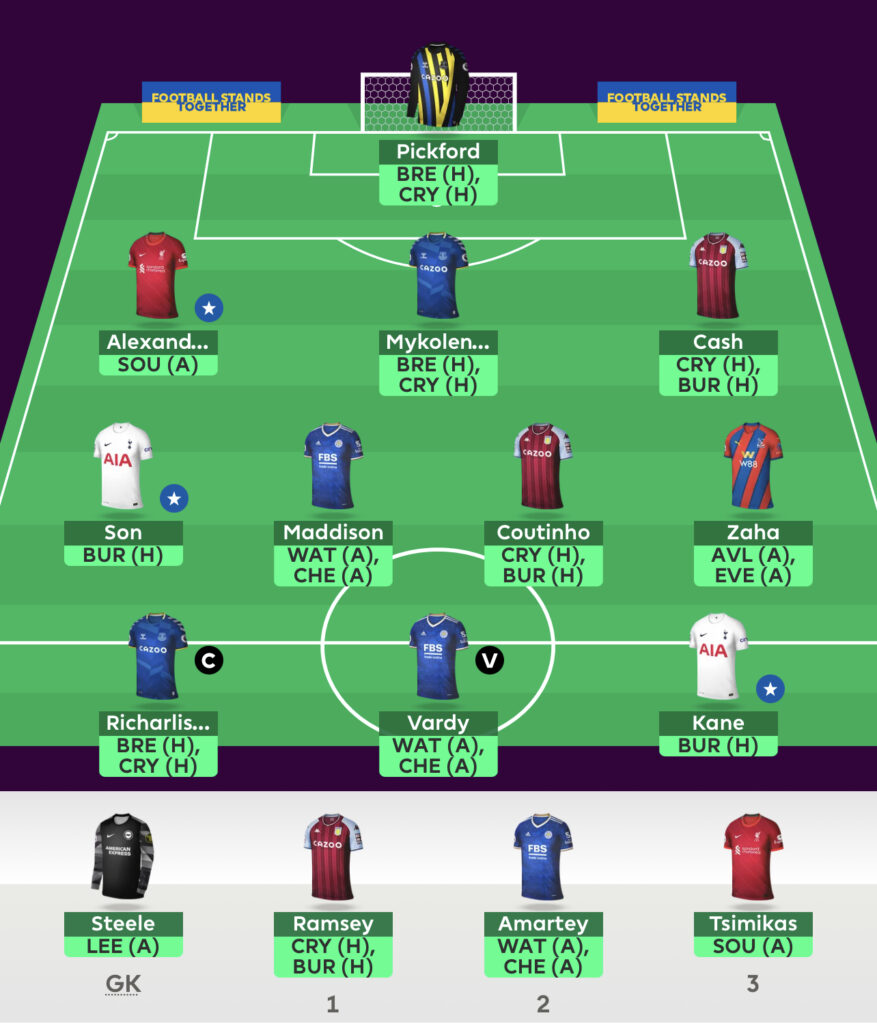 Should you wish to follow the FF247 Site Team's progress you can do so here.
Thanks for reading FF247 Team Double Gameweek 37
Predicted Line-ups and FPL Team News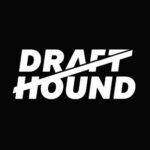 Rather than clutter the site up on deadline eve with too many articles we have tagged our predicted line-ups on here.
As a quick reminder –
There are two versions of this article.
The one below has a drop-down version. It's fairly idiot proof – you simply click on the small arrow to the right of the team name and you get a drop-down list of all the teams. Simply click on the one you want to see and hey presto, etc. This is the published article with the comments section to crack on with.
The other one is permanently live and has the 'nicer' grid layout. If you want to see that version you can click here. This can also be easily accessed at any time via a myriad of links on our homepage – Header link, Hot Topics link, Quick Access link on mobile and it is also linked towards the end of all of our regular articles.
What you see below is a live link to what Drafthound have on their website. Why is that significant? Well, firstly, it now means that the second they make any updates in reaction to live team news then they will also appear on here. Being uber helpful in that respect they also time-stamp all of their line-ups so you can tell to the minute when it was last updated.
As an additional extra if you click on any player icon on the team line-up that will take you to their own page on Drafthound, from where you can see up to date season stats, their upcoming fixture schedule and use a comparison tool to view similar players.
Given their time and effort in providing this content for us it would be rude not to occasionally click on the Drafthound link and check out their own fabulous content as there are FPL articles aplenty on there too.
You can access our live feed to these here.
VOTE ON THIS WEEK'S CAPTAIN POLL
FPL FIXTURE TRACKER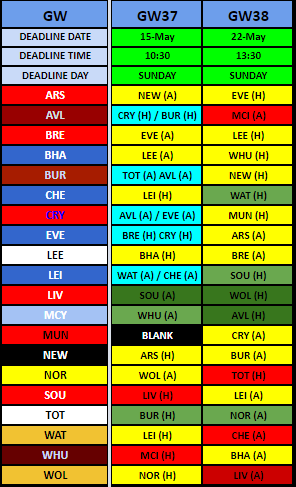 SET-PIECE TAKERS