FF247 Site Team & Predicted Line Ups Gameweek 38
Welcome to FF247 Site Team & Predicted Line Ups Gameweek 38
Free Hit? Completed it mate….
Our final chip of the season was planned in advance to be played in Double Gameweek 37 – and it was Free Hit Time!
Not to blow our own collective trumpet, but we nailed it. 110 points in total – an enormous 67 (SIXTY SEVEN) above the weekly average and hence, we take our largest ranking jump of the season and approach the final gameweek of the season at 80,272 overall.
We are on course for a better finish than last season when we ended up just outside the quarter million mark. Far from our personal best of 5757 in 2018/19 and the 5921 (in 2014/15) but having made a bit of a mess of the Triple Captain chip (well GP did) – when we should have had it on Salah that day – we have recovered really well.
Taking a closer look at our squad last week – we really have three players to thank, who posted big numbers and two of those were Leicester players!
Jamie Vardy (15) and James Maddison (especially) (25) were outstanding across the double and our captain Richarlison (38) helped saved both ours and Everton's season.
A goal from Harry Kane (7) and an assist from Wilfried Zaha (6) were the only other returns but it's where you get to – not how – in this game.
Our Gameweek 37 Result…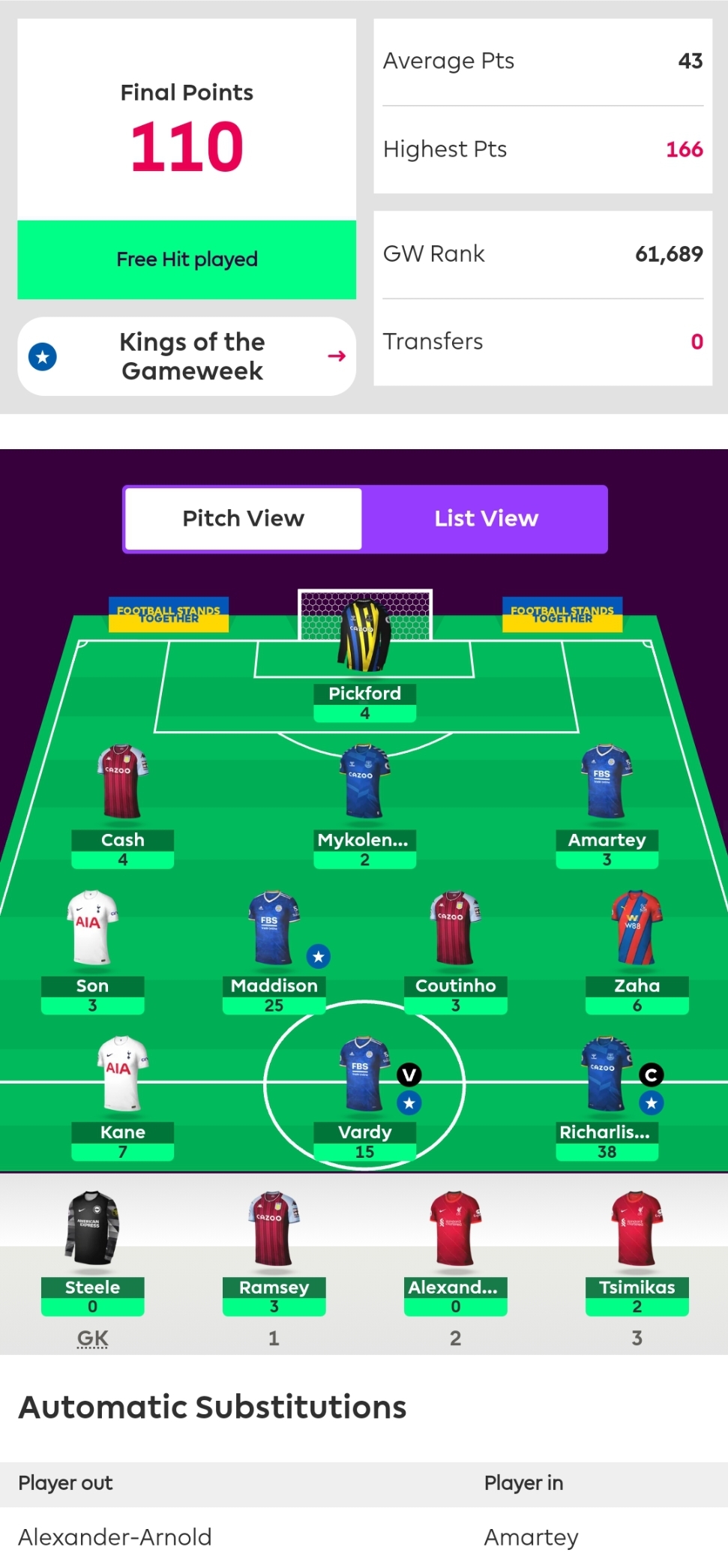 We have £0.2mln in the bank and 1 free transfer to use ahead of Gameweek 38. Let's go see what was decided.
Our Gameweek 38 Transfer(s)
With Salah obviously being primed for next Saturday in Paris, we remove the Egyptian from our side as we fancy chasing a potential big score from another major midfielder. With us having three Spurs already, Son was out of the question (despite one of us calling for him!) so the obvious place to look was either City, or go like for like – or Red for Red – and pick Mane.
Between Mane, Sterling, Mahrez and KDB we had a lovely selection and by three votes to the others getting one each, we have decided that Kevin De Bruyne is the boy for us in Gameweek 38.
To confirm then we have SOLD MOHAMED SALAH and BOUGHT KEVIN DE BRUYNE
Captain – Harry Kane
With Harry being given the a-OK by Conte on Friday, and Spurs having to go all out at Norwich to ensure their Champions League qualification, it seems the obvious choice for us to make. Whilst our new signing KDB has his own claims for the armband, we like the potential for a three- or four-goal salvo from Kane as Spurs romp home.
Our Gameweek 38 team in full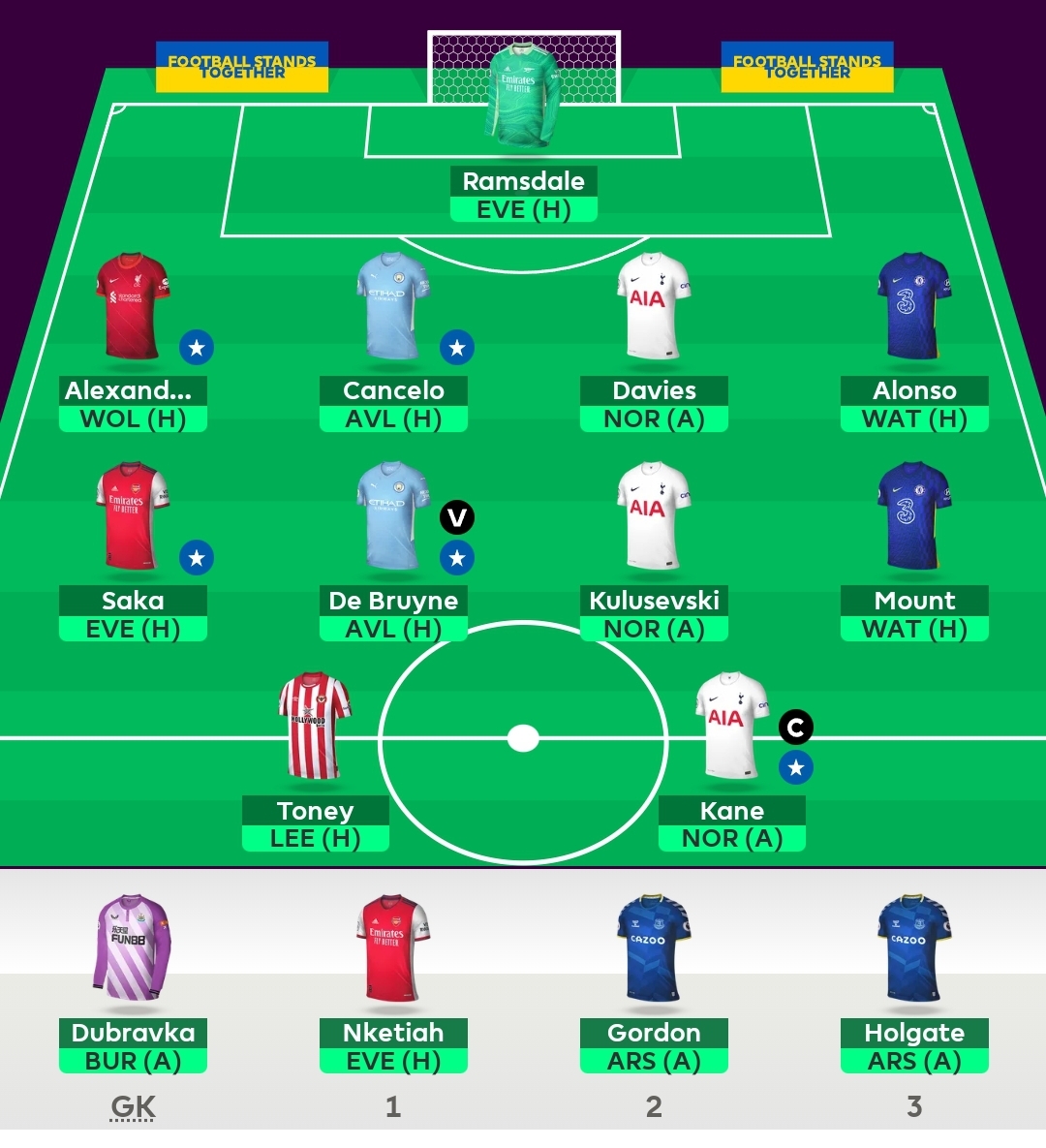 Should you wish to follow the FF247 Site Team's progress you can do so here.
Thanks for reading FF247 FPL Team Gameweek 38
Predicted Line-ups and FPL Team News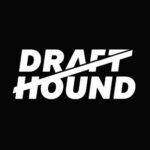 Rather than clutter the site up on deadline eve with too many articles we have tagged our predicted line-ups on here.
As a quick reminder –
There are two versions of this article.
The one below has a drop-down version. It's fairly idiot proof – you simply click on the small arrow to the right of the team name and you get a drop-down list of all the teams. Simply click on the one you want to see and hey presto, etc. This is the published article with the comments section to crack on with.
The other one is permanently live and has the 'nicer' grid layout. If you want to see that version you can click here. This can also be easily accessed at any time via a myriad of links on our homepage – Header link, Hot Topics link, Quick Access link on mobile and it is also linked towards the end of all of our regular articles.
What you see below is a live link to what Drafthound have on their website. Why is that significant? Well, firstly, it now means that the second they make any updates in reaction to live team news then they will also appear on here. Being uber helpful in that respect they also time-stamp all of their line-ups so you can tell to the minute when it was last updated.
As an additional extra if you click on any player icon on the team line-up that will take you to their own page on Drafthound, from where you can see up to date season stats, their upcoming fixture schedule and use a comparison tool to view similar players.
Given their time and effort in providing this content for us it would be rude not to occasionally click on the Drafthound link and check out their own fabulous content as there are FPL articles aplenty on there too.
You can access our live feed to these here.
VOTE ON THIS WEEK'S CAPTAIN POLL
FPL FIXTURE TRACKER