FPL Fixtures Gameweek 1
And so the countdown begins. Whether you've been countlessly drafting and tinkering over the past few weeks or have had the discipline to hold off for now, it's time to get serious and start planning the start of the campaign.
Rather than writing the traditional Fixtures article format of 'Good' and 'Bad', I have instead written a small piece on every team with a look at their early fixtures and the players to watch from each team as we start the season. Obviously the latter is not an exhaustive list, that's the job of the Tips article author.
Good luck for the season ahead.
FPL FIXTURE TRACKER
But first up that all important Fixture Tracker itself…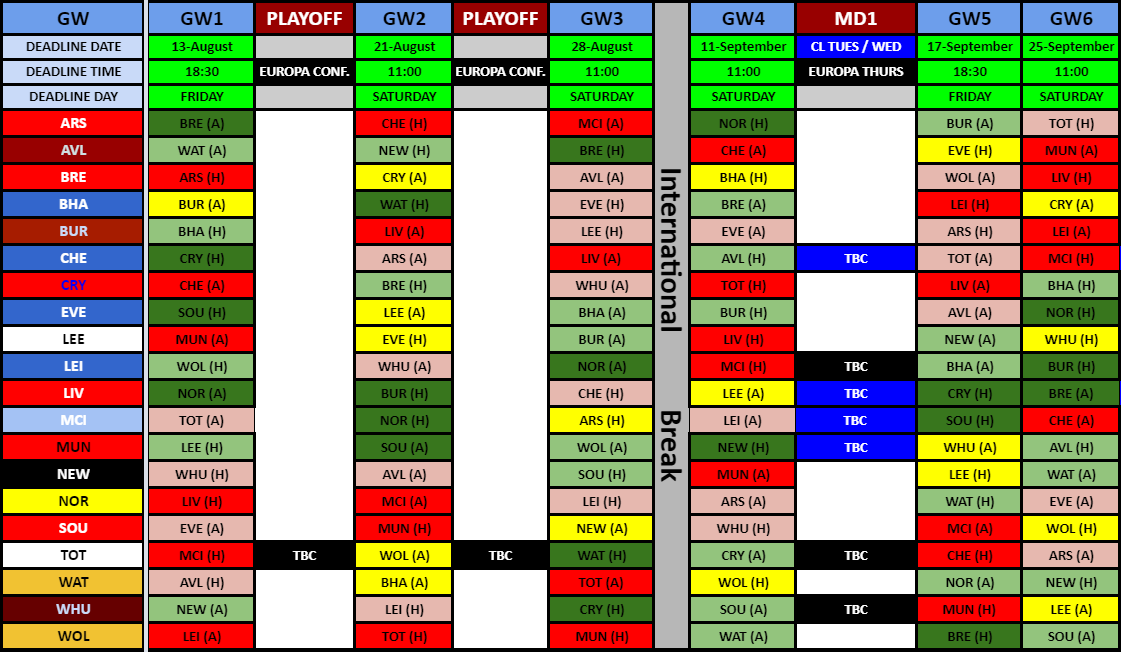 FIXTURE TRACKER LINK

Arsenal
Following an open day trip to newly promoted Brentford, The Gunners then face GW2 & 3 match ups vs Chelsea and Man City. However, keep Arsenal on your watchlist from GW4 as they then embark on a run of fixtures through to GW11 which on paper all look winnable. Defensively the Gunners were unusually strong for the second half of last season and were 3rd best for goals conceded in that time.
Ones to watch:
Emile Smith Rowe: 5.5mln, just signed a new contract, given the no.10 shirt, potentially the bargain of the season.
Kieran Tierney: 5.0mln, we know what he can do offensively, if Arsenal can retain their defensive stats he could be cheap defensive gold.
Ben White: 4.5mln, new signing from Brighton. As per Tierney above, but cheaper and without the attacking returns.

Aston Villa
A dream start on paper as the Villains face Watford, Newcastle and Brentford. However, the fixtures then turn for Villa with match ups vs Chelsea, Everton, Man Utd and Spurs to follow. Anyone who remembers what Villa did to Liverpool last season may just ride out the tougher looking fixtures.
Ones to watch:
Ollie Watkins: 14 goals and 9 assists last season may ensure his opening price of 7.5mln is good value. Good opening fixtures and already scoring in preseason.
Emiliano Buendia: 6.5mln, arrived from Norwich and big things are expected from the midfielder who will play just behind Watkins and returned a mighty impressive 15 goals and 16 assists in Norwich's promotion campaign. Will be on many set-pieces and they'll be plenty of those if Grealish stays. If Grealish leaves, Buendia becomes a more viable option as he'll become much more of a focal point for Villa going forward.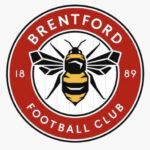 Brentford
A relatively gentle(ish) opening five fixtures for the play-off winners as they face Arsenal, Palace, Villa, Brighton and Wolves. They'll want to take advantage of these fixtures as their fixtures turn nasty from GW6, starting with a visit from Liverpool and then it's West Ham, Chelsea and Leicester soon after.
Ones to watch:
Ivan Toney: if The Bees are to stay in the top flight they'll need Toney to hit the ground running. 33 goals and 10 assists last season shows his quality and his price tag of 6.5% has ensured significant early ownership.

Brighton
Defensively sound last season, Brighton's keeper (Sanchez) and some defenders have attracted early interest due to a decent opening set of fixtures with matches vs Burnley, Watford, Brentford, Palace and Norwich all in their first eight. Brighton rotate pretty well with both Leeds and Burnley for those who like to rotate cheap defenders.
Ones to watch:
Robert Sanchez: could be this season's 'set and forget' 4.5mln keeper. Brighton's defensive form significantly improved last season once Sanchez replaced Mat Ryan between the sticks.
Lewis Dunk: 5.0mln – forget injury prone Lamptey and Veltman, Dunk is the one to own. More expensive than the other two, Dunk scores goals (albeit at both ends), is a bonus point magnet and is reliable. You get what you pay for, just keep an eye on Dunk's recovery from toe surgery.

Burnley
(Below) average team with average fixtures and no real obvious time of the season with a decent run of matches. Nothing to get excited about.
Ones to watch: (Errrrr…scraping the barrel time.)
Josh Brownhill: 4.5midfielder. Everyone needs a cheap mid, unless you're playing 3-5-2 of course. Or 4-5-1. I digress. Brownhill has already scored twice in preseason (ok, ok it was only vs Salford).

Chelsea
It's a real mixed bag of fixtures for The Blues up to and including GW6. The first six weeks sees potential tough encounters vs Liverpool, Spurs and Man City. However, from GW7 you'll want Blue coverage as they embark on a set of matches vs Southampton, Brentford, Norwich, Newcastle and Burnley.
Ones to watch:
Kai Havertz: 8.5mln, expect a strong second season for Havertz, especially if Chelsea don't buy a striker and the German continues to play through the middle. Having struggled early on last season, Havertz found his feet in the second half of the season and began to show his Bundesliga form.
Ben Chilwell: 6.0mln. Chelsea under Tuchel showed they can keep clean sheets vs the very best and this season is likely to be the same. With three goals and six assists last term, Chilwell was the form Chelsea defender and should prove great value once again.

Crystal Palace
With Woy gone, Palace under Patrick Vieira is a relative unknown. It's not just the manager that is new, half the squad has been let go – no more Townsend or PVA and some new names in. Fixtures however are dire to start with as The Eagles face Chelsea, West Ham, Spurs, Liverpool, Leicester, Arsenal and Man City all in the first ten.
Ones to watch:
None for now. See how Vieira and his new recruits settle and negotiate the first ten game-weeks. Zaha at 7mln will always attract the casual manager.

Everton
Like Palace, Everton have a new manager with Rafa back on Merseyside. The opening fixtures look kind for The Toffees as they have home fixtures vs Southampton, Burnley and Norwich early on. If Rafa is true to form and organises his team to be tough to break down then some bargains may well come to the fore.
Ones to watch:
DCL: Rafa loves a target man and the acquisition of Andros Townsend suggests nothing has changed. At 8.0mln, DCL will be a popular forward option and with every justification with Southampton the visitors to Goodison in GW1.
Lucas Digne: add further clean sheets to Digne's assists and you have a proper 5.5mln option, but will Rafa hamper Digne's forays down the left wing? Time will tell but maybe better to be onboard early on.

Leeds
It's a tough start for Leeds with a trip to Old Trafford in GW1 followed by visits from Everton and then Liverpool in GWs 2 &4. However fixtures from GW4 through to GW10 look inviting as does a trip to Burnley in GW3 which will mean many FPL teams will see some sort of representation sooner rather than later. Raphina, Dallas and Bamford already have significant ownership.
Ones to watch:
No OOP Stuart Dallas this season

but Luke Ayling and Illan Meslier provide decent and value options at the back.
Raphina: 6.5mln – already a well-owned player, many are expecting him to kick on this season and price looks attractive.
Harrison: cheaper than Raphina by 0.5mln and out-scored him by 27pts last season.
Ayling: cheap defensive coverage at 4.5mln, just ensure you can bench him in GWs 1 &4.

Leicester
A real mixed bag early on as fixtures vs Wolves and Norwich are alternated by tougher looking match-ups vs West Ham and Man City. Much may depend on whether The Foxes can hang onto Maddison, keep Vardy fit and return Barnes from injury. Leicester have a nice little run from GWs 5-9 with only the visit of Man Utd in GW8 looking tricky.
Ones to watch:
Wesley Fofana: priced at 4.5 Fofana certainly provides cheap defensive coverage but you'll want to bench him in GWs 2, 4 & 8 (Brighton offer decent rotation).
Maddison & Barnes: both 7mln, both nicely priced midfield options and given both scored heavily last season with reduced minutes due to injury, they look excellent options this season. If they stay fit. (Bear in mind, Maddison is linked with Arsenal, Barnes is returning from a long lay-off….keep an eye on pre-season minutes).
Kelechi Iheanacho: Ridiculously low priced at 7.5mln considering his 12 goals and 110pts came in less than half a season of football last season. If he can rediscover last season's form he'll be golden.

Liverpool
The fixture computer has given Liverpool a lovely opening set of fixtures as they look to hit back from last season's disappointing campaign. An opening day trip to Norwich is followed by the visit of Burnley in GW2 and while Chelsea in GW3 will prove tough they then follow with matches vs Leeds, Palace and Brentford before some trickier encounters are thrown into the mix.
Ones to watch:
Mo Salah: 12.5mln and owned by half the teams in the game, many will captain the Egyptian in GWs 1 & 2 and frankly you're brave if not mad going without him to begin with.
TAA: back to his attacking best in the final few games of last season, the return of Matip, Gomez and ultimately VVD should ensure the clean sheets will follow.

Man City
What is a difficult fixture for City?! Chelsea fans could answer that, but not many others. Our City representation (and trust me, you'll want some) may well depend on how Pep wants to tackle life post-Kun. If Kane arrives he'll be ridiculously popular, but if Pep goes with Jesus alone then Mahrez & Foden come to the fore at more affordable prices. Unless Grealish arrives, which looks likely!
Ones to watch:
John Stones: 5.5mln remains a nice price for Stones who as we saw from last season has introduced a goal threat to his game.
Ferran Torres: 7mln – Pep says Torres can share striker duties with Jesus. If this is true and Kane doesn't arrive, Torres may well prove to be the bargain at City we have been searching for. Watch this space.

Man Utd
United have been given what looks like a decent start with matches vs Leeds, Southampton, Wolves and Newcastle in the first four weeks. Trickier looking matches then appear but if United are serious about mounting a title challenge they should fear nothing until Liverpool and then City arrive in GWs 9 & 11.
Ones to watch:
Bruno Fernandes: hard to ignore given his ownership and United's ability to win penalties, but 12mln turns him into the premium category. Owned by over 40% of teams (at time of writing) and with great looking fixtures from the get go, you'll be brave to ignore him.
Mason Greenwood/Jadon Sancho: significantly cheaper than Bruno but can they cover his penalties? They will be bargains if so.
Luke Shaw: Shaw was second to TAA for chances created by defenders last season but played vs Ukraine, Germany, Denmark and Italy with broken ribs. Once rested and fit 5.5mln looks a good price assuming Martial isn't on the end of the chances he creates.

Newcastle
The Toon have been granted a decent opening to the season as they only face one of last season's top 5 in the first 9 GWs (Man Utd in GW4). The opening day venture to West Ham won't be straightforward but fixtures vs Villa, Southampton, Watford, Wolves and Palace offers hope.
Ones to watch:
Callum Wilson: 12 goals, 6 assists and 134 points last season for the Toon striker and he missed over a third of the season. And you can have him for just 7.5mln. This looks like great value, but be warned – if you buy him, just hold him, he'll blank when you don't expect him to and score in the unlikeliest of matches. Keep an eye on injury news following a preseason scare.
Joe Willock: if Toon can secure the Arsenal midfielder for another loan spell then 6.0mln could be very well spent, especially given the early fixtures.

Norwich
The Canaries have obviously upset someone in the fixtures committee for they open up with matches vs Liverpool, Man City, Leicester and Arsenal. Therefore avoid for now. From GWs 5-8 they face Watford, Everton, Burnley and Brighton if you're interested. But I wouldn't be.
Ones to watch:
Teemu Pukki: cheap with nasty fixtures. If he gets on a run then he's easy to grab but avoid anything Canary for now.

Southampton
Aside from the odd decent fixture (Toon in GW3), Saints' nice fixtures don't begin until GW9 when they encounter Burnley, Watford, Villa and Norwich. Until then watch from the sidelines.
Ones to watch:
Danny Ings: 8mln could be great value. If he gets his desired move away to a half decent side.
None for now then but James Ward Prowse is a consistent performer for them (156pts last season) and offers value at 6.5% once the fixtures turn.

Spurs
The opening day visit from the Champions and then a trip to Wolves gives enough justification to avoid Spurs early on and see how Nuno sets up his new team… with or without Kane. Matches vs Watford (GW3) and then Palace (GW4) may well be the time to get interested.
Ones to watch:
Dele Alli: not the first to fall out of favour with Mourinho, Dele now has a chance to rebuild his career and at 6.5mln he could be gold should he rediscover his form and desire.
Heung-Min Son: Mr Consistent, doesn't miss many games, almost guaranteed double digits in terms of goals and could well be up front if Spurs cash in on Kane and don't replace him. Son has scored and assisted in preseason – if you can afford his 10.0mln fee you should expect his usual returns.
Harry Kane: an obvious candidate but has already been ruled out of GW1 so wait and see for now.

Watford
Watford have a decent set of opening fixtures, starting with Villa at home and then a trip to Brighton. The Hornets were strong at the back last season conceding just 30 goals (the best record in 5 season and 6th best ever!) and they will clearly look to continue that impressive organisation.
Ones to watch:
For those FPL managers who love a keeper double up Daniel Bachmann (4.5mln) and Ben Foster (4.0mln) cost just 8.5mln between them. With such a great defensive solidity this pair may just prove a canny investment.
Ismaila Sarr: Watford's standout outfield player who costs just 6.0mln. It is rumoured that Liverpool are sniffing after Sarr. 13 goals in 39 games last term is an impressive return for a winger.

West Ham
Last season's surprise package with a 6th place finish, The Hammers have a decent opening and will be looking for a repeat of last term. Thursday night Europa action is a concern for a squad that struggles with strength in depth and should be kept an eye on. An opening day trip to Newcastle is followed by home matches vs Leicester and Palace before The Hammers go to Southampton.
Ones to watch:
Michail Antonio: Ten goals in each of his previous two seasons, Antonio will be looking to push on with those stats and increased game time should help – the striker has missed a third of each of those previous two seasons. Costing just 7.5mln, the striker is another of the cheap/medium priced strikers who appears to offer exceptional value.
Vladimir Coufal: Nine assists and nine clean sheets for the Czech full back and still only priced at 5.0mln. Assuming Coufal is not hamstrung by playing too many Thursday night matches, the defender should be a serious consideration for your squad.

Wolves
Much is up in the air for Wolves as they began the season. New manager Bruno Lage has been brought in to replace Nuno while Raul Jimenez is back but will he be as effective as he was before his horrific injury? Luckily for us opening fixtures vs Leicester, Spurs and Man Utd will give us time to sit, watch and assess. Their fixtures turn for the better in GW4 as Wolves then face Watford, Brentford, Southampton, Newcastle, Villa and Leeds and Jimenez could well be an option at that point.
Ones to watch:
Raul Jimenez: only time will tell if the Mexican can rediscover his form of 2018/19 and 2019/20 when he returned 181 and 194pts respectively. If he can then 7.5mln could be a steal.
Rayan Ait Nouri: priced at just 4.5mln the defender has played much of preseason in midfield and could therefore be this season's Stuart Dallas. As I have alluded to above, asses those first three game-weeks and be ready to jump on some Wolves should the signs be positive and if Ait Nouri looks to have secured a starting berth.
Thanks for reading FPL Fixtures Gameweek 1. This article was written by Cookie.
VOTE ON THIS WEEK'S CAPTAIN POLL GW1
FF247 LEAGUES FOR 2021/22
Fantasy Football 247 League Codes:
Both leagues will be shut to new entrants as of 01/01/22.