FPL Fixtures Gameweek 24 (and 25 and beyond…)
A long time ago, in a galaxy far, far away… I used to write the Fixtures articles on both here and FFC* before us (*'Fantasy Football Cheat' for those of a younger era). Week in and week out, for years on end, and whilst it was always a pleasure it could sometimes become monotonous. But then once in a while a Double Game-Week (DGW) would pop up and that would really (finally) pique the interest. Kid in a candy shop and all that. Or more like a weather reporter in Florida who suddenly has a hurricane to deal with. We both know they are coming eventually but for 98% of the rest of the year it's samey-samey.
I have long since given up the monotony, prefering to introduce some younger blood and new voices to the scene. But in true Ron Burgundy fashion I saw a story developing and kicked them all aside, to unashamedly front the first major DGW article of the season.
How Many DGW's?
Two of them in a row, for sure, with a third to follow as an almost certainty – and perhaps more immediately after that! The GW26 one is expected to to be the biggest. In an attempt to simplify both what we know and what we can possibly expect, I have adapted our trusty Fixture Tracker.
This should be fairly easy to follow: DGW's 24 & 25 are confirmed, GW's 26 to 28 are all just possibilities. It is designed to give you an idea of who potentially has what ahead and should aid you when planning your transfers or chip playing, but do heed the *Important note below: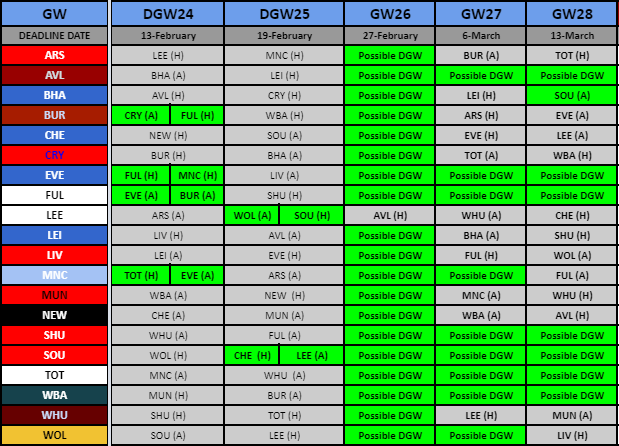 So what are the take-aways from this?
Burnley, Everton, Fulham and Manchester City have a DGW24, obviously.
Leeds and Southampton have a DGW25 too.
Out of those; Everton and and Southampton potentially have 3 DGW's in 5 weeks, Fulham may have 2.
Manchester City potentially have 2, Burnley 2 and Leeds United just the 1.
But more on those later.
Teams who potentially have 3 DGW's upcoming
Everton
Southampton
Spurs
And 2
Aston Villa
Burnley
Fulham
Manchester City
And just the 1…
Arsenal
Brighton & Hove Albion
Chelsea
Crystal Palace
Leeds United
Leicester City
Liverpool
Manchester United
Newcastle United
Sheffield United
West Bromwich Albion
West Ham United
Wolverhampton Wanderers
*An important note: The numbers above don't necessarily match the green on the chart, that is because the greens on there are only potential GW's where they could play a game. If we take Everton as an example they have to fit in games vs Villa and West Brom and they could potentially play either anywhere from GW25-28, but obviously they will only play in two of those as a maximum, ergo 3 potential DGW's in total.
As for those we actually know about…
DGW24 TEAMS
Burnley – Palace (A), Fulham (H)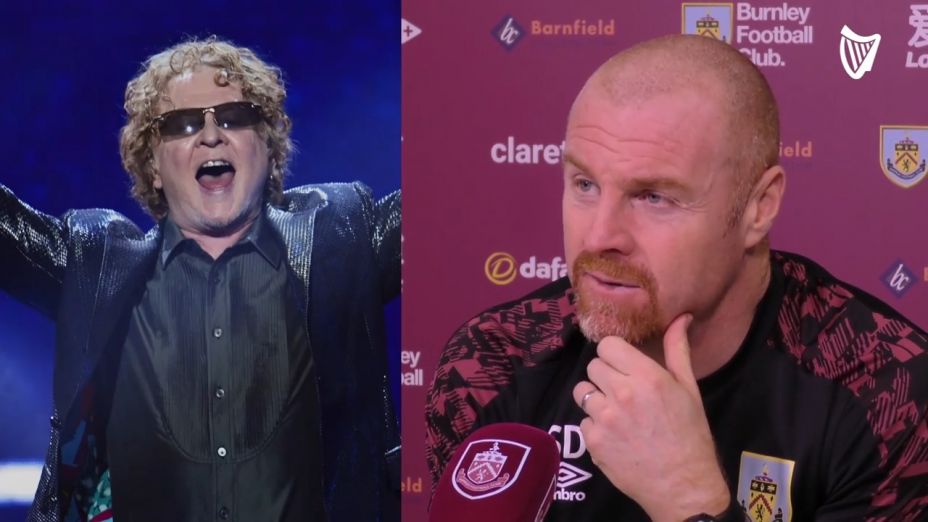 We begin with (possibly) the strongest rated team here, based upon their fixtures. Their defence is the main reason, obviously, because who ever buys a Burnley attacker?!
But 'is their defence all that?', as Adrian Durham (legend) would say. Since they kept Liverpool at bay they have conceded 7 goals in 4 (in the league) – without a clean sheet. Prior to that it was 5 goals in 8 but it is probably clean sheets we are looking for here so how many have they actually got? 7 in 22 games is the answer or >32%. Ederson has 13 in 20 for context, or 65%, albeit for a much better team.
Take a Burnley defender or two in by all means but don't go looking for miracles.
DGW RATING 6/10
Man City – Spurs (H), Everton (A)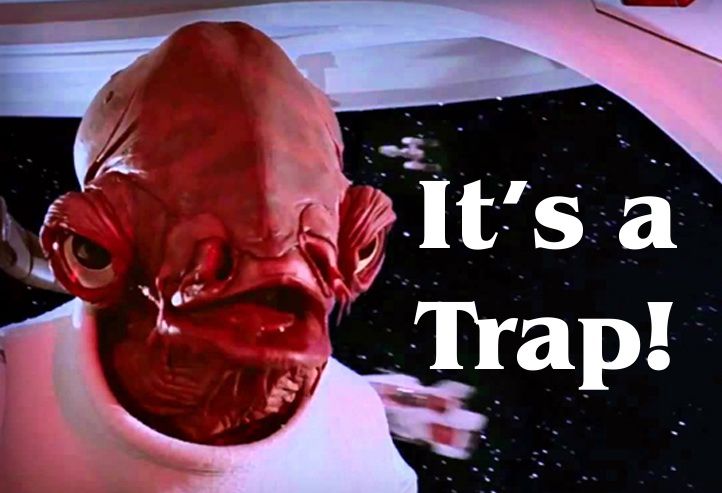 Any DGW for City is usually a trap. But you can't blame Pep. He has a squad so big and so talented that he could feasibly field two PL teams and both would probably finish in the top 4. Add to that that City's February schedule currently entails 6 games in 17 days, with 3 or 4 days between most of them.
The DGW games themselves will be challenging but you could easily envisage them winning both. Which personnel they use to that is the main issue. And good luck predicting that…! Apart from Gundogan, obviously. Just don't expect any of them to be able to convert from 12 yards.
DGW RATING 8/10
Everton – Fulham (H), Man City (H)
I'm really not sure what to make of this DGW for Everton. Fulham have seemingly improved somewhat, but to what extent? Well, they aren't getting hammered all over the shop anymore but they still only have two clean sheets (that's 2 in 8) in all competitions since the turn of the year. They even managed to concede two to West Brom and three to Burnley, in recent memory.
Everton were due to play City in this fixture back in December, and it felt just about the ripe time to do so, with City having Covid issues galore. Right now feels like just about the wrong time for anybody to face them. City won last season's duels by an aggregate of 5-2, which at least suggests Everton can score against them. And that was pre Calvert-Lewin being a thing, and pre-James (Ham-ez).
All in all they should have enough to deal with Fulham at home. City will be a different matter but don't be surprised if Carlo sets up for a point. And gets one.
DGW RATING 7/10
Fulham – Everton (A), Burnley (A)
I've pretty much dealt with Fulham above, and in all honesty nobody will exactly be rushing to add any of their players to their ranks, no matter how many DGW's they can rack up. I'd expect them to concede in both and not score many in either.
DGW RATING 5/10
DGW25 TEAMS
We are also going to cover GW25 here because, being frank, there will not be a GW25 Fixtures article, given the proximity of the end of 24 and the beginning of 25. Plus…. they just aren't that exciting! As you will find….
Leeds – Wolves (A), Southampton (H)


Leeds are simply unpredictable. You would never know which end of the pitch to go with for the best: sometimes they score a lot, sometimes they don't, sometimes they leak a lot, other times they look solid. The only real consistent is that Bielsa will be sat on his bucket.
So much so that I delayed writing this until just after their game vs Palace, as I literally did not know what to expect. Not that it matters much as one Leeds performance tends to have little bearing on the next anyway!
Their one consistent thread has been Bamford so perhaps just go there. And yes Bielsa was on his bucket.
DGW RATING 5 – 8/10!
Southampton – Chelsea (H), Leeds (A)

The Saints bounced back from their 9-0 drubbing by going to Newcastle and… conceding 3 (by half time as well *nervous laugh*).
Neither of these games will be easy, Chelsea are resurgent under Tuchel and Leeds are as unpredictable as ever under Bielsa, as we mentioned above.
I would forgive you for the odd punt on a Saints forward, maybe a JWP, but please, please just don't buy Bednarek!
DGW RATING 5/10
An FA Cup word to the wise
It is worth noting that the following teams are all in FA Cup action this midweek, those in bold are our DGW teams from the above:
Brighton
Burnley
Chelsea
Everton
Leicester
Man City
Man United
Sheffield United
Southampton
Spurs
West Ham
Wolves
The Best Of The Rest
Don't forget that other teams do still exist! It is not uncommon in a DGW to see a SGW player outscore some of our double hopers. Without waffling on the following look like they have the best of the SGW fixtures over GW's 24 & 25;
Chelsea – Newcastle (H), Southampton (A)
Somewhat resurgent under the tutelage of Tuchal, I would expect that to continue here.
Crystal Palace – Burnley (H), Brighton (A)
If they can get Zaha back then these look winnable, or at least drawable.
Man United – West Brom (A), Newcastle (H)
West Brom have conceded the most goals by a fairly wide margin, Bruno could have a field day here. And then guess who has conceded the 2nd most (jointly)…
And the following are ones to perhaps avoid;
Arsenal – Leeds (H), Man City (H)
Newcastle – Chelsea (A), Man United (A)
Spurs – Man City (A), West Ham (A)
FPL FIXTURE TRACKER
And that all important Fixture Tracker itself…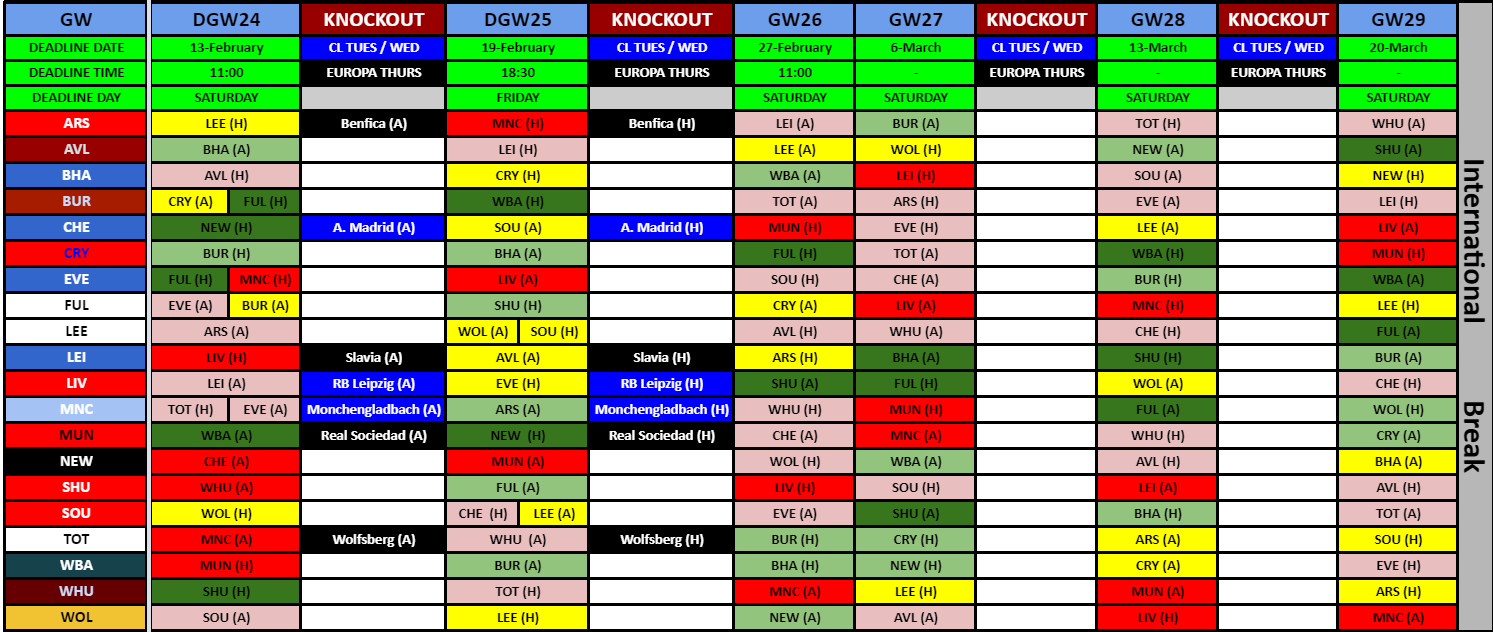 FIXTURE TRACKER LINK
Thanks for reading FPL Fixtures Gameweek 24 (and 25 and beyond…). This article was written by Inittowinit.
VOTE ON THIS WEEK'S CAPTAIN POLL GW24