FPL Fixtures Gameweek 9
Half-term report
Ok, so we aren't even a quarter of the way through yet but in England they call it 'half-term' in October (albeit it is now November but who is keeping count anymore), and they do it again in February, go figure. So with that sort of clever math we are calling it that too. Rather than waffle on about a few select teams we have decided to have a quick (ish) one-liner (or two) about how we feel each term is progressing so far. And in the process we have ordered them into some sort of fashion in relation to their next three fixtures.
FPL FIXTURE TRACKER
But first up that all important Fixture Tracker itself…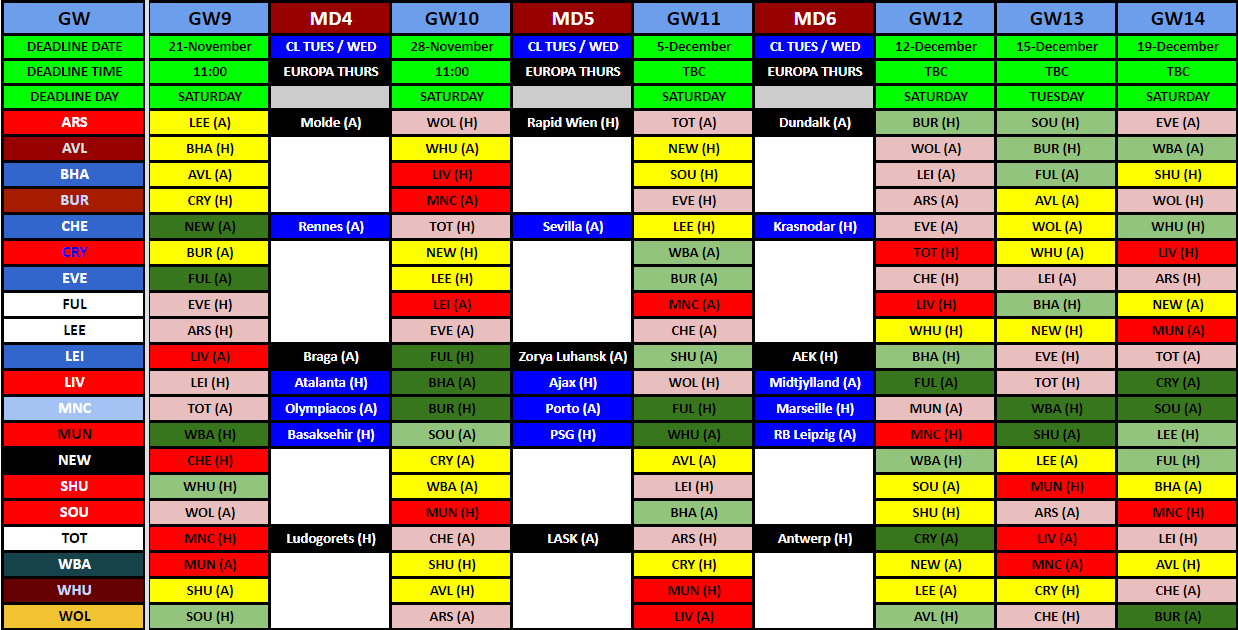 FIXTURE TRACKER LINK
Good Fixtures
Aston Villa – Brighton (H), West Ham (A), Newcastle (H)


Villa find themselves sitting pretty in 6th place. technically they could even be top as they are a game behind all of those above them. Which is a bizarre notion given that they nearly went down last season. Their new acquistions look like shrewd moves and have certainly improved them no end. They could well consolidate this position with the favourable run they have ahead of them.
Chelsea – Newcastle (A), Spurs (H), Leeds (H)


Just above Villa in 5th are a Chelsea team who look to be knitting together nicely after taking a bit of time to bed all the new faces in. The goals are starting to flow (14 in 4 in all competitions now) and the influence of new signing Thiago Silva and the addition of a keeper who actually stops shots seems to be paying dividens at the back (5 clean sheets in 6). Funny that.
Crystal Palace – Burnley (A), Newcastle (H), West Brom (A)


Palace seem to be getting exactly the results you'd expect them to at the moment. Which has not always been the case, for them in the past or most teams in the present. But it does help predict what may be to come in terms of fixtures, in which case you could go somewhere between a couple of draws and a win or two wins and a draw. Either way it looks ok for them.
Everton – Fulham (A), Leeds (H), Burnley (A)


Having looked like running away with the league early doors (at least in my own mind, but forgive me this: I've had nothing to get excited about Everton-wise for over 20 years!) they came crashing back down to earth more recently. Injuries / suspensions were always inevitably going to derail this particular train as the first 11 looks stellar, the next one is severly lacking. That said the next 3 games look good for returns, both in terms of results and personnel.
Leicester – Liverpool (A), Fulham (H), Sheffield United (A)


It couldn't happen again. Could it?! It could. The funny thing is that this particular Leicester incarnation actually looks like a better team than the last one. It's probably a compliment to them that they are in this section as any run of games which begins with Liverpool would normally bump a team back a section or two. But can you see them getting something in that one? I can. Especially now with Liverpool struggling for numbers at the back.
Manchester City – Spurs (A), Burnley (H), Fulham (H)


Difficult to know what to make of City so far. Shorn of Kun for the much part, but that may be a reality they need to get used to pretty soon. Form and results have both been mixed and that initial Spurs matchup looks tricky but beyond that they have a great run of games.
Average Fixtures
Liverpool – Leicester (H), Brighton (A), Wolves (H)


Klopp must have run over a black cat recently as every time he turns around he loses another defender. The way it's going he may have to suit up himself. As such we aren't sure about their prospects. Losing Salah probably doesn't help much either. Although Jota can probably deputise. If something awful doesn't happen to him in the meantime, and the way it's going don't hold your breathe on that…
In fact, tne way it's going we were on the brink of ditching them all the way down to the 'Unfavorable' category. Vardy will at least be rubbing his thighs at the prospect of terrorising an U8's defence, probably Jimenez too. Brighton couldn't terrorise a seagull but even they would fancy their chances now. So yeah, average at best.
Manchester United – West Brom (H), Southampton (A), West Ham (A)


Usually this would be considered a decent run of games for United but we aren't quite sure what to expect from them week-in, week-out right now. Is anyone? Probably not even Ole himself. They seem to be swaying from the sublime (see PSG & Leipzig) to the ridiculous (see Istanbul). And anywhere inbetween (see Everton). As such we could see them win all 3 of these, lose them all, draw them all, and nobody would be particularly surprised at any or all outcomes.
Southampton – Wolves (A), Man Utd (H), Brighton (A)


A cracking start sees the Saints sitting in 4th. Their mettle will be tested in the next two with Wolves and Man Utd eyeing their lofty spot with envy. Brighton less so but it is a derby, of sorts, and so will be feircely contested. The loss of Ings could be telling.
Unfavourable Fixtures
We didn't quite mean for over half the league to end up in here, but they have.
Arsenal – Leeds (A), Wolves (H), Spurs (A)


Won the games you would expect them to, and probably lost the ones you would expect them to, maybe with the exception of Villa. And Man United. Maybe. An improvement? Perhaps a work in progress. None of the next 3 look particularly easy, especially for a team in transition.
Brighton – Aston Villa (A), Liverpool (H), Southampton (H)


With just the one win so far we aren't holding out for much from this run of games. The fact that they sit 16th rather than 20th probably says more about those below them than it does about themselves. But more on the others later!
Burnley – Crystal Palace (H), Manchester City (A), Everton (H)


Winless and 2nd from bottom, is this really the Burnley who we usually trust for (at least) the odd clean sheet? But we aren't exactly living in 'clean sheet' times, it's been more goals galore. Which isn't really their MO.
Fulham – Everton (H), Leicester (A), Manchester City (A)


Likewise with Brighton it is a surprise to find Fulham outside the bottom three. Especially with just one win, and a GD of -8. And they are averaging less than a goal a game in the plus column. And things won't get much better in the short term looking at that run of fixtures.
Leeds – Arsenal (H), Everton (A), Chelsea(A)


As newcomers to the league Leeds will probably be reasonably pleased with their start. Despite being in 15th they have won three games and have been relatively lively and competitive in most of the others. The next three will be a challenge though, and they may well be staring at a relegation spot come Christmas.
Newcastle – Chelsea (H), Crystal Palace (A), Aston Villa (A)


Despite some good transfer business (for once) the Toon still see themselves sat in 13th place. Which they may see as a result come the end, or at least Mike will anyway. The upcoming games look a bit tricky though so if they are still in 13th in 3 GW's then they will all be happy. Or throwing up in fireplaces. Which apparently is much the same thing up there.
Sheffield United – West Ham (H), West Brom (A), Leicester (H)


Oh for the days of Lunstram. They find themselves bottom and without a win in eight. Second season syndrome? Perhaps. Either way they are one to ignore for the time being as they offer little of interest to fantasy managers at either end of the pitch.
Spurs – Manchester City (H), Chelsea (A), Arsenal (A)


Spurs are in 2nd and looking in great shape, and hopefully will make us look foolish for putting them in this section. In fact we already are regretting doing so. Except those fixtures look a bit dodgy. Or do they?
West Brom – Manchester United (A), Sheffield United (H), Crystal Palace (H)


Zero wins and Slaven looks like throwing the towel in every time we see him. He shouldn't, of couse, but he may. Either way they are on their way back down at this rate and the upcoming fixtures don't suggest an easy fix any time soon.
West Ham – Sheffield United (A), Aston Villa (H), Manchester (United (H)


Oh hello, MILF time…. That rather unusual Wolves result aside there isn't a lot to talk about, at least out of the ordinary. They sit in 12th, which is probably good, but whether they retain such lofty heights is another matter as the next three look tricky.
Wolves – Southampton (H), Arsenal (A), Liverpool (A)


Portugal sit mid-table (ish) in 9th having won half of their games. With their turnover of players it is maybe no surprise that it is taking them a bit of time to get back up to speed. /it may take them a tad longer with the next three games looking difficult.
Thanks for reading FPL Fixtures Gameweek 9. This article was written by Inittowinit.
VOTE ON THIS WEEK'S CAPTAIN POLL GW9
Fantasy Football 247 League Codes:
All prizes must be claimed within 30 days of the final GW.