FPL INTERVIEW: BATTLE OF THE SEXES
I am joined in the hot seat(s) by two FF247 champions, Carolyn and Rosco. They battled tooth and nail, right to the end and finished 1st and 2nd in the FF247 Regulars League. This is a league that many of us prioritise highly as we battle it out with our 'online mates', our fellow site comrades who we meet with daily to share thoughts, opinions and advice. It was Rosco who emerged victorious as he came with a late charge in GW38 to take the coveted title from odds on favourite Carolyn.
Both had FPL career-defining seasons, posting best ever finishes.
Ladies and Gentlemen, please welcome Carolyn and Rosco.
Carolyn, you had an amazing season. 2378pts, global rank 5,373, in the top 40k
from GW11 onwards, smashed your personal best rank. Congratulations!
Carolyn: Thanks, I really enjoyed this season.
Any particularly fond bragging rights you can tell us about?
Carolyn: I started to play fantasy football because the men at work told me I couldn't
possibly know anything about football or how to play fantasy because I am a
girl. I started to play and won the ML.
The excuse they used in previous seasons was they forgot the deadline, so this
season I text them all 2 hours before the deadline to remind them, I still beat
them and it made the win even more enjoyable.
They have said that they are not playing next season because they are so far
behind me but of course they don't know I got you guys

Rosco, likewise your season was sensational. 2,380pts, global rank 5,090, as per Carolyn you've set a new personal best. Winner of the FF247 Regulars League. You must be well chuffed?
Rosco: I'm over the moon mate! It's been by far my most challenging season, to come out of it with my best OR is staggering given how the season began for me and where I found myself at the halfway point. Throw in the lockdown and it had all the hallmarks of a disaster, yet somehow, I find myself answering questions about my best OR and winning the Regulars League – bonkers!
Rosco, you haven't been playing FPL as long as some but in your four seasons you've notched ranks of 8,664, 28,147, 24,812 and now 5,090. I reckon you've got the hang of this!
Rosco: Let's not tempt fate!! GP says I need a really bad season to truly appreciate the good, if it's all the same I'll give that a miss! There are some very, very good players amongst both the contributors and site regulars, I don't think I've been playing long enough to start 'giving it the big un' just yet, but I'm happy with my progress so far.
Carolyn, what was the secret to your success?
Carolyn: I played completely differently than every other season. For example, I watched Match of the Day every week, made transfers as late as possible and played 3-5-2 for most of the season rather than 3-4-3 which is what I have done in all previous seasons – this worked really well for me.
I only took a hit when I felt it was going to pay off for at least 3 weeks. And I didn't make a single drunk transfer!!
I also made sure I caught up with the FF247 chat every single morning before work, this helped me a lot because I got some great ideas, for example when everyone was getting Vardy a few weeks before the end of the season Smash said he may get Jesus instead, this sounded much more exciting than Vardy so I did it and it worked!
I stayed away from the 'evil' Fantasy Football Twitter community – I swear they are all trying to make money or sabotage each other!!
I had some good captain choices as well, when lots and lots of people captained Mane in the DGW, I went with TAA because you told me to – thanks, and if I couldn't decided who to captain I would get my dogs to choose for me!!
Lots of lovely luck
Your dogs? I got my 7 year old son to start picking my captain a few times as I just couldn't nail one myself. I may go and buy a dog.
Carolyn, you used your first wildcard in GW3, did you always plan to use it so early?
Carolyn: Nah, I always used the first wildcard around the Christmas festivities, but this season it felt good to use it in GW3 so I did and it worked well I think.
Rosco, you also used your first Wildcard in GW3, was this a deliberate plan?
Rosco: In short no! I do tend to play it early but this year the intention was to hold it as long as possible. I had poor scores in game weeks 1 and 2 and found myself with an OR of 1 million, I had two free transfers but in my drunken wisdom (I was on 'vacation') decided that I could no longer live without Pukki, KDB and Cebalos (I know, I know) so I took a 4pt hit. I was so annoyed with myself when I woke up the next day that I immediately played my WC to cancel out the hit – what a moron!
Rosco, did you have a particular transfer strategy last season? For example did you want to build transfer value or leave transfers until late on in the week?
Rosco: I know that its not the way most of the more seasoned players operate, but I tend to be fairly aggressive and look to build team value early in the season, this season was no different. This strategy does of course carry risks, and if I'm honest its part of my game I wish I could change, however I know as soon as the season starts I'll once again start obsessing over price rises. For 80% of the season the first thing I do before I even get out of bed is check the latest price rises – sad I know!
Carolyn, what was your strategy for transfers?
Carolyn: The strategy this season was to watch Match of the Day and let my eye be my judge and my pocket be my guide. I made a big effort to make transfers very late in the week, didn't want to get caught by any injuries and have to take a hit, my team value ended about 107m but this was more by luck and timing than by design.
Have you got any particular highlights of the season?
Rosco: The turning point in my season, GW23. With Liverpool's DGW on the horizon I'd planned my transfers so I'd roll into DGW24 with two free transfers. The plan, to change a cheap defender into Robertson (I had Mane and TAA) and stick the TC on Mane. However, in GW23 I decided to essentially rip up those plans and bring in Aguero, knowing that in order to bring in a third Liverpool player the following week would now require a -4. I was having a poor season and decided I had to start taking some calculated risks. I handed Aguero the armband and his 26pts saw me halve my rank (321k to 169k). The following week I decided that if I was going to take a hit, then Salah over Robertson had a better chance of repaying those 4pts. I doubled-down on the decision and put the TC on him (over Mane as originally planned). The rest as they is history, many sadly remember all too well what happened to Mane that DGW, meanwhile Salah gets me 48pts and I finally jump into the top 100k – 'Unbelievable Jeff!'
Carolyn: The whole season was a highlight really, everything went really well for me and I have no regrets.
And any low moments, Rosco?
In the first half of the season there were many! I had the pleasure of having Init and GP up in Newcastle the weekend of GW10. On the Friday we had tickets to the Football Ramble, which coincided with Southampton's 0-9 hammering at the hands of Leicester. I remember looking at some of my mini-leagues and seeing scores of 50+ after just one game. I managed to scrape just 41pts over the whole weekend. However, my lowest low was most definitely in GW19. With Liverpool's GW18 BGW and a tricky fixture away to Leicester in GW19 I decided to ditch TAA for a few weeks and invest elsewhere. Trent's subsequent 24-pointer away to Leicester was a painful reminder of the risks you take when you ditch a player of his calibre, regardless of the opposition.
Rosco, your season was certainly a game of two halves. At halfway after GW19 your rank was 579,353 and I remember you being very low about the game and its effect on you before Christmas.
I'm naturally a very competitive person. I try to be the best I can be in everything I do (even things I'm not very good at!) and if I fall short of my own expectations I tend not to be very forgiving of myself. I came into this season hoping to push on from last, but a series of bad decisions had left me in a position I didn't think I could come back from. I know that how I handle failure is an unhealthy way to play the game, I just don't know any other! I remember having lengthy private chats with a few of my fellow contributors who were a massive help in what was a difficult period for me both in FPL and privately so I'd like to say a big thanks to GP, Swirly, Matt, Elle, Init (in his own special way) and of course your good self! Love you guys!!
Love you too Rosco!
Do you think people take FPL too seriously and lose sight of the fact that it is a game?
Carolyn: Yes of course they do, but I understand that it gets under peoples skin and they are competitive, I just wish folk didn't get so frustrated with themselves, it's not as if we can see into the future.
I have two sons with severe physical and mental disabilities so it is a wonderful escape for me, but if I have a bad week I just move on to the next article and game-week, I am to busy for dwelling in the past.
Rosco: Without doubt, but as one of those people I can certainly sympathise! I think for some people it is indeed just a game, and regardless of how much time and energy they dedicate to it, they are still able to compartmentalise poor performance and bad decisions. I wish I was one of those people! To anyone who like me struggles with this side of the game, you have my sympathies. That's why this site is without doubt the best place to come with your FPL woes (and joys), there will always be someone who is going through similar emotions, it's a truly great community that we have here! This is turning into a right love-in!!
Ok then, let's move on….swiftly! What, if any changes, would you make to FPL?
Rosco: They need to do something about these bl**dy team leaks! I don't think it necessarily gives managers an unfair advantage as what you do with that information could still go one way or the other, but it adds an extra layer of stress that we don't need come the deadline. Throw in all the moaning and excuses that you hear following a significant leak (Liverpool and City usually) and it just gets a bit boring. If anything, I'd just move it up to kick off as they do in the Sky game, this would then be a reward to those managers who patiently hold their transfers and miss out on the early price rises, it seems a fair trade.
Carolyn: None, I don't think it needs any, sometimes it would be nice to get a high scoring sub off the bench instead of bench order, but I reckon everyone has the same thought at least one game-week of the season.
What lessons have you learned last season that you will take into the new season?
Carolyn: If it feels good and exciting do it, it will either work or it won't, no need to always go with the template, that differential could be the right move. I would really like to get in the 100 club so gonna try for that next season.
Rosco: You can't wing FPL. Sure, you may make a few random decisions that go your way, but all the best managers have clear strategies and plans in place. Early in the season, I missed out on some very obvious points, had I spent a little more time, looking at player and team stats and of course watching games/highlights I'd have anticipated certain events that in hindsight were staring me in the face.
Are there any players that you can hand on heart name now that will be in your GW1 team for the new season, irrespective of price?
Rosco: TAA and KDB, everyone knows I love a good abbreviation! In all seriousness though, both players have proved across multiple seasons that they are FPL gold. I imagine KDB will be one of if not the most expensive player in the game, he's worth every penny. As for Trent, even a £9m he would be good value, essentially you're buying a winger who gets clean sheet points, and Liverpool get more than their fair share of them. Unless injured, neither will leave my team, I've learned from my mistakes!
Carolyn: Bruno Fernandes
Thank you to the FF247 team and posters, you are all awesome and supportive and I wish you all well next season.
Thank you both for sharing your FPL thoughts and ideas and talking us through what worked for you last season. We're all behind you making the '100 Club' Carolyn and for Rosco to just keep producing those great ranks.
Have a great season guys!
Thanks for reading FPL INTERVIEW: BATTLE OF THE SEXES.
Welcome to our Fixture Tracker for the 2020/21 FPL season.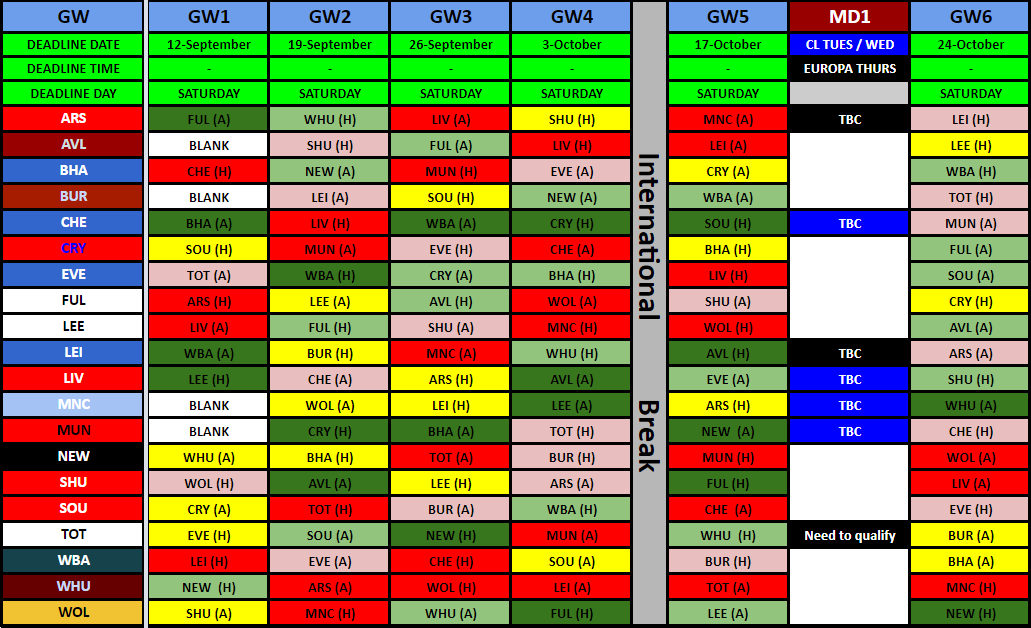 FIXTURE TRACKER LINK
For those who want their own tracker to play with, just make a copy using the link below;
Fantasy Football 247 League Codes: